Discover more from Digital Native
Weekly writing about how technology shapes humanity, and vice versa
Over 54,000 subscribers
Blurring Lines Between Consumer and Enterprise
Plus, Zoom vs. Slack earnings, Bytedance's scale, and the Experience Economy
This is a newsletter about how tech is changing how we live and work
To receive this newsletter in your inbox weekly, subscribe here 👇
---
Edit: Some readers reached out to share similar pieces on this topic. I also did a Google search for key sentences from the piece and I'm sharing other writing on this topic. Nikhil Basu Trivedi wrote about blurring lines between consumer and enterprise here. Some tweet threads to check out are these from Andrew Chen, Brian Norgard, and Brianne Kimmel. Jay Kapoor wrote about the consumerization of enterprise here.
I know that there are many smart pieces about these topics — if you've written or read them, please send me a note and I'll include the link.
Blurring Lines Between Consumer and Enterprise
In 1822, the East India Company in London created one of the world's first offices. Early employees weren't thrilled. One employee, Charles Lamb, wrote:
"You don't know how wearisome it is to breathe the air of four pent walls, without relief, day after day, all the golden hours of the day between ten and four."
His letter grew less enthusiastic as he went, as he wished for "a few years between the grave and the desk." No matter, he concluded, "they are the same."
Thus, the office was born. Two centuries later, offices dominate modern life. The tallest buildings in our cities are office buildings. We spend more waking hours with the coworker in the cubicle to our left than we do with our spouse, our chosen life partner. The most-watched show on Netflix is literally called "The Office".
But today—enabled by technology and accelerated by a global pandemic—the world is undergoing a fundamental shift in how people work. New software tools are making work more collaborative and more remote. And the internet is making it possible to earn a living in new ways, reimagining the concept of a career.
As our lives blur traditional lines between "home" and "work", new companies are blurring traditional lines between consumer and enterprise:
In their design, user experience, and ease-of-use, work tools resemble the best consumer apps; this is the consumerization of enterprise.

And by making it possible for individuals to become their own businesses, new platforms and tools are driving the enterprization of the consumer.
New Work Tools: The Consumerization of Enterprise
Earlier this year, I wrote about the unbundling of Microsoft. I wrote that a new generation of work tools is unbundling Microsoft, the industry Goliath. In fairness, there should have been a layer in between Microsoft and this new generation: in 2006, Google unveiled G Suite, which was the first set of tools to broadly offer real-time collaboration among teams.
New tools have disrupted G Suite, as well as Microsoft, by behaving more like consumer apps. This is most evident in their user experience and in their go-to-market motion:
These tools are beautifully-designed and easy-to-use, making their user experience more similar to Instagram's than to Microsoft's. Zoom's onboarding is frictionless—you don't need a Zoom account to join someone's video conference. Excel is complicated; Airtable is powerful, yet simple and intuitive, built for people with no technical knowledge. And these products offer rapid feedback cycles for user delight, or "time to value": just as a first-time TikTok user experiences a moment of delight within 15 seconds of using the product, a first-time Notion or Figma or Pitch user experiences the same instant product delight.

These tools have also borrowed from the consumer playbook for going to market. Traditionally, enterprise products were sold top-down: the Chief Information Officer decided that the company would use Salesforce or Microsoft Office. But startups like Slack popularized bottom-up growth—growth through word-of-mouth. This go-to-market motion is more akin to viral consumer products than to traditional enterprise products.
The landscape of new work tools is huge; there are dozens of venture-backed startups competing in the space. For in-depth market maps, check out two great pieces from Lightspeed's Merci Victoria Grace and Stride's Pietro Invernizzi here and here. Here is my map of the future of work, largely informed by theirs but with a few additions: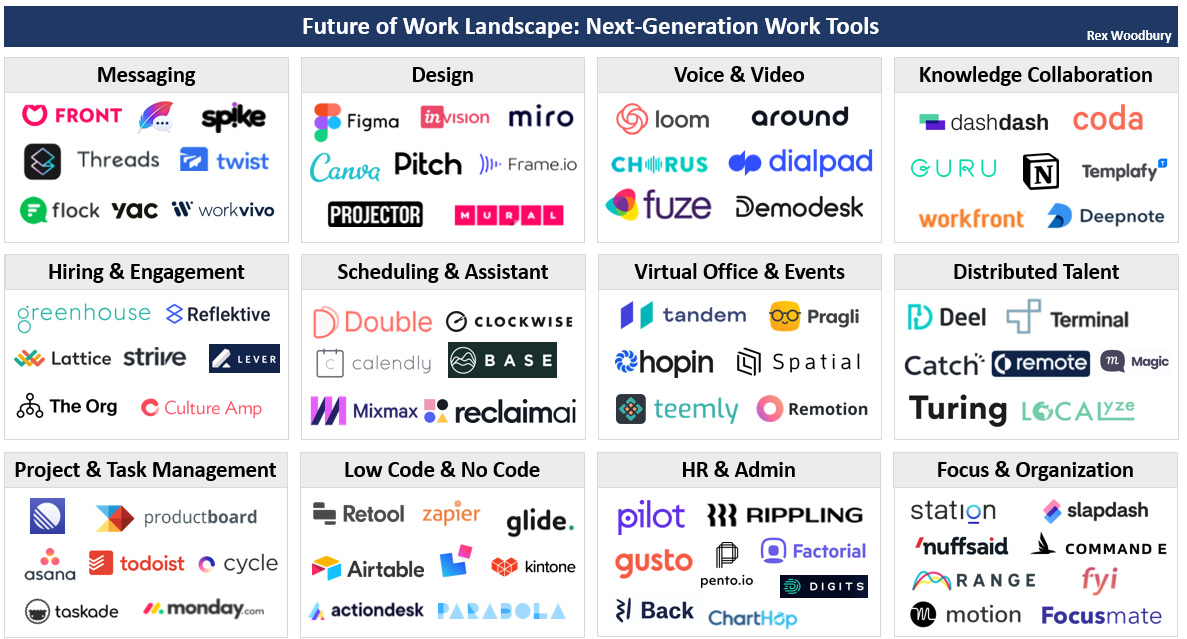 Of this landscape, three worth watching are:

Data science is one of the fastest-growing fields, with job applications growing 250% since 2013. But as designers turn to Figma and product managers turn to Notion for real-time collaboration, data scientists have been left behind. Deepnote fills this gap.
A consequence of the unbundling of work is that the average worker uses over 80 work tools. Motion enables you to focus, minimizing distractions and unwanted notifications. And Command E is a tool to quickly search across these apps and find what you're looking for; in this way, it is helping "rebundle" work tools.
New Forms of Work: The Enterprization of Consumer
The consumerization of enterprise has been an ongoing trend for a decade. Enterprization of consumer, on the other hand, is a newer phenomenon. Earlier this year, I wrote about the Passion Economy and how YouTube was the first platform that enabled creators to monetize. New platforms and tools are following suit.
Substack's 12 top-earning writers each make over $160,000 a year. Teachers on Outschool are bringing in thousands of dollars a month. Last year, Roblox game developers collectively earned $100M; the top developers, many of them teenagers, took in over $1M each.
While I'm interested in many of these vertical "business-in-a-box" platforms (read more about them with Li Jin's piece on the Passion Economy here), I'm more interested in the horizontal pick-and-shovel enablers. Here are business-in-a-box platforms — primarily gleaned from Li's work at a16z — but with horizontal picks and shovels beneath.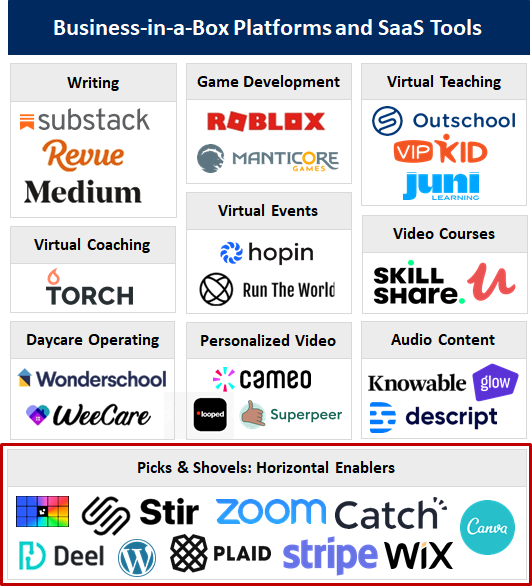 The picks and shovels are the underlying engine behind this new economy. Stripe removes the complexity of payments; publications like Stratechery rely on Stripe. Zoom is quickly becoming a platform for new businesses to build on: Juni Learning, for example, is built on Zoom. And companies like Wix, WordPress, and Squarespace make it possible for anyone to create their own website with no coding knowledge.
Here are three newer pick-and-shovel startups to watch:
Work is increasingly disaggregated and contract-based, leaving workers without benefits. Catch fills this gap, offering full benefits packages to freelancers and contractors in the gig and passion economies.
There are a number of tools for building websites on desktop, but we're living in a mobile-first world. As individuals become their own companies, they can launch their own websites on Universe using just their smartphone.
Work is increasingly global and contract-based. Deel strips away the complexity of hiring remote contract workers, making distributed and disaggregated work easier.
Final Thoughts
At the same time that new software tools reinvent how we work, new companies are making it possible to work in new ways.
At Airtable, I've seen software creation democratized. Teams around the world rely on Airtable to better create, organize, and collaborate. One interesting example: cattle ranchers use Airtable to track their livestock.
And at Calm, a key initiative I worked on was launching coaching, such as Sleep School. A career of the future could be "Calm sleep coach" or "Calm nutrition coach" or "Calm therapist". Through the internet, people can earn a living and pursue their passions in new ways.
Each of these trends is accelerated by Covid-19. Suddenly, knowledge workers are forced to rely on software tools to collaborate remotely. And increased unemployment and distrust in "traditional" careers is creating interest in alternative forms of work.
We've seen five to 10 years of change compressed into the past three months. From first principles, work and careers are being reimagined and lines between consumer and enterprise are blurring.
Sources & Additional Reading — here are the pieces that inspired and informed this content; check them out for further reading on this subject:
---
Chart of the Week
A few weeks ago, I examined the rise of TikTok. This week, here are some of the most interesting charts from a great deep-dive into TikTok—these charts emphasize the incredible scale and growth of TikTok and its parent, Bytedance.
First, compare TikTok's revenue growth to the early days of Google, Facebook, and other tech giants. This level of scale, this fast, is unprecedented.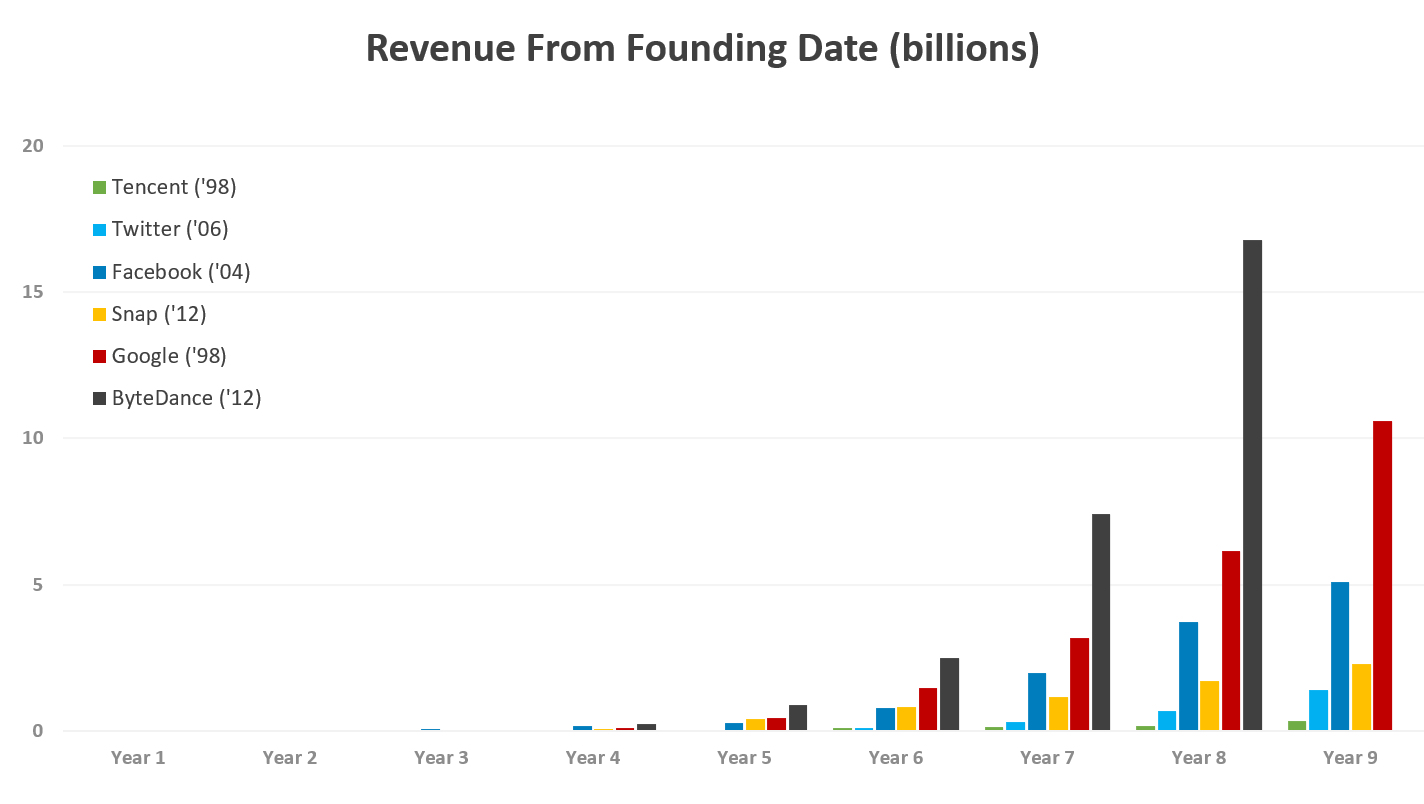 Bytedance's ad revenue is eating into Alibaba's, Tencent's, and Baidu's. The latter three formed BAT, China's analog to America's FAANG (Facebook, Apple, Amazon, Netflix, Google). Many in China still say BAT, but Bytedance has replaced Baidu as the "B".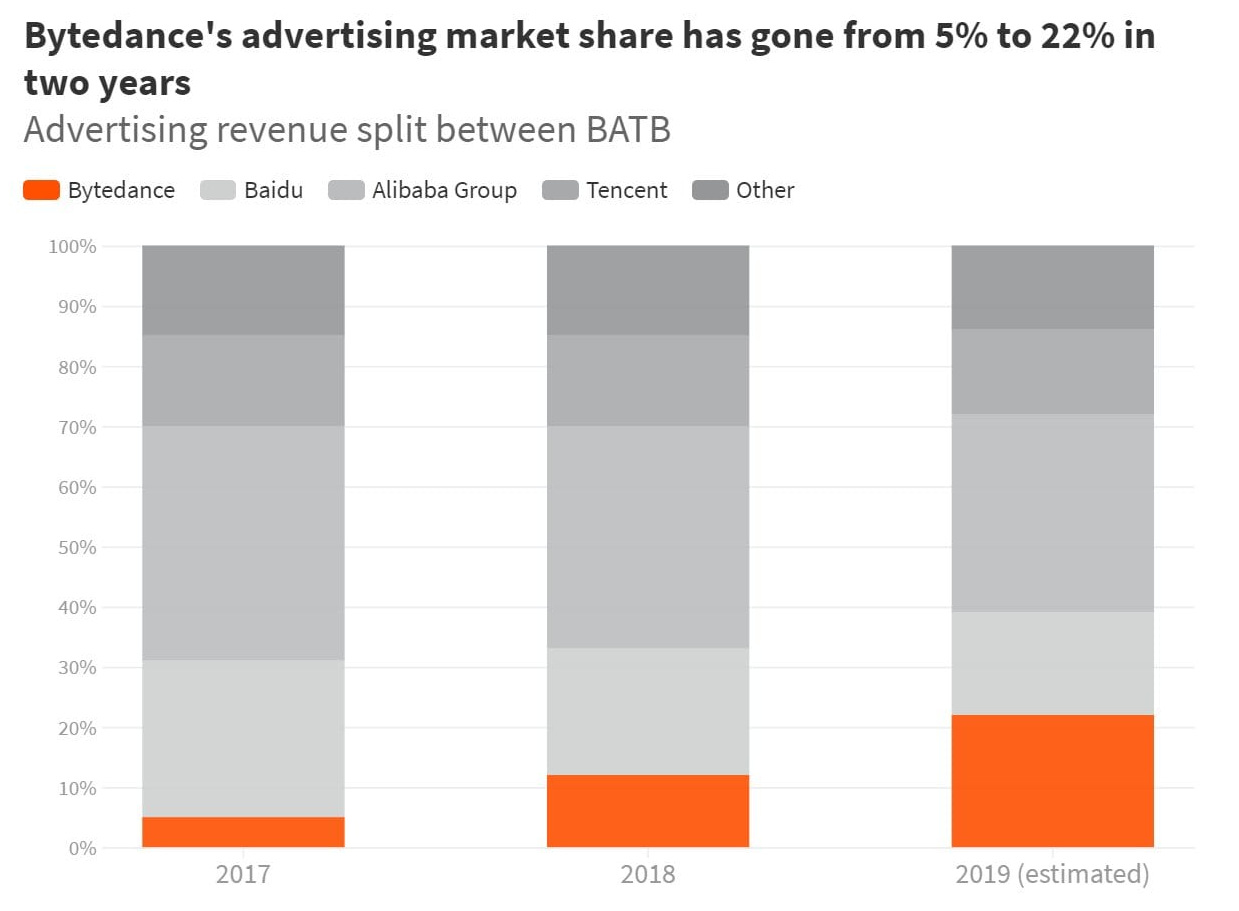 Toutiao is Bytedance's news app and is enormous in China. The average user spends 74 minutes a day in the app, +231% more engagement than the average Instagram user.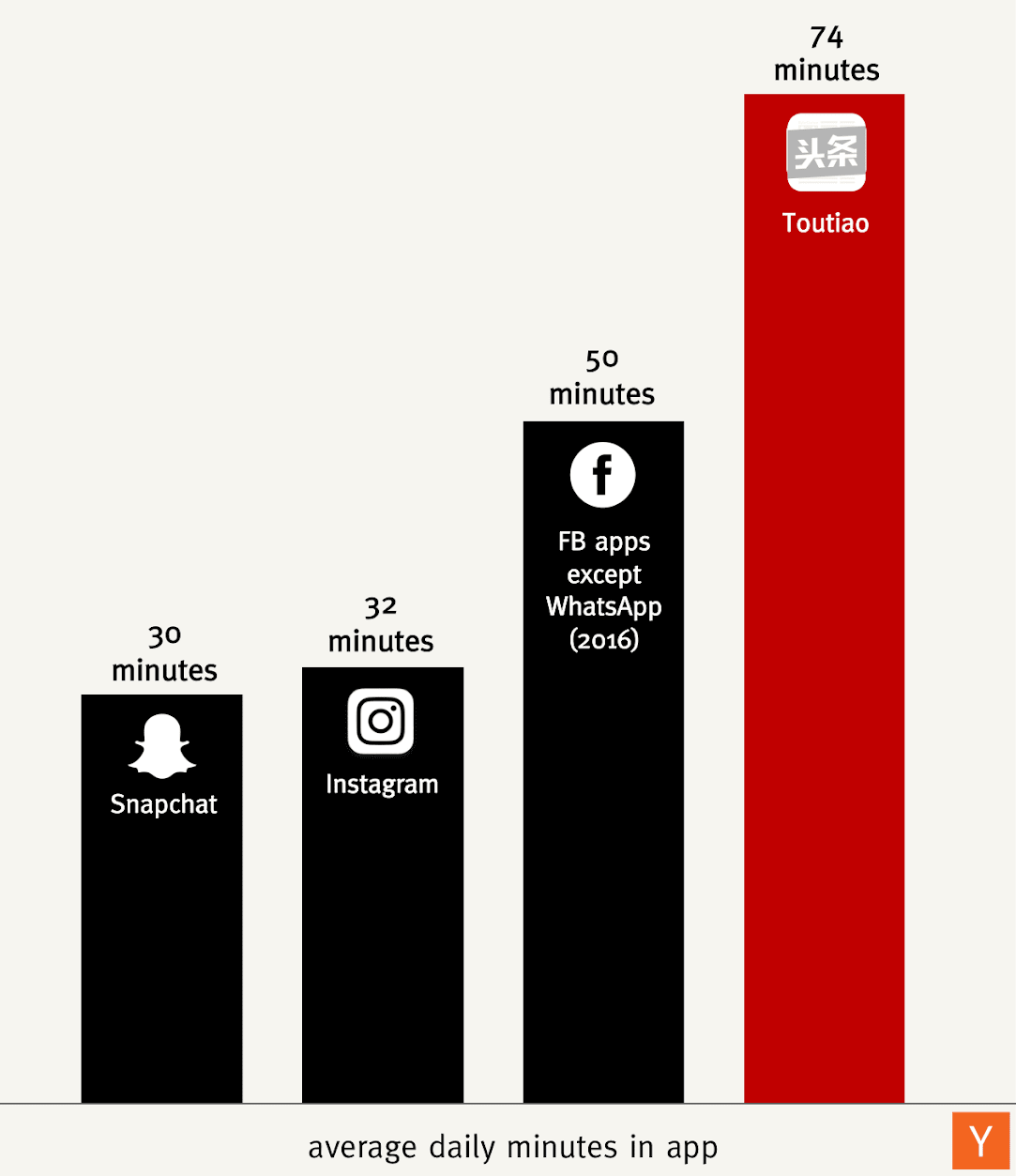 It took ~3 years for TikTok to hit 1B users; every other major app took over 5 years.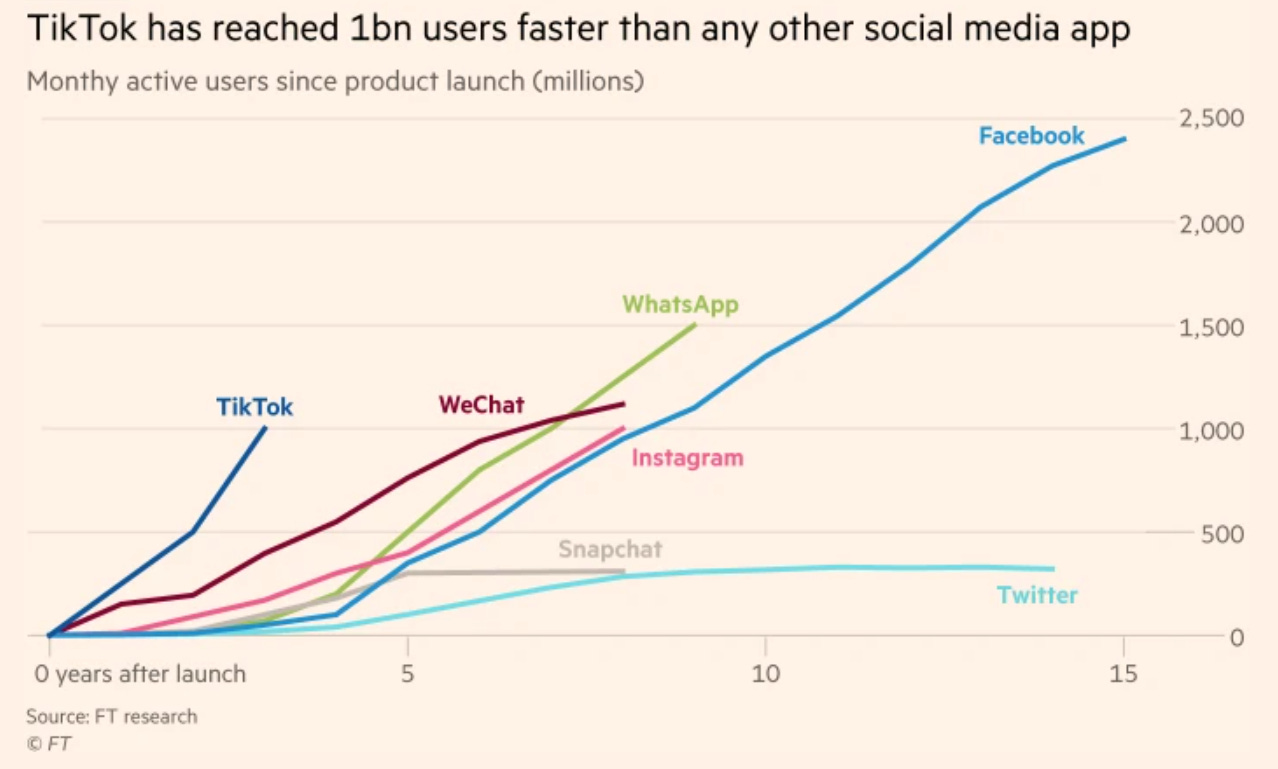 And the average TikTok session duration is ~5 minutes, +24% year-over-year—that's about 1.5 minutes more than Facebook and 2.5 minutes more than Instagram. Most other apps are trending in the wrong direction.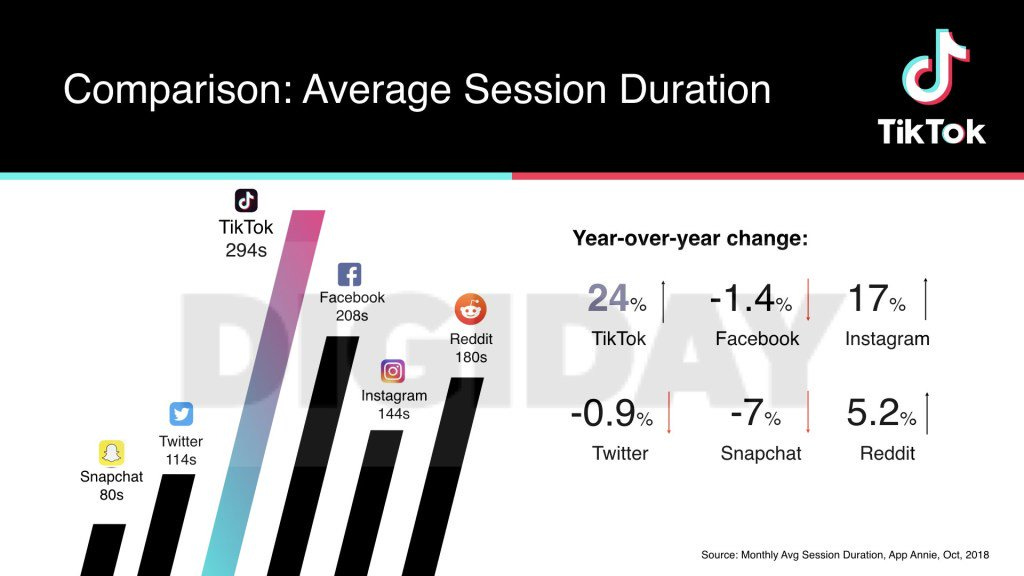 ---
Tech
Zoom Earnings (Stratechery) vs. Slack Earnings (Barrons)
Zoom and Slack both reported earnings this past week, with different results. Zoom crushed expectations, reporting 169% revenue growth. Notably, that's recognized revenue—Zoom bills annually, so the Covid-19 bump isn't fully appreciated in recognized revenue. Zoom's free cash flow, which captures those upfront billings, increased 1,545% year-over-year. Ben Thompson wrote about Zoom earnings this week in Stratechery, which I recommend subscribing to for more depth on Zoom.
It's incredibly impressive that Zoom was even able to meet this surge in demand. In Zoom's earnings call, CEO Eric Yuan remarked:
We had an approximately 20x increase in our metric of annualized meeting minutes run rate, which jumped from 100 billion at the end of January 2020 to over 2 trillion meeting minutes, based on April 2020's run rate. Scaling capacity to meet this incredible increase in traffic and use cases, while providing uninterrupted, reliable and high quality services for our customers have been a tremendous undertaking for our team.
Zoom met this demand by relying on a key partner—Amazon Web Services. Cloud computing enables companies to dial up and down demand as needed.
Zoom also called out its reliance on AWS in its earnings call:
Immediately during the crisis, our longtime partner AWS and its CEO Andy Jassy enabled us to meet this rapidly increasing demand. As our demand increased and we had limited visibility into the growth, AWS was able to respond quickly by provisioning the majority of the new servers we needed, sometimes adding several thousands a day for several days in a row.
Slack, for its part, disappointed in its earnings release. The company reported 50% revenue growth, compared with 49% last quarter (pre-pandemic). Analysts were looking for stronger numbers—numbers like Zoom's—and punished Slack, sending its stock down ~20%.
Slack is also dealing with the ongoing threat of Microsoft Teams, which is bundled with Office365 subscriptions and in mid-2019 overtook Slack in daily active users: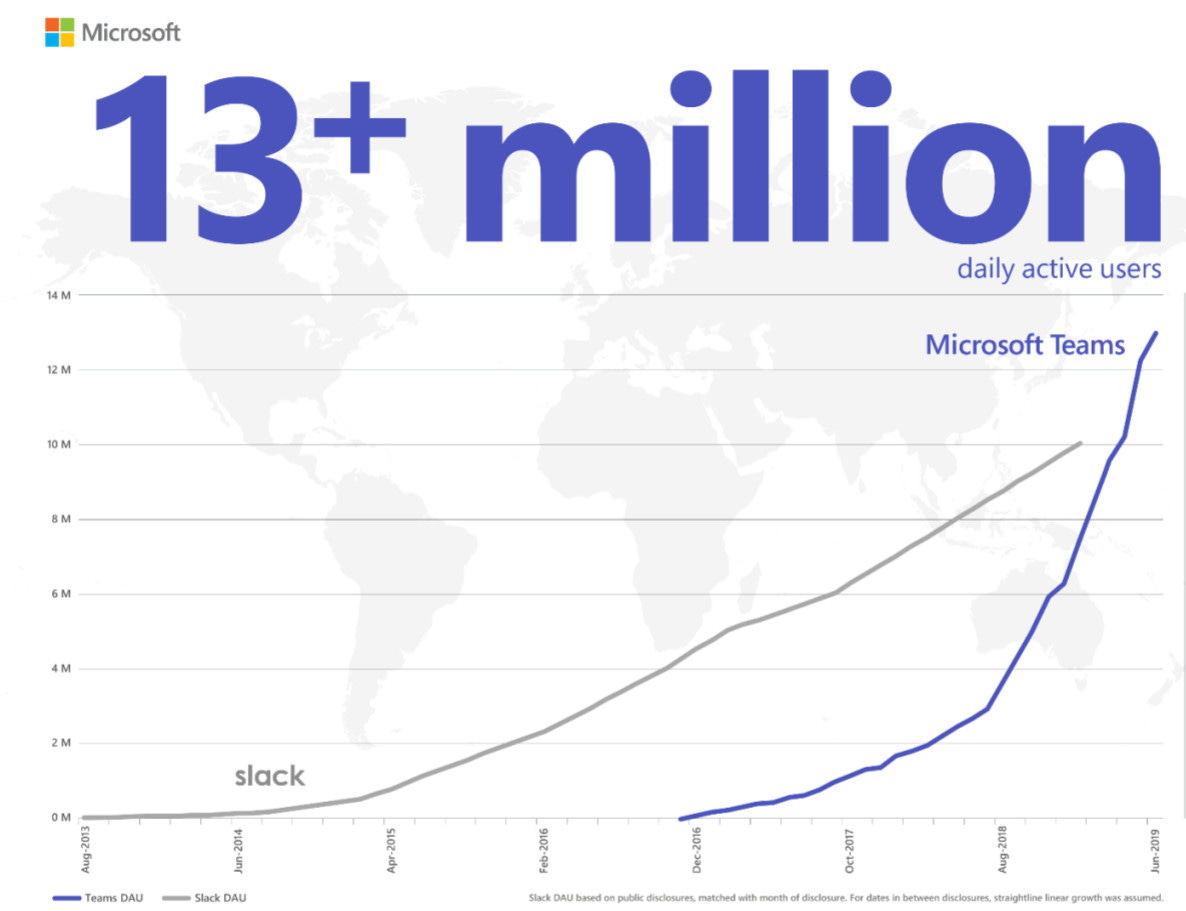 ---
Media
Could a Game of Thrones-level Hit Happen in 2020? (The Ringer)
HBO's Game of Thrones was the biggest show of the past decade—for a few months each year, it was everywhere. As this article notes, GoT became a "cultural lingua franca": Elizabeth Warren, then a Presidential Candidate, even wrote a GoT-themed op-ed.
But increasingly, shows are eschewing the traditional model of weekly episodes and instead dropping all episodes at once. This model intensifies cultural dominance for a short period, but defrays long-term influence.
Think of Tiger King this spring. People—a lot of people—talked about it for three weeks; two months later, no one is talking about it.
Even Season 3 of Stranger Things suffered from this. Last summer, 64 million households watched it, a Netflix record. But those viewers binge-watched all at once, and the cultural conversation soon moved on.
As we move away from linear TV and move towards OTT streaming, a key question is: will there ever be a water cooler hit on the same level?
(Here's one contender. Jeff Bezos reportedly demanded that Amazon Prime Video create a hit show as big as GoT, and Amazon is spending an insane $500M on a new Lord of the Rings series.)
---
Commerce
Coronavirus Shut Down the Experience Economy. Can It Come Back? (NYTimes)
Over the past decade, Millennials have shown a preference for spending money on "experiences" instead of "stuff". New businesses have ridden this trend to high valuations: TopGolf ($3.3B), SoulCycle ($900M), Drybar ($200M). Spending on concerts, music festivals, and travel has boomed. Even the Museum of Ice Cream is a $200M business.
Perhaps nothing better embodies the experience economy than DisneyWorld. Bob Iger often (rightfully) gets credit for resurrecting Disney's box office success while CEO. But he gets less recognition for growing Disney's theme parks from $10.6B in revenue in 2007 to $26.2B in revenue in 2019. During this period, he also grew theme park profitability 400%: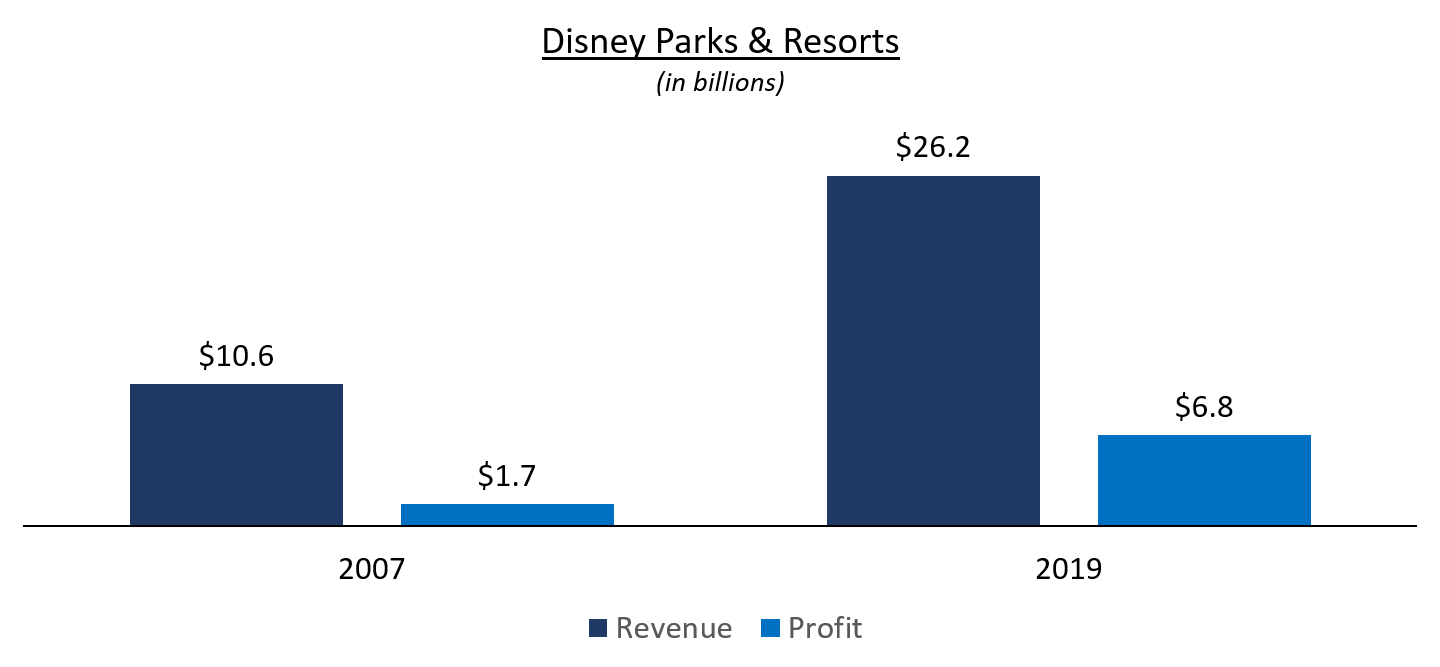 Disney Parks & Resorts is now the largest revenue segment for Disney and its profit engine. In 2007, Parks & Resorts comprised 30% of Disney revenue and 22% of profit; in 2019, its share was 38% and 45%. In the U.S. more broadly, experience-related GDP was $1.6 trillion last year, up from $979 billion a decade ago.
This boom is driven by social media, which has made experiences the new currency of status. Instead of showing off your Chanel handbag, you show off how much fun you're having at Coachella or show off your trip to France.
But it turns out that the experience economy is uniquely vulnerable to a global pandemic. This spring, spending on experiences has been down nearly 100%, begging the question: can experiences ever come back? My view is yes—Gen Zs and Millennials were raised to value experiences (and the sharing of them online) over physical goods, and this is a decades-long tailwind. When the pandemic is over, the growth of the experience economy will resume.
---
Quick Hits
💰 This is a cool visualization of all of the world's money. Some interesting takeaways:
47% of the world's gold is in jewelry

The Fed's balance sheet is $7 trillion and over 40% of that (!!) was added this year

The world has 2,095 billionaires and together they're worth $8 trillion

The U.S. (36%) and China (14%) are together 50% of the world's military spend

The Big 5 tech giants—Microsoft, Apple, Amazon, Alphabet, and Facebook—make up 24% of the Fortune 500
🍞 Etsy is known for selling knitted hats and handmade greeting cards, but lately, consumers are turning to Etsy for one item in particular: bread. Sales of scones, biscuits, breads, muffins, and doughnuts are up 400%. Etsy also sold $133M of fabric face masks in April and its stock is up 90% this year.
🧬 This website, Brand Genealogy, tracks how iconic brands were first founded. For instance, Lacoste was founded by a French tennis player, Rene Lacoste, who was tired of playing tennis in a long-sleeve shirt and a tie (the standard garb). Thus, he invented the polo shirt.
💡 On this site, you can read the original pitch decks for some of the hottest startups: Shopify, Peloton, Airbnb, Uber, Tinder.
🦈 Speaking of pitches—a new company, Vintro, is launching to become the virtual "Shark Tank." New entrepreneurs can pitch their ideas online to "reviewers" in 90-second videos. The reviewers give feedback on the pitch and the business idea—65% of reviewers are available for between $25 and $300.
🎨 To end this week's newsletter, here's a fun site that reviews logo redesigns like these Chobani, Slack, and Staples redesigns: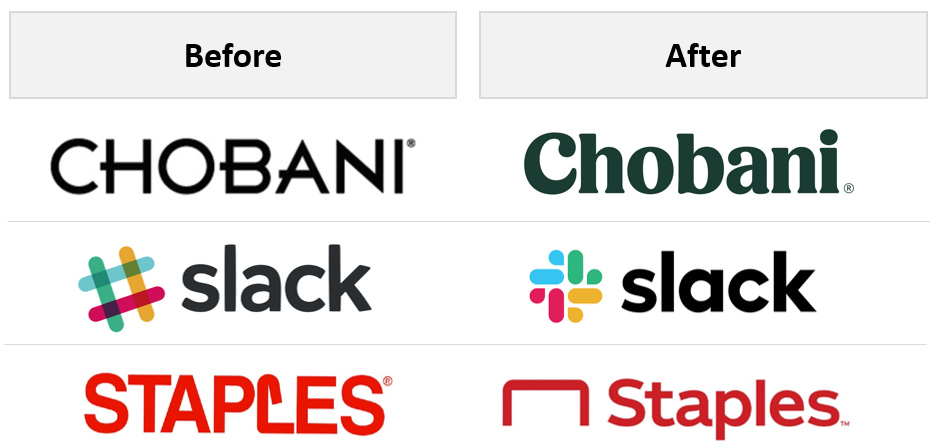 If you didn't know you needed to read highly entertaining and extremely serious logo reviews, now you do. Here's part of the review for Chobani's new logo:
Despite an intense affection for this yogurt I always disliked its old logo. The heavily geometric wordmark with the Art Deco-ish aesthetic felt too harsh, fragmented, and cold in contrast to the smooth, creamy texture and flavor of the product. The new wordmark manages to capture that feel-good sensation of the product in a rich, smooth, curvy, chunky serif that looks absolutely fantastic.
Who doesn't love a chunky serif?! Hope you enjoy this site as much as I do.
Thanks for subscribing, and see you next week!
---
To receive this newsletter in your inbox weekly, subscribe here 👇😊