Discover more from Digital Native
Weekly writing about how technology shapes humanity, and vice versa
Over 54,000 subscribers
Business-in-a-Box and the Future of Work
Plus, online dating, the experience economy, and marketing on TikTok
This is a newsletter about how tech is changing how we live and work
To receive this newsletter in your inbox weekly, subscribe here 👇
---
Business-in-a-Box
I've been reading and thinking a lot about the concept of "business-in-a-box", which I view as one of the most interesting trends in the start-up ecosystem. CRV has perhaps the best piece out there on the topic, and Li Jin from a16z has written extensively about the "Passion Economy", a related subject.
The basic idea is that technology is making it easier for individuals to launch their own de facto businesses and to better monetize unique talents. In other words, tech is democratizing entrepreneurship by stripping away many of its challenges and complexities: payments, distribution, discovery, marketing. 

The start-ups driving this trend tend to be marketplaces or SaaS platforms. Just as Shopify has enabled anyone to open an online store, these businesses enable anyone to become their own business. 

Examples of "business-in-a-box" can be found across industries. Here are some that I've been following—I'd be eager to hear about any that I've missed! 

Daycare
Wonderschool and WeeCare are making it easy for anyone to open a daycare in their homes. A stay-at-home parent may already be watching his or her own child; now, that parent can become certified to watch 5-6 other toddlers and earn a living. Wonderschool says that its daycare operators earn north of $100K / year. A risk here is disintermediation: why wouldn't a Wonderschool operator move its relationships with parents off-platform and avoid Wonderschool's 10% cut? Marketplaces like Wonderschool need to add enough value through products and services (payment processing, background checks, marketing) to avoid disintermediation. 

Scooters
Bird launched Bird Platform, which is essentially a modern-day version of franchising. Bird Platform enables entrepreneurs in new markets to "own" that market. The entrepreneur decides where to distribute Bird scooters in their area and how to manage that geography. Like 20th-century franchising (McDonalds, Hilton), this works to Bird's benefit: the entrepreneur has valuable local knowledge that the national corporate parent can't have, and is armed with economic incentives to succeed. 

Newsletters & Podcasting
The top-earning writer on the paid newsletter platform Substack earns over $500,000 a year from subscriptions. Thousands of writers are supporting themselves through writing platforms like Substack and Medium, or by using podcasting tools like Anchor or Descript. In 10 years, it won't be uncommon to ask someone what they do for a living and to hear "I'm a newsletter writer" or "I'm a podcaster". While the gig economy enabled people to monetize standardized skills like driving or food delivering, these platforms are enabling creatives to monetize differentiated knowledge. 

Language Learning
VIPKid (below) has over 500,000 students in China learning English from over 65,000 tutors in the U.S. and Canada. Using VIPKid, an English speaker stateside can earn a living by full-time tutoring, all from the comfort of his or her own home. VIPKid handles payments, matching, and all other logistics.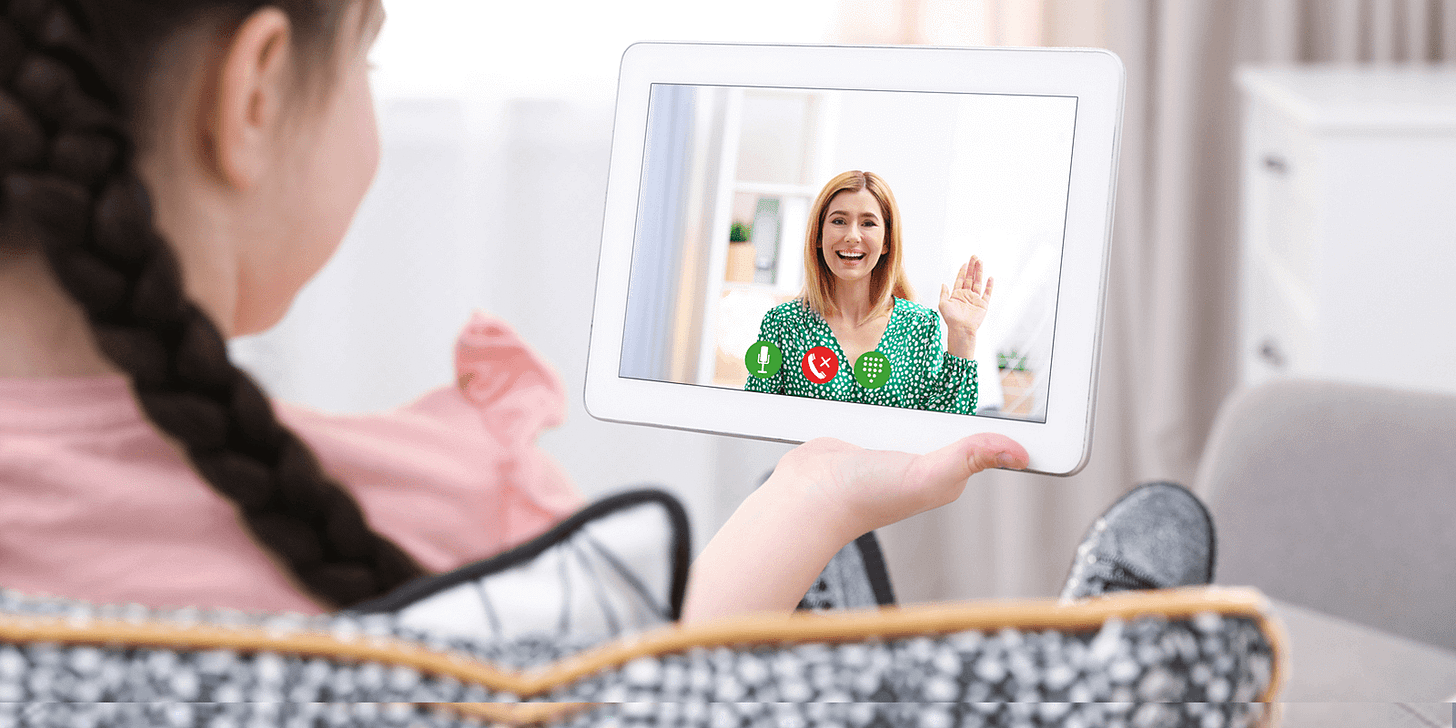 General Education
Teachers are finding more lucrative ways to monetize their expertise. Platforms like Podia, Skillshare, and Thinkific allow teachers to share knowledge online with students. The top content creator on Podia makes more than $100,000 a month. My favorite of these start-ups is Outschool, which is a marketplace built upon Zoom. Both teachers and non-teachers who become certified (stay-at-home parents, for instance) can create their own curriculum and essentially run their classrooms on Outschool, which matches them with small groups of students for live video instruction. 

Events
Run the World brings live events and networking online. Event creators are able to launch their own events and, without expensive venue costs or catering, take home a much bigger cut. Run the World raised a $4.5M seed round from a16z and is having a moment in the midst of the coronavirus. They've waived set-up fees for events moved because of COVID-19, and this week they hosted their largest event yet: a 3,000-developer hackathon "Hack for Wuhan", creating tech solutions for those affected by the virus in Wuhan.  
Sources & Additional Reading — here are the pieces that inspired and informed this content; check them out for further reading on this subject:
---
Chart of the Week
This chart shows how married couples first met—in 1940, half of all couples met either through church, their neighborhood, or K-12 schooling. Today, those three categories sum to less than 15% and online dating is up to 40%. (Source: The Atlantic)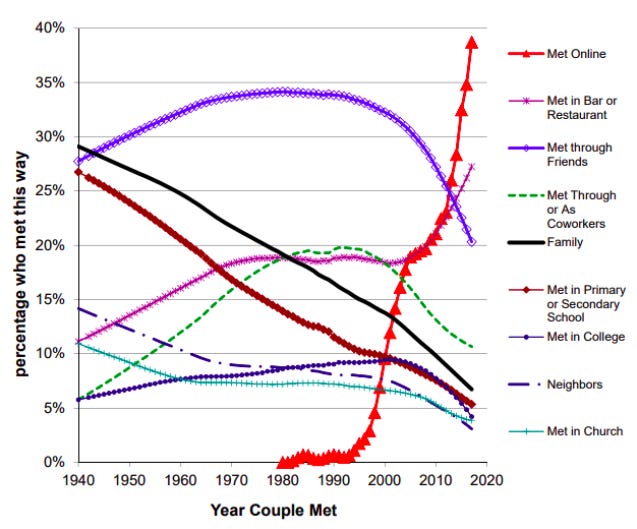 ---
Media
TikTok Marketers Chase Millions of Views in Uncharted Territory (Bloomberg)
One of the savviest marketing campaigns I've ever seen: the #boorito challenge on TikTok, used to promote Chipotle's Halloween burrito deal. It worked, and the hashtag has 3.9 billion views on TikTok. Despite Chipotle's success, brands are largely struggling to adapt to TikTok, given the platform's unique focus on musical challenges and its AI-powered newsfeed.  

Streaming Contagion During the Coronavirus (The Verge)
The 2011 film Contagion is seeing its downloads spike amidst the coronavirus: its currently in the Top 10 rentals in several major countries. But its not on Netflix or any streaming platform, which has left consumers scrambling to find it. I'd be curious if more viewers will see the film during this crisis than saw it upon release in 2011. 

Quick Hits:

TikTok Influencers Are Livestreaming Their Sleep (NYTimes)
The latest phenomenon on TikTok is to prop your phone on your bedside table and then fall asleep—while livestreaming yourself. Some influencers are actually making money while they sleep, as viewers make donations. But the main goal is to gain followers: one influencer got 6,000 followers overnight. 

Quibi Sets 50-Show Launch Slate (Hollywood Reporter)
Ahead of its April 6th launch, Quibi announced its initial slate, and there's hardly a celebrity in Hollywood not making content for the streamer. With $1.75B of pre-launch funding, Quibi has dished out attractive deals to talent. The launch slate includes a Chrissy Teigen courtroom show, a Zac Efron survival show that nearly killed him, and a horror show from Steven Spielberg that only unlocks on your phone after dark.  
---
Tech
Welcome to BotNet, Where Everyone's an Influencer (Wired)
One of the more bizarre things I read this week—and definitely an "only in 2020" moment. Basically, there's a social network populated by bots, where you can "feel" what it's like to be a celebrity. When you post a photo, you immediately amass millions of likes and comments. The tech behind the platform cribbed millions of comments from Instagram, so they can be a little odd and unrelated. In this piece, the author posted a photo of herself, and comments ranged from the sensible ("Epic photo") to the very strange ("I'm going to be sad when she gets in the shower").
---
Commerce
The Future of Direct-to-Consumer Brands (Luke Weston)
I'm pretty bearish on DTC as a sector. In today's age of the Facebook / Google ad duopoly, customer acquisition costs are untenable. Without strong word-of-mouth or without virality built into the product, it becomes incredibly expensive to scale. In other words, DTC is more a channel than a business model. This piece from Luke Weston breaks down the sector and explores which brands / subsectors are better positioned for success. 

Investing in the Experience Economy (Mercedes Bent, Lightspeed)
I loved this piece from Mercedes Bent at Lightspeed on how the world is moving from purchasing "stuff" to purchasing experiences—particularly among Millennials and Gen Zs. Lots of multi-billion-dollar businesses have been born from this consumer shift. But my favorite part has to be this awesome chart: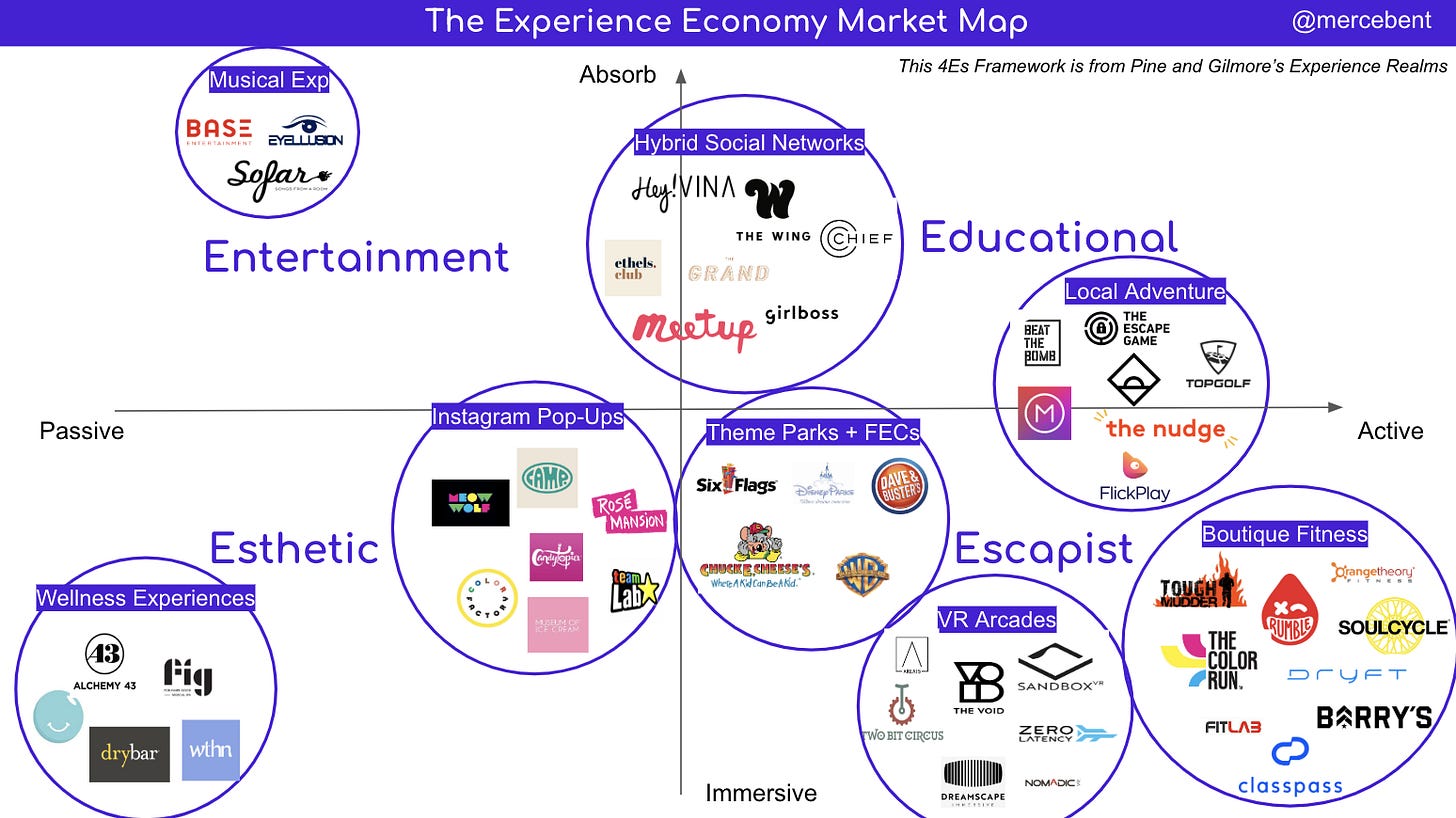 ---
To receive this newsletter in your inbox weekly, subscribe here 👇😊