Discover more from Digital Native
Weekly writing about how technology shapes humanity, and vice versa
Over 54,000 subscribers
The Four Stages of Future of Work
Plus, election deepfakes, democratizing music, and digital theme parks
This is a newsletter about how tech is changing how we live and work
To receive this newsletter in your inbox weekly, subscribe here 👇
---
The Future of Work
The COVID-19 pandemic is reshaping how we work. Most notably, remote work is likely being pushed forward by five to 10 years. But more broadly, the way that many of us work today—9-to-5 jobs in an office—is a remnant of the Industrial Revolution and isn't fit for today's world. I believe that this decade, we will fundamentally rethink work. I think about it in four main buckets: 

1) Skill-Based & Lifelong Learning
In a world that changes as rapidly as today's world, it doesn't make sense for education to be consumed solely in the first two decades of someone's life. We'll see a shift toward lifelong learning, as people reinvent their skills multiple times throughout a career. The onus will largely fall to companies, which will be pressured to retrain their workforces. There will also be more alignment between education and job skills. Companies like Lambda (coding), FlockJay (tech sales), and White Hat (apprenticeships) are training workers in job-relevant skills. Many are powered by Income Share Agreements (ISAs), which better align incentives; platforms like Leif are enabling ISA creation and management. 

2) Job Placement & Labor Marketplaces 
There will also be new ways to find work. Companies like Placement are making it easier for workers to find jobs. Placement helps workers find higher-paying jobs in higher-paying cities (Denver, Austin) and structures ISAs (10% of earnings over 18-36 months) for the workers it places. Their goal is to democratize access to good jobs. There are also new labor marketplaces, both horizontal (Upwork, Wonolo, Thumbtack) and vertical (RigUp = oilfield services, Instawork = hospitality, Pared = food prep, Trusted = nursing). Vertical marketplaces are seeing more success, given higher worker retention and better unit economics, and we'll see verticalized labor marketplaces across sectors. Importantly, legislation like AB-5 in California is likely to change contract work. Companies like Catch are being created to provide healthcare and benefits for contractors. 

3) Reimagining What Jobs & Careers Can Be 
To me, this is the most interesting bucket. We're going to see a reimagining of what a job even is. Last week, I wrote about Business-in-a-Box. New platforms and marketplaces will make it easy for anyone to monetize their knowledge. With Wonderschool, anyone can operate their own daycare. Roblox's top game creators make over $1M / year. Substack enables professional newsletter writers. With Outschool, stay-at-home parents can become certified teachers and have access to hundreds of thousands of online students. Even Bird, the scooter company, launched a modern-day franchise model called Bird Platform: your job could be running Bird for San Antonio or Miami. By removing complexities like payments, marketing, and discovery, these platforms and marketplaces will make it easier for anyone to be an entrepreneur. 

4) Improved Collaboration & Productivity Tools
New tools are making work more remote, more collaborative, and more productive. Tools can be both synchronous (Zoom) or asynchronous (Slack), and for different types of work (Github for developers, Front for shared inbox management). We are also seeing the "consumerization of the enterprise", as these tools are built to be easy to use with no coding experience (AirTable is a favorite example of mine).

The coronavirus is having the largest impact on remote work. Zoom stock (video conferencing) has nearly doubled this year. In light of the virus, Loom, which offers instantly shareable video snippets for work collaboration, announced price cuts, no limits, and free service for teachers and students. 

In Stratechery this week, Ben Thompson interviewed Matt Mullenweg, founder of Automattic (Wordpress, Tumblr), which has been a fully-distributed company since inception. I found this excerpt from Matt fascinating: 

"I honestly think we'll look back 20 or 30 years from now at how offices currently work for knowledge workers just as we look at using leeches to cure sickness. It's so bizarre when you think of the autonomy you removed from people being in the office. Your things are better when you work from home. The temperature, the music, the seat, your desk, your control over the environment, going to the bathroom, exercising, eating, all of these things, you have so much more control over that we just take for granted. Tech and traditional offices remove so much agency from people. You know they say it about democracy — once you have a taste of freedom, it's hard to return to your previous state, I think that's going to happen for remote work, and COVID-19 has pushed remote work forward maybe by five or 10 years than it would have occurred otherwise."

COVID-19 may impact bucket 4 most dramatically and most immediately. But over this decade, we'll see a top-to-bottom rethinking of work. 
Sources & Additional Reading — here are the pieces that inspired and informed this content; check them out for further reading on this subject:
---
Chart of the Week
How youth behavior has changed over the past 25 years. I was surprised that only one behavior (video games) increased, but then realized that's because most new time is being spent in ways that have been invented in the past 25 years—Snapchat, YouTube, TikTok, Netflix, WhatsApp, Instagram, and so on.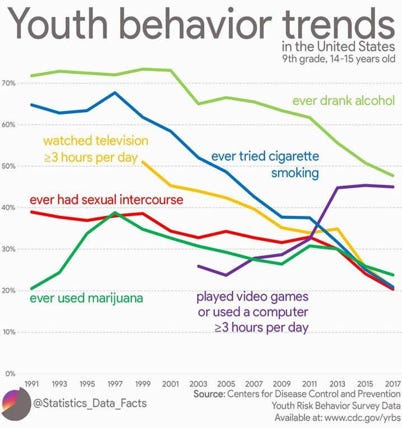 ---
Media
Digital Theme Parks (Matthew Ball)
The most profitable, defensible part of Disney's media empire isn't its film studio, ABC, or ESPN. It's Disney's capex-heavy, physical theme parks. Disney's parks generate 100% more revenue and 60% more profit than Disney's studios division. I like how Matthew Ball frames the new generation: We're now seeing digital theme parks emerging, places where consumers can interact with and create with their favorite IP: Roblox, Fortnite, Minecraft. In these worlds, anyone can be the "Imagineer"—users create their own worlds and stories. In Minecraft, one user built Game of Thrones' King's Landing, which is the size of LA. More recently, a group of Chinese players rapidly recreated the 1.2 million square foot hospitals built in Wuhan following the COVID-19 outbreak. The lines between real world and virtual world are blurring. These digital theme parks are the future of entertainment. 

Music Start-up Sets Out to Put More Money in Artists' Hands (Bloomberg)
Historically, record labels have controlled the power in the music industry. Technology is shifting that power towards artists. The start-up Stem offers financing to artists, allowing artists to avoid the record labels and to maintain control of their music. It's easy to see this as the future of music: we're undoubtedly seeing a shift (beyond just music) to creators directly owning their body of work. 

Vicious Cycles: The Changing Philosophy of News (Harpers)
News used to be about...delivering the news. In recent years, though, ubiquitous media and eyeball-driven economics have led to more sensationalist headlines and news coverage. Consumers are trained to always be "up to date", increasing our anxiety; headlines proclaim "the worst thing ever" today, but that news is gone tomorrow. This is an interesting read in light of COVID-19, an instance where the news is actually deeply important but many sources are spreading fake or dangerous information. 
---
Tech
Is Run the World the Start-up for the Coronavirus? (PCMA)
Run the World emerged from stealth at the right time. The start-up, which hosts live events and conferences, launched February 27th. It is essentially a combination of Zoom, Eventbrite, and LinkedIn, allowing conference attendees anywhere in the world to network and interact (even providing bios and using software to recommend connections). The global conference industry is a $1.1 trillion market and remains largely offline; COVID-19 may be the catalyst that brings a significant portion of that spend online. 

The First Use of Deepfakes in Indian Elections (Vice)
AI-generated "deepfake" videos first gained prominence in the porn industry. They're now infiltrating politics. Deepfakes essentially allow humans to manipulate or fabricate visual and audio content—basically making it look like someone said something that they never did. In India, a 44-second deepfake video of a prominent politician criticizing the incumbent government was viewed 15 million times.  
---
Commerce
Email Addresses and Razor Blades (Stratechery)
Ben Thompson compares two acquisitions that, at first glance, don't appear to share much in common: Intuit's acquisition of Credit Karma, and Edgewell's (now blocked) acquisition of Harry's. Both are about customer acquisition—clever ways to attract millions of new users while avoiding the Facebook/Google ad duopoly. 

Virtual Reality Spas (NYTimes)
Virtual reality is penetrating an unexpected industry: spas. Spa-goers are pampered while enjoying a VR experience to the Northern Lights or to a relaxing beach. The economics work well for spas: there's a fixed-cost investment in hardware, but no ongoing labor costs. And if you don't want to go to the spa, the company that provides the VR is also selling into dentists!
---
To receive this newsletter in your inbox weekly, subscribe here 👇😊