Discover more from Digital Native
Weekly writing about how technology shapes humanity, and vice versa
Over 54,000 subscribers
Gaming Platforms Are the New Social Networks
Plus, the leaders behind Amazon and Disney
This is a newsletter about how tech is changing how we live and work
To receive this newsletter in your inbox weekly, subscribe here 👇
---
Gaming as a Social Network and Platform
I've never been much of a gamer—my experience with video games is essentially limited to playing Mario Kart at my cousin's house growing up. But I'm convinced that gaming is the most overlooked segment of the media and entertainment industry. 

Today, the gaming industry is 43% larger than the box office industry and is growing 3-4x faster. More American households have a game console than have Netflix (~65M vs. ~60M). And of the top 50 bestselling games of all-time, zero are based on film IP. In a world dominated by Marvel and Star Wars, that's shocking; film execs are clearly missing an opportunity.
Many of my thoughts on gaming are shaped by Matthew Ball, who is an expert on this topic. I link to some of his pieces below, but I recommend checking out all his writings here.

In this week's thought, I want to (1) underscore how massive the gaming industry is, and (2) explore why this happened and where it will go from here. 

In the past five years, gaming companies have taken off: Activision Blizzard's value has swelled nearly 3x to $45B, EA has doubled to $26B, and Take Two has grown 7x to $12B. But it's Epic Games' Fortnite that has attracted the most buzz. Fortnite has 250M registered accounts and an estimated 100M monthly active users. But more crucially, Fortnite is fast becoming a social network. In past generations, kids came home from school and spent hours chatting on the phone, messaging on AIM, or browsing Facebook. Today, they spend hours on Fortnite. But Fortnite has no plot; users create the narrative themselves, and the game is as much about spending time with friends and talking about life outside of Fortnite (school, sports, news) as it is about playing the game. 

Most interestingly, Fortnite is becoming a platform through which users experience pop culture. Last year, Fortnite hosted a live Marshmello concert (check out the image below). In December, Star Wars: The Rise of Skywalker released a clip of the upcoming film exclusively in Fortnite in an in-game audience-interactive event including a live interview with the director, J.J. Abrams. This event was even referenced in the opening moments of the film (the famous "text in space" that opens every Star Wars film).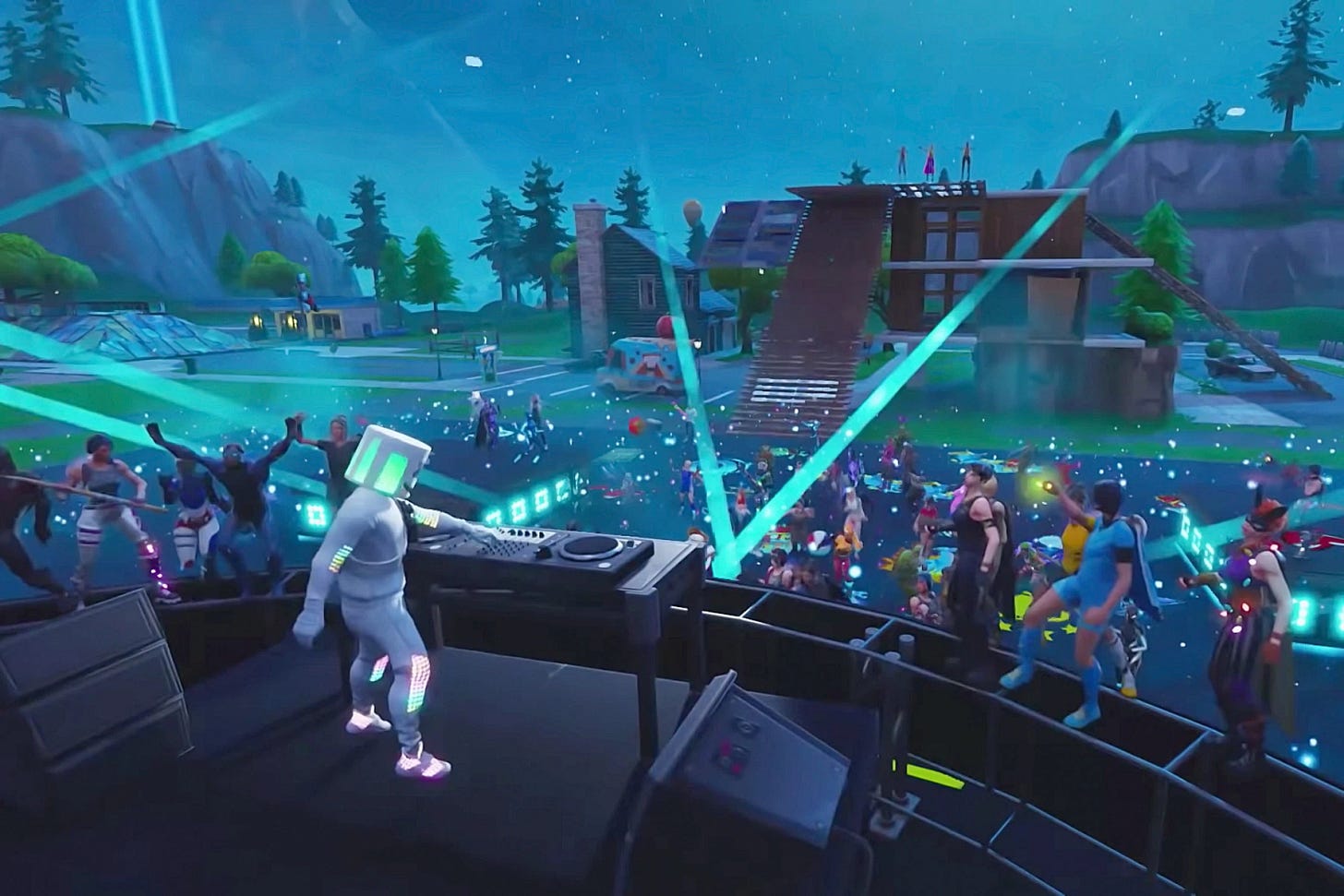 Other games are also becoming social networks. Roblox (which allows kids to create and share their own games) boasts more than 100M monthly users and those users spend over a billion hours per month engaging. Grand Theft Auto Online added a casino, where users can simply "hang out"—with no connection to the game. I believe this is only the beginning. 

Given the incredible growth of gaming, it's worth looking at the drivers behind that growth. Fundamentally, we're seeing a structural shift in how we spend time: smartphones and tech advances have led to a decline in traditional media (think newspapers, television) and an acceleration of new media experiences (streaming video, gaming). At the same time, gaming has replicated many of the advantages of TV: a ton of content, content that's easy to access anywhere and anytime (thanks to mobile), and content in different formats and tastes (you can game yourself, watch another gamer, or just hang with friends inside the game). But gaming has one key advantage over media formats like film and TV: there is no finite storytelling. Films are over after a couple hours, and TV seasons ultimately reach an end. But in many games, the story never ends—players create their own narratives and stories and experiences, over hundreds or even thousands of hours. (Matthew Ball has a cool term for this—"content leverage".)

It's not difficult to imagine a world where millions (or billions) of people primarily experience culture through the lens of a virtual world. I also believe that gaming is where we'll first see consumers using new entertainment technologies: virtual reality, augmented reality, etc. We're going to see a fundamental reshaping of entertainment and how we spend our time. 
Sources & Additional Reading — here are the pieces that inspired and informed this content; check them out for further reading on this subject:
---
Chart of the Week
In the US, film tickets sold per person per year are down 30% from their peak. The average American today goes to 3.6 movies a year—20 years ago, they went to 5. And this chart only goes back to 1980. Before TV came along in the 1950s and brought entertainment in-home, the average American went to more than 40 movies per year (!). 
(Source: REDEF, Matthew Ball)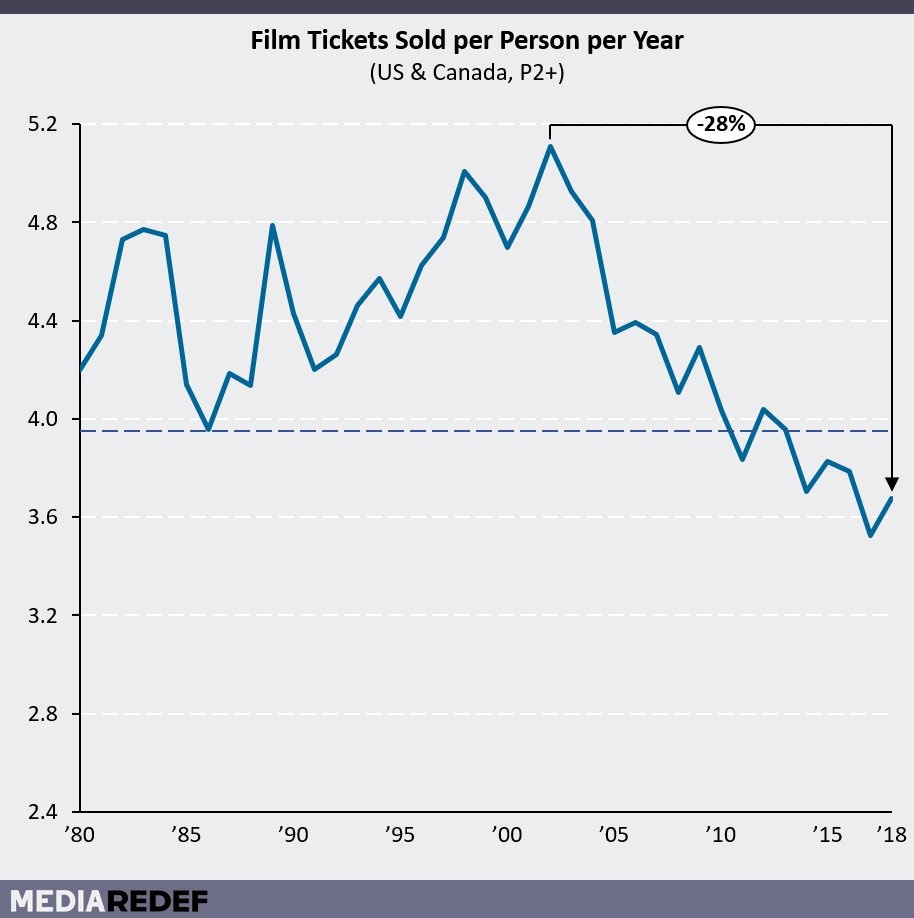 ---
Tech
Jeff Bezos's Master Plan (The Atlantic)
Amazon Reign: The Rise and Reign of Jeff Bezos (YouTube Documentary)
Lots of Bezos content this week! The first piece is an in-depth profile in The Atlantic of the world's richest man. The second is a (free) documentary of how Bezos built Amazon into the $1 trillion behemoth it is today. Also in the news this week: Bezos announced a new $10 billion "Earth Fund" to fight climate change. At risk of a Bezos content overload, in this piece climate scientists discuss the new fund. 

Inside LinkedIn: The Rise of the Normcore Social Network (Simone Stolzoff, Medium)
LinkedIn is probably the least sexy and most underrated social network. I've thought for years that LinkedIn is ripe for disruption (Hint #1: people are often embarrassed to be caught using the site) but it keeps growing. Its growth all comes down to viral growth loops: LinkedIn's infamous "someone is looking at your profile" emails create a viral loop for engagement, enticing users to sign in and look at others' profiles, which triggers more emails, and so on.
---
Media
Hollywood's Video Game Blindspot & 7 Reasons Video Gaming Will Take Over (Matthew Ball)
These are two pieces from one of my favorite writers, Matthew Ball (referenced in this week's thought above). In the first, he breaks down how Hollywood's media giants have overlooked video games. Many companies, like Disney, license out their IP to gaming developers; in a few years, they may realize they've been making the same mistake they made when they licensed content to Netflix—selling ammunition to the enemy. In the second piece, he explores why video gaming is reaching escape velocity and dives deep on the concept of "content leverage"—never-ending stories in completely immersive virtual worlds. 

Disney's Bob Iger: Businessperson of the Year (Time)
Bob Iger on the Tim Ferriss Show (Podcast interview with Tim Ferriss)
Speaking of media disruption, no one has had a bigger impact on media in the past two decades than Bob Iger. In his 15 years as CEO of Disney, Iger has overseen landmark acquisitions of Pixar, Marvel, Lucasfilm (Star Wars), and, most recently, Fox. Under his leadership, Disney's stock has increased by 500%. Armed with the world's best IP catalog (Woody & Buzz, Simba, Darth Vader, Nemo, Iron Man, and The Simpsons—all under one roof!) he has disrupted his own business by forgoing lucrative licensing deals to launch Disney+. It's his biggest bet yet. In addition to this article and podcast, Iger's recent memoir, The Ride of a Lifetime, is worth a read: it's surprisingly candid and covers his remarkable 45-year-career at Disney from assistant to the production assistant, all the way to CEO. 
---
Commerce
Direct-to-Consumer Metrics Explained (Zach Reitano, Medium)
The co-founder and CEO of Ro breaks down how DTC businesses work: customer acquisition costs, conversion, average order value, retention, and so on. 

What's Behind the Most Successful DTC Companies (CBInsights)
And relatedly, CBInsights dives into some of the most successful DTC start-ups and what drove their growth. They cover Glossier, Warby Parker, Harry's, Bonobos, Casper, and more, drawing out innovations that we now consider tablestakes: simplified product lines to limit consumer choice, user-generated content and the use of microinfluencers, and viral YouTube videos (like the infamous Dollar Shave Club launch video, which cost $4,500 and has 27M views).  
---
To receive this newsletter in your inbox weekly, subscribe here 👇😊