Discover more from Digital Native
Weekly writing about how technology shapes humanity, and vice versa
Over 54,000 subscribers
How Gen Zs Are Redefining Gender
Plus, virtual college campuses, Quibi's launch, and e-commerce trends
This is a newsletter about how tech is changing how we live and work
To receive this newsletter in your inbox weekly, subscribe here 👇
---
Gen Z Is Redefining Gender   
Our culture's understanding of gender is evolving, as Gen Z's views on masculinity, gender stereotypes, and sexuality are more fluid and nuanced than those of older generations. Among Gen Zs:
61% of Gen Z men believe men are negatively stereotyped by the media

50% of Gen Z men don't identify with the term "masculine"

35% of Gen Zs know someone who identifies as non-binary, compared to 25% of Millennials and 12% of Baby Boomers

66% of Gen Zs identify as "exclusively heterosexual", compared to 88% of Baby Boomers
These changing attitudes toward gender are beginning to have massive impacts on media, commerce, and pop culture.

Take Billie Eilish, Gen Z's biggest music star. Eilish is relatively genderless in her clothing and behavior, defying industry norms of how women should look and act. She recently starred in a genderless modeling campaign. (Check out The New York Times'excellent profile of Eilish.) Her style is driving a surge in gender fluid apparel.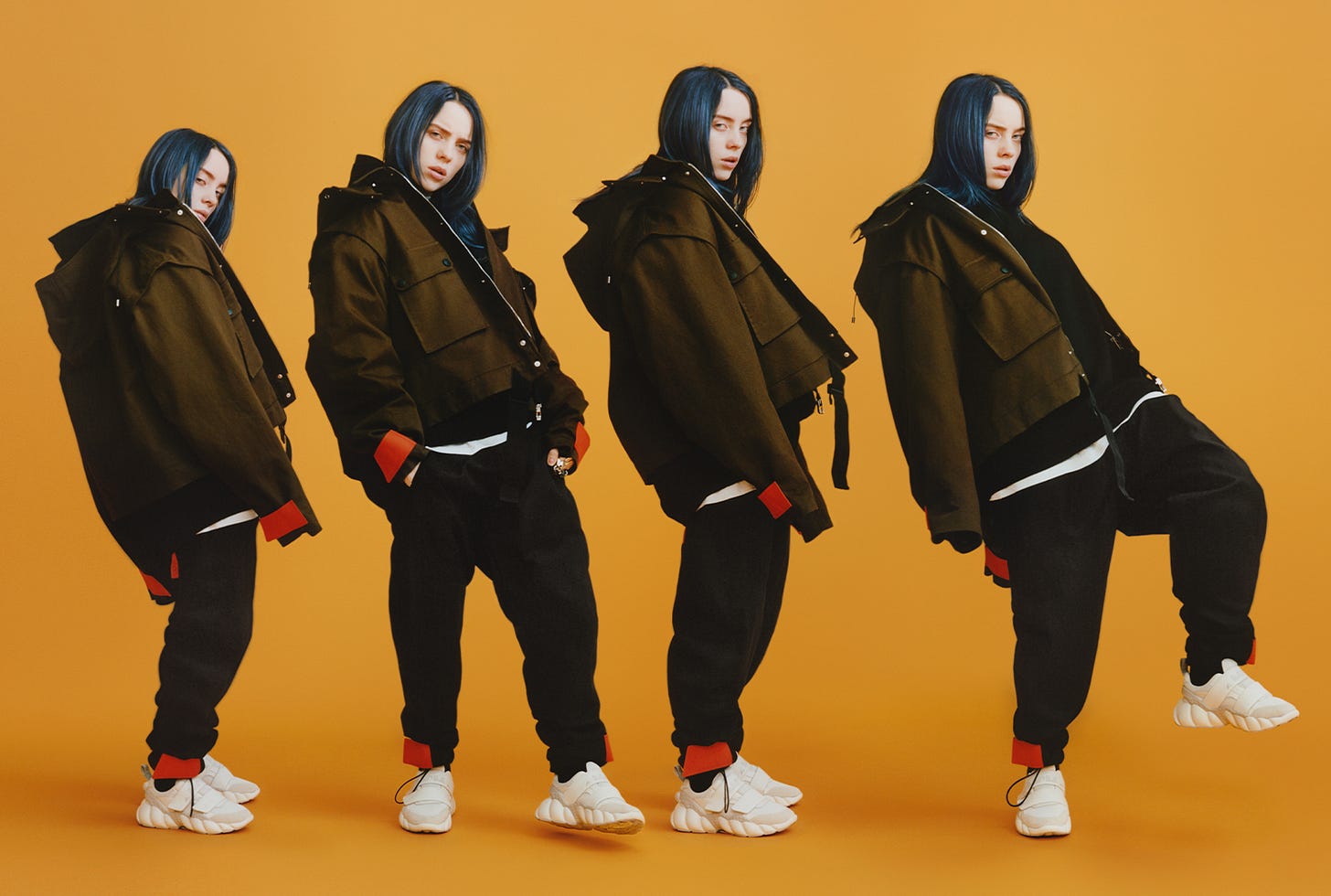 Gender norms are also transforming the beauty and skincare industries. Young women are embracing "no makeup makeup", turning to companies like Glossier that champion natural looks. Gender-neutral brands like Necessaire are emerging. Skincare is the fastest-growing beauty category, and men's skincare products are growing fastest of all.

In Asia, men's self-care is booming: 75% of Korean men undertake an at-home beauty or grooming routine (e.g., at-home facials, BB creams)58% of Korean men born after 2000 report undertaking "lengthy" beauty or grooming treatments, compared to 34% of Korean men overall89% year-over-year growth for men's makeup in China's TmallMale beauty influencers like Austin Li, better known as the "lipstick king", are attracting huge followings (22M followers for Li)The U.S. is likely only a few years behind; it's only a matter of time before we see the first billion-dollar men's beauty brand. 

Gen Zs are now the largest generation in America, with 90 million people. As they come of age this decade, their fluid interpretation of gender will permeate more aspects of our culture. 

Related: A few weeks ago, I gave a speech at Stanford about why we need a new definition of masculinity—a definition rooted in sensitivity, compassion, and capacity for emotion. I hope you enjoy it. 
Sources & Additional Reading — here are the sources that inspired and informed this content; check them out for further reading on this subject:
Euromonitor Research

Ian Spear

Pew Research Center 2018

GlobalData Consumer Survey
---
Chart of the Week
COVID-19 will primarily accelerate trends that were already happening. Instead of something taking 15 years to happen, it might take five years or even fewer. Cord-cutting is one of these trends. Streaming is thriving during the pandemic, but pay-TV is hurting. Ultimately, pay-TV will devolve into a sports and news bundle—these live events won't migrate to streaming, but everything else will. Fewer people will pay similar rates for fewer channels, which will still have high utility for them (e.g., ESPN will remain valuable to the avid sports fan). (Source: Nielsen, Matthew Ball)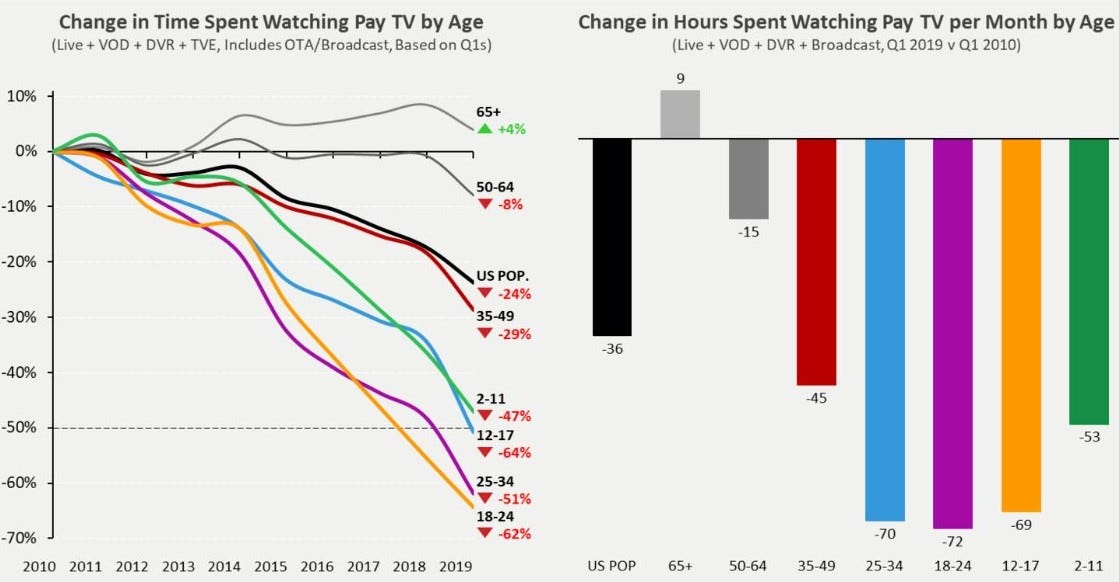 ---
Media
Quibi Is Risking It All on Mobile (CNet) and Meet Quibi, the Short-Form Streaming Network No One Needs Right Now (Rolling Stone)
Monday was the big day. After years of hype and $1.75 billion (that's billion with a b) of pre-launch funding, Quibi launched. Quibi's entire value proposition is that it offers premium short-form content to watch on the go; with everyone at home right now, it would seem a terrible time to launch. Ultimately, I don't think Quibi will succeed, but I don't think it will be because of the pandemic. In my mind, Quibi sought to solve a problem that no one asked to be solved. With YouTube, TikTok, Instagram, and more, there's no shortage of content to consume on the go. We're also in a different world than when Katzenberg came up with the idea for Quibi—he couldn't have imagined the streaming landscape would become this crowded and this competitive, this quickly. I'd love to be proven wrong and see Quibi succeed. No matter what happens, I admire the ambition. 

Campus Is Closed So Students Are Rebuilding Their Schools in Minecraft (The Verge)
Gaming is a massive industry: it's over twice as large as the film and music industries combined and it's growing 3-4x faster per year. It's about to get even bigger. It's one of the industries benefiting most from COVID-19: in March, gaming hours were up 75% year-over-year. Forced to leave their campuses, students are rebuilding virtual campuses in Minecraft. UPenn students spent hundreds of hours building their virtual school—even resorting to floor plans to fill in tiny details when their memories failed them. Next month, they'll host graduation in Minecraft. 

Bonus: Is a Pro Video Game Streamer the Most Coronavirus-Proof Job in the World? (NYTimes)
Related to gaming, I enjoyed this profile of Ben Lupo, one of the world's top gaming streamers. Six days a week, Lupo games for 11 hours straight in a dark, windowless room. Hundreds of thousands of people watch him live on Twitch. In order to grab a share of the massive gaming market, companies are signing top gamers to huge contracts, just like Nike signs LeBron James or Serena Williams. Ninja, the top Fortnite player in the world, recently signed a $30 million deal to leave Amazon's Twitch for Microsoft's Mixer. 
---
Tech
The Backlash to Zoom (The Verge)
Zoom had a tough week. Privacy concerns emerged, schools and companies began to ban Zoom, and the New York Attorney General even announced an investigation into Zoom's privacy practices. These problems stem from a blurred line between enterprise and consumer. Zoom is an enterprise product (meaning companies purchase software subscriptions) but operates like a consumer app. The best work tools are as easy to use and as enjoyable to use (virtual backgrounds!) as consumer apps, but they still require enterprise-grade security. Zoom announced that it's pausing new feature development to focus on addressing the privacy issues. 

Patreon Is Surging Under COVID-19 (TechCrunch)
Patreon is a platform that helps creators (think writers, musicians, podcasters, etc.) make money from their fans through monthly online subscriptions (Patreon takes a 5-12% cut). With people spending more time at home and with many out of traditional work, new creator signups are surging: in March, more than 30,000 creators joined Patreon. Check out this chart.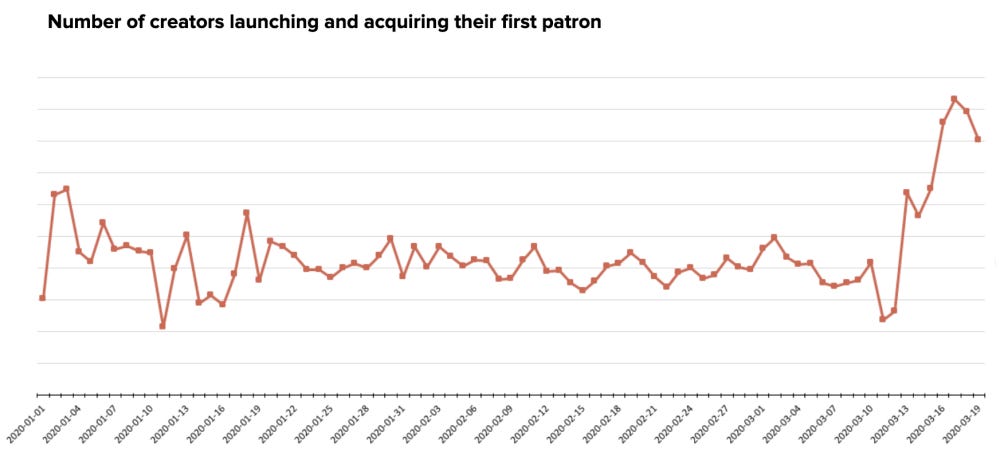 Patreon was one of the original "Business-in-a-Box" platforms, and the virus is acting as a catalyst. 

Inside the Race to Develop a COVID-19 Vaccine (The Guardian)
Until the 21st century, crafting a vaccine could take 10 or 20 years. But the biotech industry has made incredible progress over the past two decades, and that progress is paying off. Over 40 teams are currently working on COVID-19 vaccines. One biotech company, Moderna, finished its vaccine in 63 days and moved into human trials on March 16th. 
---
Commerce
How China Is Revolutionizing E-Commerce (The Conversation)
To predict future consumer behavior in the U.S., look to China. Online commerce in China is much more widespread and much more innovative. One example is social shopping, pioneered by Pinduoduo: consumers can get lower prices on products by inviting their friends to form joint purchasing teams. Another example is live commerce, which is the convergence of live streaming and e-commerce. Live shopping has come a long way since QVC. In 2019, live commerce in China was a $63 billion industry, up +288% from 2018. Around 25% of consumers are daily users, while 71% watch a live commerce event at least once a week.

The Top 100 Gaining and Top 100 Declining E-Commerce Categories (Stack Line)
E-commerce penetration remains fairly low in the US: last year, about 16% of retail was done online (compared to 36% in China). Shelter-in-place mandates are driving a surge in e-commerce. Again, the pandemic is less likely to create new trends than to accelerate current ones: America would have continued to shift toward e-commerce without the pandemic, but the pace of that shift is now much faster. This very cool graphic shows what categories are up and down year-over-year. The top three gainers: disposable gloves (+670%), bread machines (+652%), and cough & cold (+535%). The top three losers: luggage & suitcases (-77%), briefcases (-77%), and cameras (-64%). 
---
Quick Hits
Streaming's share of total TV time is up to 23%. Of streaming time, 30% is dedicated to Netflix, 20% to YouTube, 10% each to Hulu and Amazon, and the rest to "Other" ("Other" has gained share, driven primarily by Disney+). 

Bookshop is a new online bookstore hoping to save local shops. Local bookstores have seen their revenue evaporate in this crisis; Bookshop is committed to helping them survive and, more existentially, to help them compete against Amazon, which owns half of all new book sales. 

China's divorce rate is spiking as the country exits quarantine. Couples in lockdown together are quibbling over familiar issues: money (too little), screen time (too much), and housework and child care (not evenly split).

At USC, students are studying to be social media influencers. This piece explores how "influencing" is becoming a career for students. If that's not enough to convince you to read it, it also includes the instantly iconic line: "If you don't have good lighting, like, what do you have?"
(This reminded me of a recent study that found that twice as many kids want to be YouTubers as want to be pop stars or movie stars.)
---
Laugh of the Week
I've decided to end newsletters with some humor, in the hopes that humor can bring us together and help us get through this difficult time. Stay safe and healthy!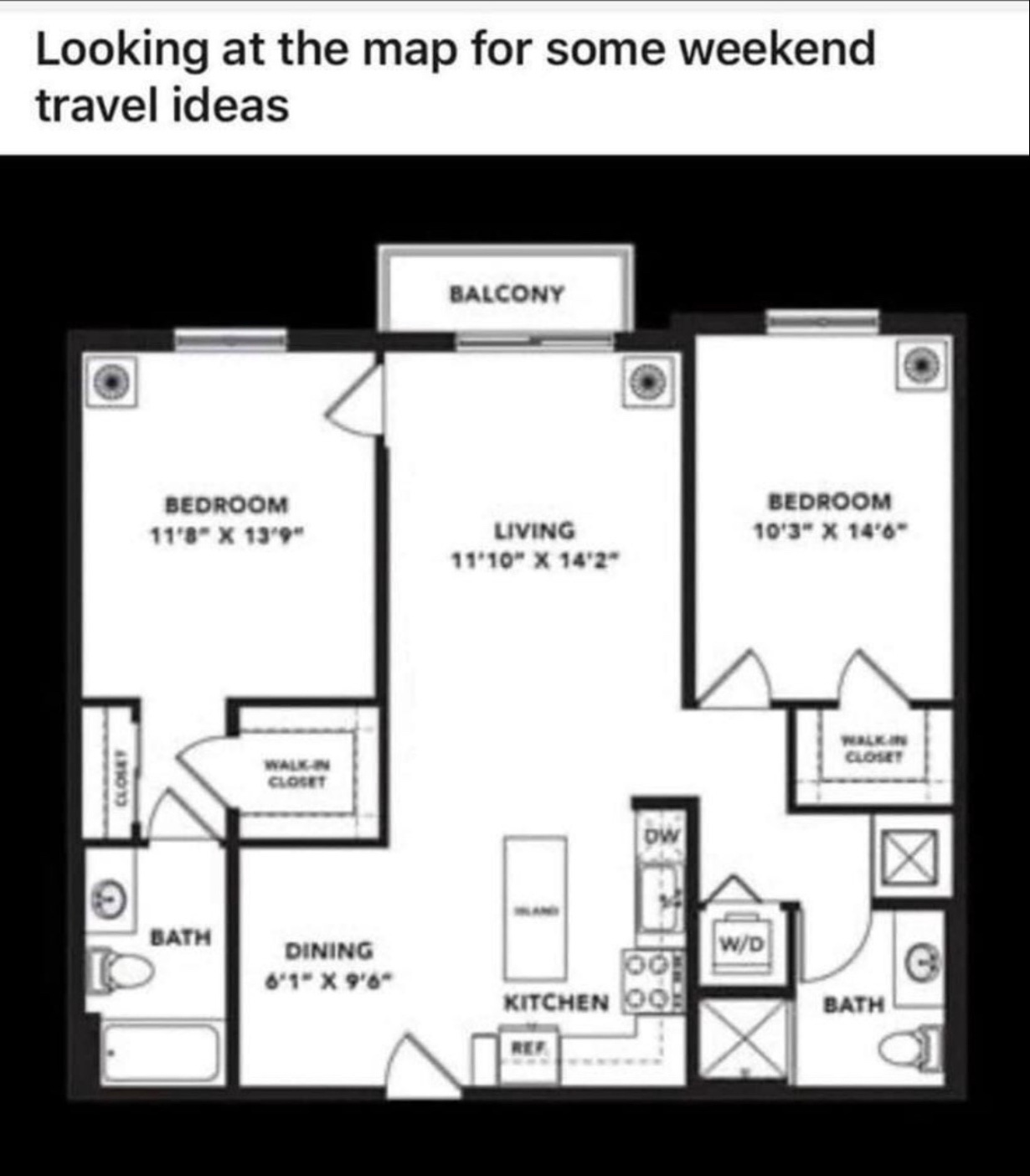 ---
To receive this newsletter in your inbox weekly, subscribe here 👇😊