Discover more from Digital Native
Weekly writing about how technology shapes humanity, and vice versa
Over 54,000 subscribers
How COVID-19 Will Change Healthcare
Plus, online education, 3D printing, and the decline of pay-TV
This is a newsletter about how tech is changing how we live and work
To receive this newsletter in your inbox weekly, subscribe here 👇
---
Healthcare in a Post-COVID World
I hope everyone is staying safe and healthy. These are challenging times, made all the more challenging by how isolating and demoralizing social distancing can be. I'm writing this from Chicago, where I've been spending time with my partner and his family. We're staying indoors, apart from 6pm each evening when we step onto our front porch. Someone a few houses down puts a boombox in his window and plays a song. All down the street, neighbors sing and dance and wave to each other from their porches. Last night was "Don't Stop Believin'". 

Above all, I've been thinking of the healthcare workers on the front lines who are fighting this pandemic. My brother is a doctor in New York City, working out of the hospital at the epicenter of the pandemic. I saw a prediction this week that when this is all over, we'll salute doctors and nurses as we've historically saluted those in the military. I hope that's true. 

This pandemic will fundamentally change how healthcare is delivered. There are two driving forces here. First, there are behavior changes underway during the crisis: more online doctors visits, prescriptions delivered by mail, therapy appointments over Zoom. And second, memories of the crisis and fears of infection will create an aversion to in-person interactions, particularly interactions with strangers and interactions that are otherwise avoidable. 

The first force—behavior changes—would have happened eventually. The crisis is only accelerating the inevitable. But the second force—lingering fear of in-person interaction—is new and will embolden the first. 

In the U.S., healthcare is a $4 trillion industry, growing ~5% year-over-year. Before this pandemic, telehealth was still nascent: a $6 billion market in the U.S., growing ~30% annually. We're going to see dramatic growth in telehealth. This will dovetail with the "consumerization" of the healthcare sector: notoriously loathed by its customers, healthcare will become more convenient, more affordable, and more accessible. Enabled by technology, power will shift from payers and providers to consumers.  

Regulation has historically been an obstacle to telehealth. But even before COVID, that was beginning to shift. Nearly every state Medicaid program now offers some form of coverage for telehealth services. Beginning this year, Medicare beneficiaries participating in Medicare Advantage plans will have additional telehealth reimbursement. The COVID-19 pandemic will dismantle regulations more quickly than otherwise possible. FaceTime and Skype are becoming HIPAA compliant. A Google search for "telehealth" now returns an SEM ad from Zoom. 

And consumers are open to telehealth: a recent American Wells survey found that 66% of consumers expressed a willingness to try telehealth. Of those surveyed, only 8% had had a telehealth visit with a doctor within the past year. Generational shifts will further drive adoption. Millennials are nearly three times as likely as other generations to have had a video visit with a doctor.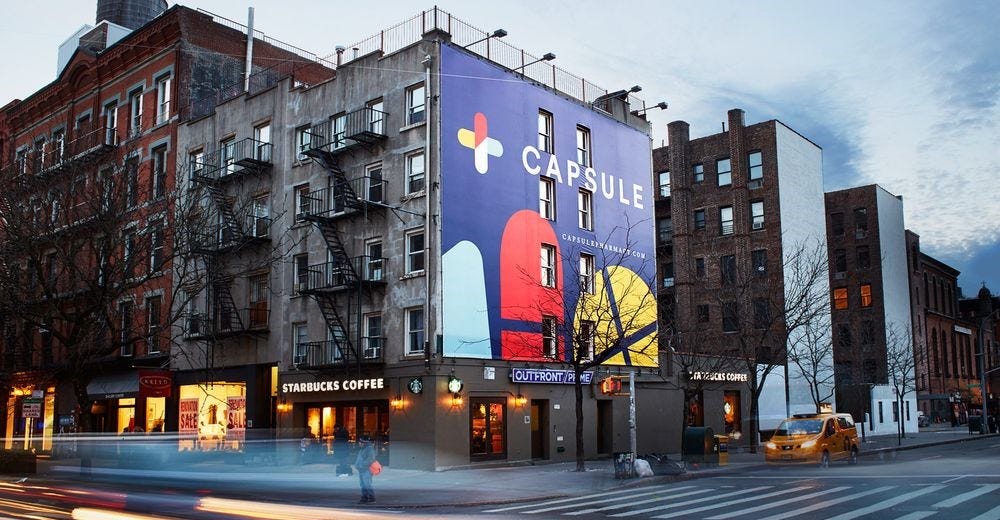 While there are aspects of healthcare that will remain offline (surgeries come to mind), there are others that make sense online: dermatology, mental health and therapy, many doctors appointments and check-ins, birth control and fertility treatment. Startups like Capsule, Livongo, Curology, Nurx, Ro, Hims/Hers, and Modern Fertility have seen success by giving power to the consumer and by making healthcare delivery convenient and inexpensive. As the coronavirus accelerates the growth of telehealth, we'll see more of these startups emerge. 
Sources & Additional Reading — here are the pieces that inspired and informed this content; check them out for further reading on this subject:
---
Chart of the Week
Two charts this week. First, this chart of household sentiment around spending. I'm curious if there has ever been so abrupt a change—maybe after 9/11, but my guess is that a shift this acute and dramatic is unprecedented.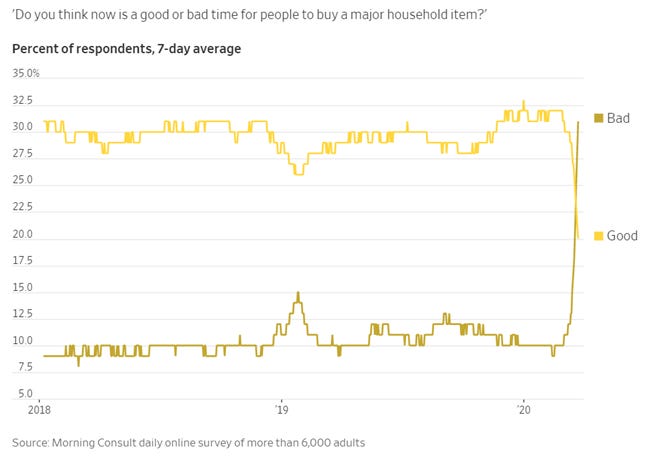 If you're like me, you've been watching a lot of Netflix (Tiger King, anyone?). This chart shows subscription video on demand (SVOD) sign-ups indexed to Netflix. Disney+ has seen the most dramatic acceleration in new subscribers, likely due to so many children being home while schools are closed. This is a rare bright spot for Disney, as their stock has gotten clobbered over the past month. (Source: Antenna, Matthew Ball)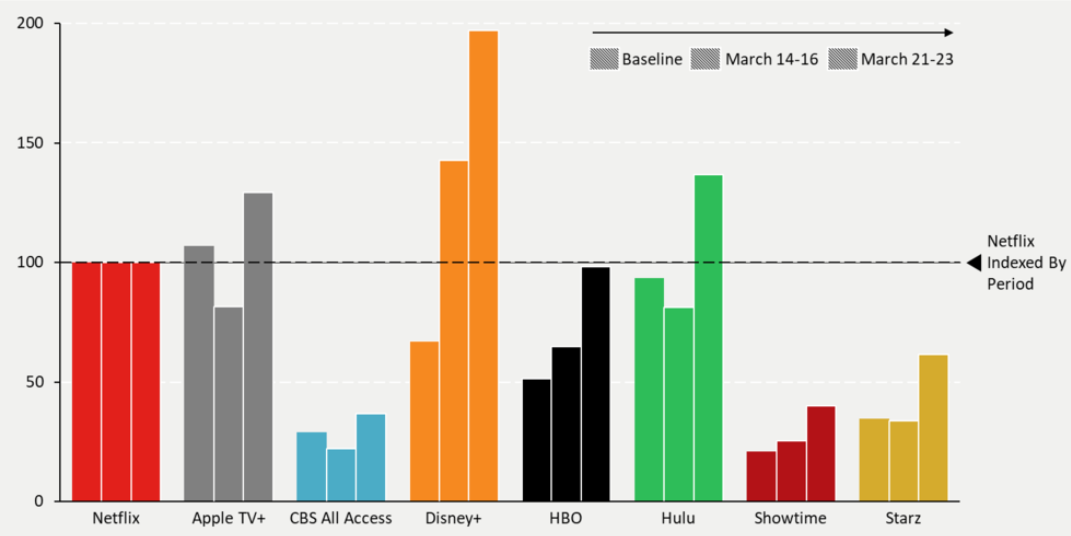 ---
Tech
Can Computers Ever Replace the Classroom? (The Guardian)
Education is still waiting to be fundamentally reinvented by technology. When I think about areas ripe for disruption, I often think about two key components: (1) large categories of consumer spend / large markets, and (2) low consumer satisfaction or net promoter scores (NPS). Education fits both of these. The U.S. education market is around $1.5 trillion. And the cost of education has risen faster than any other bucket of consumer spend; over the past 20 years, household spend on education has nearly doubled. Students, parents, and teachers are all looking for a better system. The coronavirus may be the catalyst that finally reinvents education.  

Being CEO of Slack During COVID-19 (Twitter)
Stewart Butterfield, the co-founder and CEO of Slack, shares an honest and moving Twitter thread about leading Slack through this crisis. It's rare to see this kind of candor and vulnerability from a major CEO.

Inside a Silicon Valley Unicorn's Urgent Dash to 3D-Print Face Shields and Test Swabs (Forbes)
Corporate America is rising to the moment. General Motors is making 50,000 face masks a day. Ford, 3M, and GE are working together to make ventilators. Even Hollywood is pivoting from film production to mask production. In Silicon Valley, top startups are following suit, with Carbon, a 3D printing unicorn, leading the way. 
---
Commerce
The Meteoric Rise and Ongoing Demise of Blue Apron (Pitchbook)
A few years back, Blue Apron was one of the hottest startups around. In 2016, it did $800 million in revenue, and in 2017, it IPO'd at a valuation just under $2 billion. But poor unit economics did it in: it turned out to be hugely expensive to acquire customers, and customer churn was high. Today, Blue Apron's market cap is just $180M. But incredibly, it's experiencing something of a resurgence: over the past two weeks, it's stock has gone up 600%, buoyed by customers stuck at home during the coronavirus pandemic. 

Welcome to the Era of the Post-Shopping  Mall (NYTimes)
A few months ago, the 3-million-square-foot American Dream mall opened in New Jersey, just across the Hudson River from New York City. More than half of American Dream's space is allotted not to retail but to entertainment. There's an indoor ski mountain, an ice rink, and the largest indoor theme park in the Western Hemisphere. If we're moving from a "stuff" economy to an experiences economy, American Dream is the paragon of that shift.

The Economics of Cruise Ships (The Hustle)
Cruise ships have made headlines recently, and not good ones: several ships have become hotspots for COVID-19 infections and have been ridiculed as "floating petri dishes." Cruise stocks are down 70% year-to-date. This article steps back and analyses how cruises make money. Cruises are solid businesses, with profit margins often double those of hotel chains. This is because cruises sell their tickets for breakeven, and then make their profit through onboard purchases made by passengers, who are a captive audience.
---
Media
The Impact of COVID-19 on Pay-TV and OTT Video (Matthew Ball)
COVID-19 is accelerating the demise of pay-TV and the transition to OTT video. Sports were holding together the TV bundle; now, there aren't any live sports on TV. Advertising is the lifeblood of traditional TV; now, brands are slashing ad budgets. Households are balking at the $100/month price tag and turning to less expensive streaming services. But even Netflix is in trouble. Since 2014, Netflix's U.S. movie library has shrunk by nearly 40%, while its TV library is down 25%. With production stalled and competition increasing (Disney+, HBO Max, Peacock, Hulu, Amazon Prime Video, Quibi, etc.), Netflix will struggle to offer subscribers enough content to justify its pricing. 

Epic Games Launches Publishing Label (The Verge)
Epic Games, the video game powerhouse behind Fortnite, announced Epic Games Publishing. Epic will allow game developers to retain 100% of their IP and full creative control for their work, while Epic funds 100% of developer costs. This is a strong signal of the platform Epic hopes to be. And this fits into the "Business-in-a-Box"  thesis I wrote about a few weeks back! 
---
Culture
Coronavirus Will Change the World Permanently. Here's How. (Politico)
This is a long piece exploring how the coronavirus will fundamentally alter our lives. One expert sees the virus as the shock needed to finally break 50 years of escalating partisanship and polarization in America. Another believes that this will be a boon for technology: healthcare, education, elections, and government will all move permanently online. I tend to agree with those who predict inflection points for nascent industries (telemedicine, VR, etc.) but disagree with those who predict more deeply rooted cultural changes (e.g., decreased partisanship). 

Google Trends (Google, Axios)
There's no better pulse on our culture than what searches are trending on Google at any given moment. 

Last week's top five searches:
1. How to cut men's hair at home
2. How to make face masks from fabric
3. How to make sanitizer wipes at home
4. How to make Rice Krispie treats
5. How to solve Rubik's cube 

And searches for "How to make toilet paper" spiked +1,300% in the past week! 
---
Laugh of the Week
I've decided to end newsletters with some humor, in the hopes that humor can bring us together and help us get through this difficult time. Stay safe and healthy!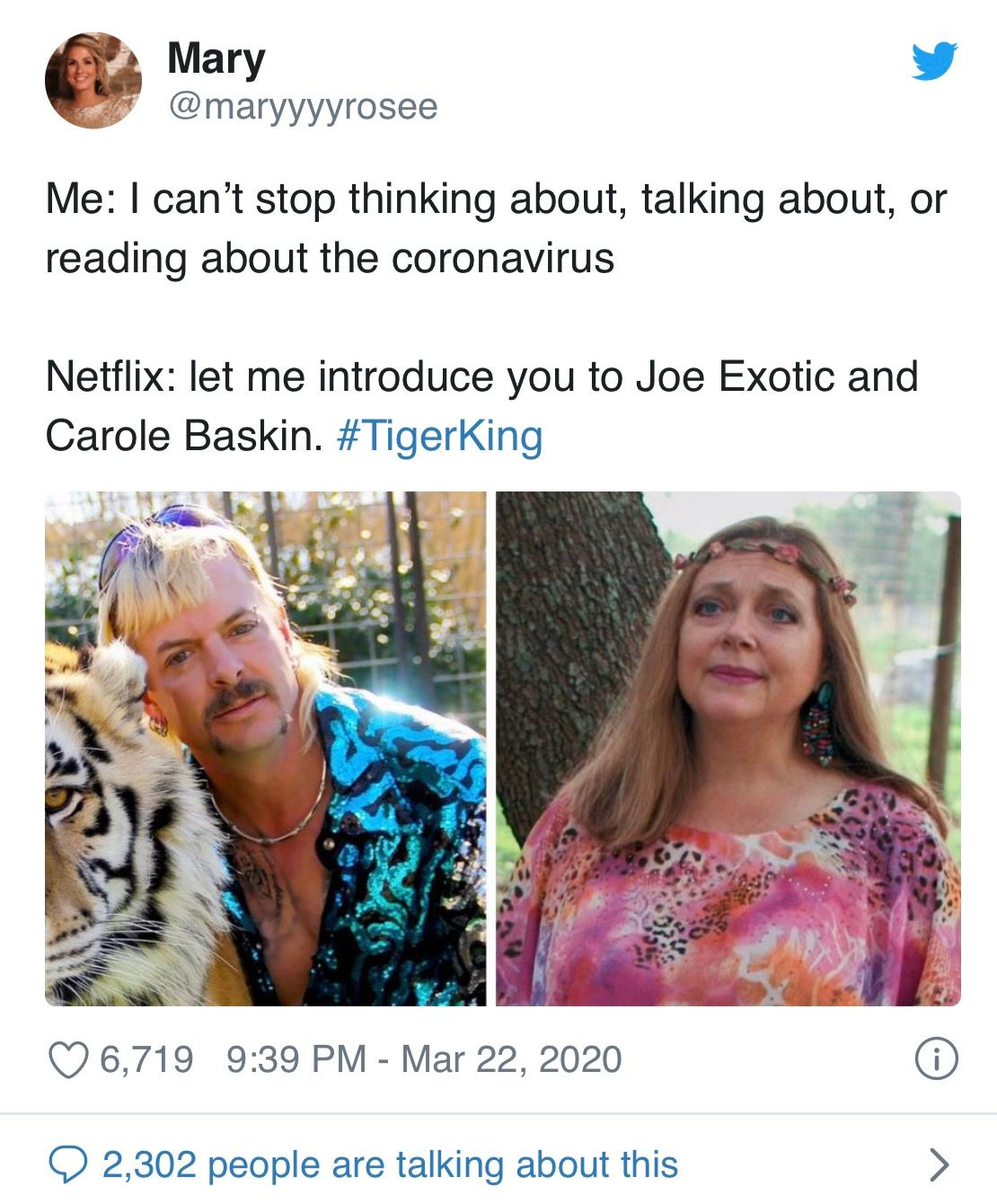 ---
To receive this newsletter in your inbox weekly, subscribe here 👇😊