Discover more from Digital Native
Weekly writing about how technology shapes humanity, and vice versa
Over 54,000 subscribers
Building for the Barbells
How Startups Can Build for Baby Boomers and Generation Alpha
This is a weekly newsletter about tech, media, and culture. To receive this newsletter in your inbox each week, subscribe here:
---
Building for the Barbells
There are two segments of the U.S. population that I've started calling "the barbells": the oldest Americans (~65+) and the youngest Americans (~10 and under). In each segment, major demographic trends are colliding with increased tech adoption.
The Oldest Americans
Every day, 10,000 people in the U.S. turn 65. By 2040, 1 in every 5 Americans will be over 65; 50% of the population is already over 50. Baby Boomers control 70% of the country's disposable income and will pass down $30 trillion over the next 20 years.
The Youngest Americans
There are ~50 million U.S. kids under 10 who each consume ~6 hours of screen time every day. Among 0- to 8-year-olds, 95% have access to a smartphone at home and 42% own their own tablet. Kids are foregoing linear TV in favor of internet platforms.
Both of these segments are underserved by tech products today, and both of these segments are compelling markets for startups.
---
An Aging Population
The market for older Americans is already massive: there are more Baby Boomers in the U.S. today than there are people in the U.K., Israel, and Switzerland combined.
And the market is growing secularly, driven by an aging population. In 2010, there were 40 million Americans age 65 and over. By 2030, there will be 72 million.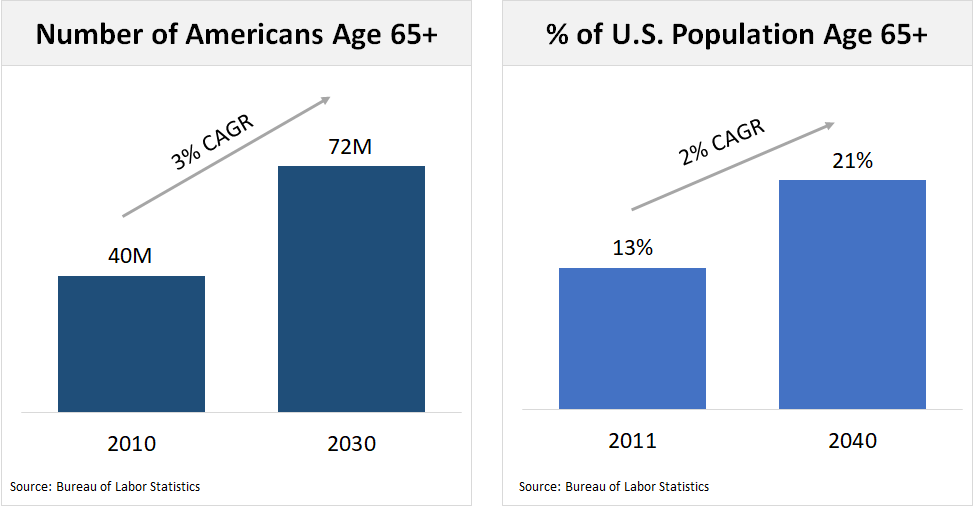 This is a global phenomenon: people 65 and older will soon outnumber children under 5 for the first time in history.
While older Americans didn't grow up with modern tech, they've embraced it. Boomers make up a third of all Internet users, 90% have a computer, and 70% have a smartphone. Thirty million Boomers call themselves "heavy Internet users"—roughly defined as using the Internet for 15 hours or more each week.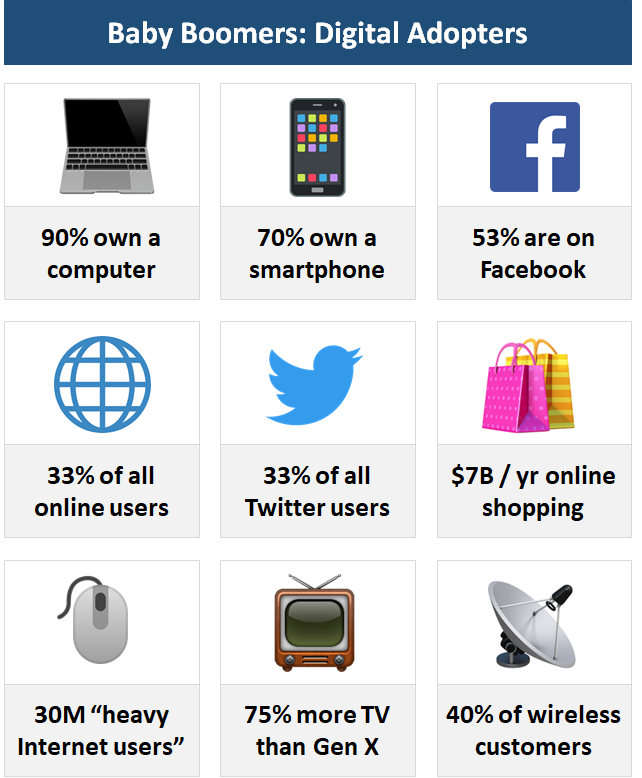 What's striking about older Americans is the disconnect between their financial muscle and the number of products and services targeting them.
Baby Boomers are already the wealthiest generation in history, collectively earning double that of the "Silent Generation" above them. Boomers control 70% of U.S. disposable income and 50% of U.S. consumer spending dollars.
Yet just ~5% of advertising dollars target Boomers.
Compared to Millennials (who are targeted by 50% of ad dollars), Boomers have 15x the net worth, 2x the median income, and 50% higher average monthly household spend.
So we've established that older Americans are an attractive market. There are three areas that I see as most interesting for new business creation:

Health & Support
By 2027, U.S. health expenditures will reach $6 trillion (about 20% of GDP), driven primarily by our aging population. Every year, 3.7 million more Americans become eligible for Medicare, with average healthcare costs 5x those of children and 3x those of working-age people.
In the year 2050, there will be 84 million Americans who are 65 or older—twice as many as there were in 2012. At that point, America's elderly population will be growing faster than America's working age population.
There continues to be a massive opportunity to build health products for this demographic. Telehealth, in particular, can lower costs and broaden access to care. In the last decade, companies like Livongo (chronic disease management) and PillPack (an online pharmacy) emerged to help seniors better access healthcare.
But equally important will be the companies that provide support for an aging population.
According to the AARP, 87% of older Americans want to age in their homes. Umbrella (Seed Stage; $5M raised) is a startup that helps them do so by connecting them to a network of community helpers.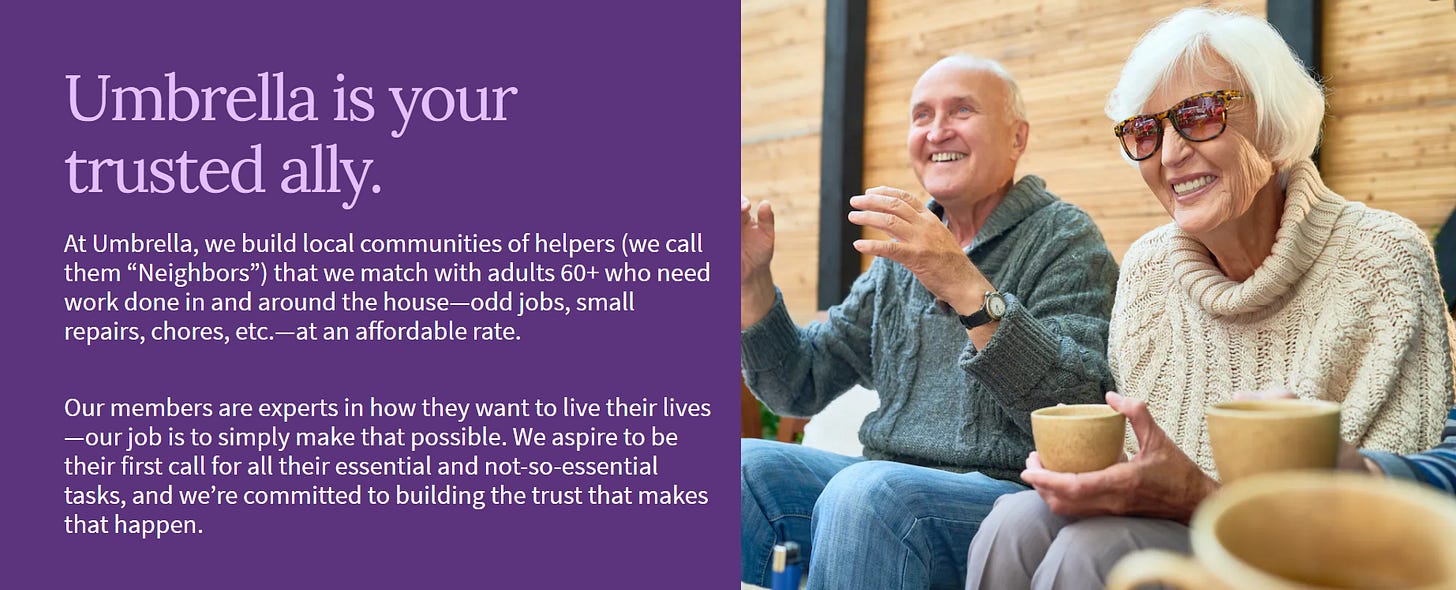 Umbrella "Neighbors" help "Members" with various tasks—changing a lightbulb, yardwork, organizing the pantry. Members pay an annual $199 fee and Neighbors receive $20 / hour for tasks. Half of Neighbors are recent retirees themselves.
Umbrella specifically markets itself to the 60+ demographic. Over the coming decades, more networks of support, like Umbrella, will cater directly to older Americans.
Financial Well-Being
Given Baby Boomers' wealth, new financial tools are emerging to manage that wealth and plan for retirement. But few tools are built to transfer that wealth.
Over the next 20 years, Baby Boomers will pass down $30 trillion to the next generation. This will be the greatest wealth transfer in human history, yet only 30% of Americans have a will.
FreeWill (Seed Stage) is closing this gap by providing free online wills and estate planning. FreeWill has an innovative business model. Customers set up their will at no cost; charitable organizations, meanwhile, pay FreeWill recurring revenue to access FreeWill's customers, who are given the option to allocate a portion of their estate to charity.
This creates an innovative customer acquisition engine, as charities are incentivized to tap their databases of volunteers and donors for FreeWill customers.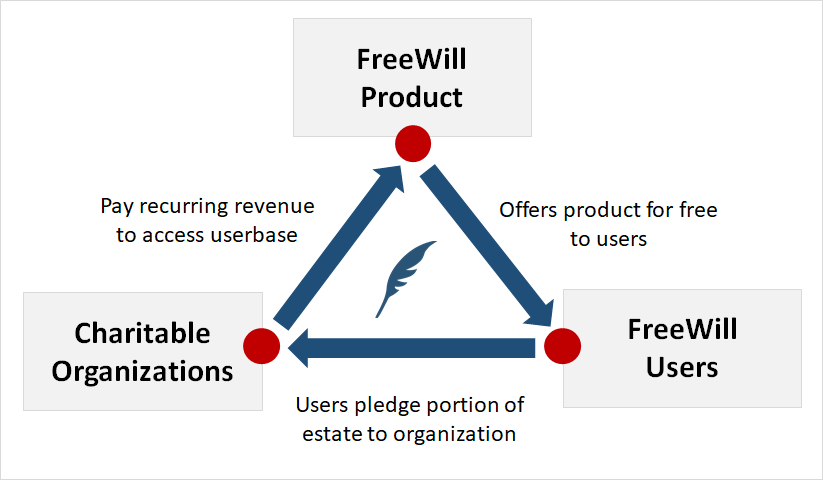 FreeWill has helped people create 176,000 wills and pledge $1.8 billion to charity. The average FreeWill customer donates 6x more than the national average.
Co-founder Jenny Xia Spradling gives a helpful (and amusing 🐳 ) example of how to build for your target customer:
One comment that kept coming up in user interviews was "I love the product, but I'm not sure about the name. It reminds me of whales. You know the movie Free Willy?" We heard this so many times we started doubting the name.

Luckily, we re-analyzed our user data before we made any moves. The "Free Willy" comment was mostly coming from Millennials. In fact, no Baby Boomers had made the reference. Since we were initially targeting Baby Boomers, we decided to keep the name…Key learning: "Focus on your target customer segment."
Community Building
Retirement can create a loss of community, social interaction, or sense of purpose—and every day, 10,000 more Baby Boomers retire.
A 2018 study found that a quarter of people over 65 are considered socially isolated; a 2012 study found that 43% of people over 60 report feeling lonely. That was before a global pandemic dramatically worsened isolation, particularly for older Americans.
(This has ripple effects across health. Loneliness is associated with higher rates of heart disease and stroke and a 50% increased risk of dementia.)
Startups like Papa (Series B; $18M raised) and Mon Ami (Seed Stage; $3.4M raised) are addressing loneliness by facilitating connections between older people and younger companions.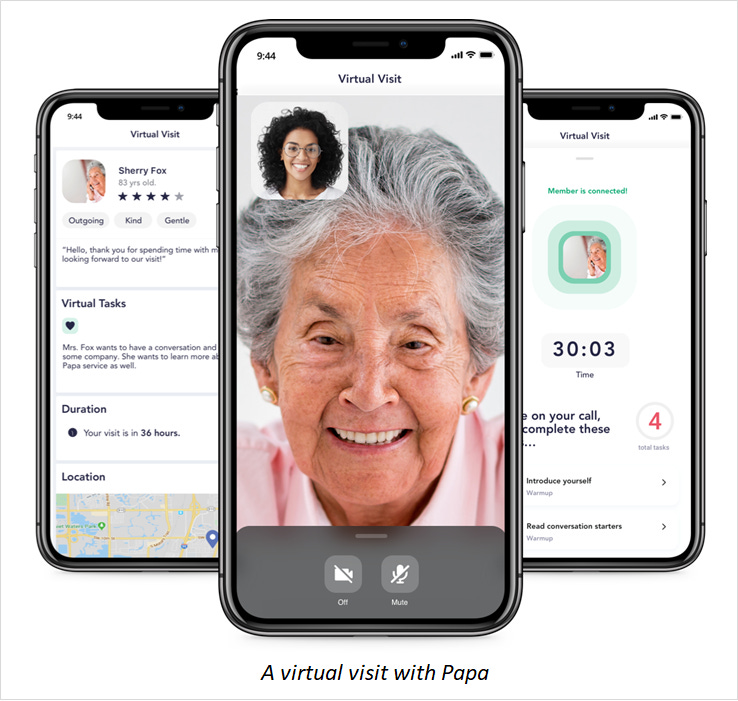 But there's a compelling opportunity to improve connection between seniors. Seniors have both the free time and the disposable income to spend, but few products have been built to help them socialize and interact.
One interesting startup is Gather (Pre-Seed). Gather connects Baby Boomers based on their interests and hobbies: an art enthusiast can join a group of like-minded enthusiasts to discuss modern art; a history buff can join a weekly course put on by the Museum of Natural History.
Building products around learning is a low-friction entry-point to community building. Many older people yearn for community, but are hesitant to voice that need. Forming connections around shared interests removes that barrier. There are massive opportunities to build learning-based networks and marketplaces for Baby Boomers.
---
Digitally-Native Kids
While Baby Boomers are digital adopters, today's kids are digital natives. A 2017 Common Sense Media report found that among U.S. 0- to 8-year-olds, nearly all have access to a smartphone in the home and nearly half have their own tablet.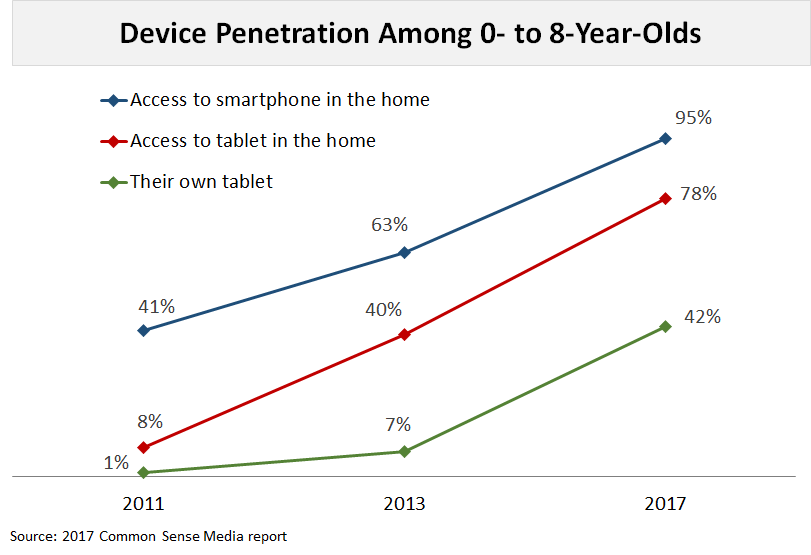 This data is three years old, meaning that device penetration is even higher today. (And pandemic-driven stay-at-home orders + school closures likely drove another step change in penetration.)
Older tech platforms are being replaced by newer ones. In 2011, TV and DVD / VHS accounted for 74% of kids' screen time; by 2017, that had shrunk to 54%. Mobile screen time, meanwhile, surged ~11x from 3% to 35%.
The "old guard" content providers haven't adapted. Anecdotally, I knew that networks like Nickelodeon, Disney Channel, and Cartoon Network were hurting. But I didn't realize how rapidly their ratings have declined until I looked up the data: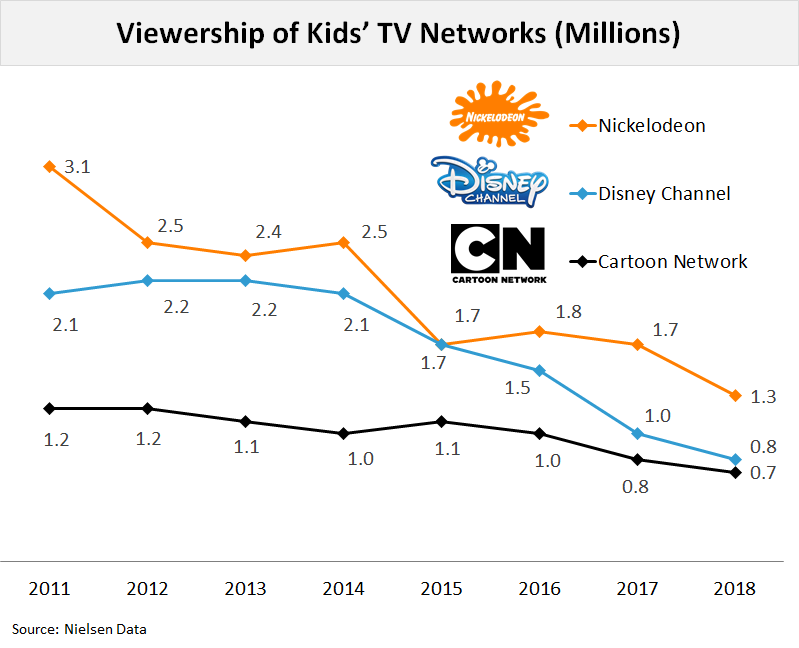 YouTube and Netflix are the big beneficiaries here, slotting #1 and #2 in a recent ranking of most-loved kids brands (iPhone, McDonald's, and Oreo made up the rest of the top five). But both have had their brands tainted by bad press:

Tellingly, YouTube didn't even rank in the top 50 for parents' favorite kids brands.
A massive shift in distribution is coinciding with demand for safe, kid-first platforms. This combination creates an opening for startups.
The success of YouTube and Netflix means that new content studios can build on top of existing platforms. And YouTube's and Netflix's brand issues mean that competitive consumer subscription platforms can emerge.
Most kids' tech and media companies fall across a spectrum between two camps: entertainment and education.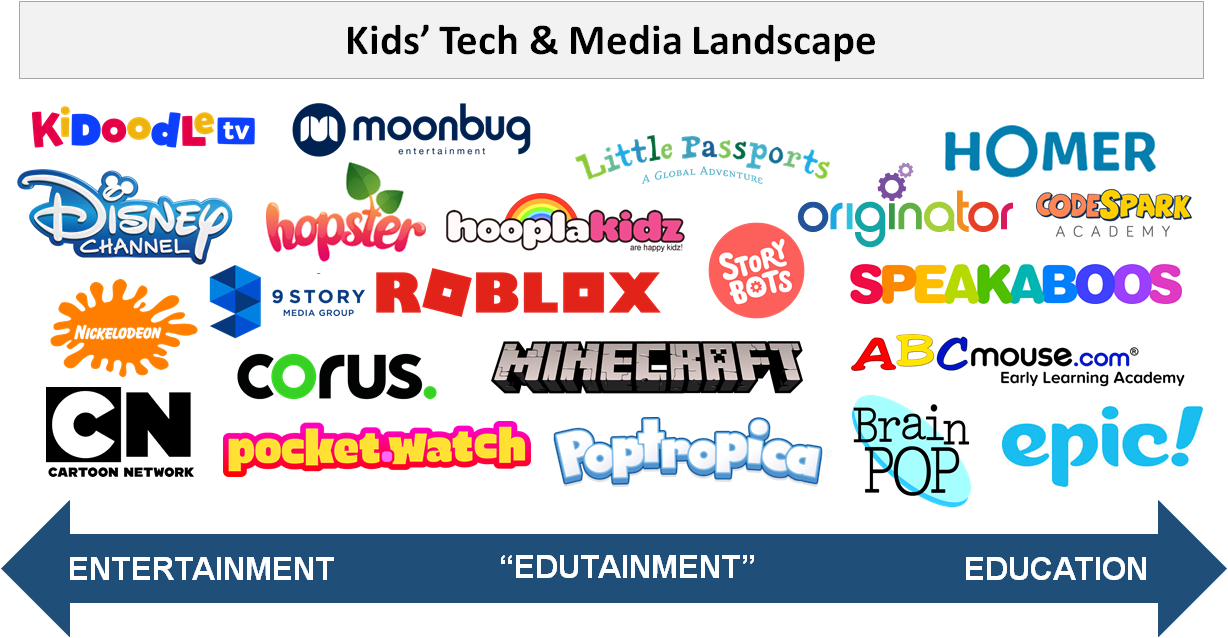 I'll look at one interesting company at each end of the axis, and then one in the middle.
Entertainment
Last week, I wrote about how "YouTuber" is the most-desired career among kids (2x as desired as "Astronaut"). Today's kids under 10—mostly members of Generation Alpha—spend hours a day with their favorite YouTube stars. And these stars are big: of last week's most-viewed YouTube channels, kids' channels make up 8 of the top 10 and 4 of the top 5.
Two of the most popular YouTube kids are Ryan Kaji of "Ryan's World" and Diana of "Kids Diana Show". Both are stars in the stable of Pocket.watch (Series B; $21M raised), a content studio and brand accelerator for young creators.
As Pocket.watch CEO Chris Williams puts it:
At Pocket.watch, we specialize in identifying YouTube stars that we feel can be true global kids' franchises. It is a rare and special thing and we mine constantly.
Only 9-years-old, Ryan has been YouTube's top earner two years running: in 2018, he banked $22 million, then increased that to $26 million in 2019. Working with Pocket.watch, he's released 1,000 different products into 75,000 stores and did $150 million in sales last year (+300% from 2018).
Diana, meanwhile, is a 6-year-old Ukrainian whose parents stumbled into fame after launching a YouTube channel to chronicle family life. Pocket.watch signed Diana in May and is taking a three-pronged approach: consumer products, a mobile game, and a 40-episode series combining live-action and animation.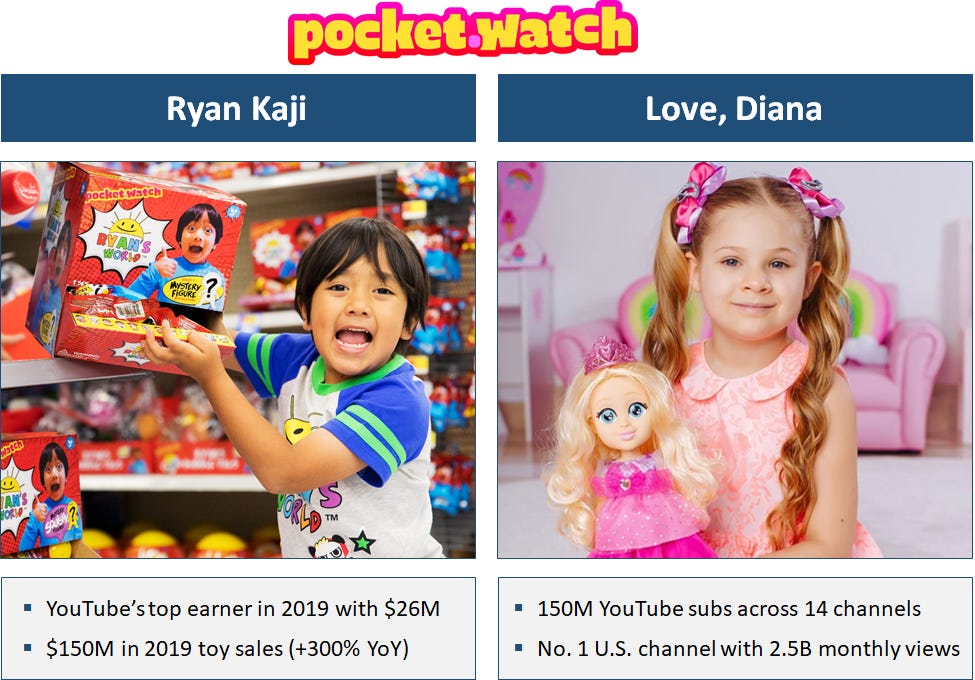 Pocket.watch is turning Diana—who was born in 2014—into a bona fide empire:
14 YouTube channels boasting 143 million collective subscribers and 5 billion monthly views

The No. 1 channel in the U.S. (and often in the world) in Kids Diana Show, with 2.6 billion monthly views (up 333% year-over-year)

A new series available in nine languages and distributed across Prime Video, Roku, PlutoTV, Xumo, and Samsung TV+

A consumer products line—launched just last week—with dolls, hair accessories, jewelry, bath and beauty products, bedroom furniture, and dollhouses

Agreements with 9 licensees and retailers in the U.S., U.K., and Australia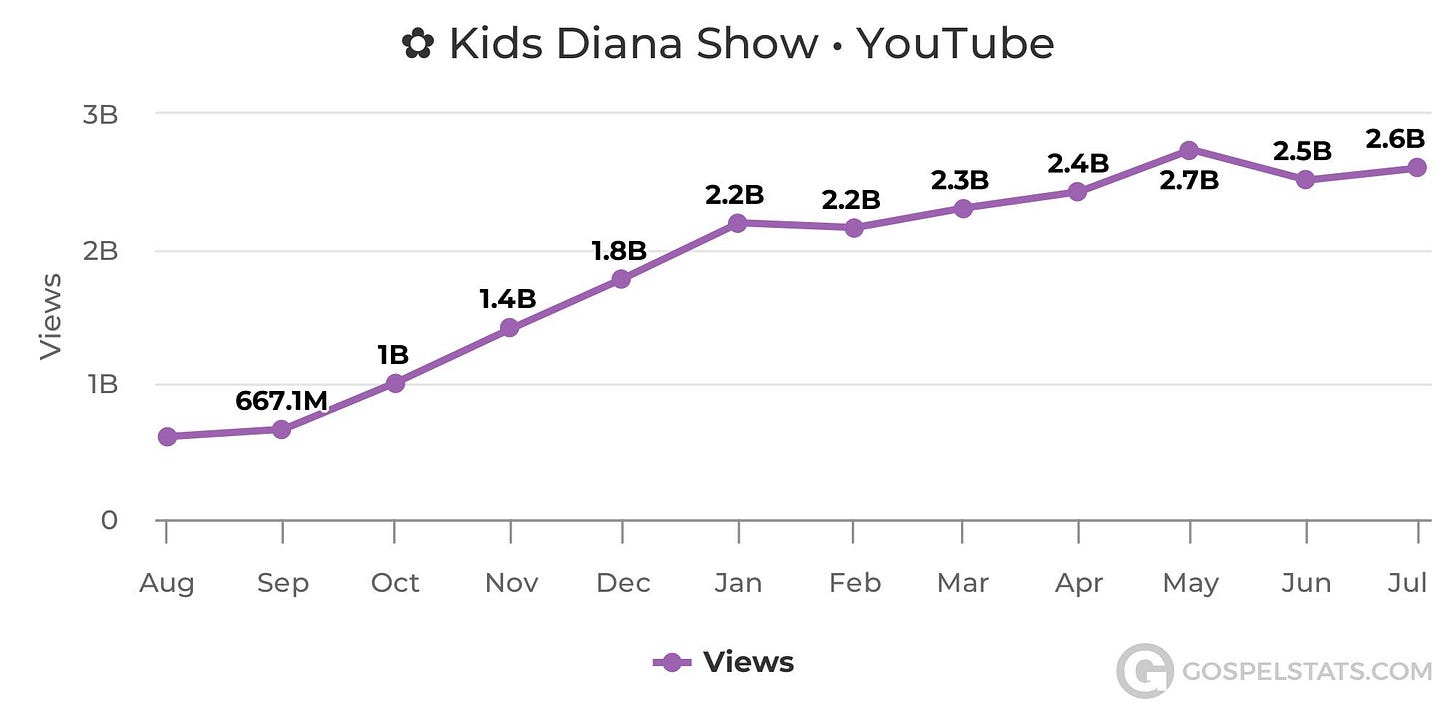 Pocket.watch, which now has 11 creators in its roster, aims to be this generation's Nickelodeon or Disney Channel. In OnlyFans and the Evolution of the Influencer, I wrote about Ruhnn—the Chinese influencer accelerator—and mused about an opportunity to build Ruhnn for U.S. influencers. Pocket.watch is that company for kid stars, turning young creators into full-fledged, multi-billion-dollar businesses.
Education
Kids' media has historically had an educational component. PBS, for example, was created in 1969 with the sole purpose of providing educational television to America's kids. (The number of times I still think of Bill Nye the Science Guy as an adult is shockingly high.)
Better technology and better business models make it possible to modernize the PBS playbook. Tappity (YC S20) is combining interactive content with a subscription platform. The company bills itself as both "a healthy alternative to YouTube" and "the interactive Netflix for kids".
Tappity charges $8 per month and is starting with science content. Its version of Bill Nye is Haley. But unlike Bill Nye, kids can interact with Haley: they can ask her to conduct an experiment, and she'll do it.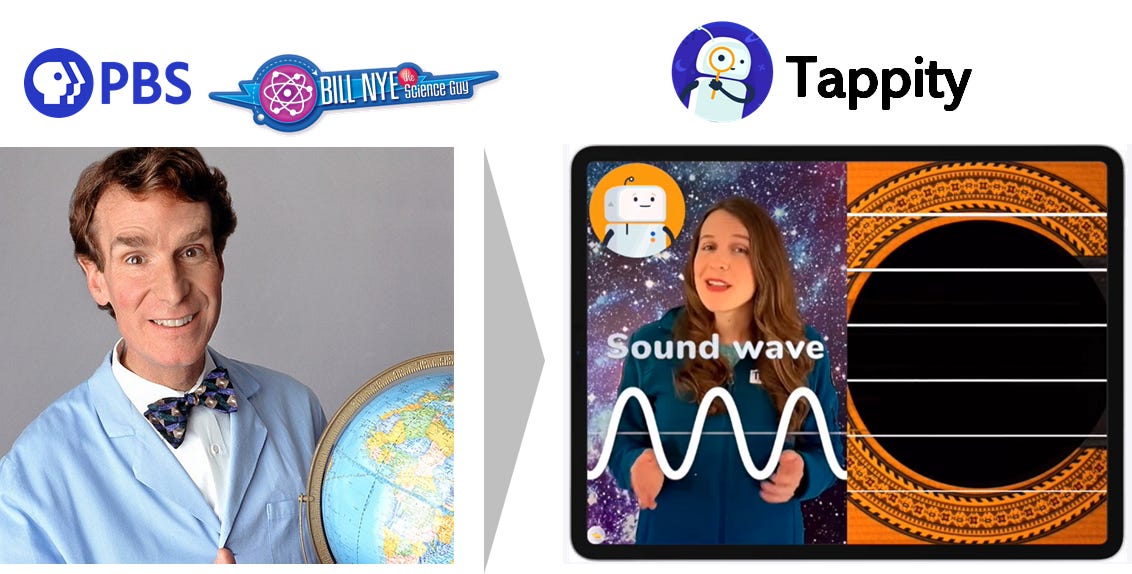 Over time, Tappity plans to expand into computer science, history, math, and art. In the company's words, it hopes to build a veritable Library of Alexandria of interactive lessons that kids are curious about.
Edutainment
Kids today are growing up with the creator economy and influencer culture. This means that the lines between education / work and entertainment are blurred.
An example of this came last week, with Gen Zs creating TikTok resumes—short video clips showcasing skills and work experience. Many Gen Zs actually found jobs this way—after months of unsuccessfully searching through traditional channels.
The most compelling kids' tech and media companies build on this duality: they're edutainment, dissolving barriers between education and entertainment. Hellosaurus (YC S20) combines elements of Pocket.watch and Tappity. The company partners with top online kids stars to create educational, interactive content.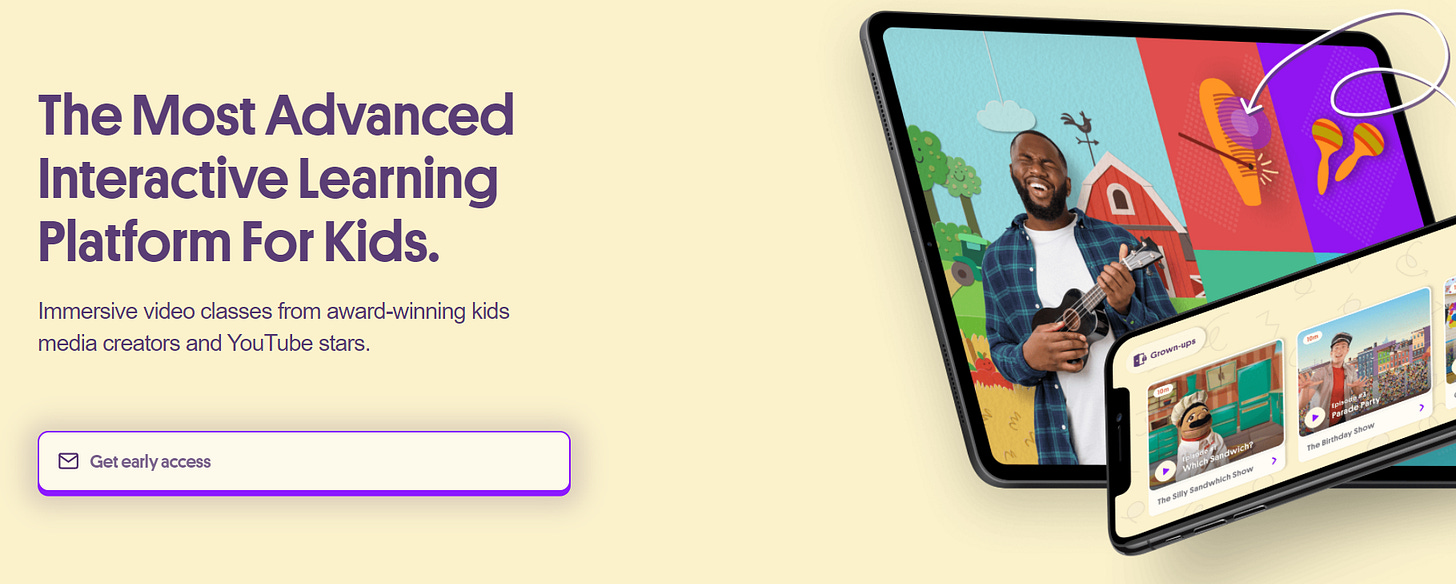 On the creator side, creators earn income more efficiently than through YouTube ads. On the viewer side, kids watch their favorite stars while learning (which parents will appreciate).
Over their lifetimes, Gen Alphas will move seamlessly between work and leisure. Hellosaurus is built for how Gen Alphas innately interact with technology and media, while reinforcing the relationship that they'll have between learning and fun.
---
Final Thoughts
Don Valentine, the founder of Sequoia, had many great quotes about markets:
"Great markets make great companies."

"If you don't attack a big market, it's highly unlikely you're ever going to build a big company." 

"I like opportunities that are addressing markets so big that even the management team can't get in its way."
"The barbells" are great markets that have been underserved by startups. Both have their downsides: older customers ultimately pass away; younger customers mature out of the target demo. But these downsides are overpowered by the secular tailwinds driving our aging population (we're at the beginning of a decades-long trend) and by the deep engagement of our youngest kids (who use screens for hours each day).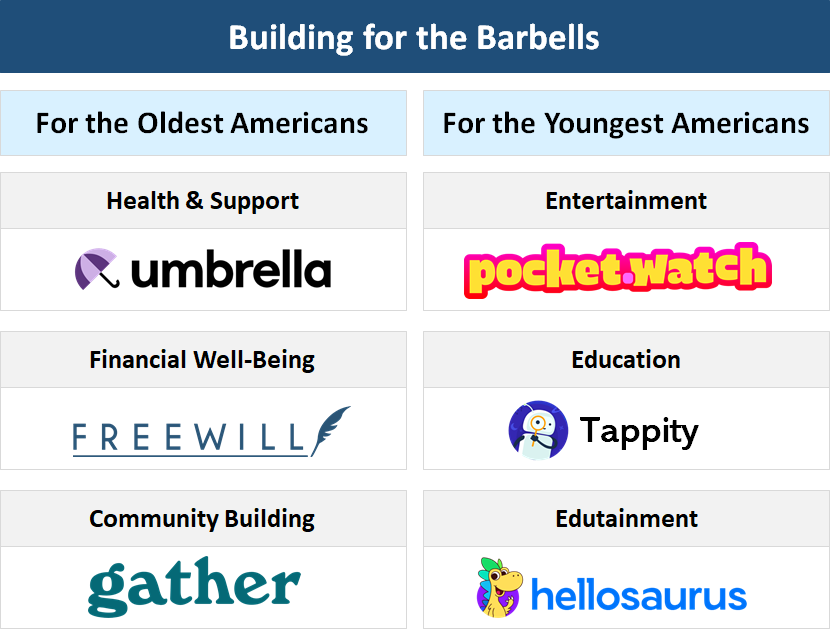 Baby Boomers are compelling because of their size and purchasing power. As a person ages, declining health creates demand for healthcare and support; greater wealth creates demand for financial products; and retirement creates demand for community.
Gen Alphas are compelling because they're engaging with tech and media in fluid, digitally-native ways. The success of platforms like YouTube and Netflix creates demand for new studios to supply content. And the limitations of YouTube and Netflix create openings for kid-first platforms.
It's still early days. Crunchbase found that only 0.7% of companies receiving venture funding are aimed at the 65+ demographic; I'd wager that the portion of venture funding aimed at the under-10 demographic is similarly small. Over the coming decades, this will change. New businesses will build targeted, tailored offerings for the barbells.
---
Sources & Additional Reading
Check these out for further reading on this subject:
---
Thanks for reading! Subscribe here to receive this newsletter in your inbox weekly: