Discover more from Digital Native
Weekly writing about how technology shapes humanity, and vice versa
Over 54,000 subscribers
How Technology Is Transforming Education
Plus, breaking down Apple's revenue, Epic Games, and Facebook Shops
This is a newsletter about how tech is changing how we live and work
To receive this newsletter in your inbox weekly, subscribe here 👇
---
How Technology Is Transforming Education
The average American student takes 112 standardized tests from 1st grade through the end of high school. During these years, that student spends 13,000 hours in school. And yet, 70% of American adults can't add fractions. The United States is the richest country on Earth—with over twice the wealth of the next-richest country, China—but ranks 27th in the world in education.
There are two key drivers of this failure:
First, the U.S. education system is a relic of the school system invented by the Victorians 300 years ago. The system prioritizes testing above learning—everything is focused on preparing for and scoring well on tests. Our teachers, our students, and our institutions are measured by these standards.

Second, education today is consumed as a lump sum in the first ~20 years of a person's life. This is a holdover from the Industrial Revolution, when workers typically held a single job, requiring a single skill, for the duration of their careers. In a world as dynamic as today's, this model is outdated and flawed.
Over the last 30 years of the digital revolution, education has remained largely untouched. But we're at an inflection point: this decade, technology will bring education into the 21st century. New startups will shift the focus away from testing and toward skills-based, job-relevant learning, and learning will increasingly be lifelong.
A Note About Race and Education
This week has been a painful week for America. In writing this week's newsletter, I wanted to shed light on another injustice facing the black community: America's education system is particularly punitive to black Americans. In the U.S. today, a person's education level is determined by their zip code: school funding in America is tied to local tax income, meaning that poorer neighborhoods have lower-funded schools than wealthy neighborhoods. This has ripple effects: educational attainment determines the opportunities that a person will have, which then determine the income they can make, which then determines their health and life expectancy, and so on. Many of America's ills can be traced back to unequal access to education.
America's growth relies on the innovation, skills, and productivity of its workers—which in turn rely on those workers' education. Nelson Mandela famously said:
"Education is the most powerful weapon which you can use to change the world."
My hope is that technology can circumvent the arcane, antiquated structures in place—structures that have prejudice embedded in their foundations and that limit black Americans most of all. My hope is that technology can broaden access to education, making education higher quality and less expensive for more people.
Snapshot of Education Today
Globally, education is a $4.7 trillion industry. In the U.S., the market is $1.6 trillion and education is the country's second-largest employer, behind only healthcare.
Over the last half-century, education has become increasingly unaffordable for the majority of Americans. Adjusting for inflation, the average total cost to attend a four-year university in the U.S. rose from $53,000 in 1989 to $105,000 in 2016. In the same time period, real median wages only grew from $54,000 to $59,000. Cost of higher education grew at more than 8x the inflation-adjusted growth rate of real wages. Since 2000, tuition has increased 72% and wages have declined 15%:
Education is the fastest-growing category of household spend, +200% since 2000. And over the last three decades, student loans have become the largest component of non-housing debt for Americans, with Americans collectively holding $1.5 trillion in student debt.
At the same time that education is becoming more expensive, it's becoming less relevant to today's careers. There is an $8.5 trillion skills gap, created by a mismatch between the skills taught in schools and the skills demanded by the workplace. Globally, there are one billion knowledge workers; 50% are projected to need up-skilling or retraining over the next 10 years to avoid being pushed into underemployment or unemployment.
Education is a massive industry that is failing its customers and delivering the wrong product. But regulations, red tape, and slow-moving bureaucracies have plagued education upstarts. Covid-19 may be the catalyst the industry needs, enabling new entrants to bypass historical hurdles and deliver new solutions to old problems.
Below are five key trends in education and, for each, three startups to watch:
Learning Platforms
Learning platforms and marketplaces are typically consumer-facing and allow learners to connect with teachers and with educational content. As Lightspeed's Mercedes Bent observes, these offerings are compelling for three core reasons:
The buyer and the user are the same person

That buyer / user has an extreme pain point to solve in their learning or career

Consumer-facing platforms are often faster-growing because they avoid the slow sales cycles of selling into schools
Lifelong Learning
The pace of innovation today creates the need for lifelong learning. Increasingly, learning will take place throughout a person's life.

Income-Share Agreements
A key problem between schools and students has always been misaligned incentives. Students pay upfront and out-of-pocket; the school earns money whether or not students succeed. Income-share agreements align incentives and broaden access: students don't need to shell out thousands of dollars to begin learning. A typical ISA works like this:
A woman is making $25K a year waiting tables. Her dream is to become a software engineer but she can't afford to go back to school. She joins a program with an ISA. The ISA enables her to learn how to code for free, with the agreement that if she gets a software engineering job paying her over $75K a year, she will pay back 10% of her earnings for 18 months. After the six-month program, she lands a job at Microsoft paying her $100K a year. Over the next 18 months, she pays back $15K.

Accessibility and Financing
Higher education is unaffordable for millions of Americans—and the best jobs are largely open only to college grads. More startups are blending fintech and edtech to provide financing solutions, while others broaden the aperture to new careers.

Edutainment
The line between education and entertainment is blurring. Two billion people watch YouTube videos each month, for an average of 40 minutes each day. A recent study showed that half of YouTube viewers are there to learn something.
David Rogier, the CEO and co-founder of MasterClass, remarks:
"I think there's this myth and we got it, people ask me, are you education, or are you entertainment? I think that's a false choice. Why can't education also be entertaining?"

Final Thoughts
Covid-19 is accelerating education's transformation; David Shimkus, the president of Udemy for Business, observes:
"It's almost like the next 10 years of change and growth is being compressed into about a month. Change we would have expected by 2030 we're actually seeing now."
Outschool registrations are up 1,100%. Khan Academy is seeing sign-ups 5-10x normal levels. Masterclass customers are spending twice as many minutes watching content.
It will take more than startups to reinvent education: public sector support will also be necessary to change archaic laws and regulations that perpetuate inequality, limit true learning, and stymie opportunity. But agile, innovative new companies are beginning to solve these problems.
This decade, learners—of all ages—will find new ways to gain new skills and knowledge. Ways that are more affordable, higher quality, and more accessible.
Sources & Additional Reading — here are the pieces that inspired and informed this content; check them out for further reading on this subject:
---
Chart of the Week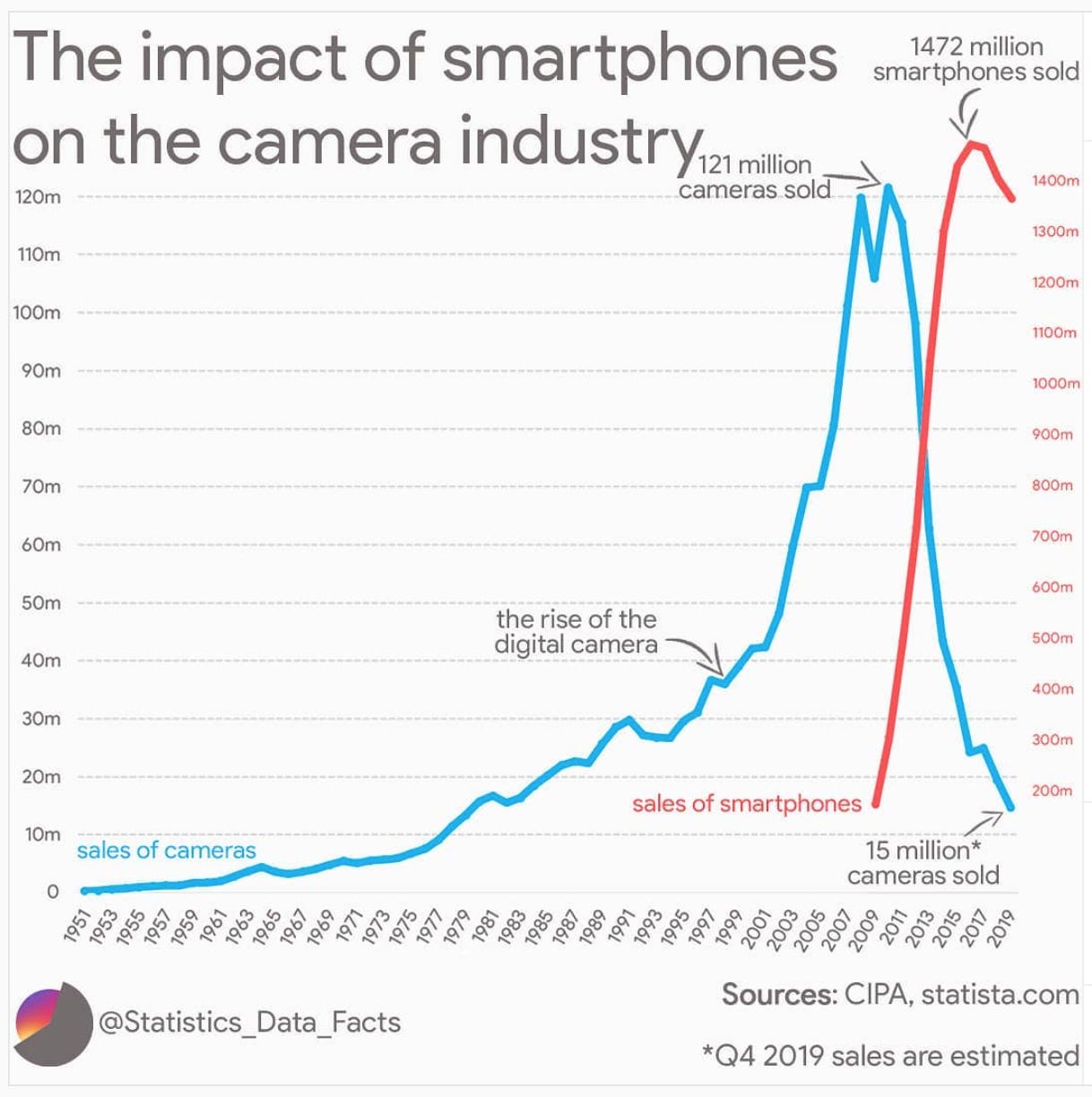 ---
Tech
iPhone to Ship Without Headphones in Bid to Boost AirPods Sales (AppleInsider)
This week, Alex Taussig wrote about a new trend for Apple. With the release of the iPhone 7 in 2016, Apple did away with the headphone jack. That very same day, Apple unveiled AirPods, its $159 wireless headphones. The message: Good luck charging your phone while you listen to music…unless you buy AirPods.
But Apple was charitable enough to continue including free wired headphones with a new iPhone. Now, Apple is rumored to do away with that too—the iPhone 12 won't come with headphones. This is because AirPods have proven incredibly lucrative. In 2019, Apple sold 60M pairs of AirPods, grabbing 71% of the wireless headphone market; in 2020, sales are expected to jump 57% to 94M pairs. AirPods are poised to become Apple's second-largest profit-driver after the iPhone. Earlier this year, I wrote about "AirPods as a Platform"—how new businesses (see: Clubhouse) will be built on wireless headphones.
Speaking of Apple: to emphasize just how big Apple is, here are how its main products would rank on the Fortune 500 if they were standalone companies 🤯 Credit to Andrew Reed for recognizing this.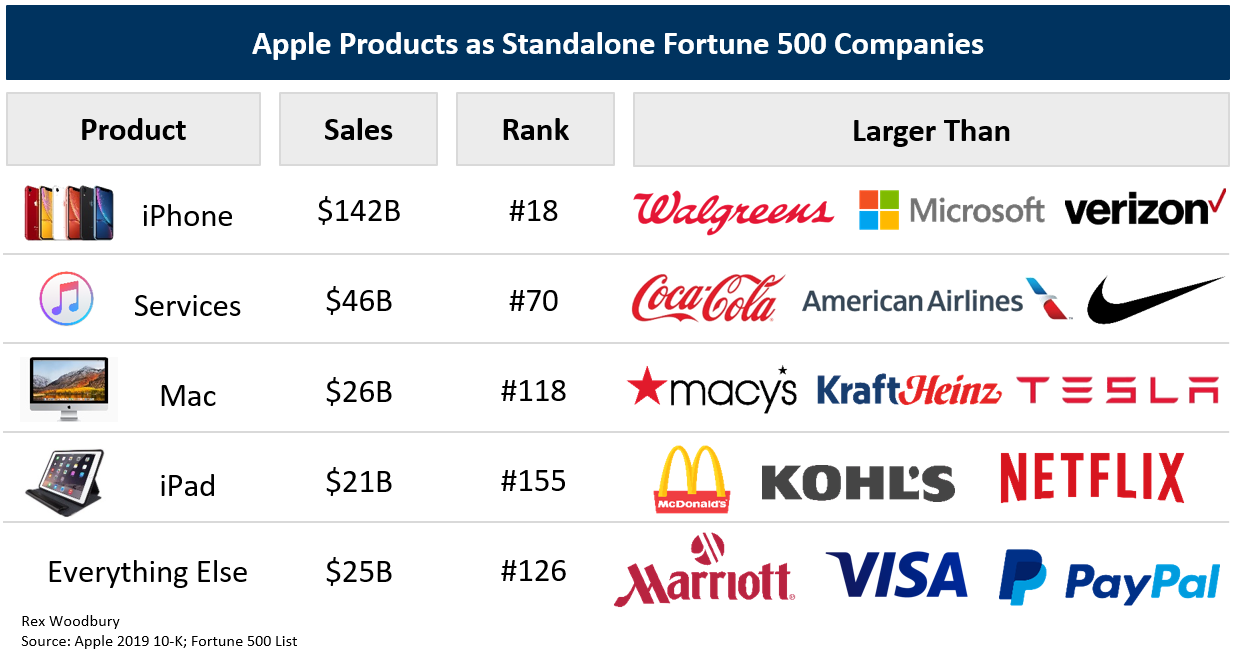 ---
Media
A Deep-Dive Into Epic Games (Matthew Ball)
Matthew Ball has an incredible seven-part deep-dive into Epic Games, the maker of Fortnite. Epic Games is positioned to become one of the world's largest tech companies. This may seem unlikely—particularly because Fortnite has generated more revenue in three years than the rest of Epic has in three decades—but the key to Epic's success lies in its Unreal Engine.
The Unreal Engine is Epic's gaming engine—a gaming engine is the technology that powers the creation of a virtual world. Unreal powers Fortnite, but it also increasingly powers the broader entertainment industry: Disney+'s The Mandalorian, for example, was created entirely in Unreal. (The "live action" Lion King was created in Unity, a competing game engine.)
Epic's technology is improving at a dramatic rate. Check out the below renderings of human faces using the Unreal Engine—from 2016, 2017, and 2018: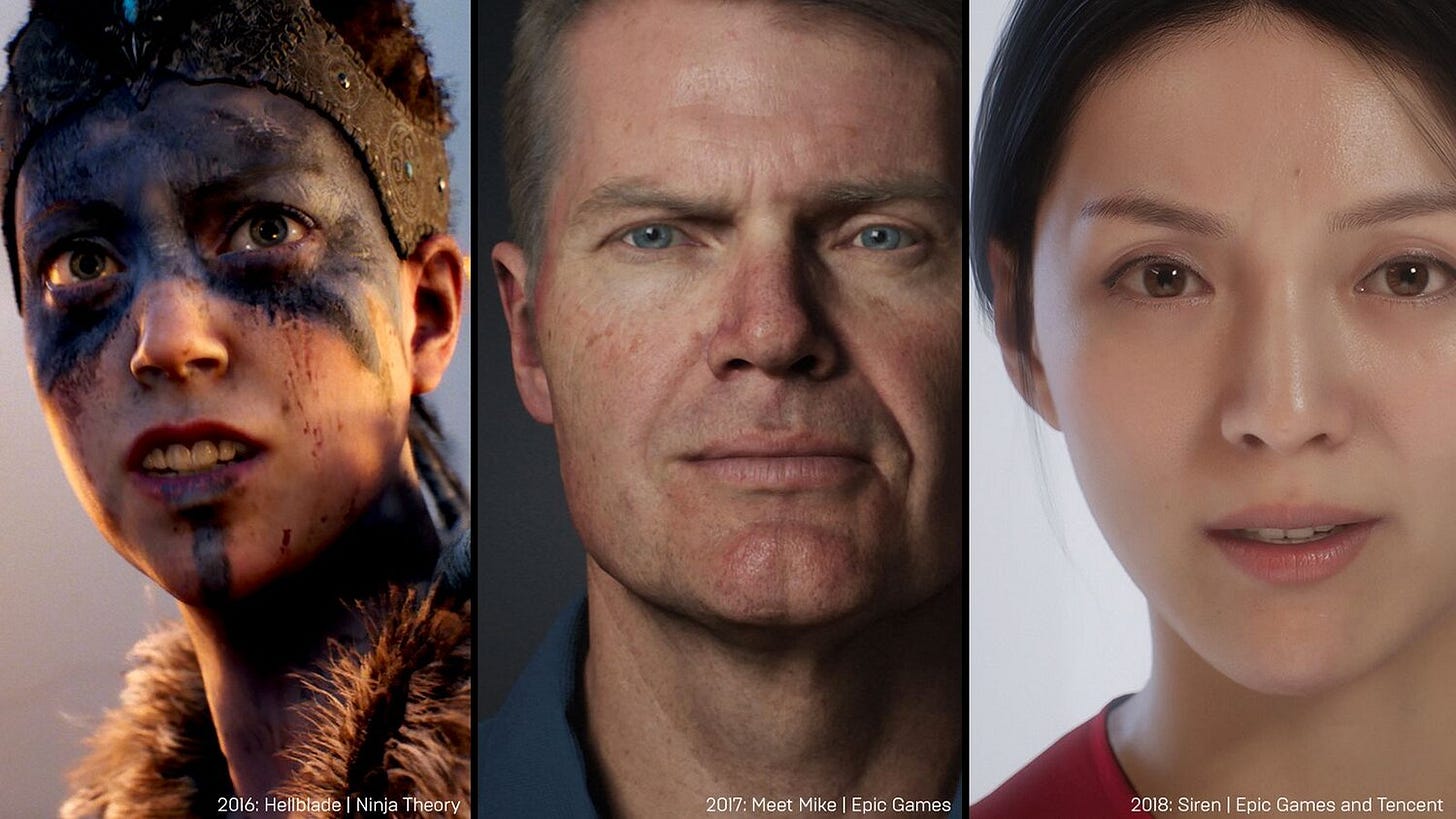 Also worth noting is how well Epic monetizes its users. Fortnite's average revenue per user is $96 a year—more than Google, Facebook, Twitter, and Snapchat combined.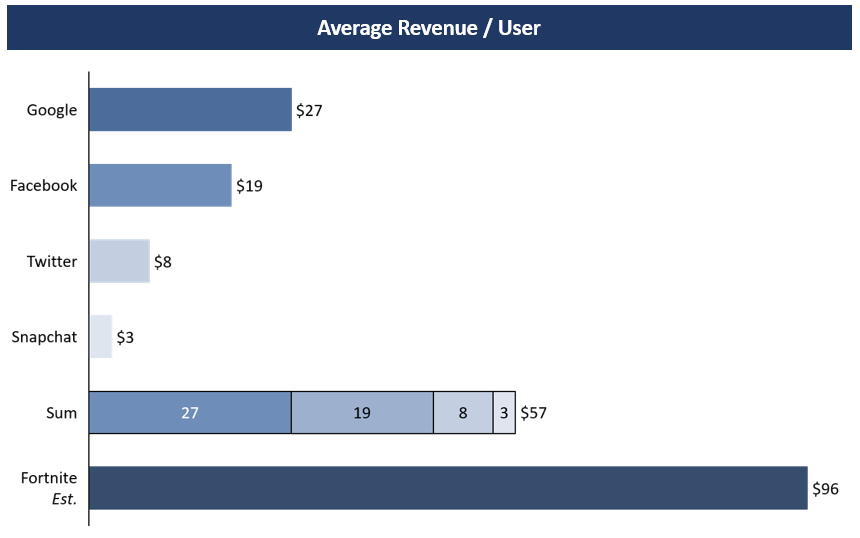 While Google, Facebook, Twitter, and Snapchat each monetize users with ads, Fortnite has no ads. The game is free, but makes money through players making voluntary in-app microtransactions. For instance, a player can purchase a "skin", which is an outfit for an avatar.
---
Commerce
Facebook Launches Facebook Shops (Facebook)
Facebook is now letting brands create online shops through their Facebook and Instagram profiles. It's essentially a full-fledged e-commerce offering:
People can find Facebook Shops on a business' Facebook Page or Instagram profile, or discover them through stories or ads. From there, you can browse the full collection, save products you're interested in and place an order.

And just like when you're in a physical store and need to ask someone for help, in Facebook Shops you'll be able to message a business through WhatsApp, Messenger or Instagram Direct to ask questions, get support, track deliveries and more. And in the future, you'll be able to view a business' shop and make purchases right within a chat in WhatsApp, Messenger or Instagram Direct. 
Ben Thompson had some interesting takes on this in Stratechery. Three things to call out here:
This is a logical step for Facebook and Instagram, beginning to fulfill my prediction (and many other's prediction!) that the companies will ultimately resemble e-commerce companies rather than media companies. This also brings them closer to what Chinese counterparts have been doing for years: Instagram's Chinese analog, Xiaohongshu, is centered around online commerce and monetizes primarily through commissions on product sales rather than through ads.

Facebook partnered with Shopify on this, but the latter can't be pleased. Shopify now makes most of its revenue from "Merchant Solutions", which are a percentage of transactions. On Facebook Shops, buyers will use Facebook Checkout—so Shopify won't share in this piece of revenue. Why can Facebook do this? Because Facebook owns customer acquisition for online commerce, it has all the leverage.

This e-commerce offering is the direct counterpoint to Amazon. Amazon shopping is primarily search-driven: shoppers search "toilet paper" or "shoe polish", knowing exactly what they're looking to buy. FB / IG shopping will be discovery-driven, with customers browsing and stumbling upon items through their social media feeds.
---
Quick Hits
📱 Bytedance, the company that owns TikTok, generated $3 billion in profit last year. For perspective, that's more than Twitter and Snap combined. Bytedance's revenue was $17 billion, on par with YouTube's and Instagram's revenues.
🎵 Musicians weren't too happy about Joe Rogan's $100 million Spotify deal. One calculated that a musician would need 23 billion streams on Spotify to earn that much:
Of course, this isn't an apples-to-apples comparison. Spotify would certainly pay $100M to attract Drake or Beyonce or Taylor Swift to the platform, since access to their music would acquire new subscribers. Unfortunately for artists, the big three record labels remain the middlemen and decision makers.
🎙️ Speaking of podcast deals—Joe Rogan's podcast is the second-most popular in the world. The most popular is a podcast called "Call Her Daddy". Its two hosts are in a heated battle with Barstool Sports, the podcast creator, over their contracts. Each host is paid $500K a year, but every single podcast episode generated $100K in revenue. In today's age, podcast hosts are celebrities and they have all the leverage.
🎮 Last year, Minecraft surpassed Tetris as the most-played game of all time. Microsoft, Minecraft's owner, reported that the game is now up to 126 million monthly players.
🌎 54 ways the coronavirus is changing the world, with only up and down arrows. More foster dog applications, fewer organ donors.
🐔 There's a very odd phenomenon of "TikTok cults" emerging. The most powerful cult is the "Stepchickens" (yes, this is real) started by a 27-year-old woman who calls herself "Mother Hen" and who now has 1.8 million followers. She started a merch shop, selling T-shirts, phone cases, face masks and psychedelic yoga pants. 
📦  Amazon is now the fourth-largest delivery service in the U.S. The company has spent $60 billion since 2014 on warehouses, airplanes, and delivery vans. It already delivers half of its own packages.
🍎 Apple bought Tom Hanks' upcoming World War II drama and a hotly-anticipated new Martin Scorsese movie starring Leonardo DiCaprio and Robert de Niro. Both will be labeled Apple Original Films.
---
To receive this newsletter in your inbox weekly, subscribe here 👇😊