Discover more from Digital Native
Weekly writing about how technology shapes humanity, and vice versa
Over 54,000 subscribers
The Shift to Digital Interactions
Plus, the future of college, kids' media, and livestreaming in China
This is a newsletter about how tech is changing how we live and work
To receive this newsletter in your inbox weekly, subscribe here 👇
---
First, a couple housekeeping items—
I'm adding "Sources & Additional Reading" below each week's piece. Here, you can find the sources that inspired and informed this content and you can dive deeper into the topics.
I did a Google search for this week's topic and didn't see any similar pieces. I realize these are broad topics—please send me a note if you've written or read a piece on this topic and I'll link it below the article.
On to this week's topic: online events!
---
Offline-to-Online Interactions
Over the past few months, I've been thinking about how we interact with each other. Covid has forced millions of people (billions of people?) to interact with each other in new ways online. A meeting in the office became Zoom; coffee with a friend became FaceTime. Interactions that would've happened in the physical world are now happening digitally. I've dubbed these offline-to-online interactions.
Importantly, I'm talking about synchronous, face-to-face digital interactions—so Snapchat, iMessage, and WhatsApp all don't count.
The framework I've come up with isn't perfect, but it's helped me organize my thinking. Here's my highly scientific depiction of different forms of interaction: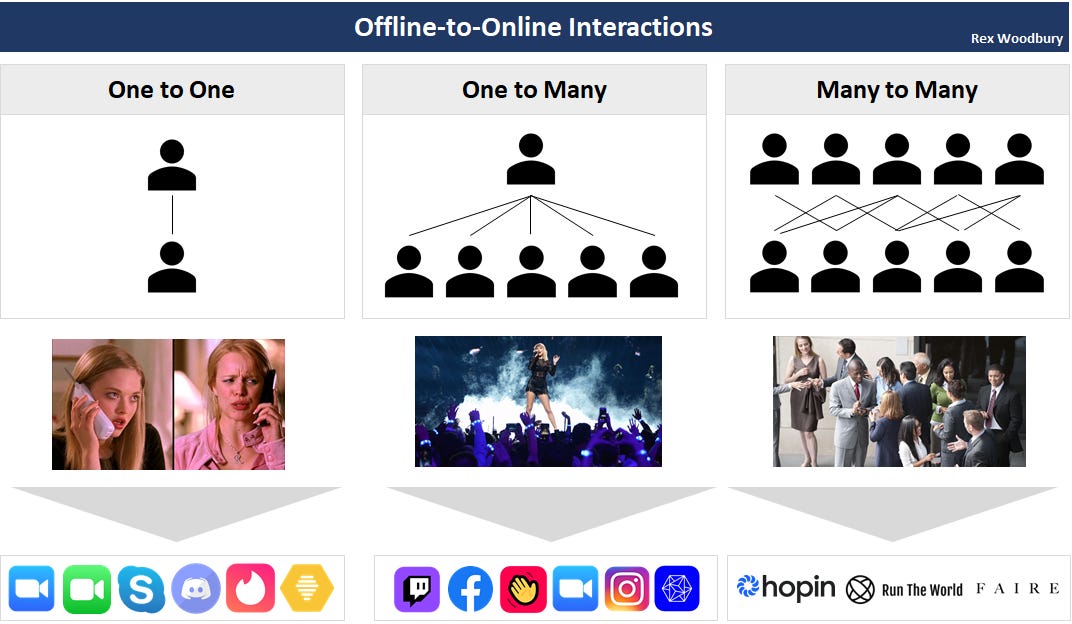 One-to-One Interactions
These are bilateral interactions. What used to be a phone call or coffee chat is now a video chat over Zoom or Skype. These interactions were the first to go digital and they're the most advanced online. But there are still behavior shifts happening here: before Covid, I caught up with my dad or brother over the phone; now, it's FaceTime. The default for one-to-one interactions is now video.
New categories that lend themselves to synchronous video are leaning in. Take dating. Today, 40% of straight couples and a whopping 70% of same-sex couples meet online. Yet many can relate to this situation: you show up to a first date, having committed your entire Friday night, only to realize in the first 30 seconds that there won't be a second date. Maybe it's their mannerisms or their voice or how they can miraculously lead any conversation topic back to their ex, but you know that it's going to be a long two hours.
During the pandemic, Tinder and Bumble (image below) have both added video chatting features to their apps. In five years, we'll wonder why we ever met a first date without having video chatted first.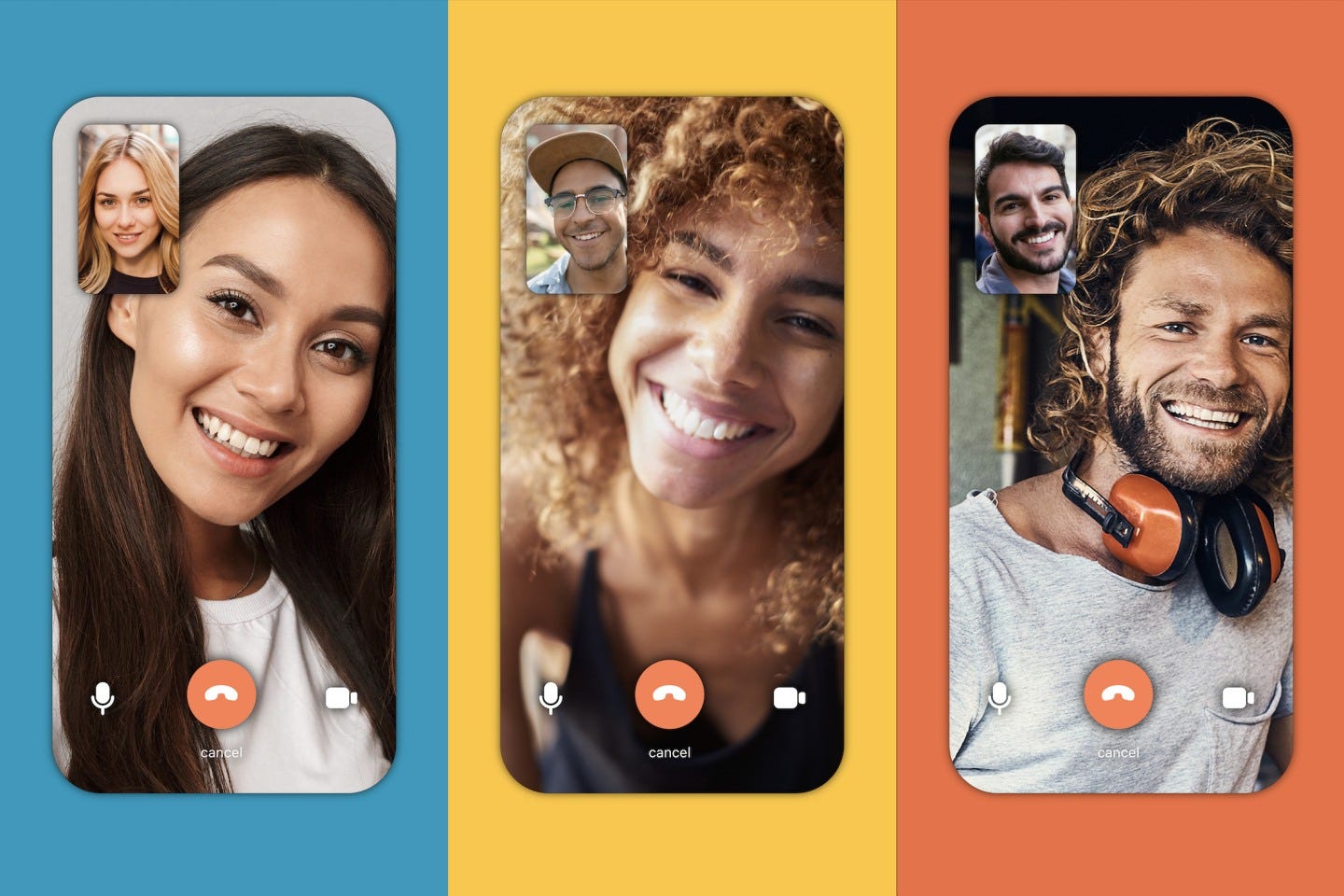 One-to-Many Interactions
In these interactions, one person interacts with many people simultaneously—think a concert or a commencement address. Before Covid, these interactions still largely happened offline, but in the past few months they've moved online.
In March, Instagram Live usage jumped 70% and Facebook Live viewers doubled in a single week. T-Pain and Lil Jon—two staples of 2000s rap—staged "rap battles" on Instagram Live; 270,000 people tuned in, including Oprah and Rihanna.
Earlier this month, Barack Obama headlined the four-hour YouTube Commencement event. The biggest stadiums hold 100,000 people, meaning the most people that can watch a typical college commencement address is 100,000. The livestreamed YouTube event had over 665,000 concurrent viewers and amassed 17 million views in its first 24 hours. Online events dramatically broaden reach.
The writer Nathan Baschez coined a term for a subset of one-to-many online events: "internet tours". He uses the example of Justin Bieber promoting his new single on David Dobrik's vlog:
Imagine you're in charge of promoting a major artist with a new single, and you had to choose between Stephen Colbert's late night show and David Dobrik's vlog. Which do you go with? Personally, I'd pick Dobrik's ~10 million average views over Colbert's 3 million nightly audience any day.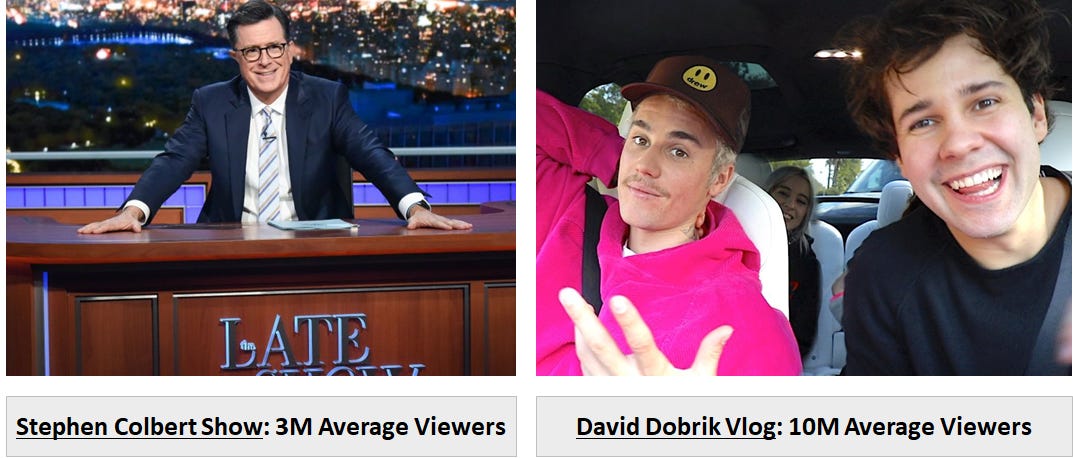 Fortnite events are another example of internet tours displacing traditional media tours. Travis Scott's Fortnite concert reached 28 million people, while Marshmello's reached 10 million. Millions tuned in to watch J.J. Abrams unveil a new Star Wars trailer last fall.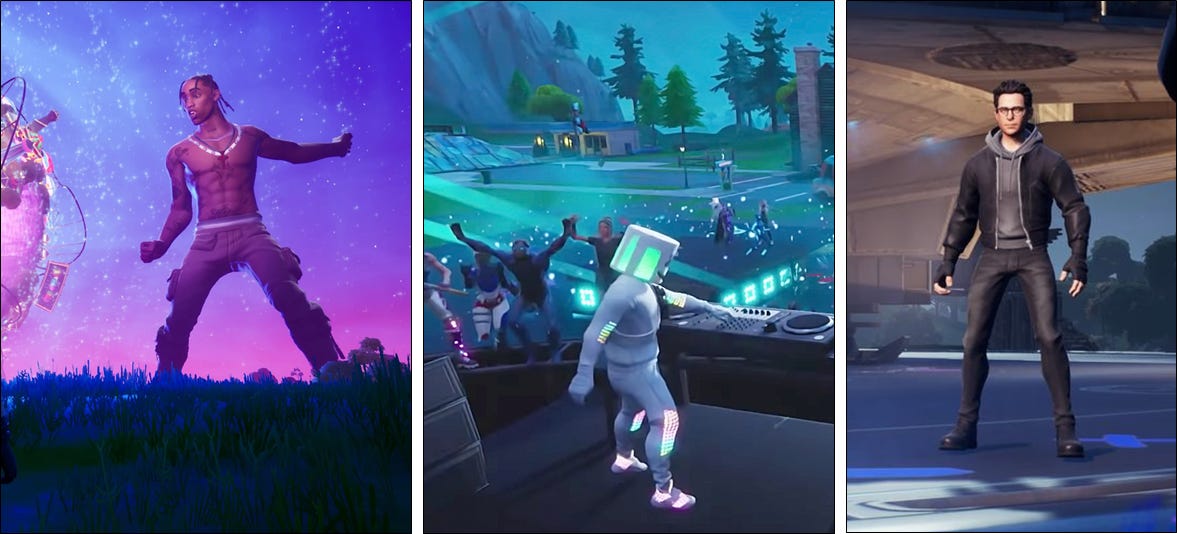 In the future, artists will promote new albums through TikTok collaborations rather than through magazine cover stories. Presidents will address the nation on Instagram Live rather than on CNN. And you'll pay $10 to watch a Beyoncé concert on Twitch.
Many-to-Many Interactions
These are events in which many people interact with many other people—think conferences or networking events. This category is the least digitally advanced.
Because of Covid, many large events went online for the first time. Microsoft and Apple, for instance, moved their enormous developer conferences online. But there are unique challenges with moving many-to-many interactions online. Benedict Evans explains:
At a really big 'conference' many people don't even go to the actual event itself….they spend their days in hotel suites in Las Vegas or Barcelona meeting clients and partners. Everyone goes because everyone goes.

The only part of that bundle that obviously works online today is the content. It's really straightforward to turn a conference presentation or a panel into a video stream, but none of the rest is straightforward at all.

First, we haven't worked out good online tools for many of the reasons people go to these events. Most obviously, we don't have any software tool for bumping into people in the same field by random chance and having a great conversation. No-one has ever really managed to take a networking event and put it online. You certainly can't just make a text chat channel for everyone watching the video stream and claim that's as the same as a cocktail party.
New platforms are tackling this problem. Run the World is a startup supporting live online events. a16z's Connie Chan, who led the seed investment in Run the World, writes:
You may be thinking: tech might be able to replace conference speeches, but can it really recreate the happy hours, private coffee breaks, and everything that happens in between? That's exactly where Xiaoyin and Xuan's social product DNA shines. Imagine if every time you walked up to someone to introduce yourself, you could first see their bio and tailor your conversation opener. Better yet, imagine if the platform one day helped match you with like-minded peers, eliminating the fear of rejection and cultivating better conversations all around. 
Run the World uses tech to improve the fundamental experience of going to a conference. Other many-to-many online platforms are also improving on offline experiences.
Faire, a marketplace for small businesses, built an online trade show so that local retailers can easily find products to sell in their stores. Take one look at the below image, and you'll understand how a well-organized online event can improve on the chaos of real-world trade shows: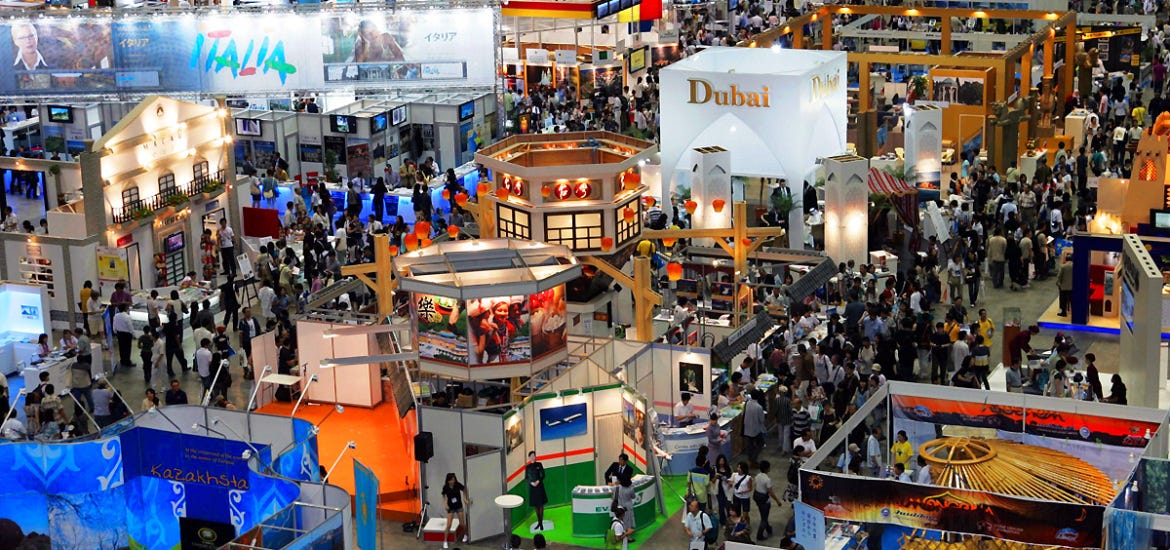 Startup accelerators like Y Combinator and 500 Startups have brought their demo days online during the pandemic. Many investors reported seeing more pitches, and some founders reported up to 4x as many follow-ups from investors.
Going online makes many-to-many events more affordable and accessible. Conferences can cost attendees thousands of dollars in travel and hotel costs; organizers pay expensive venue and catering fees. With Run the World, both attendees and organizers save time and money. Setting up a trade show booth can cost a small business $40,000 to $60,000; Faire's virtual trade shows remove those fees. Online demo days allow more investors and more founders to participate.
In bringing many-to-many events online, these platforms both improve the fundamental experience and lower barriers to entry.
Final Thoughts
Again, the above framework is far from perfect. Many of these platforms transcend categorization: Zoom, for instance, can be used for a personal catch-up (1 to 1), for a CEO's presentation to her company (1 to many), or for breakout rooms between attendees (many to many). But I believe platforms will increasingly specialize in a single form of online interaction.
Online interactions can be more convenient (touching base with a friend over FaceTime), more affordable (attending a livestreamed concert on YouTube Live), or even offer a better solution overall (networking with Run the World or trade shows with Faire). Offline interactions aren't going anywhere: there's no digital substitute for an in-person human interaction. But online will supplement the physical world with new ways to interact.
Sources & Additional Reading — here are the pieces that inspired and informed this content; check them out for further reading on this subject:
A note: I did a Google search on key sentences from this post to make sure I've captured similar content out there that I may have missed. I realize that these are big topics—if I missed your writing on the topic, or if you've seen work on this topic, please let me know and I'll share it here!
Your thoughts: If you have a different framework on how to think through online interactions, I'd love to hear it 💡
---
Chart of the Week
Instacart's market share for online grocery has skyrocketed at Walmart's expense. In related news: Instacart is raising $225M from DST and General Catalyst at a $13.7B valuation. That's a huge increase from its $7.9B valuation in late 2018.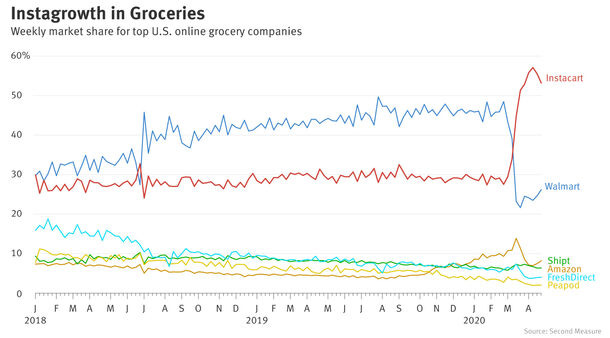 Chart Source: Second Measure & The Information
---
Tech
Scott Galloway on the Future of Colleges (NYMag)
Scott Galloway, a professor at NYU Stern, believes that education is in for a reckoning. Education, he says, is the ultimate luxury good:
The strongest brand in the world is not Apple or Mercedes-Benz or Coca-Cola. The strongest brands are MIT, Oxford, and Stanford…The ultimate vehicle for a luxury item is to massively and almost artificially constrain supply. Birkin bags are $12,000 because they create the illusion of scarcity. I'll have 170 kids in my brand-strategy class in the fall. We charge them $7,000 per student. That's $1.2 million that we get for 12 nights of me in a classroom. $100,000 a night. The gross margins on that offering are somewhere between 92 and 96 points. There is no other product in the world that's been able to sustain 90-plus points of margin for this long at this high of a price point…There has never been a luxury item that's been able to garner the type of gross margins as university education.
Galloway says that the top universities will capitalize on this brand strength by expanding enrollment—and they'll do that by partnering with Big Tech. We'll see Apple + Stanford, Microsoft + Harvard, Google + Yale. The Big Tech companies, he argues, need to get into education because they need to take on a massive sector in order to keep growing. As top-tier schools and Big Tech partner to expand enrollments—because they have the brand strength to get people to pay—the second- and third-tier schools will fade away.
EdTech Is Surging and Parents Have Some Notes (TechCrunch)
Another education piece. Many see Covid as an inflection point for how education is delivered. As millions of students learn from home, new companies are emerging to catalyze behavior shifts:
Homeschooling: Some think that homeschooling is here to stay. The startup Primer raised $3.7M to create a "full-stack infrastructure" to help parents homeschool their kids.

Edutainment: Lines between education and entertainment continue to blur. One new startup, Zigazoo, wants to be "TikTok for kids". The app invites users to post short-form videos in response to project-based prompts. It hopes to monetize by partnering with entertainment companies to have characters act as "brand ambassadors"—e.g., "learn about photosynthesis with Elmo".

Childcare: Schools are as much a childcare service as a learning provider. In the new reality, parents are working with companies like Cleo to better manage new childcare demands.
From an investing standpoint, edtech is an exciting but uncertain sector at the moment. This pandemic will mark a step-change in growth for some education businesses: some consumer behaviors will permanently shift. But other companies—primarily those whose products replace school or work—are seeing growth that won't be sustainable when people resume their normal lives.
---
Media
Kids' Video Viewing Behavior (TechCrunch)
TechCrunch came out with an interesting study on how kids are spending time with online video and gaming platforms.
YouTube dominates among video apps, with 69% of kids watching YouTube (and, ironically, only 7% of kids watching YouTube Kids). Netflix is next with 33%. Only 17% of kids are on TikTok, but engagement is on par with YouTube: kids spend 95 minutes and 97 minutes on each platform every day, respectively. This is incredible growth for TikTok: in May 2019, the average kid spent only 38 minutes per day in the app.
Among gaming platforms, Roblox (54%) and Minecraft (31%) are most popular.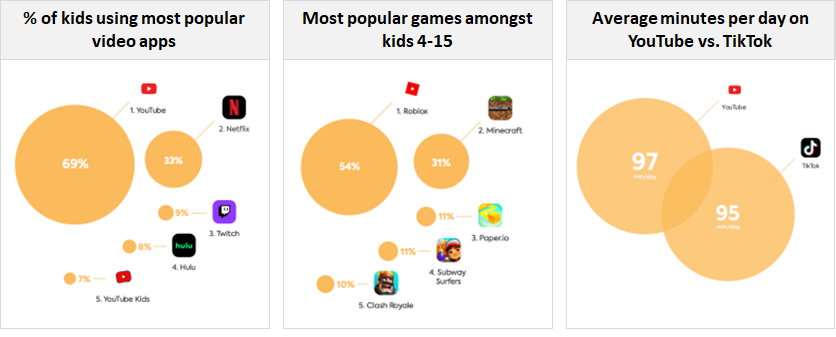 TikTok vs. Quibi (Stratechery)
In recent weeks, I've written about the success of TikTok and the failure of Quibi. Last week in Stratechery, Ben Thompson drew an interesting parallel between the two.
Quibi, he argued, has failed because it was built through a Hollywood lens rather than through an internet lens. Jeffrey Katzenberg, the Hollywood titan behind Quibi, introduced the service at CES by saying that smartphones are "widely-distributed democratized entertainment" consumption devices. Quibi could bring premium content to mobile screens. But Thompson points out that smartphones are also widely-distributed democratized entertainment creation devices.
In Katzenberg's era, an executive sat in a skyscraper and made decisions about what content to green light; budgets and slots for TV and film were finite. The internet, though, is infinite—there's no limit to user-generated content. Katzenberg was correct in that YouTube was vulnerable, but wrong in his approach to a mobile video competitor:
The goal [of TikTok] is not to pick out the hits, but rather to attract as much content as possible, and then algorithmically boost whatever turns out to be good. Unlike Quibi, [TikTok] is an entertainment entity predicated on internet assumptions about abundance, not Hollywood assumptions about scarcity.
Two related thoughts on TikTok and mobile-first entertainment. First, I came across this great observation from Linda Zhang about why TikTok has succeeded:
TikTok is effectively TV without a remote control, which, as it turns out, is an incredible form of entertainment because it's all the novel and variable rewards that our brain craves without any of the effort.
"TV without a remote control." One of the main problems with Netflix is selection paralysis: choosing what to watch can be exhausting. TikTok's algorithm changes all of that—it's like channel flipping for the 21st century.
Also, a new interactive storytelling app called Whatifi launched last week with $10M in funding from Andreessen Horowitz. Whatifi sounds like everything Quibi is not: a new entertainment app built especially for mobile. The content is interactive and social, letting users choose how the story evolves; the Hollywood Reporter writes:
Viewers can invite up to nine contacts to watch an interactive movie together. When the group comes to a point in the film where they must make a decision, each viewer will be given the option to vote on the outcome they want—but the story will only continue once a unanimous decision has been reached.
Whatifi is launching with two films: Anatomy of a Decision has 64 possible endings and As Dead As It Gets has 16 possible endings.
---
Commerce
The World's Livestream Queen Can Sell Anything (Bloomberg)
Earlier this year, I wrote about livestreaming, including how livestream commerce in China is years ahead of livestream commerce in the U.S. Bloomberg is out with an excellent profile on Huang Wei, China's "livestream shopping queen". Some incredible stats on Wei:
Last month, she hit a record-high audience of more than 37 million—more than the "Game of Thrones" finale, the Oscars, or "Sunday Night Football"

On Singles Day, China's biggest shopping event of the year, she did more than 3 billion yuan in sales—in dollars, that's $424 million of revenue in a single day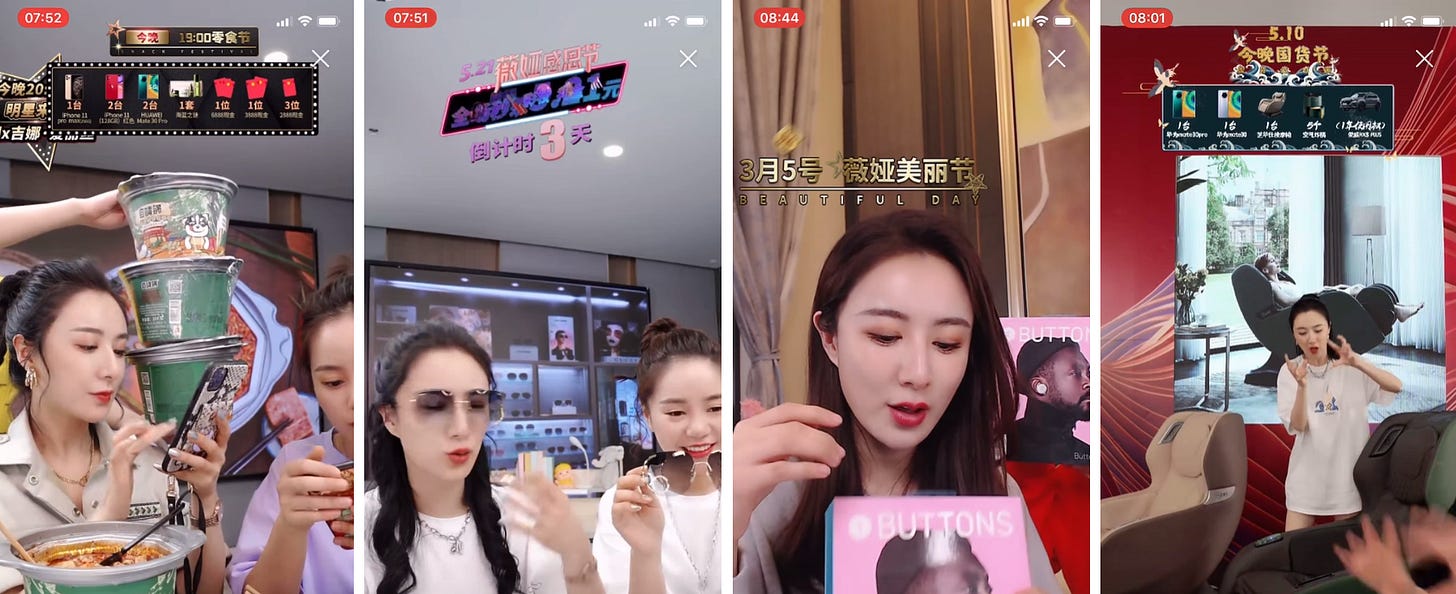 Here, Bloomberg captures why livestreaming is so compelling:
Livestream shopping is a natural confluence of several current tech trends—streaming, influencers, social, commerce—and offers companies a new path to consumers' hearts and wallets.
---
Quick Hits
📈 I liked this tweet from Sequoia's Andrew Reed:
I'll admit I know nothing about sports and didn't understand the analogy—but some help from Wikipedia and some context clues got me there. I like this analogy because it speaks to hits on a problem I'm working on at Airtable: how do you layer on inside sales on top of a viral bottom-up GTM without hurting organic growth? a16z's Martin Casado has a great presentation on the topic that's worth watching.
🐕 JAB Holdings is a coffee empire: the company owns Peet's, Green Mountain, Stumptown, Caribou Coffee, and Keurig. Now, JAB is targeting pet hospitals as its next act.
🥤 Food and beverage giants like Pepsi and Kraft Heinz have traditionally sold wholesale. Now, they're going direct-to-consumer, trying to compete in a commerce world moving increasingly online.
🍔 Europe's Just Eat agreed to buy Grubhub for $7.6 billion. The companies say that this will create the world's largest online food-delivery company outside of China by revenue. Uber was also in the process, but reportedly pulled out over antitrust concerns. Here's a good Twitter thread from Emil Michael on Uber and Grubhub 👇
🖥️ Reliance Jio is the three-year-old digital unit of Reliance Industries, India's most valuable company (in India, Reliance is akin to Amazon + Verizon + Exxon Mobil). Reliance's chairman is Mukesh Ambani, the richest man in India—Bloomberg has a recent profile on him here. Ambani just negotiated the eighth major investment into Jio in nine weeks, with TPG (my former employer) investing $600M. Reliance has now secured $13.5B from Facebook, Silver Lake, KKR, Vista Equity Partners, General Atlantic, Mubadala, Abu Dhabi Investment Authority, and TPG. The investors are hoping to own a slice of India's digital future, as a billion Indians increasingly move online.
📽️ This piece argues that movie theaters in the future might look a lot like Apple Stores. As theaters struggle, Amazon and Apple are well-positioned to acquire a theater chain:  
As indie media shifts to subscriptions, theaters are increasingly positioned as event destinations. This shift could contribute to the theme park-ification of movie theaters which would only make them more attractive to tech and studio giants…The result would make visiting a movie theater feel less like going to a multiplex and more like a trip to Disney World.
Are we entering a world in which all our lives are bundled? Imagine the Amazon Prime of the future: free shipping, free grocery delivery with Amazon Fresh, shows and movies streaming on Prime Video, coupons to Whole Foods, haircuts, travel, movie tickets…
🦄 CBInsights is out with a list of 50 future unicorns. Enterprise (30%) and fintech (20%) are the most-represented sectors, and California (48%) and New York (18%) are the most-represented geographies.
📸 What would say is the most famous photograph in the world? The World War II kiss? Raising the flag at Iwo Jima? The Beatles on Abbey Road?
The writer Abigail Cain argues that it's not any of those. It's actually this photo: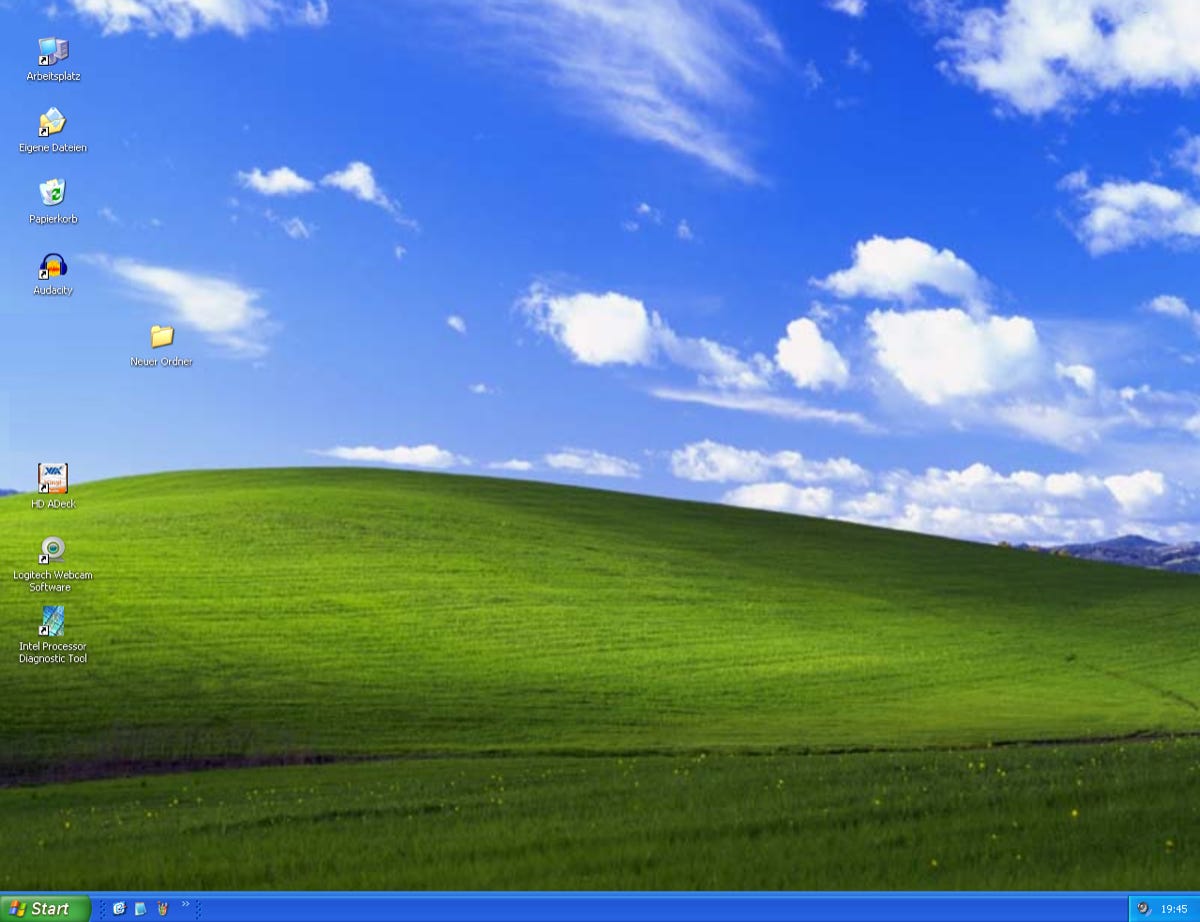 A man named Charles O'Rear took this photo of Napa Valley as he drove down Highway 121 in 1998. A man named Bill Gates happened to find the photo on a stock photo site, bought it, and voila — the image has graced at least a billion computer screens since the 2001 Windows launch.
Thanks for subscribing, and see you next week!
---
To receive this newsletter in your inbox weekly, subscribe here 👇