Discover more from Digital Native
Weekly writing about how technology shapes humanity, and vice versa
Over 54,000 subscribers
The Future of Work Is Remote
Plus, TikTok stars, fintech's moment, and Chinese livestreaming
This is a newsletter about how tech is changing how we live and work
To receive this newsletter in your inbox weekly, subscribe here 👇
---
Remote Work's Inflection Point
There are two topics I'm most interested in, because they'll most change how we live:
The future of work: How our definition of work is evolving, and how careers in 2030 will look nothing like careers today

The future of entertainment: The changing ways in which we're spending our time, from livestreaming, to streaming video, to gaming, to VR/AR and the next frontier
Today, I'm sharing thoughts on the former, and on Friday, I'll share thoughts on the latter.

As I think about the future of work, I think about three main components:
Preparing for work: This includes lifelong learning and skills-based training—startups tackling this stage include Lambda with its income share agreements, WhiteHat with its apprenticeships, and even Duolingo with language learning

Finding and creating work: This includes labor marketplaces like RigUp or Instawork, as well as new types of jobs, such as Business-in-a-Box platforms like Outschool or Patreon

On the job: New tools are making work more productive, more collaborative, and, as a result, more remote
I'm going to focus on the third bucket today. In future newsletters, I hope to write more about #1 and #2.

The Importance of Collaboration Tools

During the COVID-19 pandemic, there's been a lot of talk around how work is becoming more remote. But that conversation has focused primarily on new communication tools that enable remote work: Zoom and Slack, for example. Missing in the conversation are new collaboration tools. I would argue that these tools are just as critical to enabling a remote work future.

Knowledge work ("desk jobs") today are a remnant of the Industrial Revolution: the workplace was systemized, labor became hierarchical, and the modern office construct was born. Even with new technologies in the 1990s and 2000s, it was difficult to get work done outside of the office. Microsoft gave us Excel, PowerPoint, and Word, which made us more productive on the job. Email made it easier to communicate. But no tools truly solved collaboration: we still needed to meet in person, dropping off marked-up documents and presentations at each other's desks.

The work tools of the future won't just make us more productive or help us communicate; they will do everything, including collaboration.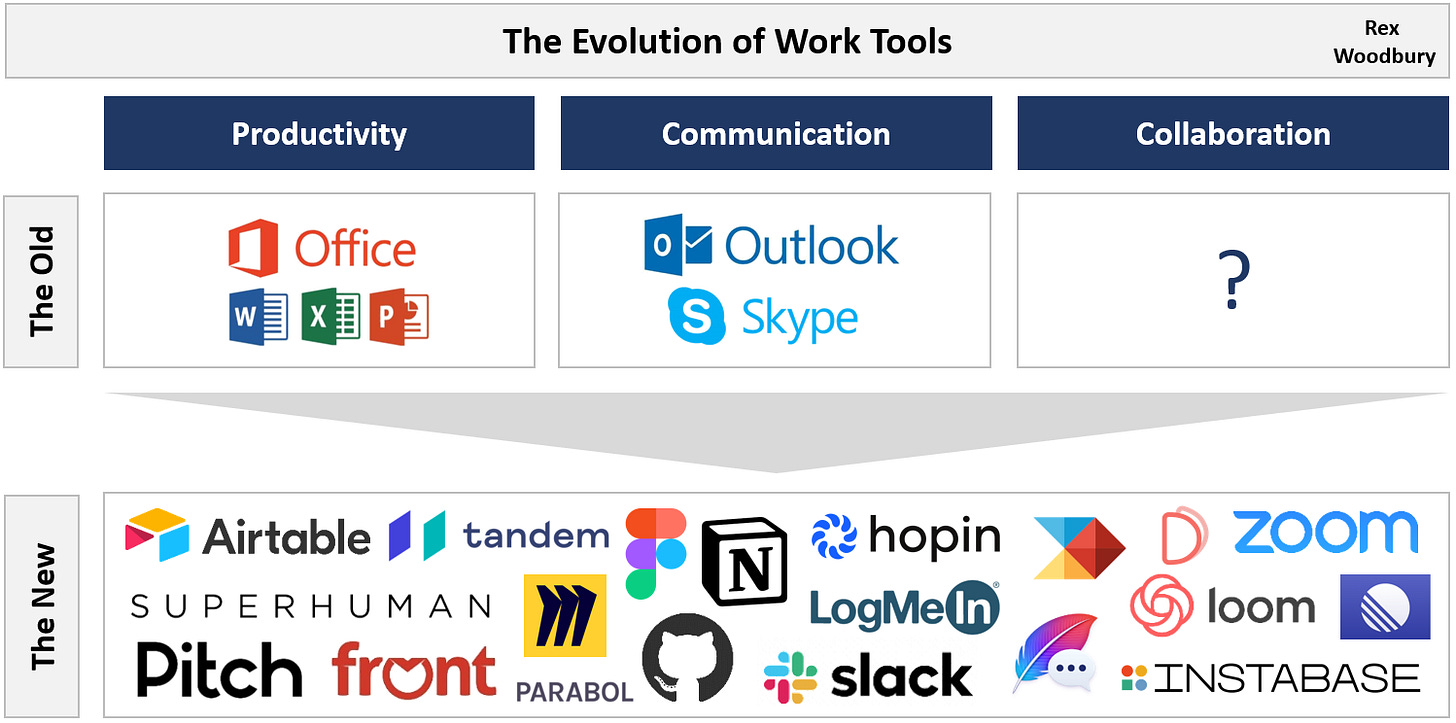 This is the key to remote work. New tools like Notion or Figma allow for synchronous editing, commenting, feedback, iteration. Front allows teams to collaborate in shared email. Loom makes possible asynchronous collaboration via video. Miro is an online collaborative whiteboard, and Tandem aims to be the remote office. These are 10x improvements on the status quo and make it now frictionless to collaborate with colleagues thousands of miles away.

The Consumerization of the Enterprise

At the same time, we've seen work tools become easier to use, more elegant and polished, and more fun to use. This is the consumerization of the enterprise. Many smart people have written about this trend over the years. In many ways, Slack began this trend nearly a decade ago, but it's still accelerating. Just as users want to be delighted by consumer apps like Instagram or Snapchat, they want to be delighted by their work apps. Think of Zoom's virtual backgrounds.

There are also millions of "prosumers"—power users who are willing to pay a premium for business software. These prosumers are finally being served; they're why Superhuman can charge $30 a month for a better email experience.

Because work tools are now so easy and so enjoyable, they're readily adopted by millions of workers. And because the tools sit in the cloud, these workers can use them from anywhere.

The Future Is Remote

The technology is here for remote work. Better collaboration tools + beautiful, easy-to-use work products. You can video conference on Zoom. You can attend a company offsite on Hopin, chat with your team on Loom or Slack or Tandem, assign work on Front or Github or with Double.

What's holding companies back is a lack of trust. This is irrational—anyone who has ever seen how little work actually gets done in an office understands this. COVID-19 may be the inflection point that convinces managers that remote work is equally productive (if not more productive). That line item marked "Rent Expense" will begin to look more onerous and more avoidable.

And everyone can save 7-8 hours a week commuting. That time can be used for more work or more sleep, for exercise or family time. Productivity and worker happiness will both increase.  

Of course, there will be downsides. There's no replacement for face-to-face interaction—and I believe that teams will need to supplement remote work with in-person relationship building. Some people may still go to the office (the executive team, for instance). Many people enjoy going to the office and will continue to do so. But I believe downsides will be overpowered by increases in productivity, flexibility, and employee happiness. Work will be more distributed.

There's no reason that today's construct of the workplace needs to be tomorrow's; the workplace of the Industrial Age shouldn't be identical to the workplace of the Information Age. The future of work is remote.
Sources & Additional Reading — here are the pieces that inspired and informed this content; check them out for further reading on this subject:
Many people have written about and talked about the consumerization of enterprise over the years. Some writers on this topic are Tiffine Wang, Jay Kapoor, and AppCues.

Mapping Workplace Collaboration Startups (Merci Victoria Grace, Lightspeed)

Ben Thompson of Stratechery writes about many of these topics in his daily and weekly posts — he has informed my views on the topic

People may have written about collaboration vs. communication for the future of work — if you've written or seen work on this topic, let me know and I'll share it here!
---
Chart of the Week
This chart from The New York Times shows the year-over-year change in spending across different categories last week, compared to the same week in 2019. I was surprised to see supermarkets hovering around 0% growth. It turns out that in the week ending March 18, grocery stores saw +79% in sales, but last week, sales were only +7%. Early on, people stocked up at the actual store; now, people are turning to online groceries (+80%). 

---
Tech
Fintech Startups Are Offering Aid to the Hardest Hit Consumers (Forbes)
Traditional financial institutions have often forgotten or, worse, exploited low-income customers. Fintech is changing that: technology makes it possible to broaden access to financial services, all while making financial services more convenient and affordable. Propel, for example, helps 2 million people manage their SNAP benefits, while Even allows people to access their next paycheck before they get it. As millions lose their jobs in the pandemic, they're turning to these startups.

Foursquare Data on How COVID-19 Is Changing Real World Movements (Foursquare)
Foursquare has a ton of data on foot traffic patterns. Here, they share data on how people have been moving through airports, offices, grocery stores, and more. Some more obvious takeaways (fewer people moving through hotels) and some less obvious (more visits to liquor stores). 

How the Startup Front Is Keeping Its Culture While Working Remotely (Mathilde Collin, Medium)
I really liked this piece from the CEO of Front, Mathilde Collin, on how she's maintaining employee morale during the crisis. There's a 24/7 "Zoom Room" just for hanging out, a Wednesday morning "AMA" (ask me anything) with the CEO, and midweek meditation. And there are some quirky things too: plank contests over Zoom and "skincare Fridays" with face masks. It's clear that Mathilde and her team have put an incredible amount of thought into creating and maintaining a strong culture. 
---
Media
Top Hollywood Agents Are Signing TikTok Stars (NYTimes)
In the past, aspiring stars would shoot an audition tape, send it off, and then wait...and wait...and wait some more. Today's stars take matters into their own hands: the internet has democratized distribution, enabling young talent to create and self-broadcast to the world. The most-followed person on TikTok is Charli D'Amelio, with 48 million followers; she's 15. The second most-followed person is Loren Gray (42 million followers); she's 17. (Only one of the 25 most-followed profiles is a traditional celebrity. It's Will Smith—with 21 million followers, he's #25.) The big three talent agencies are waking up and signing these young stars left and right. 

The Rise and Rise of Video Games (The Economist)
Since shelter-in-place started, gaming hours are up 75%. Steam, an online game distributor, hit a peak of 20 million concurrent players, 11% above the previous high. Twitch, which allows gamers to livestream videos of their game-play, has seen its viewership more than double. Disney shattered box office records last year (Avengers Endgame, Lion King, Frozen 2, Toy Story 4, Star Wars) and still did less revenue than Microsoft's Xbox gaming revenue. This is because gaming is now a social network—players use these games as a way to connect with and spend time with their friends, just as teens once loitered at a shopping center or spent hours on the phone after school. And the games are no longer static: the most popular titles are based around multiplayer experiences that, through the cloud, are updated daily with new content and challenges. I'll write more about this on Friday, when writing about the future of entertainment. 

Quick streaming update:
Disney+ announced this week that it hit 50 million subscribers in just five months—and that's all on the back of one hit show, The Mandalorian (plus generations of brand value, of course).

Quibi, meanwhile, was slower out of the gate. In its first day, the app was downloaded 300,000 times (for comparison, Disney+ had 4 million on day one). It's a silly comparison, of course: Quibi is a brand new, unknown consumer app, and Disney+ is from the biggest media company in the world. Quibi's success or failure won't be judged for months. 

Netflix's Tiger King was viewed by 34 million accounts in its first 10 days (about 20% of all accounts), becoming Netflix's most popular original since Stranger Things.  
---
Commerce
China's Retailers Turn to Livestreaming E-Commerce During the Pandemic (CGTN)
With no store visitors, retailers in China are turning to livestreaming to sell their goods—and they're finding the channel surprisingly successful. One woman says: "I did the calculation; every one in eight viewers will place an order. I can reach the amount we used to sell in a month in just one to two hours' livestreaming." Long term, she also sees a way to cut costs: "I think it is no longer necessary to have a physical store. We can livestream straight from the factory in the future!" 

How the Virus Transformed the Way Americans Spend Their Money (NYTimes)
This is the article behind the "Chart of the Week", sharing detailed data on how consumer spending in America has changed during the crisis. There are 69 categories in the red, and only 17 in the green. Hardest hit are scooters (Bird, Lime), taxis, and movie theaters, all down nearly 100%. Benefiting most are online grocers, gaming, and food delivery. 
---
Quick Hits
This cool graphic tracks emojis used in Venmo transactions. Typically, up to a third of Venmo transactions in March include the basketball emoji—everyone is paying to enter a March Madness bracket. This year, with March Madness canceled, the basketball emoji features in only 0.1% of transactions. Pizza and beer emojis also dropped, with restaurants closed. The heart emoji, though, is +226%. 

Apple and Google are launching a joint COVID-19 tracing tool. The tool will enable contact tracing across iOS and Android devices. Basically, Apple and Google can tell if you've been nearby a person with a confirmed case of COVID-19 and notify you to get tested and self-quarantine. 

Dating apps are seeing a spike in activity.Tinder, Hinge, and OKCupid have all reported a ~30% increase in usage. The companies have also been quick to introduce new features for dating during shelter-in-place, like in-app voice and video calls or removing geolocation radiuses. Bumble reported call usage up 100%, with an average call time of 30 minutes. 

Should Uber and Lyft make a full pivot to delivery? Rides on Uber and Lyft are down nearly 100%. This writer argues that the companies should make a dramatic pivot to delivery for food, medicines, and household supplies—people at home are in need, its safer for drivers than driving passengers, and it would allow drivers to maintain their incomes.

Video apps, like Houseparty, are surging.Houseparty, a video hangout app, was once a hot app among teens. But its growth slowed and it sold to Epic Games (the maker of Fortnite) last year. The app is having a second life during the pandemic. A month ago, Houseparty wasn't even in the top 1,500 apps in Italy; today, it's the #1 social app and #2 overall (second only to Zoom). The app's current download rate is 323x its average in February. 
---
Laugh of the Week
I've decided to end newsletters with some humor, in the hopes that humor can bring us together and help us get through this difficult time. Stay safe and healthy!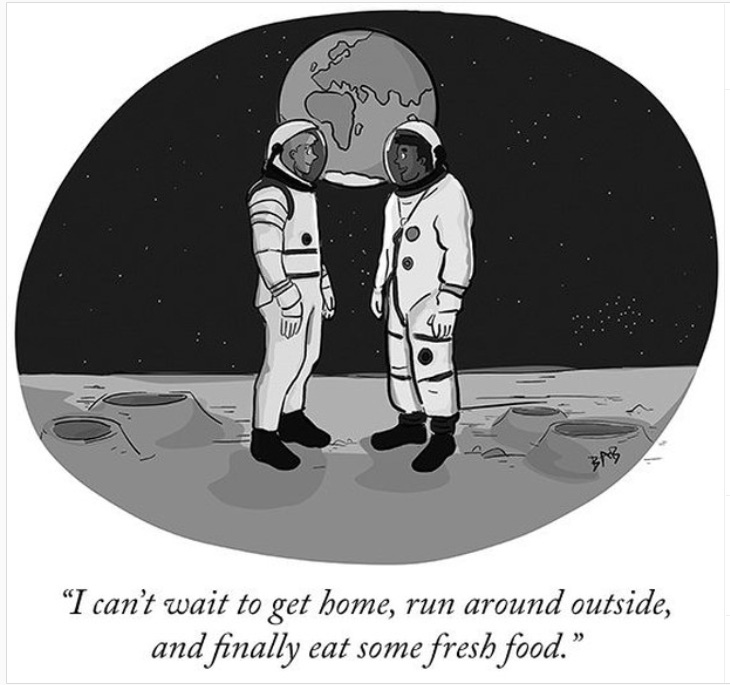 ---
To receive this newsletter in your inbox weekly, subscribe here 👇😊