Discover more from Digital Native
Weekly writing about how technology shapes humanity, and vice versa
Over 54,000 subscribers
AirPods as a Platform
Plus, the Streaming Wars, Billie Eilish, and Michelin Stars
This is a newsletter about how tech is changing how we live and work
To receive this newsletter in your inbox weekly, subscribe here 👇
---
AirPods as a Platform
Over the past year, I've begun to notice something: nearly everywhere I go, people are wearing AirPods. Granted, I live in a bubble here in the Bay Area. But I've been struck by just how many people constantly have their AirPods in (even when walking and talking with friends!). Last year, Apple sold 60 million AirPods, grabbing 71% of the wireless headphones market. 

Investors are constantly looking for the next platform—a platform to enable new consumer companies. For the past decade, it's been mobile. What if the next platform is AirPods? What if the next platform isn't a revolutionary new technology, but an incremental improvement (no cords!) on a product that's been around for decades? 

Audio consumption is skyrocketing in the US. There are 700,000 free podcasts, 144 million Americans (12+) have listened to a podcast, and the average podcast listener consumes 6+ hours per week (a16z deep-dive on podcasting here). This boom has been enabled by smartphones: 70% of podcast listeners do the majority of their listening on mobile. 
We're beginning to see new audio start-ups emerge and succeed. Calm, an app that creates audio content to decrease stress and anxiety, has over 2 million paid subscribers and recently raised at a $1 billion valuation. Dipsea offers short audio erotica stories. Hallow offers spiritual audio content for Catholics. These start-ups prove that consumers are willing to pay for audio content. And their business models are attractive: audio content costs are orders of magnitude below video content costs. Imagine Netflix's business model, if each piece of content cost $10 to produce instead of $10 million. 

Looking at how this trend is emerging, I see two key channels for new business creation: education and social networks.

Audio content lends itself well to education: 75% of podcast listeners do so to learn new things. There's a massive opportunity for audio educational content. One company doing this is Knowable, which offers premium audio courses from experts. Users pay per course (~$50), for course offerings such as "How to Launch a Start-up" (taught by the founder of Reddit), "How to Sleep Better", and "How to Be Funnier". 

I also think a new social network can be built on top of AirPods. TTYL is doing something like this—their product allows people to see which of their friends are using their AirPods, and then to jump into conversations with up to eight friends. 

With wireless headphone tech getting better every year, AirPods becoming increasingly cheaper and more ubiquitous, and consumer habits around audio evolving, we'll likely see a number of new consumer start-ups built on top of AirPods in the coming years. 
Sources & Additional Reading — here are the pieces that inspired and informed this content; check them out for further reading on this subject:
---
Chart of the Week
This chart shows the speed of household adoption for major new technologies over the past 100 years. For instance, the refrigerator reached ~90% adoption 30 years after being introduced to the market. The dishwasher is at ~70% penetration today, nearly a century after first hitting the market. What I find most fascinating is how speeds of adoption have accelerated. While the landline phone took three decades to reach 90% penetration, the cell phone took half that time. Part of this is because new techs can build upon old ones. The landline had to teach consumers to hold a device to their ears to speak with friends and family. When the cell phone came to market, that habit was already well-established. (Source: Visual Capitalist)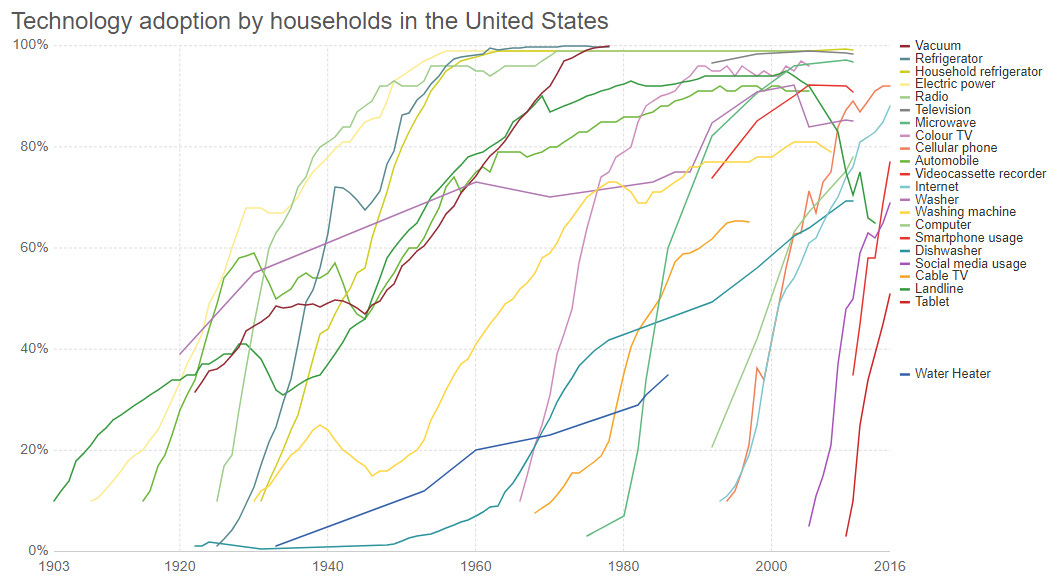 ---
Media
10 Lessons for Disney, Apple, and All the New Streaming Services Trying to Take Down Netflix (Vox)
The "streaming wars" are well underway, with Apple TV+ and Disney+ out to strong starts. Disney, in particularly, is out strong: they just announced that Disney+ already has 27 million customers (though many are likely Verizon customers who got Disney+ for free). This piece breaks down how the new players can compete with Netflix. My favorite part is "The Nickelback Principle." (Nickelback was the bestselling band of the 2000s and is widely ridiculed.) Many people criticize Netflix for having "bad" content. But audiences like bad content—people spend a lot more time half-watching TV that's in the background than they do watching premium "lean in" content. This year, TLC's Dr. Pimple Popper was more popular with women 25-54 in its timeslot than the Shonda Rhimes series How to Get Away with Murder, which stars Tony and Academy Award winner Viola Davis.

How Billie Eilish is Reinventing Pop Stardom (Vogue)
Last month, Billie Eilish became the first woman to take home the four major prizes at the Grammys. And she's only 18 (she was born three months after 9/11). It's interesting to think about what Eilish's popularity says about Gen Zs and about 2020. Her clothing is largely genderless. Her album is about depression, suicidal thoughts, and climate change. Both trends—defying gender norms and talking openly about mental health—are reflective of how Gen Zs think and act. 
---
Tech
The Gospel of Wealth According to Marc Benioff (Wired)
Marc Benioff built Salesforce to a $170 billion company, created the coolest (and strangest?) corporate event in America, and is the front-runner for "wokest" billionaire. This insightful profile covers everything from Benioff's founding of Salesforce to his ongoing fight against San Francisco homelessness.
---
Culture
The Financialization of the American Elite (American Affairs Journal)
In the 1960s, just 6% of Harvard Business School graduates pursued careers in finance; the sector generated only 3% of the country's GDP. Today, 54% of graduates go into finance or consulting; finance now comprises 10% of GDP, three times what it was in the 1960s. Compare the HBS Classes of 1949 and 1982. The Class of 1949 had graduates go on to become the CEOs of Johnson & Johnson, Xerox, and Bloomingdale's; 25 years after graduation, 74% of the class held the title CEO or COO. The Class of 1982, on the other end, includes Jaime Dimon (CEO of JPMorgan Chase), Seth Klarman (billionaire hedge fund founder), and Stephen Mandel (also a billionaire hedge fund founder). There's been a massive shift away from general management jobs and toward finance jobs. Why is this happening and how is it changing America?

Why New York's Penn Station Is So Terrible (Politico)
Penn Station is the second mostheavily trafficked transit hub in the world, trailing only Tokyo's Shinjuku Station. The station serves more daily passengers than the region's three huge airports (Kennedy, LaGuardia, and Newark) combined. More people pass through Penn each weekday than live in the city of Baltimore. And yet Penn Station is considered a national embarrassment. This is the story of why Penn Station is so terrible—and the story won't make you feel good about how local government in America works. 

The Ingenious Story Behind Michelin Stars (BBC)
This was the coolest thing I learned this week. A century ago, Michelin had a problem: people weren't driving enough. As a result, their tires weren't getting enough wear and Michelin tire sales were down. So, Michelin launched a guide to the world's finest restaurants. It worked: people got into their cars to drive across Europe and try out the best restaurants—and, in the process, people wore down their tires and tire sales went up. 
---
To receive this newsletter in your inbox weekly, subscribe here 👇😊