Discover more from Digital Native
Weekly writing about how technology shapes humanity, and vice versa
Over 54,000 subscribers
Examining the Rise of TikTok
Plus, how COVID is accelerating tech trends and what's behind a hot new social audio app
This is a newsletter about how tech is changing how we live and work
To receive this newsletter in your inbox weekly, subscribe here 👇
---
Examining the Rise of TikTok
In recent weeks, I've written about the future of work, including how COVID-19 is shaping that future. While the products and services making work more remote and more collaborative have thrived in this pandemic, so too have the products and services enabling us to escape and stay entertained. One, in particular, has been booming: TikTok is the most-downloaded app in the world this year.
Last month, SensorTower reported that TikTok passed two billion downloads and had its best-ever quarter of growth.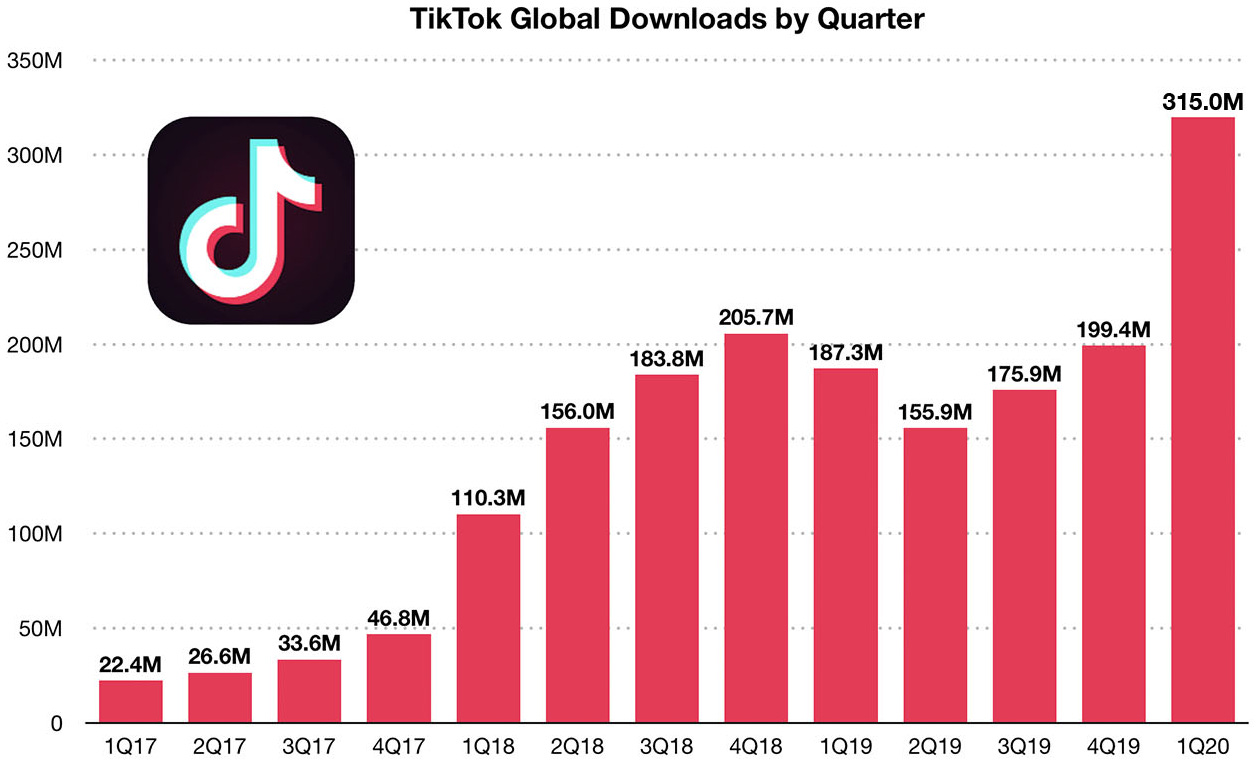 In March, as Americans began to stay home, TikTok downloads jumped 51% year-over-year. The average user opened TikTok 8x a day and spent 52 minutes in the app.
Before digging into what's made TikTok successful, some context: TikTok is owned by Bytedance, a Chinese company. With a $75 billion valuation, Bytedance is the most valuable startup in the world. Its revenue last year was $20 billion, higher than YouTube's $15 billion (and Bytedance, founded in 2012, is seven years younger than YouTube).
Bytedance owns a number of popular apps in China, including Douyin, TikTok's Chinese counterpart. In 2016, Bytedance launched Douyin in China, and a year later, expanded Douyin to markets outside of China under the name "TikTok". To supercharge its growth in the U.S., Bytedance acquired the American social media startup Musical.ly in 2017 and merged it into TikTok.
China still comprises about 60% of Douyin / TikTok users, but non-China markets are growing rapidly. TikTok's ascent in the U.S. has been especially dramatic. Just how dramatic? TikTok's most-followed person is 16-year-old Charli D'Amelio from Norwalk, CT. Today, D'Amelio has 55 million followers on the platform (for perspective, Jennifer Lopez has 10 million). This time last year, D'Amelio didn't even have a TikTok account. That's right—she only joined the platform in June 2019.
To understand the TikTok phenomenon, I'm going to examine first why TikTok has succeeded, and then how its success is having ripple effects throughout culture.
Why TikTok Succeeded
There are two keys to TikTok's success:
Frictionless content creation with easy-to-use creative tools, and

A reimagining of social media from first principles
These can be boiled down to democratizing creativity and democratizing fame.
As I wrote earlier this year in The Passion Economy, YouTube was the first true platform for creators. But to be a creator on YouTube, you still needed to know Adobe Premiere Pro. Because some level of skill and effort was required, barriers to content creation were high.
TikTok has removed these barriers so successfully that 1 in 4 users create content on TikTok, compared to 1 in 1,000 on YouTube. The app has accomplished this by providing easy-to-use tools for production, special effects, and editing. With Vine, creators could look through their database of music post-production and layer sounds over their videos. TikTok's music database is accessible pre-film and music plays during filming. TikTok's tools are so good that anyone can be creative and make high-quality content.
This leads to the second driver of TikTok's success: democratizing fame.
Just as there's no friction in creating content on TikTok, there's no friction in consuming content. When building TikTok, Bytedance rethought every feature of a social media platform. TikTok doesn't have a traditional homepage to display content from people you follow. Instead, TikTok's algorithms serve you videos that it thinks you'll like—and over time, the artificial intelligence does a better and better job understanding you.
A new user doesn't even need to create a profile to begin viewing content. Opening the app for the first time, a video automatically plays—a video created by someone, somewhere in the world, that TikTok's algorithms have deemed worthy of viewing. This is a novel concept for social media: no onboarding, no prior knowledge needed, no learning curve. You just open the app, watch what the algorithm serves you, and every 15 seconds or so, you experience a moment of delight. Then another 15 seconds and another moment of delight. On and on and on.
Because TikTok built a platform on which anyone can be a creator, it built a platform on which anyone can be discovered. The algorithms reward quality content; anyone can go viral at any time. Someone with only a few followers can go viral if their content is good enough ("good" being murkily defined by the app's algorithms).
Traditionally, celebrity was rooted in a Hollywood definition that emphasized mystery and limited access. Instagram built on this definition with glossy images and heavily-curated feeds. TikTok—even more so than YouTube—has shattered that definition.
Here are TikTok's 25 most-followed accounts. Only two are "traditional" celebrities—The Rock and Will Smith.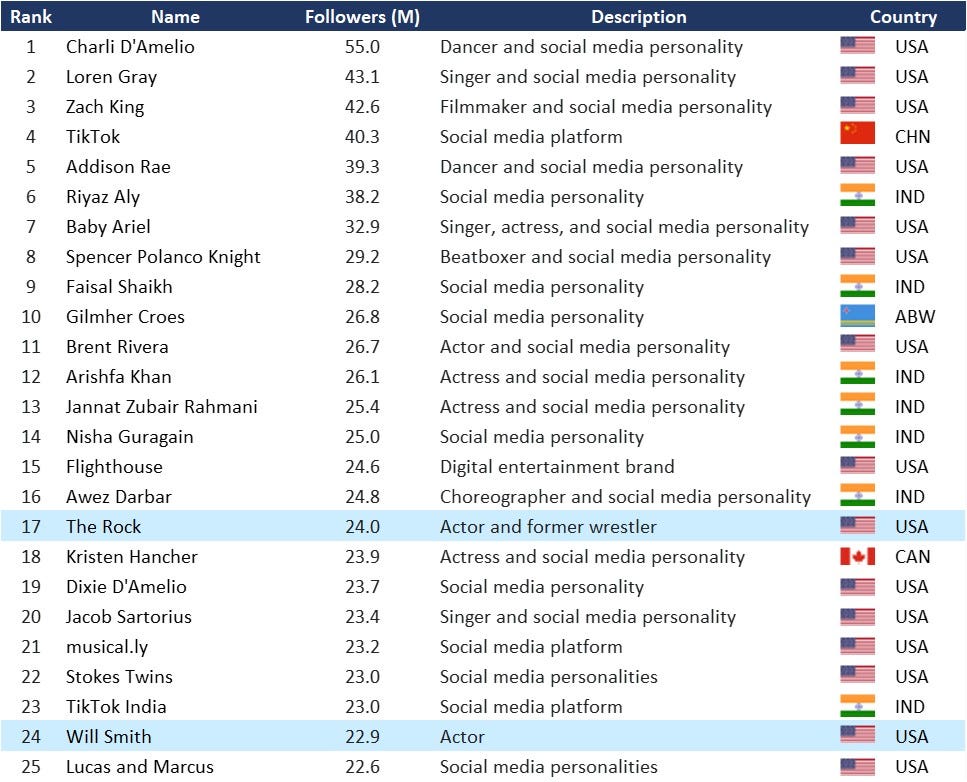 The biggest stars are digitally-savvy young people who use the platform to provide access to their full selves.
TikTok's algorithmic feed has also driven dramatically higher engagement with content (engagement = likes + comments, divided by total followers).
Here are average engagement rates for Instagram, TikTok, and Twitter, broken out by account size:

TikTok's engagement is higher across the board and, notably, scales better with platform size. (It's also worth noting that I view YouTube—a global video-sharing platform—as a better comparison for TikTok than Instagram—a more image-heavy social network focused primarily on one's immediate followers. While TikTok may take time away from Instagram, the two platforms can be complementary: I'm noticing a trend of users posting their TikTok videos to Instagram Stories for friends to see.)
While TikTok's in-app tools provide low barriers to creativity, its AI-powered feed provides low barriers to content discovery and virality. This potent combination has catapulted TikTok into the heart of popular culture.
TikTok's Ripple Effects in Popular Culture
This week, Doja Cat's "Say So" hit #1 on the Billboard Hot 100.
"Say So" is the latest in a string of songs to go viral because of a TikTok dance. The #2 song in the world, "Savage" by Megan Thee Stallion, also owes it success to TikTok.
Last year, an unknown artist named Lil Nas X used a viral TikTok dance to power his single "Old Town Road" to #1. "Old Town Road" stayed #1 for 17 weeks, breaking Billboard's record for the longest streak at the top.
Major artists are taking notice. Last month, Drake released "Toosie Slide", which features a chorus of purely dance instructions. The song was so calculated for TikTok virality that Pitchfork called it "strictly a business decision."
Record labels are even changing the names of songs because of TikTok. The song "ily" by Surf Mesa began to go viral on TikTok, but users couldn't find the song. Since the 15-second viral clip included the lyrics "I love you, baby", the record label changed the song title to "ily (i love you baby)".
Just as TikTok is reshaping the music industry, it's reshaping entertainment more broadly. Hollywood was largely caught flat-footed by the rise of YouTube. Determined not to repeat their mistake, talent agencies are signing TikTok stars left and right. TikTok is fundamentally changing what it means to be a celebrity.
The epicenter of pop culture is no longer the red carpet at the Oscars; instead, it's a mansion in LA known as "Hype House" that's home to 19 teenage TikTok superstars (pictured below).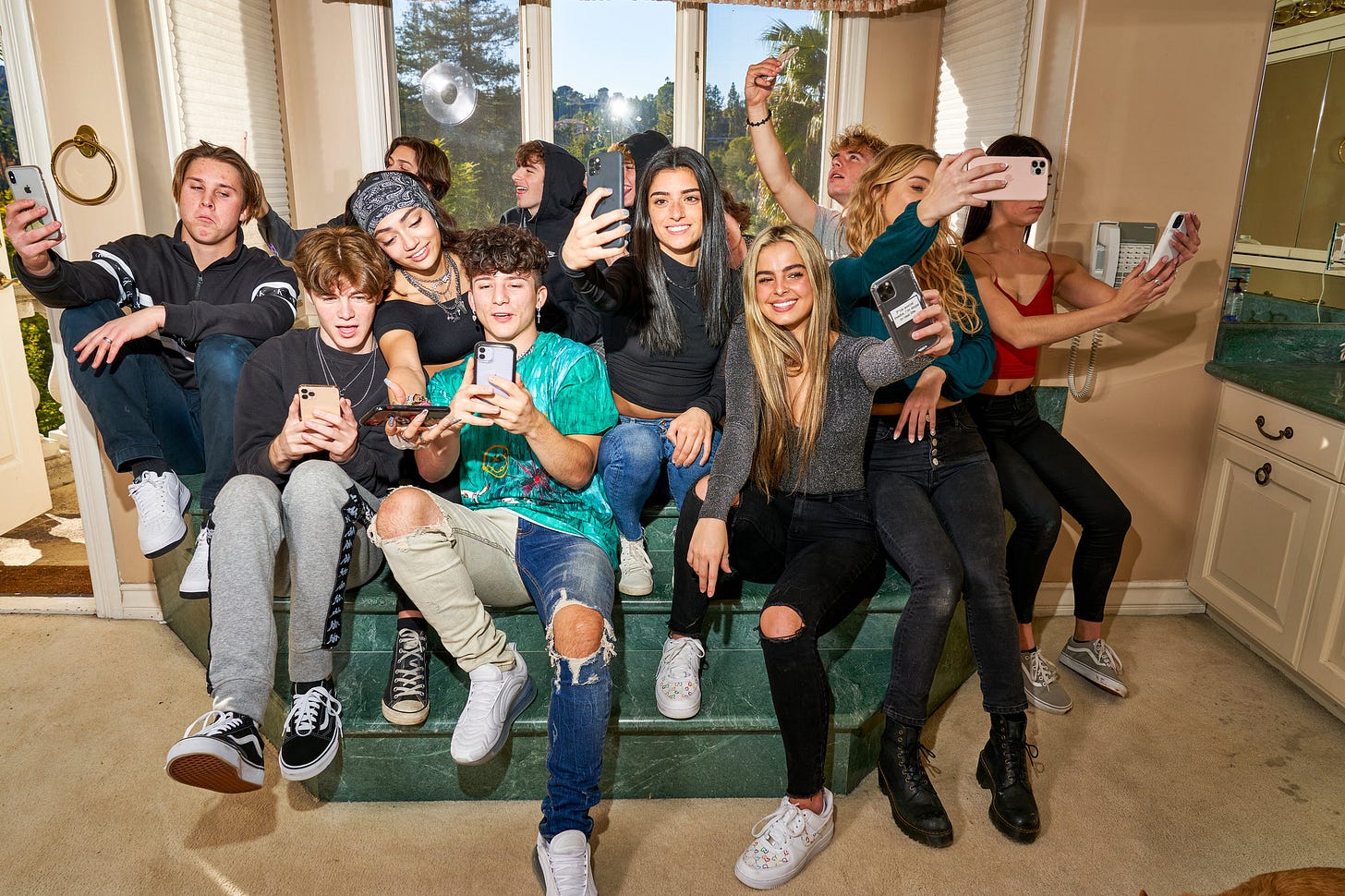 Where TikTok Goes From Here
Since YouTube's rise in the mid-2000s, the platform has dominated long-form video sharing. But there's always been an opening for a short-form equivalent. In 2013, it looked like Vine would seize that opening. But Twitter, which acquired Vine almost immediately, squandered the opportunity by providing poor creative tools, offering limited content discovery, and failing to give creators ways to monetize. In 2016, Twitter shuttered Vine; the next year, TikTok launched in the U.S. Twitter's mismanagement of Vine will go down as one of the biggest failures in social network history.
For now, the short-form video market belongs to TikTok. Facebook launched its competitor, Lasso, in 2018 but little has been heard from it since. YouTube, meanwhile, is planning YouTube Shorts for later this year. But TikTok's biggest competition may come not from the internet giants, but from the U.S. government, as U.S.-China tensions escalate.
Only 9% of U.S. internet users have used TikTok, but 49% of teenagers have. This is part of the reason TikTok feels so raw: the app largely lacks the corporatized, curated feel of older-skewing platforms. As the app becomes more mainstream, this will begin to change. Gen Zs seem to think it already has—they have declared summer 2019 "the golden age of TikTok", before the Millennial invasion during COVID-19.
TikTok will increasingly attract older cohorts and broaden beyond viral music challenges—already, the app is promoting content in education, home improvement, and other categories. Crucially, TikTok is a tech company first and a media company second; its differentiation lies in its powerful algorithms and AI-driven feed. Driven by its tech, TikTok will continue to break down barriers to creativity and discovery.
Sources & Additional Reading — here are the pieces that inspired and informed this content; check them out for further reading on this subject:
---
Chart of the Week
Well, more like "Graphic of the Week" today—these are highlights from an interesting report from Sandvine on internet trends during COVID-19.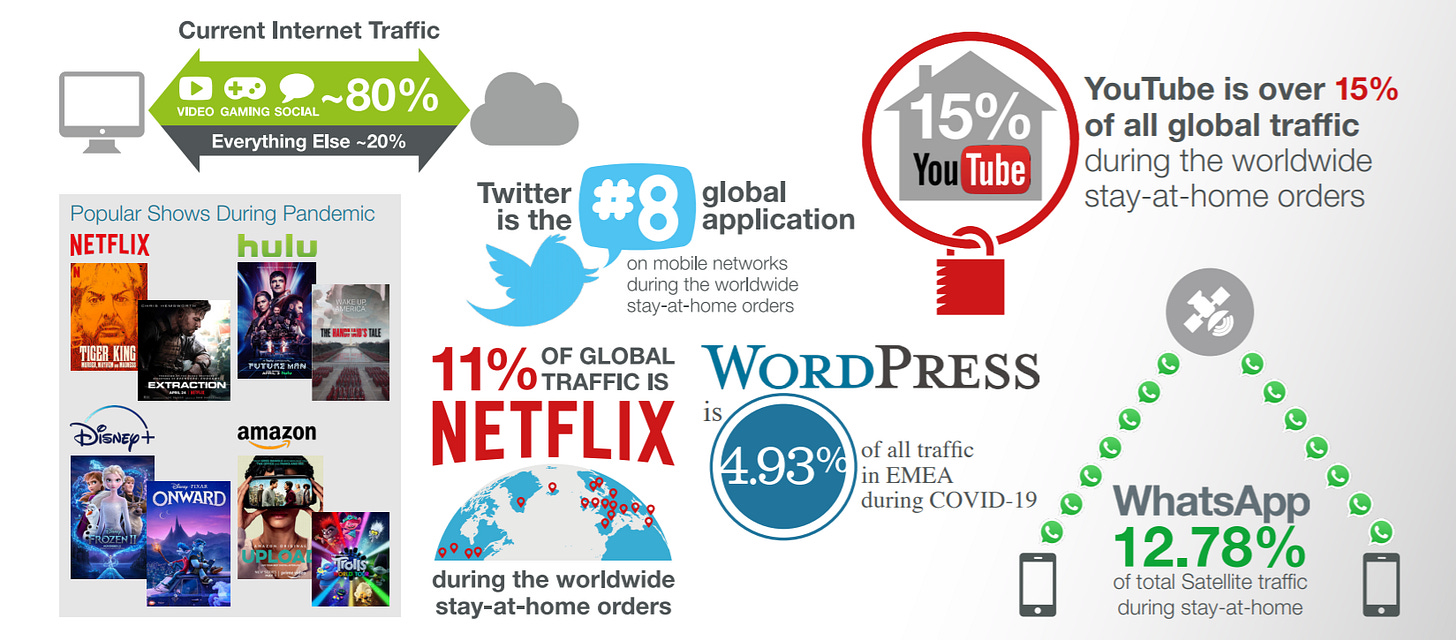 ---
Tech
COVID and Cascading Collapses (Benedict Evans)
Benedict Evans wrote about "cascading collapses" in tech. Tech often suffers from the "Wile E Coyote effect"—when you've run off a cliff, but there's a brief moment while your legs windmill in the air before gravity kicks in.
For example: Blackberry unit sales continued to rise for four years after the iPhone launched in 2007, going up 6x before beginning to crater.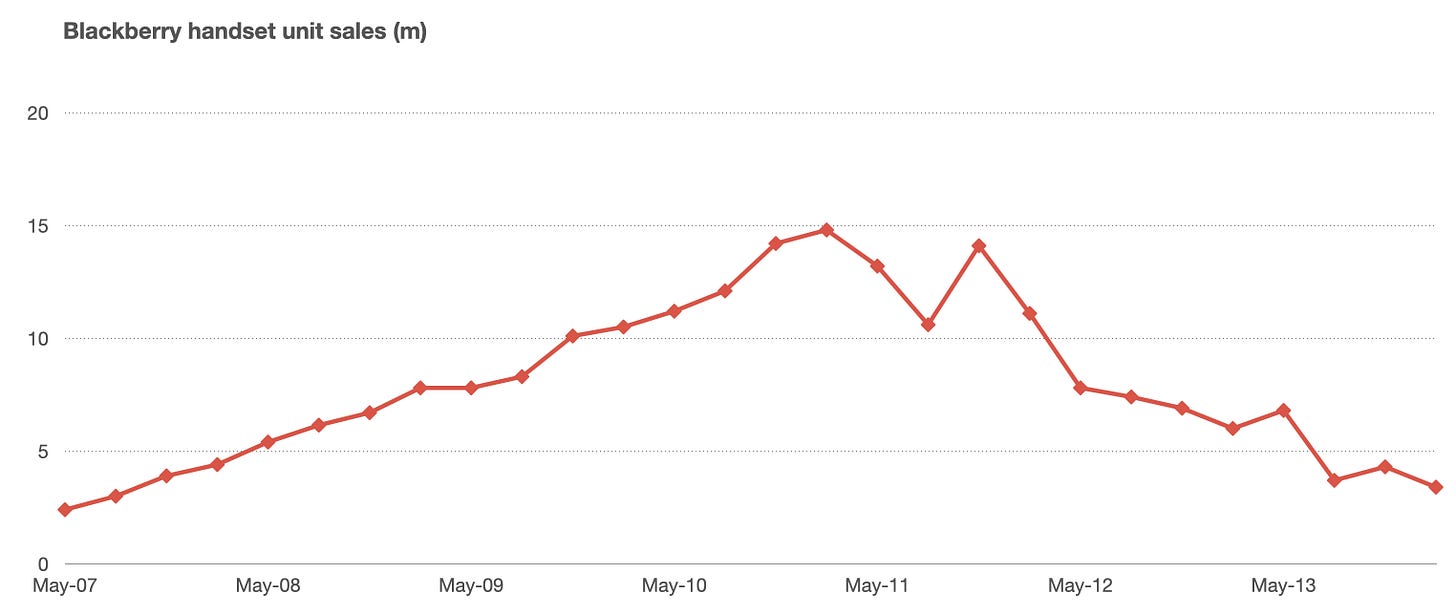 COVID-19 is accelerating the inevitable: in the words of Evans, "A bunch of industries look like candidates to get a decade of inevitability in a week."
One such industry is U.S. retail. Retailers are fixed-cost businesses competing against hyper-efficient, hyper-scalable online commerce. Look no further than this chart to see why a reckoning is coming: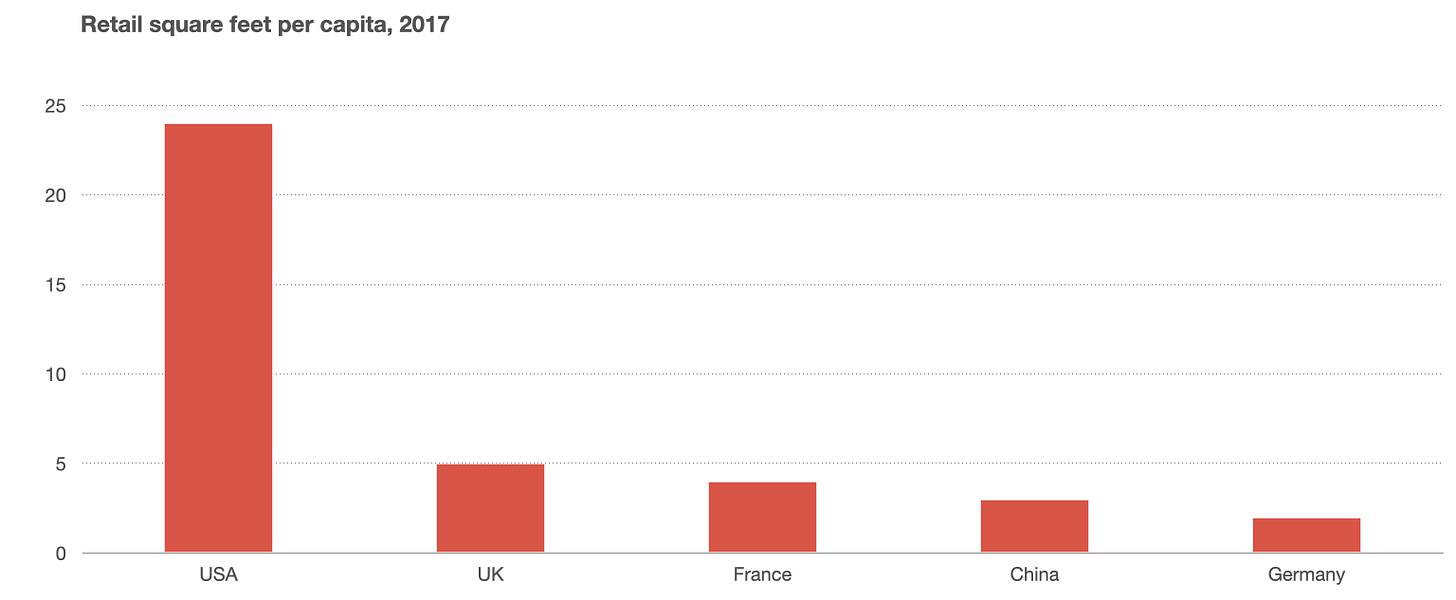 Another industry is pay-TV. In Q1, 1.8 million households cut the cord—more than in any quarter ever before. The combination of high prices (amid the backdrop of record unemployment) and the loss of live sports is accelerating cord cutting—which was already happening much faster than e-commerce growth: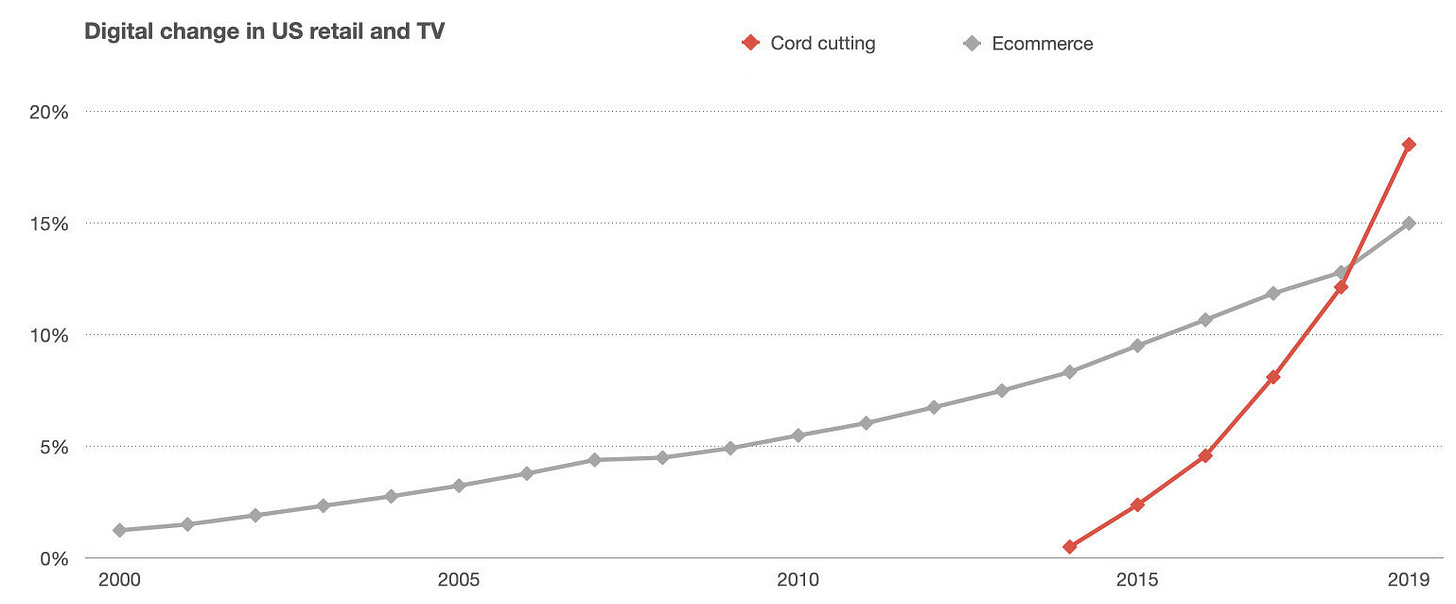 Over the next 12 months, massive industries will undergo massive shifts that have been a long time coming.
---
Media
Inside Clubhouse, the New Audio Social App (Nathan Baschez)
Earlier this year, I wrote about "AirPods as a Platform"—with 60M sets of AirPods sold last year and 144M U.S. podcast listeners, audio is booming. In recent weeks, we've seen the first audio social app to get real traction: Clubhouse. Nathan Baschez's piece breaks down Clubhouse.
Clubhouse basically lets people spontaneously jump into voice-based hangout rooms, where they can listen to people chat and join in, all in real time. Why is Clubhouse working? In the words of one writer, "Because it's halfway between a podcast and a party, and people love both of those things."
Podcasts are great, but they're isolating; you're just listening to someone else's conversation:
But Clubhouse essentially lets you engage with and participate in your favorite podcasts. And because you're listening to a live conversation with a bunch of people—and because you can participate if you want to—it also feels like a party.
The word is that Clubhouse is in talks to raise a large seed round at a valuation that could top $100 million, with Andreessen Horowitz and Benchmark in the mix. It'll be interesting to see what Clubhouse's user retention is like, which will largely determine whether it's a fad or a durable business.
---
Commerce
Burger King's Ingenious Marketing (Sean Kernan)
When you think of innovative marketing in the age of social media, you don't think of Burger King. But the fast-food giant is one of the most adroit marketers out there.
First, there was the stunt they pulled in 2018. In a hilarious trolling of its main competitor, Burger King announced it would offer 1-cent Whoppers to smartphone users within 600 feet of a McDonald's. Within a week, the campaign had driven over 1 million downloads of the Burger King app—the app went from ~#400 to #1 on the app store.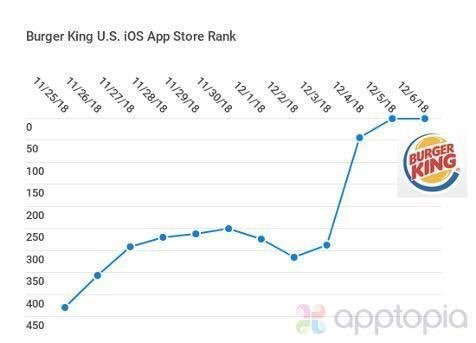 In 2019, Burger King was back with another masterclass in earned media.
It all started when Burger King began liking a bunch of people's tweets…from 2010. Because liking decade-old posts is super creepy, people started noticing: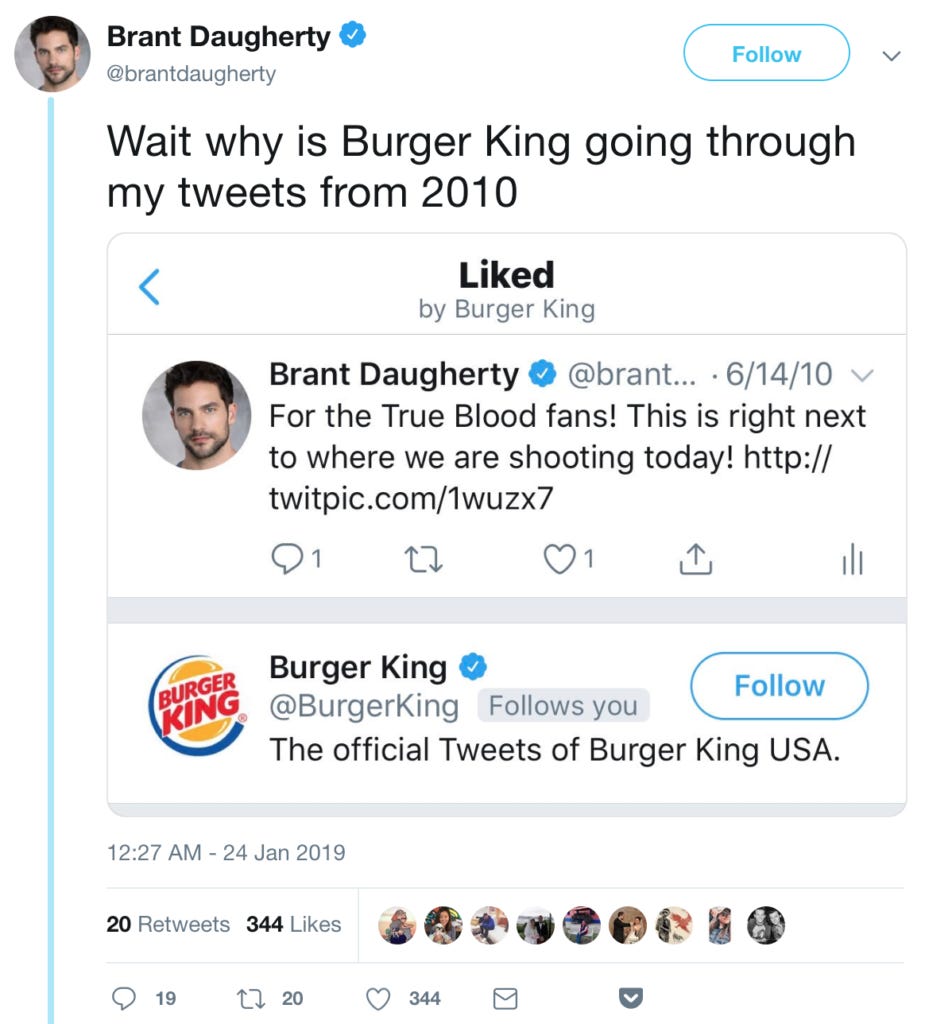 After more and more people began to take notice, Burger King did their mic drop:

For $0, Burger King generated thousands (millions?) in earned media value. Not bad.
---
Quick Hits
📱 A follow-up on last month's livestreaming post: China's livestreaming e-commerce market will hit $136 billion this year, +121% year-over-year. Under the pandemic, brick-and-mortar stores are turning to livestreaming to sell products. In February, more than 1 million merchants on Taobao, Alibaba's e-commerce platform, started livestreaming events, +719% over January. President Xi Jinping even stated that livestreaming can help farmers sell agricultural products and shake off poverty.
👟 One of the problems with virtual reality is that our rooms aren't very big: it's hard to experience a virtual world when you might walk into your wall. Google is patenting shoes that would use motors and wheels on the bottoms, along with tracking devices that know where the room's walls are, to ensure you have space to move around in your virtual space.
📽️ Streaming services are notoriously close-lipped about viewer data. Even Netflix's top stars don't know how their content performs. The comedian Ali Wong (whose two comedy specials are definitely worth watching) says, "They're so secretive about their metrics. To this day I still don't know how many people watched either of those specials." Slowly, though, Netflix is beginning to reveal some data: last fall, they released their 10 most watched TV shows and movies (Stranger Things and Bird Box, respectively).
✈️ You know those CLEAR lines you see at airport security? The ones that move use biometrics to move faster than TSA Pre? They're introducing a new product that can screen for COVID. (CLEAR already includes fingerprint, iris, and facial scans, for which consumers pay $179 / year.)
💉 The porn industry may be an unlikely model for reopening the country. The industry requires all performers be tested for HIV and other STIs every 14 days; any HIV-positive test leads to an immediate shutdown of all U.S. sets, followed by detailed contact tracing. Some see the industry as proof of concept for how the U.S. can scale up COVID testing and tracing.
💻 The market for domain names is surprisingly hot. The latest domain on the market? House.com. Millions of people still browse the web by adding a dot-com to the names of things they need—including houses. The man selling it set the starting bid at $30 million. He's hoping Zillow snaps it up.
🥘 Sixty percent of travel spending goes to activities and restaurants. In a bid to capture this spending, Airbnb launched Airbnb Trips in 2016, later rebranded as Experiences. With COVID-19 halting global tourism (leading Airbnb to lay off 25% of its workforce), Airbnb has announced "Online Experiences"—"a new way for people to connect, travel virtually and earn income during the COVID-19 crisis." Online Experiences include everything from a high-intensity workout with an Olympic rower to a cello concert with a professional musician. And there are tons of cooking classes. For this weekend, we booked this Indian cooking class with Neha, who lives in New Delhi 😊🍴
---
To receive this newsletter in your inbox weekly, subscribe here 👇😊