Discover more from Digital Native
Weekly writing about how technology shapes humanity, and vice versa
Over 54,000 subscribers
How Tech Is Broadening Access
Plus, Uber offers to buy Grubhub, Facebook buys Giphy, and why Quibi is failing
This is a newsletter about how tech is changing how we live and work
To receive this newsletter in your inbox weekly, subscribe here 👇
---
How Tech Is Broadening Access
Over the past few years, the tech industry has seen its reputation tarnished. In the midst, it can be difficult to remember the good that technology is doing.
One of the things I love most about technology is how it can broaden access. What I mean by that is how tech makes products and services available to more people—including many with access for the first time. And those products and services make their lives better.
I first saw the term "broadening access" in Union Squares Ventures' Thesis 3.0. USV's Rebecca Kaden observes how broadening access is the through-line for USV investments:
"A focus on companies that broaden access emerged as a common thread. This theme has become a driving force across the business models and sectors our portfolio covers. In education, for example, Duolingo allows users to learn new languages around the world, on their phones and from their couches, for free. In healthcare, Nurx creates new ability for consumers to access medical care at dramatically reduced cost. Coinbase makes an emerging asset class accessible to mass markets. Twilio allows developers anywhere to easily access the world's voice and text communications infrastructure."
Across the diverse USV portfolio—education, healthcare, crypto, software—technology is making life more accessible. This captures the spirit of entrepreneurship and tech. Sundar Pichai, the CEO of Alphabet, once said:
"For me, it matters that we drive technology as an equalizing force, as an enabler for everyone around the world."
Below are three of the largest markets in the U.S., and for each market, five startups that are using technology to broaden access.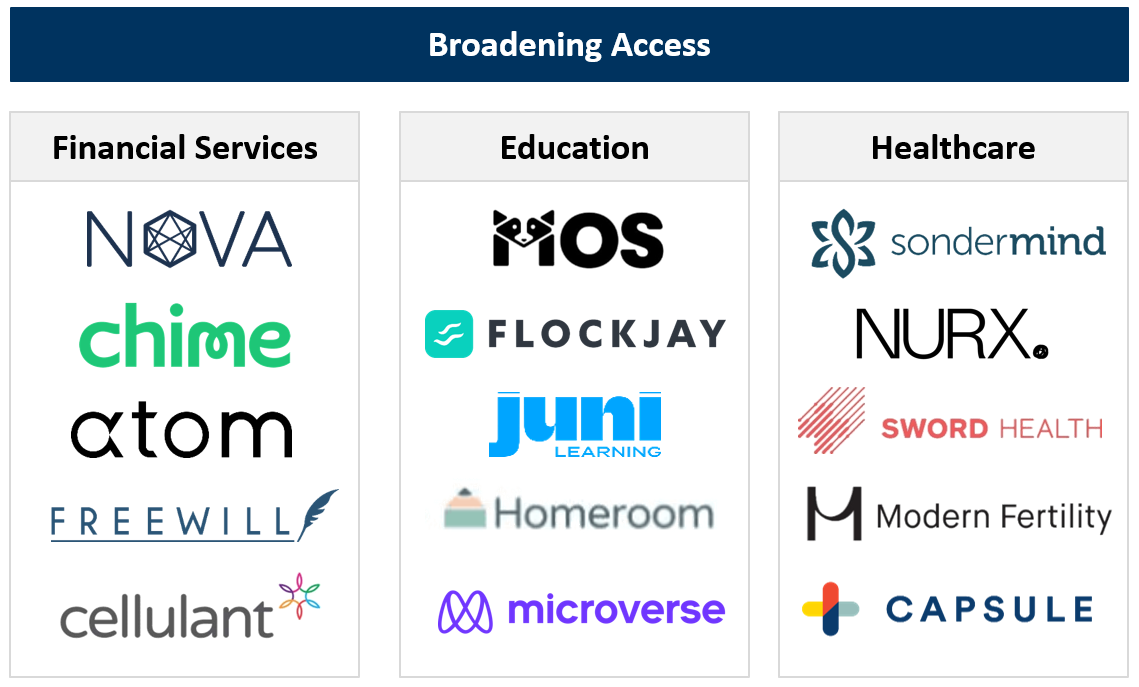 Financial Services
The financial services market is $1.5 trillion in the U.S. It comprises 8% of U.S. GDP and 21% of Fortune 100 companies.
In addition to being one of the largest markets, it's one of the most pilloried. Its net promoter score (NPS)—a measure of consumer sentiment—is a paltry 34. For comparison, education registers a 71 NPS and e-commerce registers a 62. The major players in financial services have even worse scores: Chase is -1, Wells Fargo is -12, and Bank of America is -24. (A negative score effectively means more people hate the company than love it.)
Traditionally, these companies have made money by preying on the vulnerable—low income customers are exploited with hidden fees and charges. But fintech is changing that. "Challenger banks" like Chime, Monzo, and Revolut—which all have no physical presence—charge zero fees. Startups are broadening access to financial services; here are five that I think are especially interesting: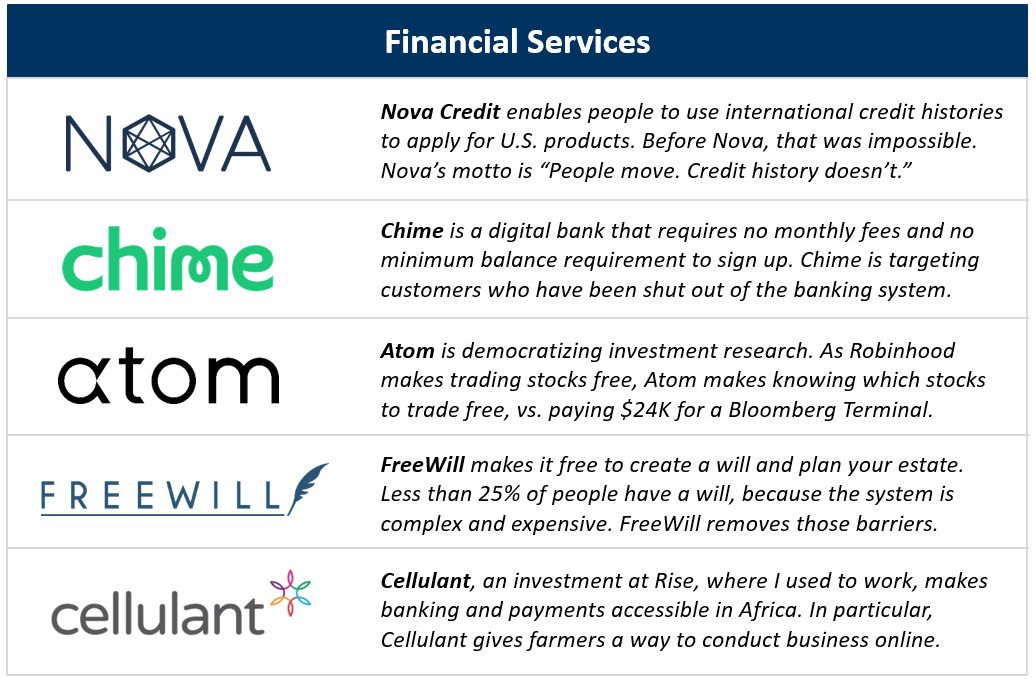 Education
Education is a $1.6 trillion market in the U.S. and the country's second-largest employer, behind healthcare. The education system is also archaic, built for the industrial revolution and largely untouched by the last three decades of the digital revolution. And consumers have been the most hurt: education is the fastest-growing category of household spend, +200% since 2000, and there are 45 million Americans saddled with $1.5 trillion in student debt.
Technology is beginning to transform education, making it more affordable, accessible, convenient, and effective. Here are five companies I'm watching: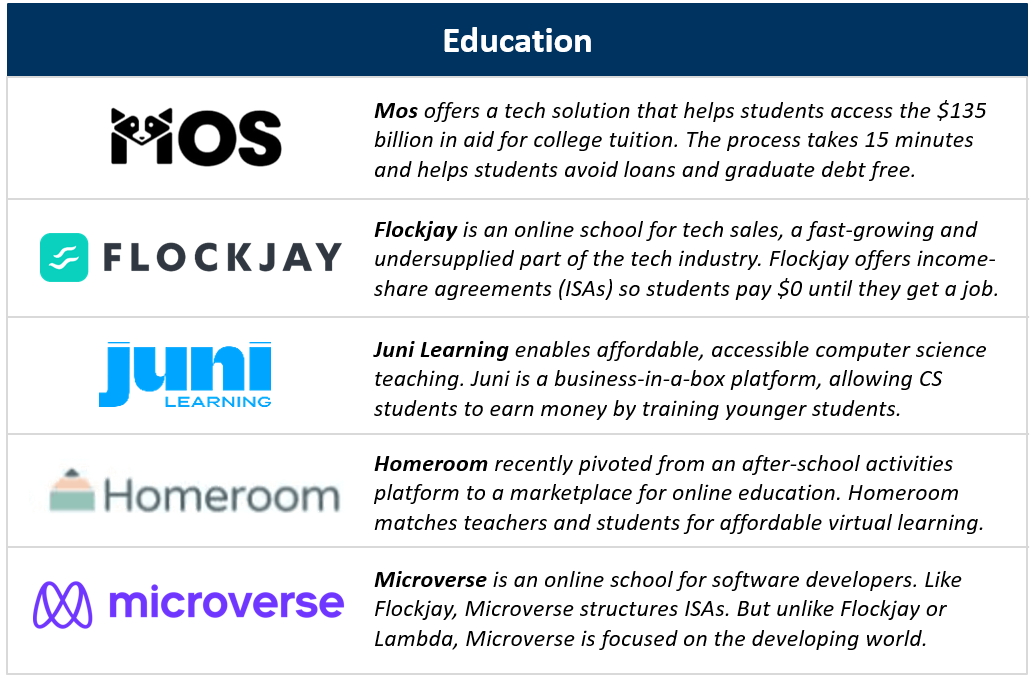 Healthcare
It's difficult to emphasize just how massive healthcare is in the U.S. The healthcare market is $4 trillion, growing 5% each year, makes up 18% of America's GDP, and is the nation's largest employer.
And it's difficult to emphasize just how inefficient, frustrating, and ripe for disruption healthcare is in the U.S.
Technology is disrupting every aspect of the healthcare system, transferring power and decision making to the patient. These five companies illustrate how: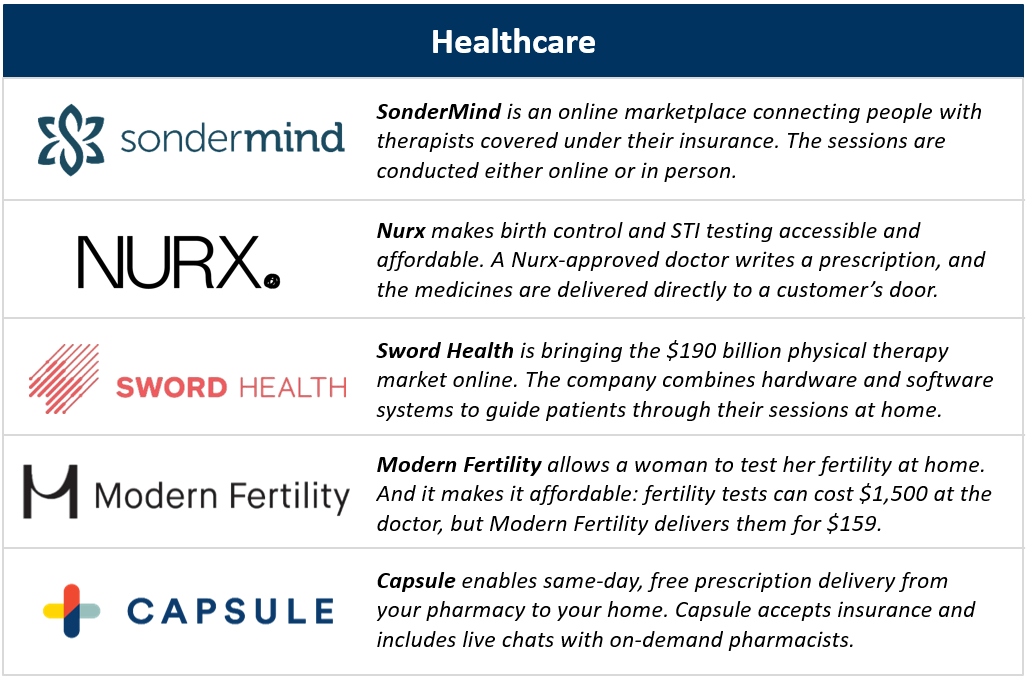 Across America's largest industries—huge swaths of the economy—technology is making lives better. There are downsides to technology, of course; every industry has its dark sides when left unchecked. But because of tech, more people are able to access better financial services, better education, and better healthcare. Because of tech, life is becoming more affordable, more accessible, more convenient. It's difficult to look back on the last five years—let alone the last 20—and not be excited by what's to come.
Sources & Additional Reading — here are the pieces that inspired and informed this content; check them out for further reading on this subject:
---
Chart of the Week
An incredible set of charts from Visual Capitalist shows that Zoom is now worth more than the world's top seven airlines combined.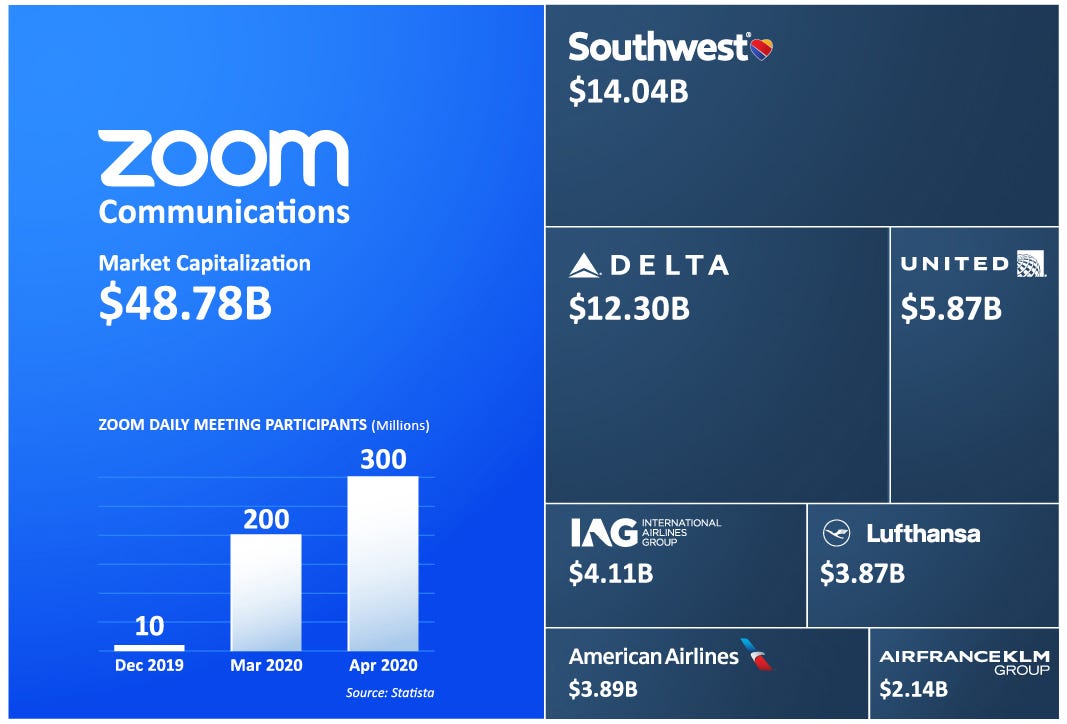 On January 31st, those seven airlines had a combined value of $121 billion. Now, their combined value is just $46 billion. As their stocks have plummeted, Zoom stock has soared: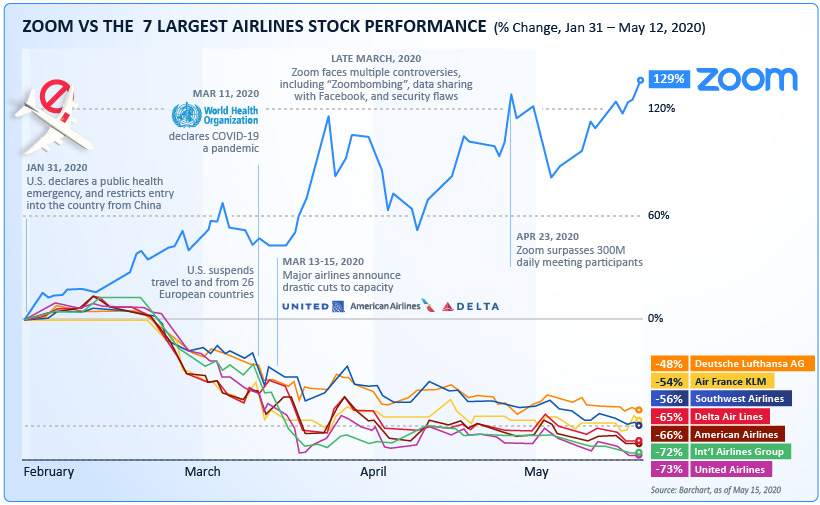 ---
Tech
What Uber Wants With Grubhub (Protocol)
Last week, Uber approached Grubhub with an acquisition offer for about $6 billion. The meal delivery market is dominated by four players: DoorDash (the market leader, with 42% of sales), Grubhub (28%), Uber Eats (20%), and Postmates (9%). An acquisition would make Uber Eats / Grubhub the new market leader, with a 48% share.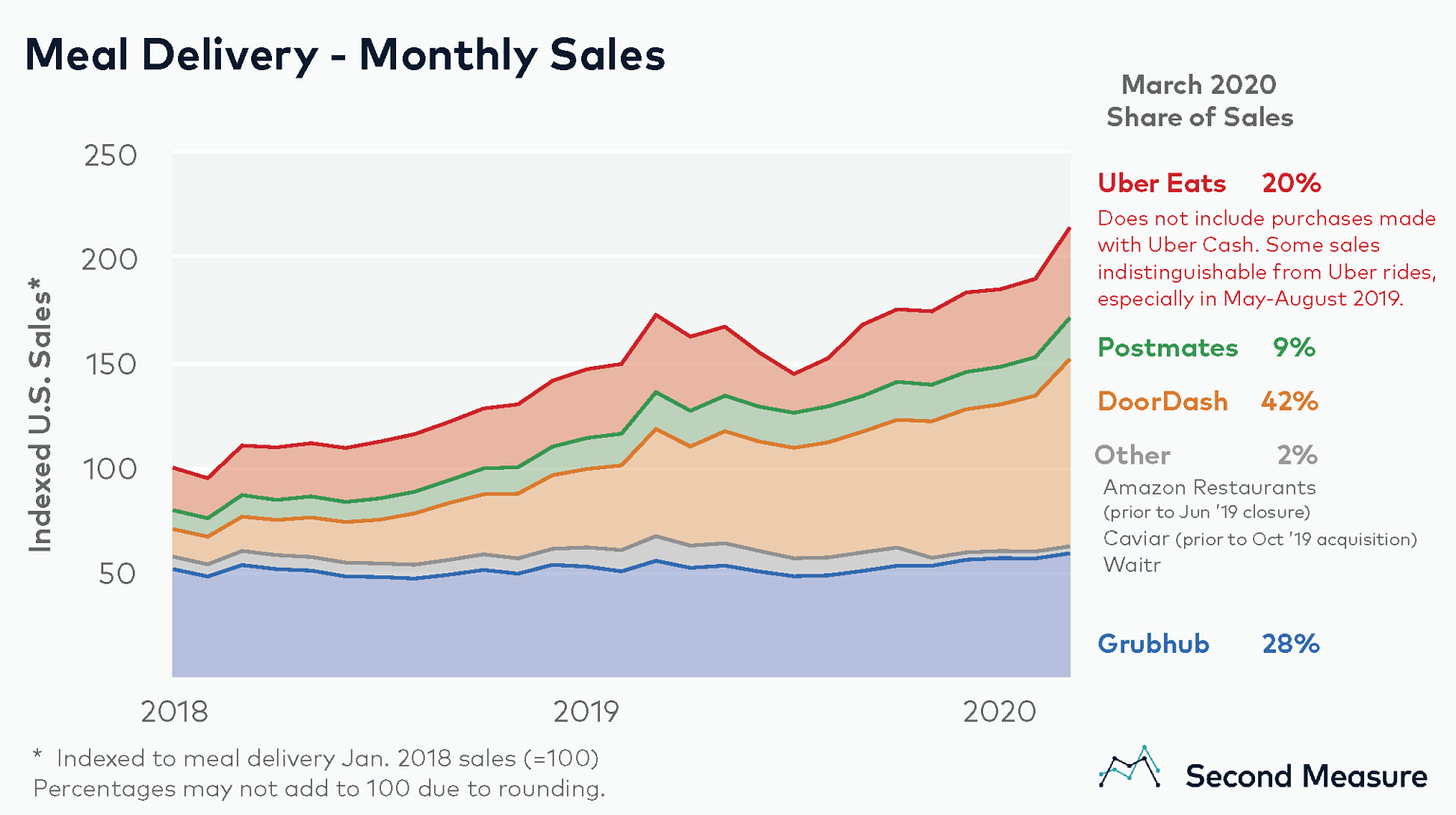 The acquisition would also give Uber the lucrative New York market, where Grubhub (which owns Seamless) has a 62% market share. Typically, when acquisition talks leak, the would-be acquirer's stock price takes a hit; but Uber's stock jumped on the news, signaling investors like the idea of delivery consolidation. If the deal gets done, it still has to pass anti-trust scrutiny, which is already looking fierce.
Facebook Acquires Giphy for $400 Million (TechCrunch)
In other acquisition news, Facebook announced it would acquire Giphy, a search engine for GIFs. Nicely done, Facebook.
Every time you send a GIF on iMessage, WhatsApp, or Slack, you're using Giphy. Giphy serves up 10 billion GIFs a day; the above GIF was the 5th-most popular GIF in 2019.
The platform makes money by partnering with brands; this piece by Aneri Amin explains it well:
Let's imagine Taylor Swift was spotted munching on a bag of Doritos during a break at the Grammys. A 3-second clip of that would quickly make its way onto Giphy, either through a Giphy producer who was working that event, or one of millions of users who were live streaming the event. Frito-Lay, who likely already actively uses Facebook Ads Manager, can, on the same day, pay Facebook to promote that GIF when people search for things like "The Grammys," "hungry," "snack time," or "Taylor Swift."
Giphy won't be a substantial revenue driver for Facebook. More important to Facebook is Giphy's data. Already, 50% of Giphy's traffic comes from Facebook apps. But now Facebook will know what GIFs people are sharing in iMessage, Snapchat, TikTok—as well as any burgeoning competitors. As Ben Thompson writes:
What would be very valuable to Facebook is not necessarily the usage numbers of Slack or Signal or iMessage (ok, probably iMessage), but the app that no one knows about that is suddenly taking off. Giphy could very well provide a signal about a very specific type of app that would be of particular interest to Facebook, far earlier in its existence than Facebook might detect otherwise. 
---
Media
Jeffrey Katzenberg Blames Pandemic for Quibi's Rough Start (NYTimes)
Quibi's start has been less than auspicious. Only a week after it went live on April 6, Quibi fell out of the top 50 apps in the U.S. It's now ranked No. 125.
Quibi's founder Jeffrey Katzenberg, one of the most revered executives in Hollywood, said: "I attribute everything that has gone wrong to coronavirus. Everything."
I could not disagree more strongly.
Streaming services are booming. Netflix added almost 16 million customers in the first quarter of the year, a record. Disney+ surpassed 50 million subscribers in just a few months. And TikTok, Twitch, YouTube, Snapchat, and Instagram—all apps designed for the smartphone, just like Quibi—are seeing record usage.
There are five reasons that Quibi is struggling, and none of them are COVID-related:
Solving a problem that doesn't exist: Quibi set out to create HBO-quality shows in 10-minute snippets. I'm not sure anyone asked for that. Katzenberg says that people will watch Quibi while they wait for the dentist. But they can also text, check their email, read Twitter, scroll Instagram, use Snapchat, watch YouTube, browse TikTok…you get the picture. People aren't exactly lacking for options.

Competing with free content: All of the above are free ways to spend your time. Why would someone pay for Quibi when they can fill their time with free (and excellent) content on social media and video-sharing platforms? This is the same problem Luminary is encountering in podcasts: people are used to a free product, so they're just not willing to pay. Even YouTube has struggled to create a subscription service of more glossy original shows with YouTube Premium.

Lack of innovation: For the first mobile-only premium streaming service, you'd think Quibi would have been more creative. I'm imagining content that can only be viewed on a smartphone—for example, a stalker thriller told through the perspective of a woman's iPhone, as she texts and FaceTimes. Instead, the content looks like anything you've seen on Netflix or HBO, just on a smaller screen.

Poor execution around mobile: Quibi also made some dumbfounding decisions, like not allowing screenshots and making it incredibly hard to share content. Talk about a way to kill any virality.

Mediocre content: All of Quibi's content is just…fine. There's no hit show that captures the cultural zeitgeist. In today's cutthroat streaming age, you need a Game of Thrones or Mandalorian.
With $1.8 billion of funding, Quibi will be around for a while. If it corrects early mistakes and produces a hit show, it may have a chance. But with a flawed fundamental premise, I'm skeptical. To quote the LA Times and Bloomberg, Quibi is YouTube for people who hate YouTube. And one problem: pretty much nobody hates YouTube.
Hollywood's Life or Death Summer (Vanity Fair)
Movie theaters are reeling. Overnight, they've gone from a $40 billion business to close to $0. In 2019, the April to June period produced $3.4 billion in box office receipts; so far in 2020, it's yielded just $102,000. Theater stocks are down 75%; Amazon is even reportedly eyeing AMC, the largest theater chain.
Only a handful of films remain on the summer calendar, including Christopher Nolan's Tenet, Disney's Mulan, and Warner Bros.' Wonder Woman 1984. Nolan—the director behind The Dark Knight, Inception, and Interstellar—has held onto his new film's July 17th release date. In doing so, he's inadvertently become the patron saint for theaters reopening.
Tenet's performance will dictate the rest of the year. Disney CEO Bob Chapek said in an earnings call that he'll be watching how Tenet does before releasing Mulan a week later. One executive says: "If Tenet doesn't come out or doesn't succeed, every other company goes home. It's no movies until Christmas."
---
Commerce
Coronavirus Finishes the Retail Reckoning That Amazon Started (WSJ)
More than two million retail jobs disappeared in April. Over the next five years, 100,000 stores are expected to close—more than triple the number that shut during the Great Recession—as e-commerce jumps to a quarter of U.S. retail sales from 15% last year.
"Going back over the last 20 years, the worst year for closures was 2009 when 2% of stores closed," said UBS apparel and footwear analyst Jay Sole. "Our forecast calls for 2% of stores to close every year into 2025."
Not everyone is struggling: as retailers like J. Crew, Neiman Marcus, and J.C. Penney go bankrupt, discount stores like Ross and TJ Maxx are thriving. TJ Maxx and Marshalls parent company TJX just reported its 22nd-straight quarter of growth in customer traffic.
The crisis may also accelerate the ongoing shift toward purchasing experiences in lieu of physical goods:
"I have been saving a lot of money since I haven't been buying clothes," said Ms. Croffie. "It's definitely teaching me how I can spend on other things that are worthwhile, like my experiences when I'm going out."
One interesting question is: what will happen to all that space? And doubly so for office space no longer needed after a shift to remote work. Over the next decade, there will be millions of square feet of real estate needing to be repurposed.
"Shop" From Shopify: Right Problem, Wrong Solution (Adam Keesling)
If there's an anti-Amazon, it's Shopify. The platform for online stores is positioning itself as the savior of small businesses. Every day, millions of people buy products on online stores powered by Shopify—and nearly all of them have never heard of the $80-billion-dollar company powering those stores.
Shopify began as a website builder, and then became an e-commerce platform. Since, it's added third-party fulfillment, enterprise sales, and small business financing. In many ways, Shopify is the ultimate "business-in-a-box" concept.
Now, Shopify has released an app called "Shop" that lets customers shop products from Shopify-powered stores. This is Shopify's first foray into a direct relationship with consumers. I'm not sure this was an advisable step—it's difficult to imagine customers using the Shop app to search for products, versus searching on Amazon or searching on the store site directly (whose brand they recognize). Shopify would likely be better served focusing on building out the infrastructure for merchants than on becoming a consumer brand.
---
Quick Hits
🎵 Kevin Mayer, the head of Disney+, is leaving Disney to become the CEO of TikTok. Many thought Mayer would be Bob Iger's successor as Disney CEO, but he was passed over for the lower-profile Head of Parks & Resorts, Bob Chapek. Mayer will also become COO of Bytedance, TikTok's Chinese parent company.
🎮 Twitch continues to move away from being an exclusive gaming content platform. A few weeks ago, I noted that Twitch's "Just Chatting" feature (where people hang out over livestream) is growing 4x faster than Twitch's gaming segment. Now, Twitch is going after Hollywood: the streaming platform is developing a slate of dating and talk shows.
💻 As Facebook becomes mired in more and more controversies, Mark Zuckerberg is getting more hands-on. This excellent piece digs into how Zuckerberg is reasserting control at the company.
🤯 In an incredible "only in 2020" moment, influencers are now being trained to film a believable YouTube apology video:
James Charles gives a group of aspiring beauty stars a new challenge: create an apology video that is believable and won't end up torn to shreds by the popular commentators who often keep YouTube's community in check. Apologize correctly, and fans may not turn their backs, declaring a YouTuber instantly canceled.

Each contestant was given a believable YouTube scandal: overusing "clickbait titles" to get views, missing a meet-and-greet, being caught over-editing photos, or monetizing an earlier apology video with ads. They have to make it believable — no makeup, fresh fake tears, camera angled in a certain position — all while sporting a hopefully authentic apologetic look on their face.
🎧 Following up on last week's piece on Clubhouse, the hot new social audio app: Andreessen Horowitz won the VC sweepstacks to back Clubhouse, valuing the app (which is still only in beta, with about 1,000 users) at $100M. The valuation seems crazily high, but consumer social companies tend to go one of two ways: they go to zero, or they become multi-billion-dollar companies and return a fund several times over (see: Facebook, Instagram, Snapchat, Twitter, TikTok).
🎤 And because absolutely no one asked for it, here's a history of Britney Spears' "Oops!…I Did It Again". The song was released at the dawn of the millennium, back when frosted tips, AOL Instant Messenger, and the Friends finale ruled pop culture—but none more so than a 5-foot-4, 18-year-old ex-Mousketeer. Spears' iconic song was the end of an era:
The single and album were the last successful world-conquering acts of the exhausted American century, the final classic album of the teen-pop era, a goodbye to the gilded years of the record industry. The iPod would enter the world shortly thereafter, followed by social media. Nothing would ever be that innocent again.
---
To receive this newsletter in your inbox weekly, subscribe here 👇😊