Discover more from Digital Native
Weekly writing about how technology shapes humanity, and vice versa
Over 54,000 subscribers
Livestreaming Goes Mainstream
Plus, grocery delivery bots, an oil crisis, and the most-searched term in history
This is a newsletter about how tech is changing how we live and work
To receive this newsletter in your inbox weekly, subscribe here 👇
---
Livestreaming & The Future of Entertainment
Earlier this week, Mark Zuckerberg delivered a Facebook Live product announcement. Speaking to the camera, Zuckerberg explained that there are three kinds of video chat:
Video calling: "When you call someone and their phone or computer actually rings."

Video rooms: "Where you create a link, send it out to people, and they can go ahead and join your video chat."

Live video: "For a person or multiple people to broadcast what they're doing, so that way people can watch them and interact with them in real time."
We're all familiar with #1 and #2: many of us participate in video calls and video rooms every day through FaceTime and Zoom. But we're less familiar with #3—live video, or livestreaming.
Livestreaming has quietly become a massive industry. Zuckerberg captured why livestreaming is unique when he said, "people can watch them and interact with them." Andreessen Horowitz has an excellent piece on the rise of "lifestyle streamers" that I recommend reading in full. What makes livestreaming so compelling is its ability to reach massive scale while also feeling intimate. Livestreaming combines the reach of TV with the engagement of chatting with a close friend.
To understand how livestreaming is becoming integral to social media, to commerce, and to entertainment, it's helpful to look at:
Livestreaming in China, which is much more developed than livestreaming in the U.S.,

Livestreaming in gaming, where it's historically been most prominent, and

The future of livestreaming, as it moves beyond gaming and goes mainstream.
Livestreaming in China
In China, livestream e-commerce was a $70B market in 2019, growing 200% year-over-year. People sell everything over livestream: make-up, plastic surgery, dogs, jewelry, junk food, cars, houses.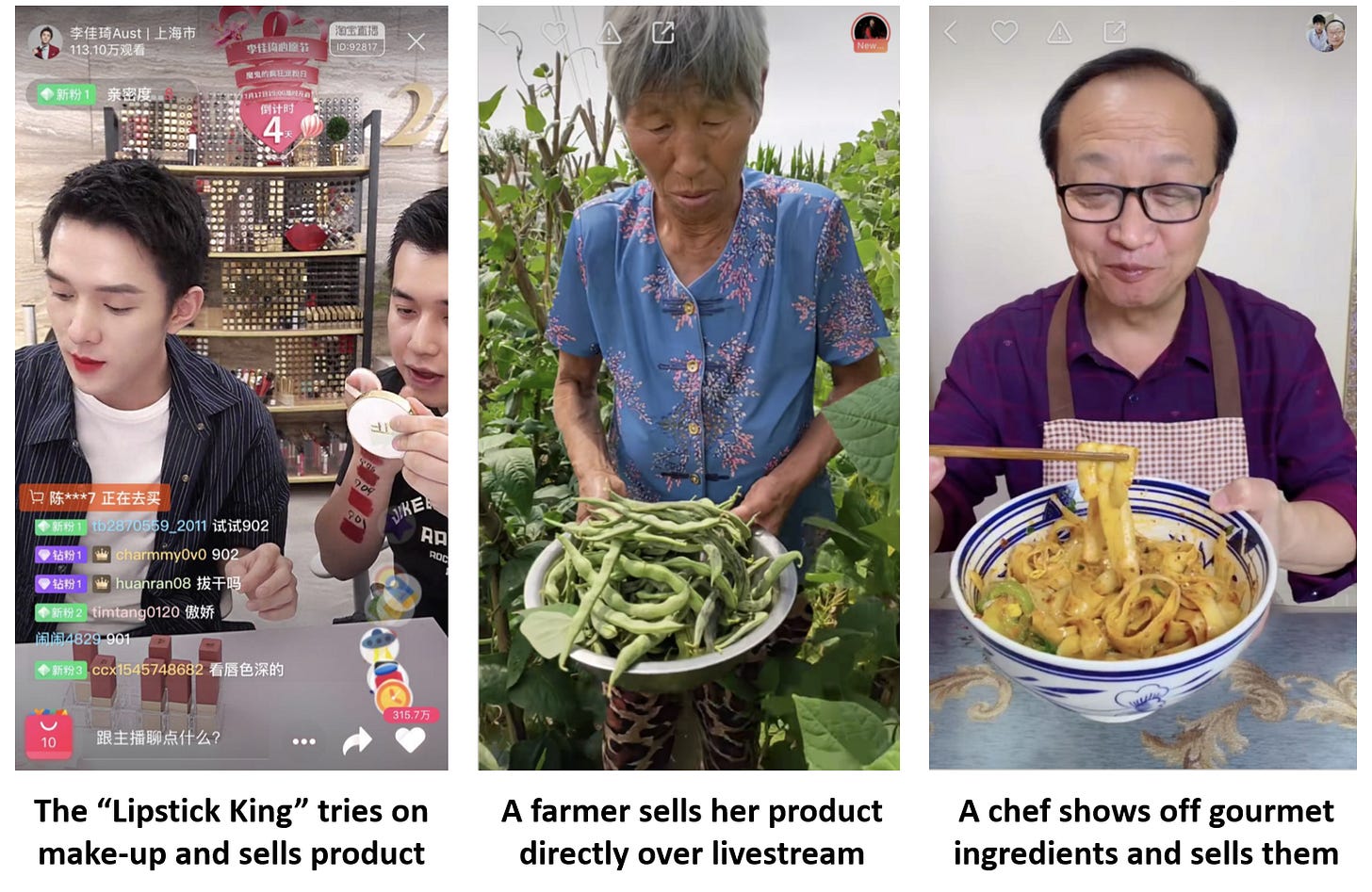 Here's an example of how livestream e-commerce works:
Li Jiaqui, known as the "Lipstick King" and shown in the image above, is one of the top KOLs in China. (In China, influencers are called KOLs, which stands for "Key Opinion Leaders".) In a typical livestream, Li will show off a lipstick for his viewers. Viewers ask questions in real-time—"How vibrant is the color?" "Does the lipstick also moisturize chapped lips?"—and Li answers their questions live. Then, he'll offer a discount to create urgency to buy—"Buy now and get 15% off this lipstick."
One of Li's recent livestreams reached 36 million viewers. He sold 15,000 lipsticks in five minutes.
Taobao (Alibaba's online store, equivalent to Amazon in the U.S.) launched livestreaming in 2016. On Singles Day in 2019, China's biggest shopping day of year, livestreaming accounted for nearly $3 billion in sales—around 7.5% of Taobao's total sales for the day. Li's Taobao store alone sold more than $145M of product.
Livestreaming in Gaming
In the U.S., livestreaming has traditionally been associated with gaming. Platforms like Twitch have made professional gamers into celebrities, who are paid $50,000 an hour to livestream themselves playing video games.
The most famous gamer, Tyler "Ninja" Blevins (pictured below), was recently paid an estimated $20-30M to leave Twitch (which is owned by Amazon) for Microsoft's Mixer platform.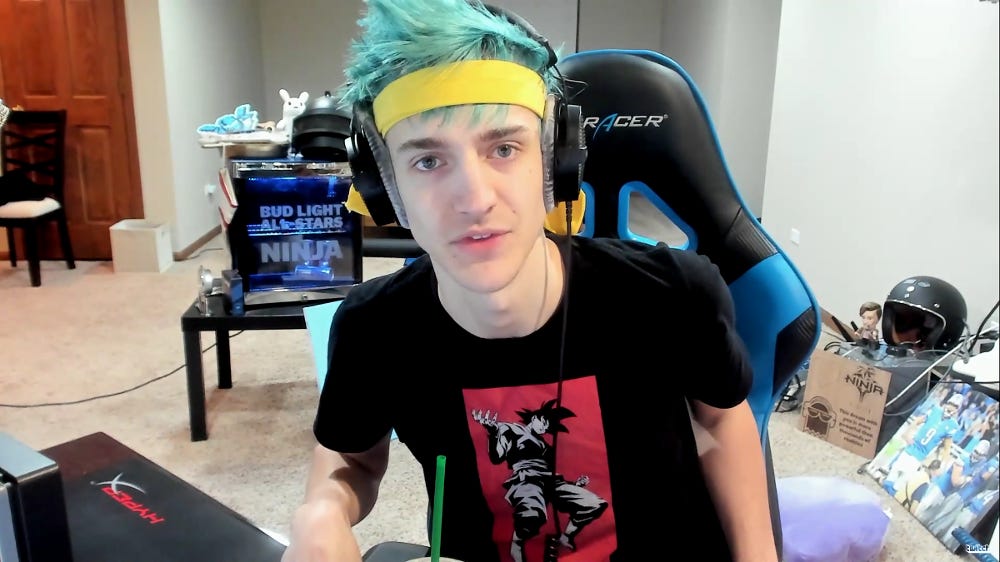 Despite losing Ninja, Twitch remains the industry's Goliath:
Some argue Amazon, Google (which owns YouTube Gaming), and Microsoft (which owns Mixer) appear to be in a three-way battle to dominate the streaming market. But it's a battle that Twitch is easily winning. Twitch made up 75.6% of the live-streaming market in the third quarter of 2019. Last year, Twitch users watched 9.36 billion hours of content on the site. Its average viewership has often met or surpassed that of ESPN and cable news networks.
The Future of Livestreaming
Increasingly, livestreaming is moving beyond gaming and going mainstream. Twitch recently launched "Just Chatting", a feature in which streamers chat live with their viewers, which is growing 4x as fast as the rest of Twitch. A video game is no longer the focus; instead, the focus is the personality of the streamer and interactions with viewers.
Eating has become a surprisingly common livestream event. a16z highlights the streamer Byron Bernstein, known as "Reckful", eats and engages with fans on Twitch—just check out the video:
Livestreaming like this isn't too different than hanging out with a good friend. Except in this case, that friend is able to hang out with thousands of people simultaneously.
Familiar platforms are embracing livestreaming: Instagram Live views have increased 70% in the past month, during COVID-19. Everyone from Kanye West to Oprah to Michelle Obama has frequented the platform.
And new players are emerging. Caffeine is a startup aiming to make livestreaming a mainstream form of entertainment:
The idea for Caffeine came from the question of how the next generation of television viewers will consume live shows without cable subscriptions, according to Keighran; while Netflix, Amazon, Disney and other major media players have all but locked down the premium TV and film market, live shows have been largely unexplored. "When you look at Twitch, it's a great gaming platform but it's not where you go for live entertainment, action sports, and mainstream culture," Keighran tells Rolling Stone. "What we've been doing with Caffeine is building a product to attract stars. I think there's a much bigger opportunity for music pop stars and also for all entertainers, and we're invested in this for the long term."
The playbook seems to be working: Drake is hosting rap battle shows on Caffeine and Offset is livestreaming a game show with celebrity competitors.
Livestreaming also presents a compelling opportunity for celebrities and influencers to better monetize their followings. Just as China's Lipstick King is able to monetize beyond ads, streamers can explore multi-modal monetization: a mixture of direct product sales, donations, subscriptions, and ads. a16z gives an example:
The top Just Chatting streamer of 2019, Félix "xQc" Lengyel, makes roughly $1,188 an hour on "Media Share Mondays," an all-day event in which he watches YouTube videos hand-selected by his fans. xQCow's 2.3 million followers pay 33 cents per second to watch his reactions to their favorite videos. As a role model and tastemaker for his audience, he's effectively selling social validation.
In the future, a common pastime will be to hang out with your favorite celebrity over livestream. Livestreaming will encompass a broad array of interests—food, travel, fitness. And streamers will attract massive audiences, while simultaneously enjoying intimate, direct interactions with their fans.
Sources & Additional Reading — here are the pieces that inspired and informed this content; check them out for further reading on this subject:
---
Chart of the Week
"Coronavirus" is officially the most-searched term in history. Typically, the top three Google search terms are: "Facebook", "Amazon", and "YouTube". The chart below shows how searches for "coronavirus" has tracked against those three terms in 2020.

An interesting corollary: the sites that rank highly in a Google search for "coronavirus" have also exploded in traffic. Before the pandemic, Worldometers.info typically saw 3.5 million monthly visits. In less than two months, this has soared 27,400% to 1 billion visits, making the site the 49th-most-visited site in the world.
---
Tech
People Are Making Bots to Snatch Grocery Delivery Time Slots (Vice)
If you're wondering why you haven't been able to snag an Instacart or Amazon Fresh delivery slot, you may have your answer:
A slew of developers have made bots and other tools that, in some cases, automatically hunt for a free delivery slot, grab it, and then complete the user's food order, making sure they have a much better chance of buying food before other people snatch up the slot.
In the past, checkout bots were typically reserved for buying things like limited edition sneakers or concert tickets.
The Untold Story of Magic Leap, the World's Most Secretive Startup (Wired)
Magic Leap was once heralded as the future of VR/AR. The startup raised $2.6B from investors including Google, Alibaba, and Andreessen Horowitz—$1.6B of which came before Magic Leap had even released a product. The article linked above is an excellent piece from Wired written at the zenith of the hype, right after Magic Leap closed the largest C-round of financing in history: $793.5 million.
Then came the turning point. Magic Leap released its first product—the Magic Leap One, pictured here.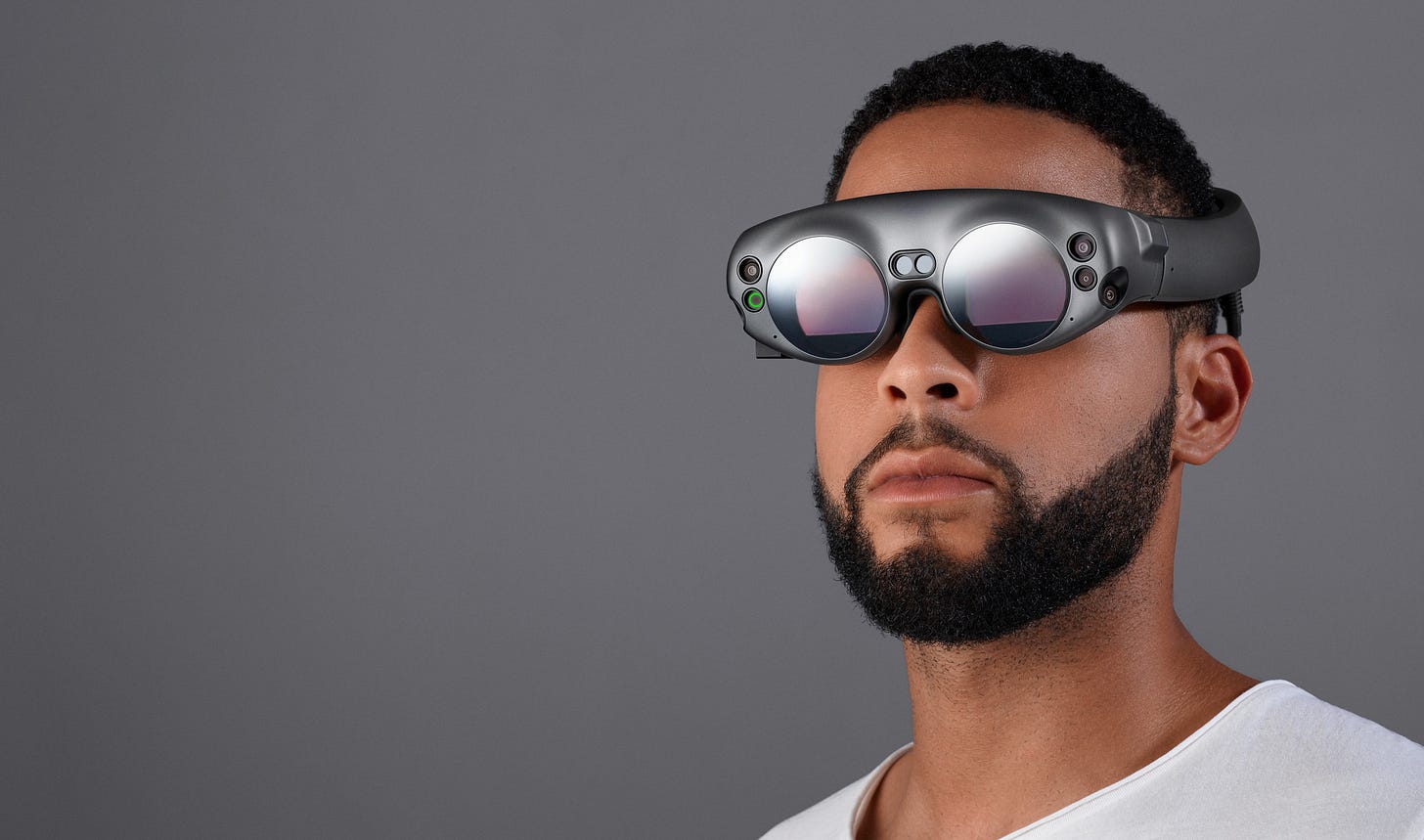 Reviews were poor and the hype began to cool. Last week, Magic Leap laid off 1,000 employees—about half its workforce. But despite Magic Leap's decline, VR/AR is seeing new demand during COVID-19.
One more cool thing related to VR: a new technology known as "infinite walking" is allowing users to walk in circles on a track while feeling that they are walking in a straight line—enabling all sorts of new VR experiences.
Zoom's Biggest Rivals Are Coming For It (NYTimes)
Zoom has arguably benefited more than any other company from the current state of the world. It's been the most downloaded app in Apple's App Store for more than a month. Daily users have soared to 300M, up from the 200M Zoom reported earlier this month and up from 10M (yes, 10M) in December. When Zoom went public almost exactly a year ago—on April 18, 2019—it was valued at $9B; today, it's valued at $46B. The tech giants are noticing and ramping up their own competing products. Facebook has been the most aggressive competitor, launching Messenger Rooms this week. Rooms will allow up to 50 people to video conference and, unlike Zoom's 40-minute time limit for its free version, Rooms has no time limit.
---
Media
15 Years of YouTube: How a Failed Dating Site Became the King of Online Video (Digital Trends)
YouTube was originally conceived as an online dating service called "Tune In, Hook Up." That idea failed spectacularly, but the founders realized that they couldn't find video of the 2004 Indian Ocean tsunami or of Janet Jackson's infamous wardrobe malfunction from the 2004 Super Bowl Halftime show (an interesting side note: the phrase "wardrobe malfunction" was actually introduced to pop culture by Justin Timberlake, who used the phrase when apologizing for that incident).
The YouTube founders pivoted to a video-sharing platform. It took 30 days for the site to reach 30,000 viewers a day; six months later, it was reaching 2 million viewers a day. Today, YouTube reaches 2 billion people each month. Every minute, 500 hours of content are uploaded to YouTube.
12 Million People Attended Travis Scott's Concert in Fortnite (Rolling Stone)
Last week, the rapper Travis Scott held a concert in Fortnite. Anticipation was high: before the show, Scott's music streams increased by 26%, with some hits jumping over 50%. On the evening of the concert, users had to first find the hidden stadium within the Fortnite world. Then, to the opening strains of "Sicko Mode", a digital Travis Scott arrived in the form of a purple comet crash landing on an island. The 10-minute-long experience culminated with the singer unveiling his much-anticipated collab with Kid Cudi called "The Scotts". One critic's review of the digital concert:
It was overtly trippy. It felt like marketing. Even in the confines of a video game, giant Travis was a detailed capitalist, making sure to wear an assortment of his coveted Jordan collaborations that currently fetch $500 to $1,000 on the resale market. In the game, the shoes appeared several stories tall.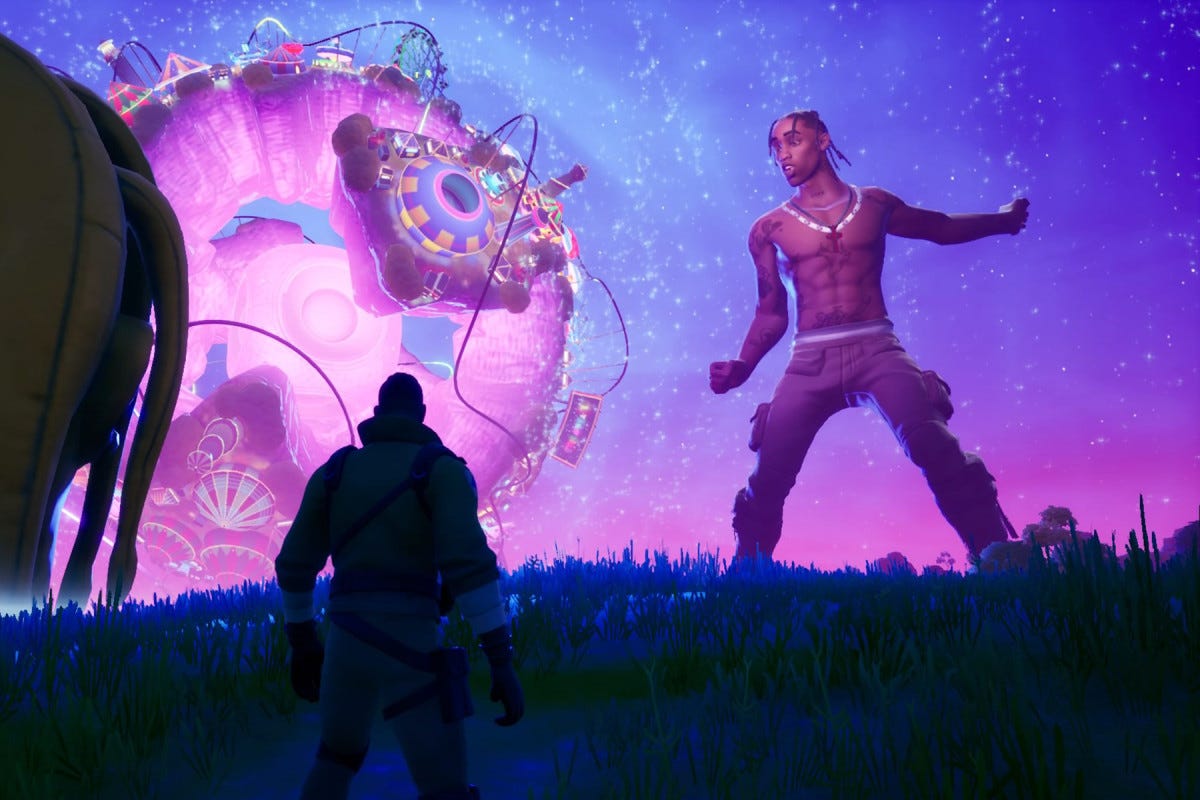 After a Dim First Year, Luminary Is Still Chasing the Podcast Zeitgeist (Bloomberg)
Luminary launched last year with the lofty ambition of becoming "the Netflix of podcasting". The startup charges $5 a month for access to its podcasts, eschewing the industry's history of free, ad-supported content. Backed by $100 million in funding, Luminary followed the Netflix playbook: spend lavishly for exclusive rights to podcasts from TV stars like Trevor Noah and Lena Dunham. But the year hasn't gone as hoped: over the last 90 days, Luminary hasn't cracked the Top 500 entertainment apps in the U.S. According to App Annie, Luminary has been downloaded about 200K times (at $5 / month, that's $12M in revenue—before accounting for churn).
But the company is regrouping, hiring a former HBO exec as CEO and adding Richard Plepler (the man who built HBO into what it is today) to its board. The new CEO is optimistic, pointing out that it took a few years for HBO to attract a large subscriber base and to find zeitgeist-defining shows.
---
Commerce
How Oil Prices Went Subzero: Explaining the COVID-19 Oil Crash (Visual Capitalist)
Last week, oil futures went negative—meaning that for the first time in history, producers would actually pay traders to take oil off of their hands. This graphic explains how it happened. Basically, a huge decrease in demand for oil because of the COVID pandemic collided with a glut of supply caused by a poorly-timed price war between Saudi Arabia and Russia. Oil producers are scrambling to find places to store all the extra oil. A record amount of oil is being stored on massive tankers at sea—160M barrels, up from the previous record of 100M barrels. As a result, the cost of renting an oil supertanker has skyrocketed from $20K per day to $300K per day.
How Restaurant Reservation Apps Like OpenTable Are Pivoting (Eater)
OpenTable makes money by collecting a per-diner commission fee on each reservation it facilitates—busy restaurants can expect to pay OpenTable thousands of dollars each month. But in the COVID crisis, OpenTable's business has all but evaporated. OpenTable has responded by adding a grocery feature that allows shoppers to reserve a shopping time-slot at a store the same way they'd book a seating time at a restaurant. Maybe this will help counter the grocery bots from above!
COVID-19 Consumer Impact Tracker (Glimpse)
Another great tracker of consumer behavior during this unprecedented time. Charmingly, searches for "ukulele" are up 64%. Terrifyingly, searches for "bulk ammo" are up 337%. Most alarming and saddening: searches for unemployment applications are up 5,600%.
---
Quick Hits
📝 This is a cool visualization of how long terms and conditions are for consumer internet companies. Facebook's terms and conditions are 4,132 words—about the same length as the U.S. Constitution. Tinder's are 6,215 words (26 minutes at a normal reading speed) and Zoom's are 7,243 (30 minutes to read). Microsoft takes the cake though: its terms are a whopping 15,260 words (1 hour and 3 minutes to read), which is about the same length as Shakespeare's MacBeth 😮
📱 This is an engrossing piece about the activist investor Elliott's attempt to drive Jack Dorsey out of Twitter. Dorsey is the co-founder of both Twitter ($24B market cap) and Square ($28B market cap)—and is CEO of both companies. Some employees and shareholders aren't thrilled about Dorsey's CEO double duties.
🍎 A running joke of the quarantine world is MasterClass's ubiquitous ads—SNL even parodied them. MasterClass offers courses taught by celebrities: Natalie Portman teaches acting, Gordon Ramsay teaches cooking, Martin Scorsese teaches filmmaking. With billions of people homebound, MasterClass is seeing new growth.
✈️ This interesting piece posits the question, "Have we reached peak business travel?" The COVID pandemic is revealing that a lot of business can be done over video conferencing, saving companies both time and money. And on top of that, there's a growing backlash to travel's environmental costs. Maybe 2019 was the peak of business travel, and we didn't even know it.
💄 Instagram filters are changing how people buy make-up. Why buy expensive products when you can use augmented reality to have clearer skin and a new hairstyle? Zoom even has a button to touch up your appearance.
💃 To end on a wholesome note, high schoolers are having virtual proms and celebrities are making surprise appearances. Teens dance in their bedrooms and teachers become DJs for the night. John Krasinski and Billie Eilish even teamed up for one prom.
---
To receive this newsletter in your inbox weekly, subscribe here 👇😊