Discover more from Digital Native
Weekly writing about how technology shapes humanity, and vice versa
Over 54,000 subscribers
Breaking Down the Streaming Wars
Plus, user acquisition strategies, TikTok's U.S. playbook, and the Passion Economy
This is a newsletter about how tech is changing how we live and work
To receive this newsletter in your inbox weekly, subscribe here 👇
---
Breaking Down the Streaming Wars
Today, HBO Max becomes the latest entrant into the so-called "Streaming Wars", joining Netflix, Disney, and a slew of others in a bid for consumers' time and money. As a result, I thought it was a fitting time to do a deep-dive on the Streaming Wars.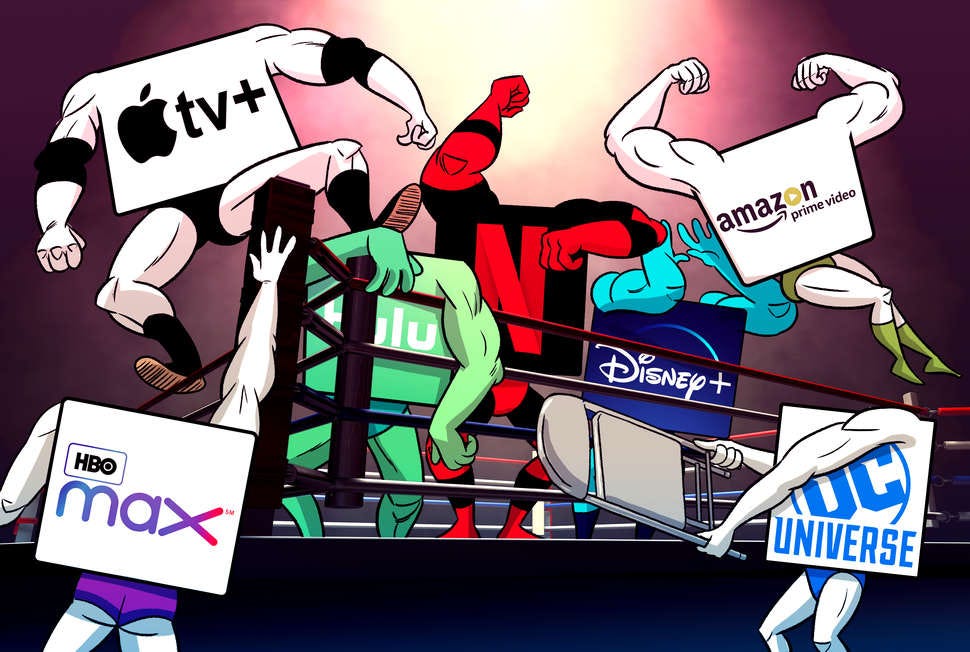 I'll break the Streaming Wars down into three parts:
How we got here,

Who the major players are, and

Predictions on who will win and who will lose.
There are a dozen or so competitors in the Streaming Wars, but I'll focus on the seven that I view as most formidable: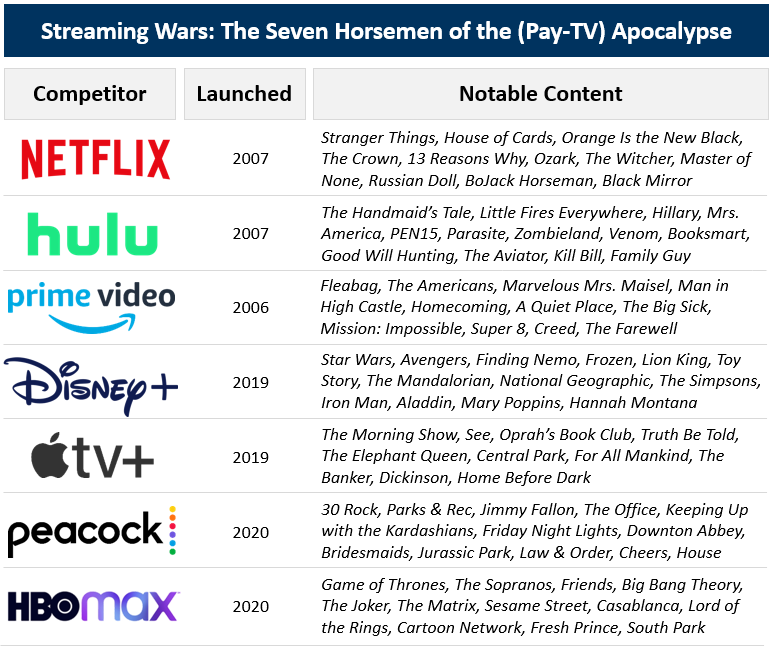 1. How did we get here?
To understand the Streaming Wars, it's critical to first understand how dominant television has been for the past half-century.
In the United States, 96% of households own a TV. The average household watches 400 hours of TV each month, or about 150 hours per person. That means that the average American watches five hours of TV a day. At the typical price of $75 per month, that's 18 cents per hour—a pretty good deal.
The industry rode this model for decades and everyone was happy. TV networks made billions in profits from carriage fees. Advertisers reliably reached millions of people. And consumers had all-you-could-eat access to thousands of hours of programming.
Then the internet came along.
By offering a new form of distribution—circumventing TV networks and going directly to consumers—the internet enabled a new business model. In 2007, Netflix pivoted from mailing DVDs to streaming video on the internet—ad-free content delivered for (initially) only $7.99 a month.
Over the past decade, time spent watching traditional pay-TV has declined rapidly, as noted in this chart from Matthew Ball and Nielsen:
Streaming's value proposition to consumers is simply better: more content, a better user interface, no ads, and a lower price. There are still ~95M U.S. households with a pay-TV service, but household penetration is down 23% from its peak.
2. Who are the players?
There are seven key players in the Streaming Wars, each offering a different amount of content at a different price. HBO Max, for example, debuts today with 10,000 hours of programming at $15 / month, making its service the most expensive in the market.
Here are how the seven players stack up in terms of price and hours of programming: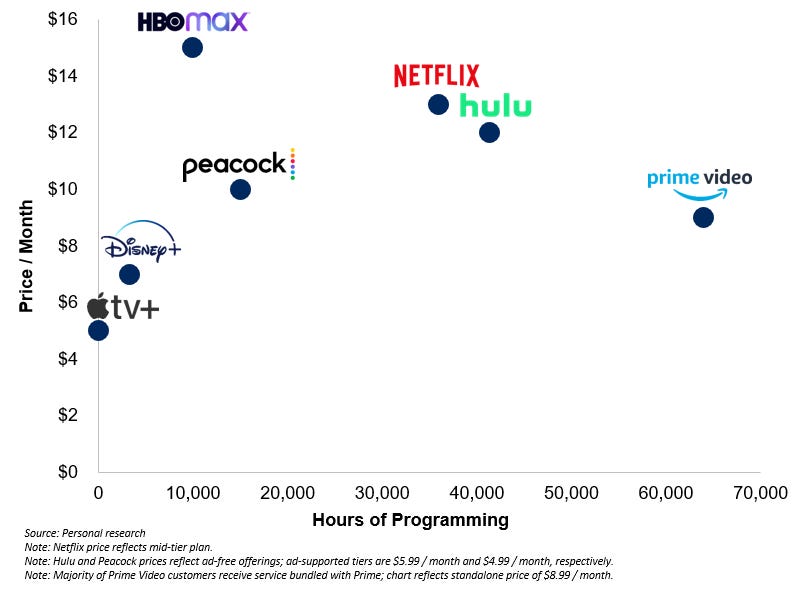 Let's take them one at a time:
Netflix: In many ways, Netflix invented the modern streaming model. In 2007, Netflix pivoted from mailing DVDs to streaming video online. (One interesting side note: Netflix's DVD-by-mail business still has 2.7 million customers!) Today, Netflix has 183 million global subscribers and a $182 billion market cap.
But as the media giants have shifted their own focuses from licensing their content to launching their own streaming services, Netflix has had to pivot hard to original content. Netflix lost the rights to its most valuable content (e.g. Friends, Black Panther) and can no longer purchase content from suppliers like Disney and NBC. Forced to create its own content, Netflix's cash content spend is up 5x since 2014, but its movie library has shrunk 40% and its TV library is down 25%.
Disney+: Disney is the world's largest media company and owns an enviable slate of IP: Luke Skywalker, Buzz Lightyear, Simba, Iron Man, and Homer Simpson all live within the House of Mouse.
Disney's IP has powered it to unprecedented box office success:
Disney was responsible for the highest grossing movies of 2015, 2016, 2017, 2018 and 2019 (a record). It took home the top five slots in 2016 (a record), six of the top ten in 2016 (a record), the top three of 2018, and the top eight of 2019 (a record). It released the highest grossing film of all time (Avengers: Endgame) and three of only five films that have grossed $2B at the worldwide box office. In the last decade, only 36 films have crossed the $1B mark globally – 23 come from Disney. 12 of the 13 largest opening weekends in US history belong to Disney.
Last fall, Disney launched Disney+. Buoyed by its iconic brands—Disney, Pixar, Marvel, Lucasfilm, and National Geographic—and first-ever original Star Wars show The Mandalorian, Disney+ signed up 10M subscribers in its first day and today has 55M subscribers.
Hulu: Hulu launched around the same time as Netflix, but initially struggled to find its footing with original content. Unlike Netflix, Hulu operates only in the U.S. and offers an ad-supported tier. In recent years, with hits like The Handmaid's Tale, Hulu has rebounded and today has 30M subscribers. With Disney's acquisition of Fox, Hulu now lives within the Disney empire and going forward will feature more adult-oriented content that Disney+ passes on.
Amazon Prime Video: Amazon has been a surprisingly strong streaming competitor, producing Emmy-winning shows like Fleabag and The Marvelous Mrs. Maisel and hiring Jennifer Salke, the former President of NBC Entertainment. But in contrast to Netflix, Prime Video isn't in the business of streaming video—in the words of one media executive, "Prime Video is in the business of selling more toilet paper." In other words, Prime Video is bundled into Amazon Prime, which aims to make Amazon customers buy more products on the e-commerce site.
HBO Max: HBO is the most profitable cable network in history and for decades has cleaned up at the Emmy's. But it's taken HBO over a decade to release a true Netflix competitor. The new service is called HBO Max—not to be confused with HBO, or HBO GO, or HBO Now, all of which continue to exist as well. 🤔 So what is HBO Max? HBO Max basically has all the HBO shows, plus a ton of content that used to be licensed to Netflix or be distributed elsewhere—Friends, West Wing, South Park, and so on. AT&T, HBO's new owner, is hoping the prestigious HBO brand name forms the foundation for a strong streaming service.
Apple TV+: Apple announced its foray into streaming last year, with Oprah onstage declaring, "They're in a billion pockets, y'all!" Apple's slate is slim, which is reflected in its low price, but Apple recently signed Richard Pleper, the man who built HBO into what it is today.
Peacock: Peacock is NBCUniversal's new streaming offering, with a deep library of shows like The Office and Parks and Recreation. The service includes a free ad-supported tier, as well as a premium offering that looks more like Netflix.
3. Who will win and who will lose?
The Streaming Wars wouldn't be a war without winners and losers. But first, a major caveat: success means something different for each of these companies. For some, like Netflix, streaming is their lifeblood; their survival is contingent on winning. For others, like Disney, streaming is one piece of a diverse portfolio. These predictions take into account what a relative win and a relative loss would mean for each player:
Netflix: WINNER
Netflix is the clear leader in the streaming wars; everyone else is playing catch-up. Reed Hastings and Ted Sarandos have become so good at churning out hit shows that losing licensed content won't matter.
Netflix is also benefiting from Covid-19; last quarter, Netflix added a record 16 million subscribers and dominated the cultural conversation with hits like Tiger King. In the months ahead, the pandemic may prove more challenging: Netflix operates best when subscribers end each month feeling overwhelmed by the amount of content they have yet to watch. This keeps churn low. If production is stalled much longer, Netflix may run into trouble.
In the long run, I see Netflix as a clear winner of the streaming wars. I also wouldn't be surprised to see Netflix come full circle: as losers of the streaming wars disappear, they'll license their content back to Netflix, which will again become the market's aggregator.
Disney+: WINNER
Success for Disney looks much different than success for Netflix. Last year, Disney did $70B in revenue, a small fraction of which was from streaming. Netflix, meanwhile, did $20B in revenue—100% of which was from streaming. Disney is in the ecosystem business.
Disney's IP drives the Disney flywheel: a hit film or beloved character sells theme park tickets, t-shirts, action figures. In 1957, Walt Disney himself drew a diagram of Disney's ecosystem strategy: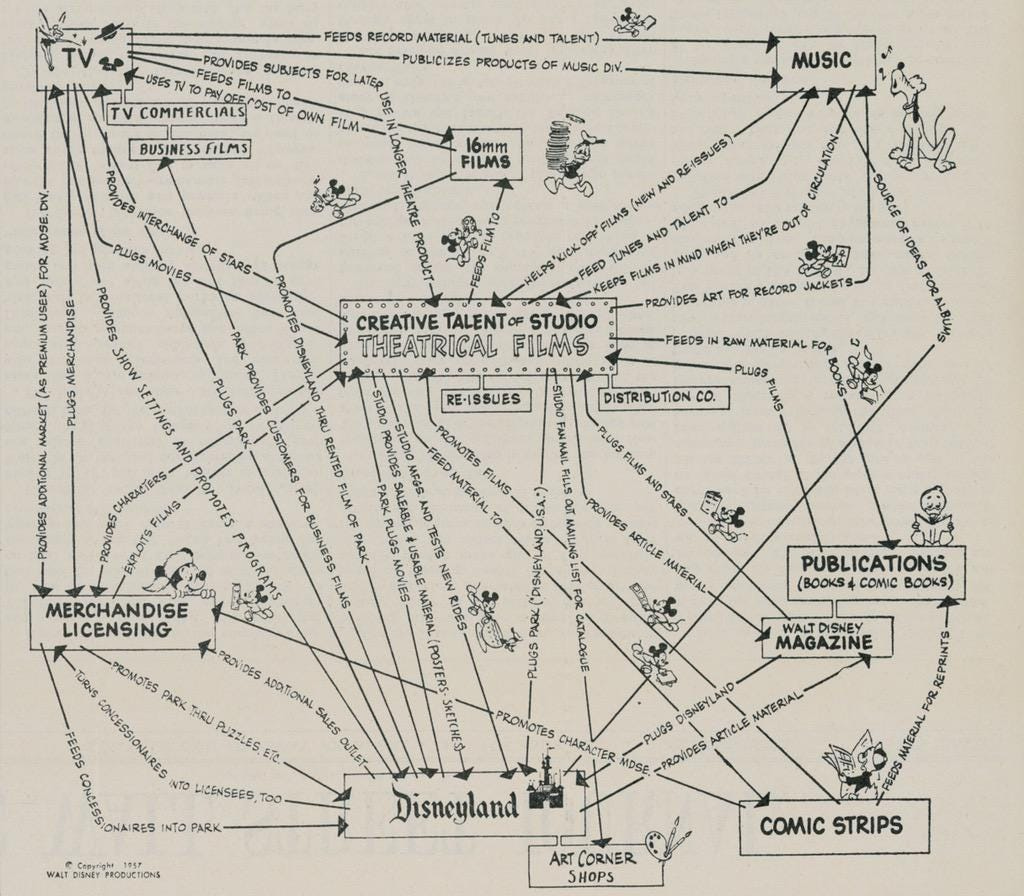 Today, Disney+ sits at the center of that diagram. For the first time in its 97-year history, Disney owns a direct relationship with consumers. That direct relationship will enable Disney to understand its consumers better and to offer better experiences: if your kid watches Frozen 50 times on Disney+, Disney will now know to serve you an ad for tickets to Frozen on Ice.
Disney+ will succeed by powering the Disney flywheel of the 21st century.
Hulu: WINNER
I view Hulu as a winner largely based on its affiliation with Disney and Disney+. Under Disney's ownership, Hulu will be bundled with Disney+ and ESPN+ to sell more subscriptions. It will also benefit from an influx of Fox and FX content.
Amazon Prime Video: WINNER
As mentioned above, winning for Amazon means improving retention and spend for Prime customers. By this definition, Amazon will win. But I don't see Amazon continuing to produce culture-defining original content. In the long run, Amazon will become the home for TVOD, or "Transactional Video on Demand"—one-off purchases of movies and shows. Consumers will go to Amazon for renting or buying content, like a new-generation Blockbuster.
HBO Max: LOSER
Earlier this year, I wrote about AT&T's mistake with HBO. HBO was renowned for prestige television—content a notch above anything else on TV. By naming its new service HBO Max, AT&T is tarnishing its crown jewel and trying to make it everything at once. HBO Max will sign up a lot of subscribers because it's a solid deal—a lot of quality content for a good price. But in terms of being a generation-defining part of pop culture, as HBO was, it will lose. HBO's famous tagline is, "It's not TV. It's HBO." Now, it's definitely just TV. 
Apple TV+: LOSER
Apple TV+ can't seem to decide what it wants to be. The service launched last year with a thin slate of original content. Now, Apple is reported to be acquiring older movies and shows to build a back catalog of content. Apple will lose the original content battle to Netflix, Disney, and Hulu, and will lose the catalog battle to Amazon, which will win TVOD. I would love to see Apple become a player, but its best path forward may be to acquire a production studio.
Peacock: LOSER
I think Peacock will survive and that consumers will still stream reruns of The Office. But winning for Peacock means being a central, relevant part of the next generation of media. And by that definition, Peacock will be an also-ran. This article put it best:
Peacock is the perfect streaming service to stuff in your pantry. Like canned tuna, NBC's new service will taste great if everything else runs out.
Final Thought
We're living in the era of "peak TV". In 2019, there were 532 original shows on the air—a 50% increase over 2013. HBO, Amazon, and Netflix are dominating the Emmy's. Streaming economics are creating a supply of more quality content for consumers.
Over the coming years, we'll likely come down from that peak. Some streaming services will disappear and the industry will see a new wave of consolidation. But consumers will be unequivocally better off. They will have access to more content, delivered ad free, for less money. When the dust settles, consumers will be the biggest winner of the Streaming Wars.
Sources & Additional Reading — here are the pieces that inspired and informed this content; check them out for further reading on this subject:
---
Chart of the Week
Two charts this week. First, how advertising spend has changed over the decades, from Benedict Evans.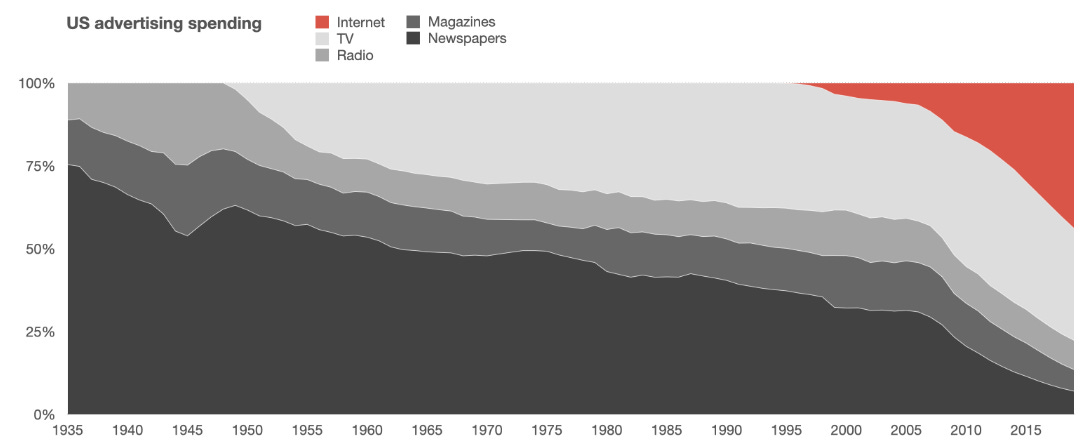 The internet now has a ~50% share of ad spend, up from ~15% a decade ago. Google and Facebook make up over half of this share.
And second: last month, "Coronavirus" became the most-searched term in history. Now, searches for "Covid" are catching up: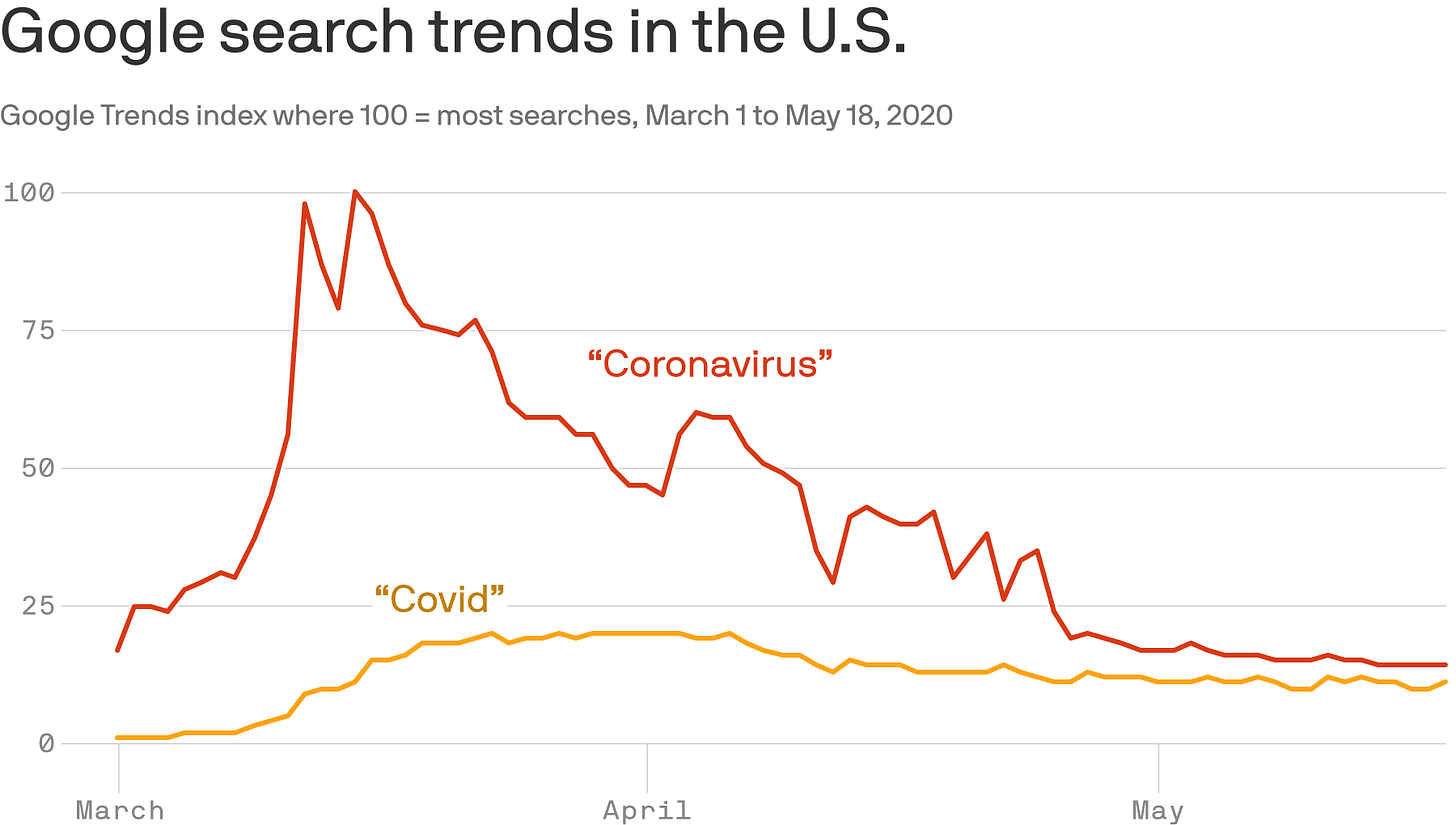 ---
Tech
How the Biggest Consumer Apps Got Their First 1,000 Users (Lenny Rachitsky)
Many consumer apps used innovative tactics to get their first 1,000 users. These tactics often don't scale beyond those initial users, but they allow a startup to get traction. Lenny Rachitsky has an excellent piece compiling the tactics used by dozens of startups. Some examples:
Tinder's founders ran around USC frat and sorority parties pitching their app

DoorDash (then just a website called paloaltodelivery.com) put up fliers all over Stanford's campus

Etsy recruited sellers at craft shows, and the sellers then recruited their own buyers; Faire later used a similar tactic

The Pinterest founder went to the Apple Store and changed all the computers to Pinterest's website, then said loudly, "Wow, this Pinterest thing, it's really blowing up!"

Robinhood, Superhuman, and now Clubhouse all used waitlists to build hype

And my favorite: during the 2008 presidential election, Airbnb was strapped for cash. The founders created cereals called Obama O's and Cap'n McCain's and sold them at $40 a box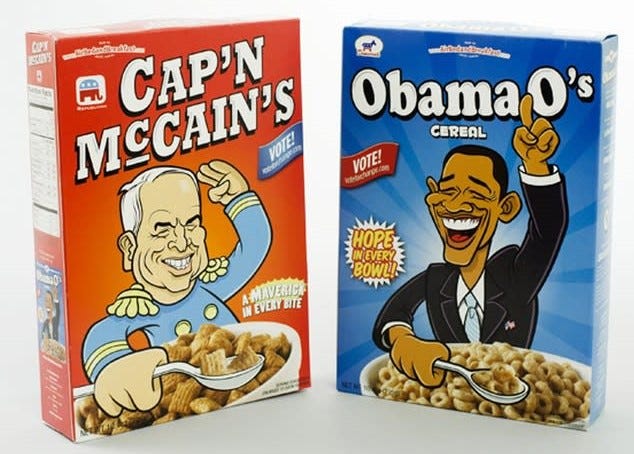 I'll add an example from Calm, where I work. Before launching Calm, the founders created a website that said "do nothing for 2 minutes" (the URL was literally www.donothingfor2minutes.com). The page had a countdown clock; if the visitor moved their mouse, the countdown clock restarted.
If someone made it the full two minutes, the page congratulated them and asked for their email address. This is how Calm got 100,000 emails pre-launch.
---
Media
How Creators Can Go "On Tour" On the Internet (Nathan Baschez)
Touring has always been a critical part of building and monetizing a fanbase. Traditionally, there have been two types of tours:
Physical tours, in which an artist travels from city to city—these work best for acts that sell expensive tickets, like those in music and theater

Media tours, in which an artist makes the rounds on late-night shows, hosts SNL, and appears in magazines—these make sense for entertainment products that are lower-ticket and don't need physical tours, like movies and TV shows
In today's world, physical tours still make sense; in fact, before the pandemic, spending on "experiences" like concerts was at an all-time high. But in his piece, Nathan Baschez coins a new type of tour: the internet tour. The internet tour is obfuscating the traditional media tour.
In an internet tour, an artist visits another artist online. These tours have usurped media tours in both scale and cultural resonance. Take Fortnite's recent Travis Scott concert. The world's biggest stadium holds 100,000; Travis Scott's concert reached 27 million. Or take Justin Bieber promoting his latest song on David Dobrik's YouTube channel. Stephen Colbert and Jimmy Fallon average 3.2M and 2.1M viewers a night. Every single video Dobrik has posted in the last year has over 10M views.
The TikTok Playbook (Protocol)
Outside of China, India has been TikTok's best market: the app has 120M active users in the country. In the U.S., TikTok is executing the same 5-step playbook that brought it success in India:
First, TikTok buys cheap ads on Facebook and Google to acquire users

Then, those user numbers attract journalists to write about the growth of the platform, which drums up more interest

But many of these early users aren't posting quality content—so TikTok lures microinfluencers (~5-10K Instagram followers) to the platform, who begin to improve content quality

Next, TikTok offers larger creators (1M+ Instagram followers) money to join the platform—in one case, TikTok spent over $1M on a single creator

Finally, TikTok hires a well-established local media executive (see: last week's hiring of Disney+ head Kevin Mayer) which ingratiates TikTok to the local country and fends off concerns around its Chinese ownership
---
Commerce
OnlyFans, Influencers, And The Politics Of Selling Nudes During A Pandemic (Elle)
During the pandemic, adult entertainers and sex workers have found themselves out of work. Many have turned to OnlyFans, a platform that enables creators to put racy photos and videos behind a paywall. In April, OnlyFans reported a 75% increase in signups, with 150,000 new users creating accounts daily. 
The platform shifts power to the creator, enabling them to keep a higher portion of earnings (OnlyFans keeps 20%; most cam sites take 40% or higher). Last month, I wrote about the Passion Economy; OnlyFans is an unorthodox, but compelling example of this new economy:
OnlyFans is just another logical extension of how creators are monetizing and personalizing their labor. In recent years, free podcasters turned to Patreon over using ads; freelance journalists began creating paid Substack newsletters over taking sparse assignments; YouTube gamers moved their business to Twitch. 
Why A Private Equity Firm Is Putting $400 Million Into Norwegian Cruise Line (Forbes)
By mid-April, cruise stocks were down 80% for the year. But last week, Norwegian Cruise Line—one of the "big three" cruise operators, alongside Carnival and Royal Caribbean—received a $400M investment from L Catterton. Cruise businesses are among the most resilient out there—just check out this chart: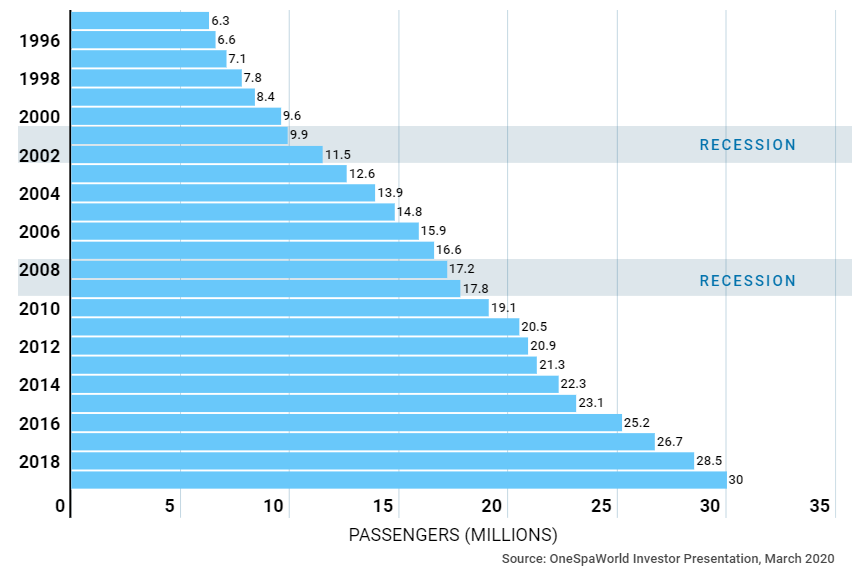 Cruises actually added passengers during the last two recessions. And as I wrote about earlier this year, cruises have solid business models: they sell tickets for breakeven, and then make profit through onboard purchases made by passengers, who are a captive audience. As a result, their margins are often double those of hotel chains.
---
10 Quick Hits
📽️ Chris Hemsworth's new movie, Extraction, became the most-watched Netflix original film with 90 million viewers over four weeks, surpassing Adam Sander's and Jennifer Aniston's Murder Mystery (73 million).
📈 This cool chart shows the fastest-growing and fastest-declining retail brands of the last decade. Lululemon (+40%), Costco (+35%), and Amazon (+32%) grew fastest. Under Armour (-34%), H&M (-27%), and Walgreens (-26%) declined most.
🎙️ Spotify announced this week that Joe Rogan's podcast will become exclusive to Spotify in a $100M deal. Why would Spotify pay so much money for a single podcast? Rogan's podcast gets 190M downloads each month, none of them on Spotify. Millions of listeners will now migrate to Spotify, and Spotify hopes that some will become subscribers. Since Spotify has to pay out nearly all music revenues to the record labels, music has low margins; podcasting means higher margins, better subscriber retention, and a lucrative new advertising revenue stream to bolster its subscription revenue. Spotify has now spent about $1B on podcast acquisitions. After announcing the Rogan deal, Spotify added $1.7 billion to its market cap in 23 minutes.
🎮 The secret to success for Epic Games, the company behind Fortnite, is the Unreal engine. Unreal creates virtual worlds that look almost identical to the real world. In one example, people were shown a photo of a real-life office next to a virtually-created office; they couldn't tell the difference. The Star Wars series The Mandalorian was also created in Unreal. Now, Epic has unveiled the Unreal Engine 5 and it's incredible.
🖥️ There's an LA-based startup studio called Pocket.watch which exists to turn children into YouTube superstars. Pocket.watch first found success with Ryan's World, a YouTube show that made 8-year-old Ryan Kaji the highest-earning YouTuber last year with $26M in earnings. Now, it's focused on Diana of Kids Diana Show, a 6-year-old Ukrainian with 123 million subscribers and 4.5 billion views. Diana is getting her own original series, a consumer products line, games, and TV and film projects.
💳 Here is a series of charts on consumer spending during Covid-19, using data from five million credit and debit cards. Immediately post-lockdown, office supply spending spiked (+77%) and apparel sales tanked (-76%) as millions shifted to working from home. Grocery delivery increased +550%.
📱 David Dobrik, mentioned above, is one of Gen Z's biggest online stars: he has 25 million subscribers on YouTube and TikTok. Dobrik originally came to Hollywood hoping to become a late-night show host like Stephen Colbert or Jimmy Fallon. But as traditional media decreases in cultural influence, he's begun to question that dream:
"My big dream is to be a late-night host, but it's like, what does that even mean? And what's that going to mean in four or five years? I almost feel like if I can keep this up for a little bit longer, this is exactly what late-night of the future is, right?"
And as mentioned earlier, he's right. Dobrik averages 10M viewers to Colbert's and Fallon's combined 5M.
🖍️ Animated TV shows and movies are booming during the pandemic. Production on non-animated shows has ground to a halt, but animated content can still be created while socially-distancing.
☀️ Solar costs have dropped by a factor of 5 since 2010. Solar production needs to double only twice more (likely to happen by 2030-2035) to be cheaper to build than legacy fossil fuel plants are to operate. That means, even if you've already sunk all the cost into the ground for a coal plant, it's still cheaper to build a new solar plant than to turn the coal plant on.
⚔️ Game of Thrones' eight-season run ended a year ago this week. To cap off this week's newsletter, here's some content you didn't know you needed: the definitive ranking of the 101 best characters who died on Game of Thrones.
---
To receive this newsletter in your inbox weekly, subscribe here 👇