Discover more from Digital Native
Weekly writing about how technology shapes humanity, and vice versa
Over 54,000 subscribers
How Snap Is Building An Augmented Reality Future
And Why It Should Buy Niantic
This is a weekly newsletter about tech, media, and culture. To receive this newsletter in your inbox each week, you can subscribe here:
---
This is the third in a four-part series on consumer social products.

If you missed them, here is my piece on TikTok and here is my piece on Instagram. In the coming weeks, I'll wrap up with Twitter.
Snap 2.0, Niantic, & Augmented Reality
There's a bear case for Snap and there's a bull case. The bear case goes something like this: Snap is no longer relevant, killed by Instagram Stories and a Kylie Jenner tweet.
This argument is convincing—especially when you look at a chart like this: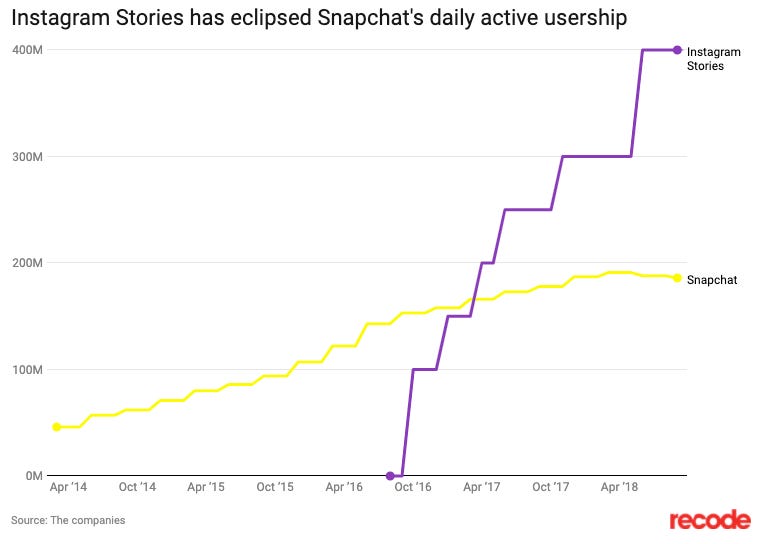 Yikes. Then there's the tweet from Kylie Jenner:
It's hard to argue that you're still culturally relevant when a Kardashian-Jenner—the arbiters of modern pop culture, whether you like it or not—says that you're not. It's even harder when that person is the single most-followed person on your app. Snap lost $1.3B in market value from Jenner's tweet.
So the bears have a pretty solid case.
The bull case for Snap, though, looks something like this: Snap has learned its lessons and is reinventing itself with a product-first, AR-focused second act.
I'm a bull. Snap is in the beginning of a new phase—I'll call it Snap 2.0—that will succeed for three reasons:
Snap dominates among younger users,

Snap is the most innovative product company in consumer social, and

Snap is quietly becoming the leader in augmented reality.
I'll touch on the first two and then spend more time on the third, which forms the foundation for Snap's future.
Winning Young, Digitally-Native Users
Snap dominates among younger users. At the Snap Partner Summit in June, Evan Spiegel revealed that more 13- to 34-year-olds in the U.S. use Snapchat than use Facebook or Instagram.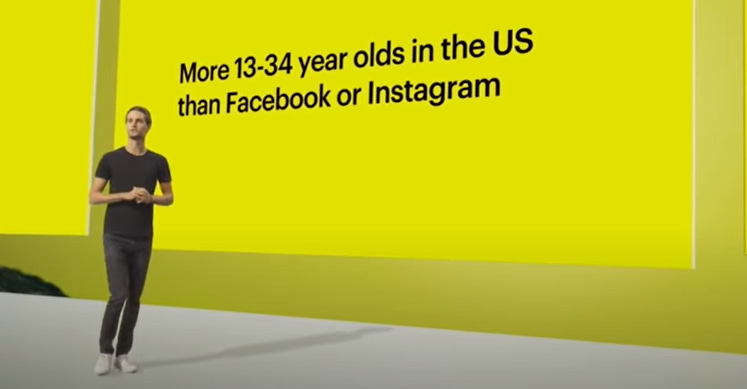 Snapchat also has more U.S. users than TikTok and Twitter combined.
Snap has always built for young, mobile-native users. This has led to complaints (mostly from older users) that Snap is confusing and hard to navigate. Though Snap is adding features to assuage these complaints (like finally adding a navigation bar), it remains focused on younger users.
Evan Spiegel has even admitted that he doesn't care too much about attracting older users, saying: "Our 13- to 34- demo is the group we build for—I think they represent the future." Spiegel's strategy is two-fold: (1) keep a hold on young users as they age, and (2) keep attracting new cohorts of younger users.
Product Innovation & Snap Minis
From a product standpoint, Snap is the most innovative consumer social company today (with the arguable exception of Bytedance / TikTok). Snap continues to push boundaries with new features.
A recent example is Snap Minis:
Snap Minis are lightweight apps that live within Snapchat. Like Snap Games, they're built on HTML5 and can be called up without users having to wait for a download.
Snap Minis resemble Tencent's WeChat, which holds over a million mini apps. In 2019, WeChat Minis facilitated over $115 billion in transactions by 300 million people. Snap is the first major U.S. consumer social company to add such functionality.
Minis debuted with a handful of apps. Without leaving the app, Snapchat users can meditate with Headspace, book Coachella tickets, study flashcards with friends, buy movie tickets on Atom, and even register to vote.
Last month, I wrote about Creator Platforms—platforms that companies open up to third-party creators, equipping those creators with tools to build and with customers to build for. Snap Minis will evolve into such a platform: independent creators will be able to build their own mini apps for Snap's 238M daily active users.
Snap is building its most important Creator Platform, though, in augmented reality. AR is where Snap is charting its future and launching its most innovative products.
Snap's AR Platform & Why Snap Should Buy Niantic
Snap has been integrating AR into its camera for years. Back in 2016—years before Instagram added AR filters—Snap launched its iconic dog filter. A year later, Snap partnered with the artist Jeff Koons to overlay Koons' artwork onto the real world: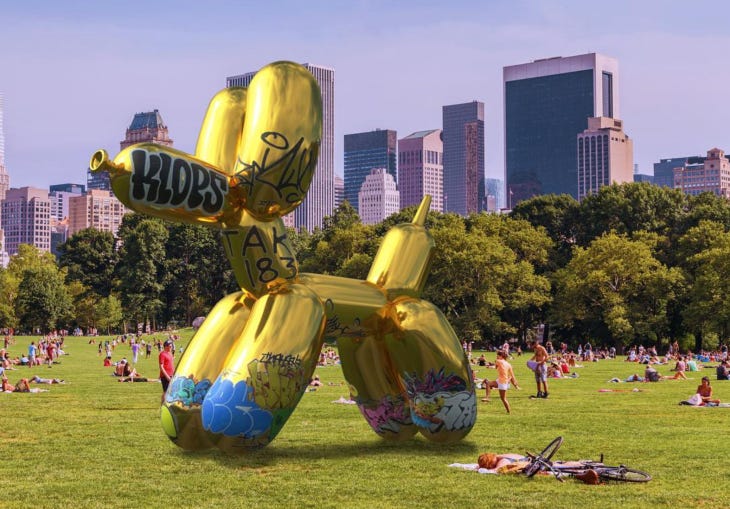 At its Partner Summit in June, Snap announced that 170 million people engage with its AR features an average of 30 times a day. Snap's AR becomes more sophisticated, more social, and more groundbreaking every year.
Here are three recent examples:
1️⃣ Lens Studio and SnapML
Lens Studio lets any developer or artist build AR on Snapchat. SnapML lets anyone use their own machine learning models to create their own Lenses. This is big: over 200 million people interact with Snap Lenses (like the dog face filter) every day; now, third-party developers can build their own Lenses for those millions.
2️⃣ Local Lenses
Local Lenses enable users to build persistent, shared AR on top of the world around them. With friends, users can paint nearby buildings or turn the ground into lava: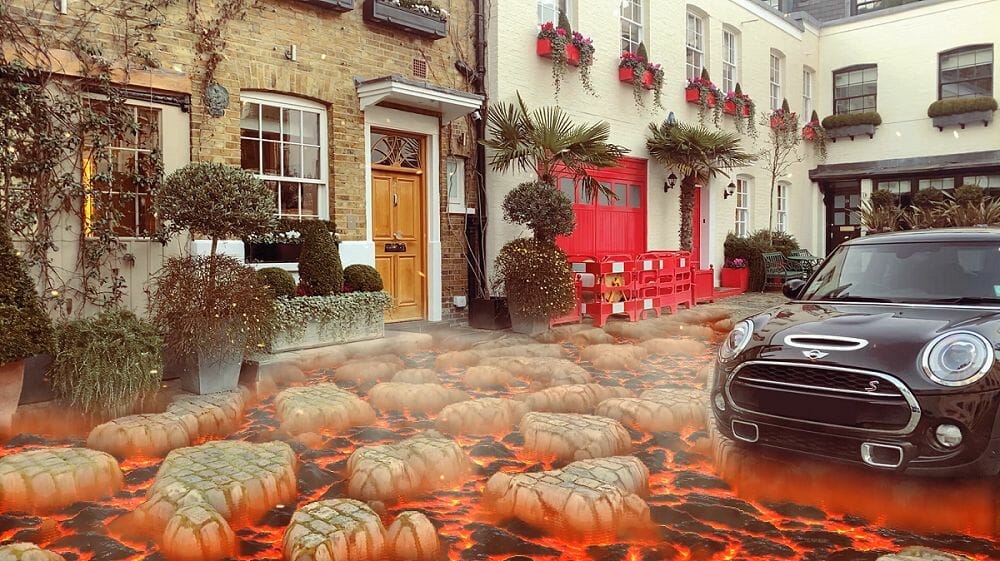 3️⃣ Scan
The Scan feature lets users gather information on real-life objects through Snap's camera. If you're wondering what breed that cute dog is, just point your camera at it: Dog Scanner recognizes over 400 breeds. PlantSnap can identify 90% of all known plants and trees. Voice Scan lets users control Lenses with just their voice: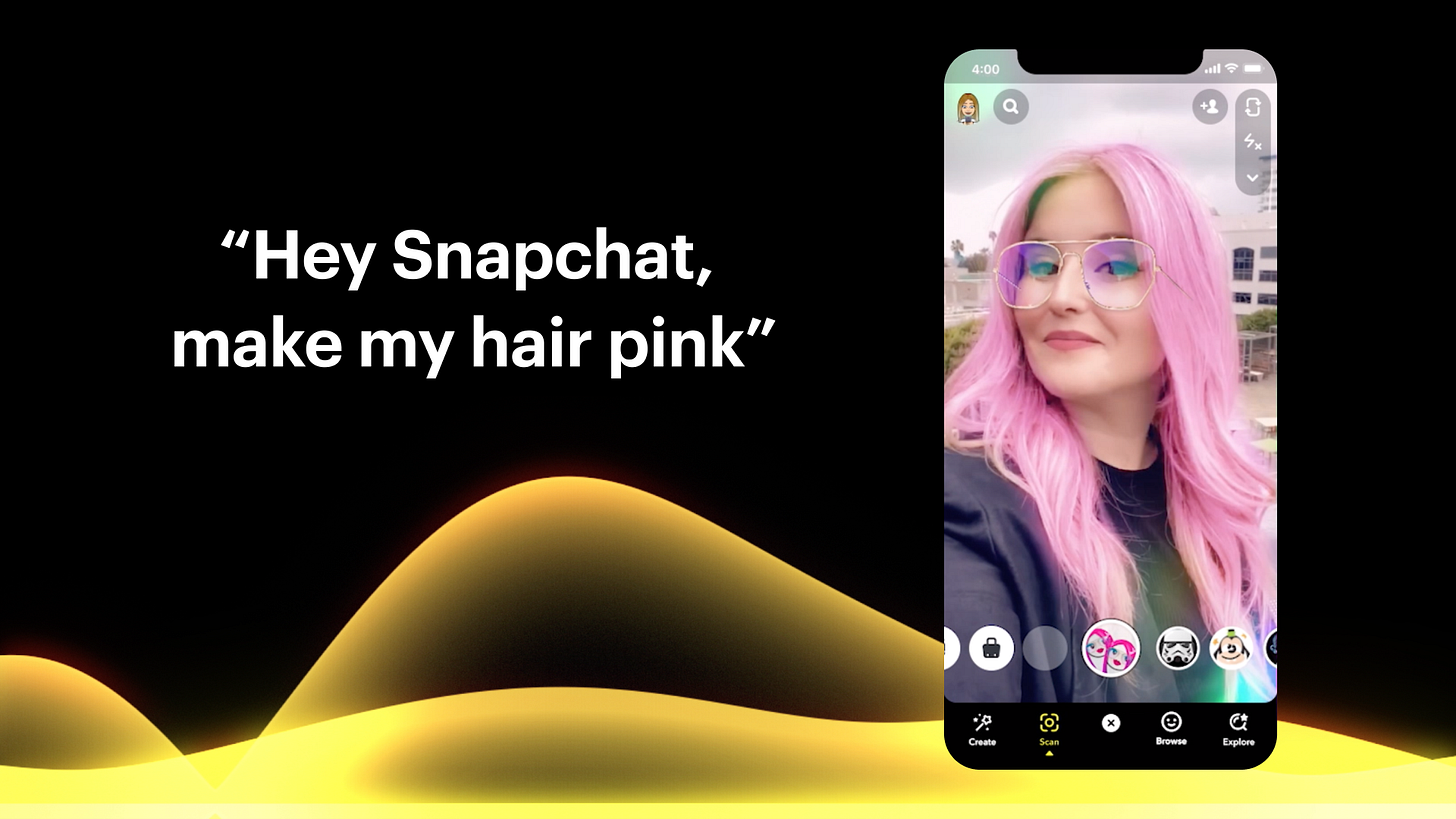 The use cases here are mind-boggling. Why use Google when you have object recognition technology? Imagine scanning food and immediately seeing nutrition facts. Imagine being at a networking event and being able to see people's names and job titles above their heads.
Snap has always been a camera-centric company, but the Scan feature speaks to how Snap is building camera tools for broader and more sophisticated use cases. As Evan Spiegel said last year: "The next wave of AR is solving real problems for people, instead of just a way to make your Snap look funnier."
---
Just taking a quick breather to remind you to subscribe if you haven't already!
---
Quietly, Snap has become the world's leading consumer AR company, and AR is critical to Snap's future. That's why Snap should buy Niantic.
First, some background on Niantic:
Niantic (named after an old Gold Rush ship buried under San Francisco) was created inside Google by John Hankes, who led Google Maps and Google Earth. Google spun out Niantic and, shortly thereafter, Niantic exploded into the zeitgeist with Pokémon Go. Just how successful has Pokémon Go been?
Less than a week after launch, Pokémon Go had been installed on twice as many phones as Tinder and had double the engagement of Snapchat.

Pokémon Go has grossed over $3.6 billion in revenue for Niantic.

Pokémon Go players have walked the equivalent of to the sun and back 90 times while searching for Pokémon—that's 8.4 billion miles.
Niantic has now released three AR games—Ingress, Pokémon Go, and Harry Potter: Wizards Unite—and has over 10 new applications (not all are games) in development. The next release will be CATAN, a real-world AR version of the board game Settlers of Catan.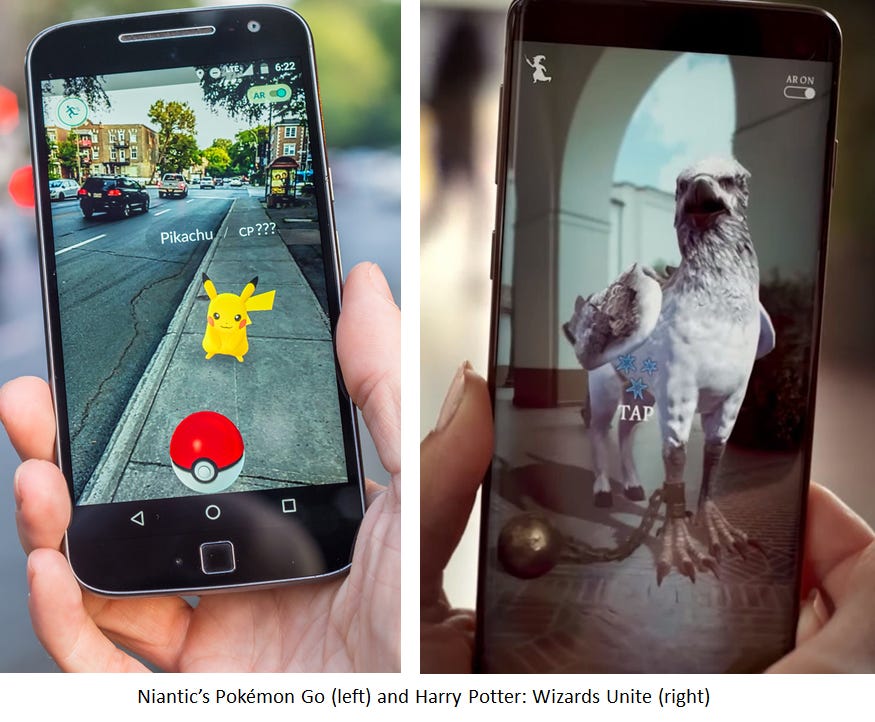 Snap and Niantic are the two companies most responsible for making AR mainstream. Their strengths complement one another:
Snap dominates because of its social graph, getting 170 million users to interact with AR every day.

Niantic dominates because of its mapping capabilities, overlaying AR onto the physical world.
Together, the two companies can build the preeminent global, real-world AR platform.
Niantic will benefit immediately from Snap's 200M+ DAUs, who can play Niantic's games with friends through Snapchat. Snap is the most sophisticated social AR company in the world. Take Bitmoji, which Snap bought for $100M in 2016. Bitmoji has effectively created the first mainstream AR avatars: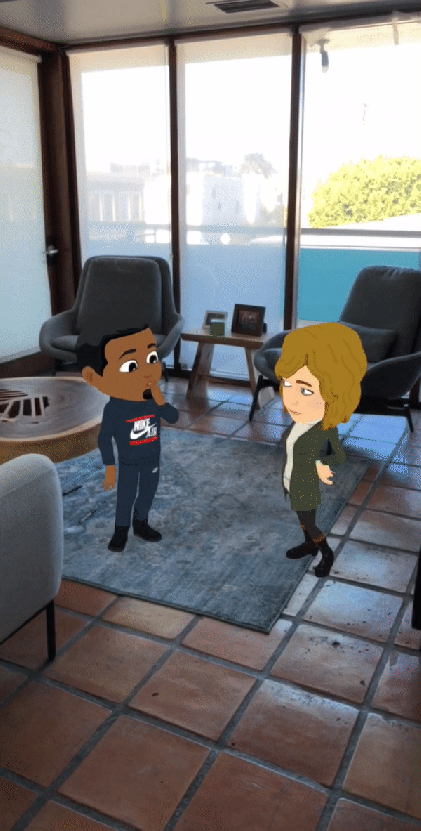 Having access to Snap's social graph will fuel Niantic's own AR ambitions.
Snap, for its part, can use Niantic to power its Snap Map, which 200M+ people use each month to locate friends: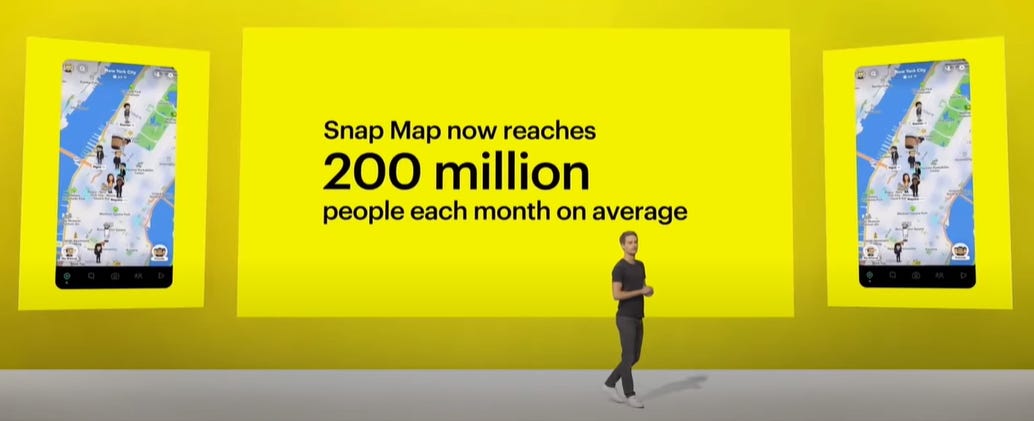 Snap is making a concerted effort to build out and monetize Snap Map. This summer, it announced Places, a new feature that adds local businesses to Snap Map.
This is exactly what Niantic has been doing for years. Pokémon Go lets small business owners purchase Lures, which increase the rate of Pokémon generation in the local area for a half hour. It sounds silly, but this is a huge deal for millions of SMBs: for just a few dollars, they can attract hundreds more people into their store each day.
Snap can tap into Niantic's expertise in real-world mapping, gaining access to the team that built Google Maps and Google Earth. Niantic would accelerate the growth and monetization of Snap Map.
Snap and Niantic are also both building Creator Platforms for consumer AR. I mentioned Snap's Lens Studio and SnapML above. Niantic's biggest priority, according to COO Megan Quinn, is building out its own third-party platform:
We are building a planet-scale platform that connects AR experiences to the real world. That has always been the primary thesis of the company since we first started…We are in the process of inviting some third-party developers to work with us on different applications for the platform. We expect that the experiences built on the Niantic Real World platform will be well outside of gaming, and we're excited to see what developers come up with.
Snap and Niantic are a natural fit. Both are building consumer AR. Both are building maps. Both are building platforms. Together, they can build faster and better.
From Snap 2.0 to Snap 3.0
In the TV show Years & Years, the world has advanced to a stage where AR is permanently overlaid onto the physical world. A young girl in the show permanently wears a dog filter resembling Snap's. She comes out to her parents as "transhuman".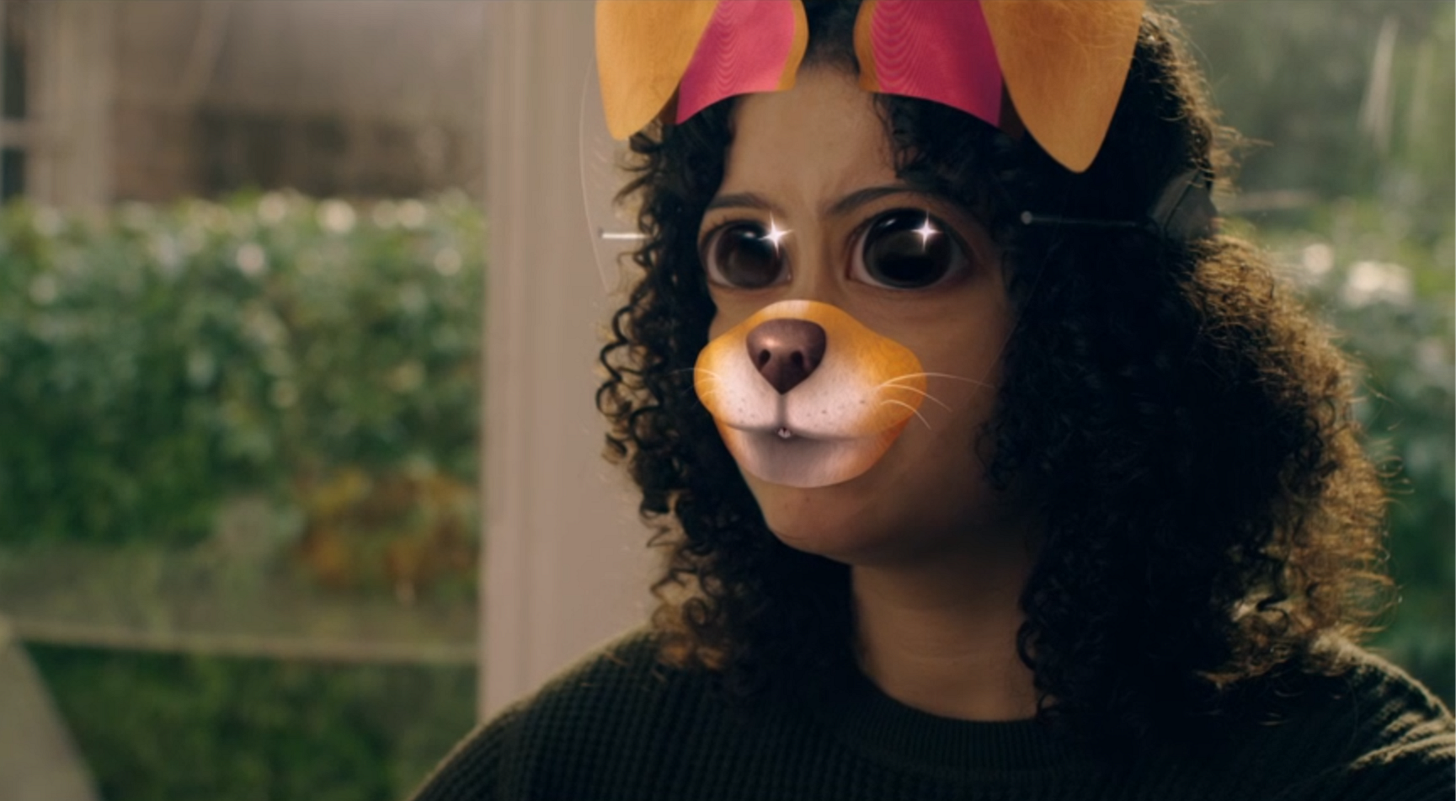 Whether or not dog filters remain a thing, the world will reach a point where AR is a permanent fixture on the physical world—possibly this decade—and Snap is ready for it.
If smartphones turn out to be the main hardware for consumer AR, Snap is ready. And if there's instead a breakthrough new AR device (say, I don't know, AR glasses from Apple), Snap is also well-positioned as the most robust platform for AR content.
Snap's positioning only improves if it acquires Niantic. Niantic gets a social network; Snap gets world-class geospatial mapping capabilities. Together, they can build out Snap Map and own the leading consumer AR platform.
If Snap 2.0 is about layering better and better AR products onto the world, Snap 3.0 is about becoming the full-on metaverse. Snap may be dismissed today as an app beaten by Instagram Stories, but it's readying its second and third acts. Eventually, we'll all live in a world that seamlessly blends physical and digital. Snap is already building it.
Sources & Additional Reading—here are the pieces that inspired and informed this content; check them out for further reading on this subject:
One more thing: it's a shame Snap can't afford to buy TikTok. Like Snap, TikTok is pushing the consumer social product boundaries, including in AR. The two would be a strong fit to build a social AR platform.
---
Chart of the Week
My friend Tim Spencer wrote a piece on the future of work that includes some interesting charts. How we work is being fundamentally rethought. Freelancers are powering the gig and passion economies. And even before Covid, remote work was on the rise.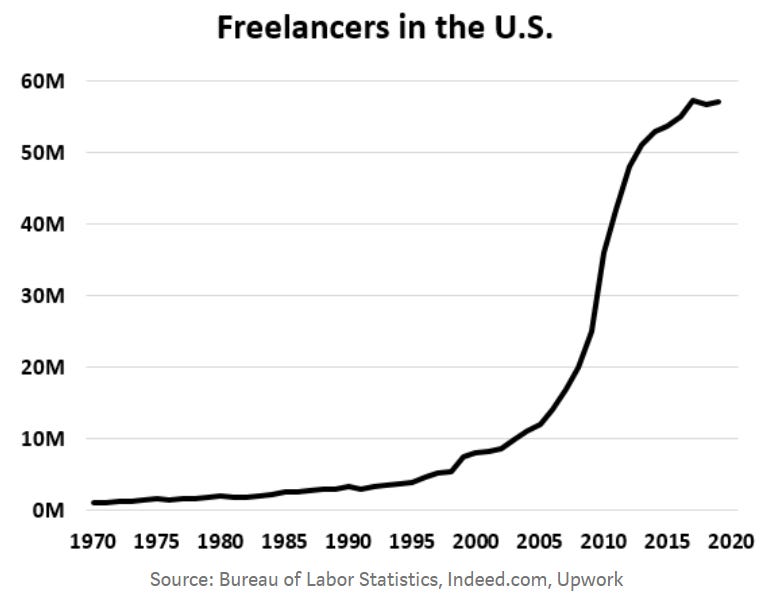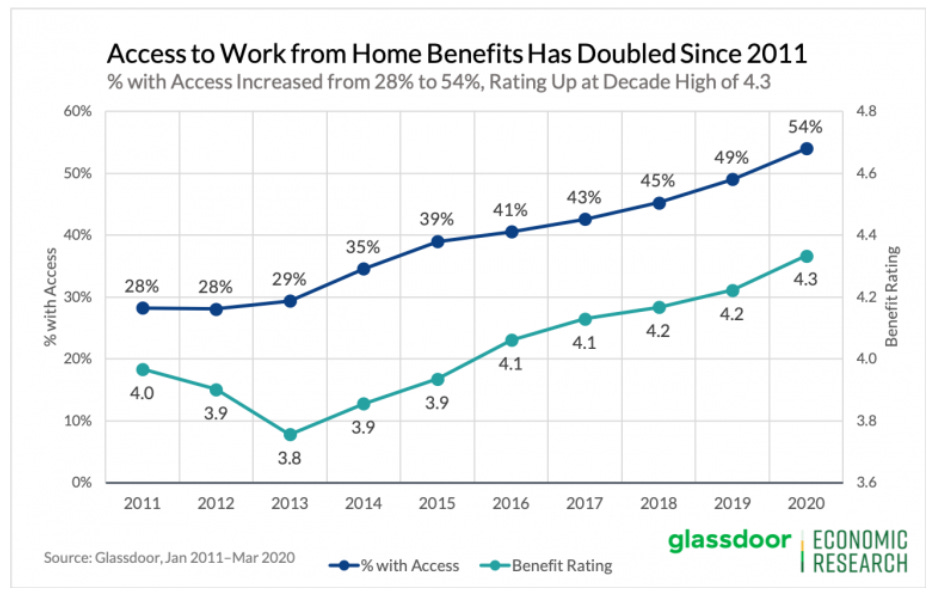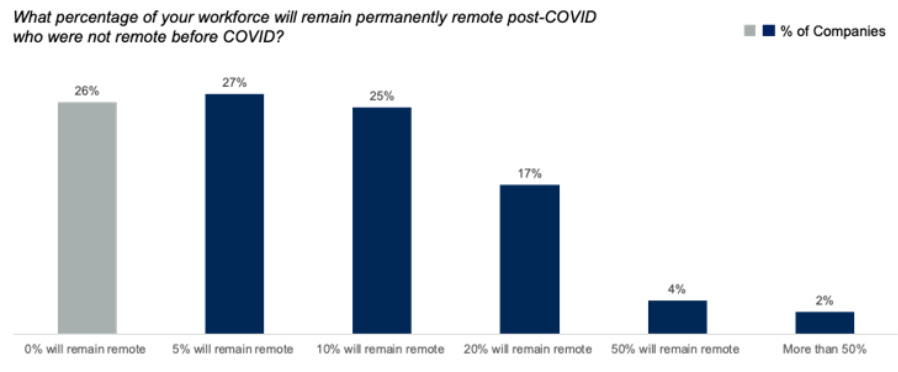 ---
Quick Hits
Here's what to read and what to know from the week:
📺 In 2010, 105 million households subscribed to pay-TV. Today, that number is 82 million. This year, Netflix subscribers will surpass the combined subscribers of the top 12 pay-TV services.
🚀 Here are the companies from Y Combinator's Demo Day 1 and Demo Day 2. Lots of "Shopify for X" and lots of companies rebundling work apps, à la The Rebundling of Work from earlier this year.
📹 Bella Thorne broke records by earning $1M in only 24 hours after creating an OnlyFans account—then over $2M by the end of the week. This speaks to broader trends: new platforms (Cameo, Community) enabling celebrities to have more direct connections with fans. I think we'll look back and say, "Can you believe OnlyFans started with X-rated content?"
💰 QR codes have been huge in China for years. Churches have QR codes on their pews to accept donations. Dog collars have QR codes in case dogs go missing. Even China's homeless hold QR codes for passersby to send money. Because of Covid, QR codes are (finally) beginning to have their moment in the West.
📋 Adam Keesling digs into why GPT-3 is a big deal.
🛍️ In a follow-up to The Rebels Taking On The Empire, Katrina Lake went on Patrick O'Shaugnessy's podcast. She talks about making key early hires at Stitch Fix, Stitch Fix's attractive cash conversion cycle, and what comes next.
🍎 MasterClass ads are so ubiquitous that even SNL parodied them. Is MasterClass education? Is it entertainment? According to its founder, it's both. The Atlantic has a good piece on the company.
🖱️ A nice piece on Facebook co-founder Dustin Moskovitz, who has spent 12 years building Asana and is readying its IPO.
🎵 Nearly every hit song is now fueled by TikTok. Building on the phenomenon of "Old Town Road" last year (the longest-running Billboard #1 in history), songs and artists are using TikTok to go viral and land record deals. Megan Thee Stallion's "Savage", for example, went #1 earlier this summer with 14 million TikTok videos featuring the song.
🧸 Julie Young wrote about the company behind L.O.L. Surprise dolls. The dolls did $5B in revenue in 2019—more than Hasbro or Mattel did across their entire product lines. Insane. Here's a cool table of the most valuable kids IP in 2019:
---
Thanks for reading! Subscribe here to receive this newsletter in your inbox weekly: