Discover more from Digital Native
Weekly writing about how technology shapes humanity, and vice versa
Over 54,000 subscribers
Spotify and the Future of Audio
Examining Spotify's Plan to Own All Audio
This is a weekly newsletter about tech, media, and culture. To receive this newsletter in your inbox each week, you can subscribe here:
---
Spotify and the Future of Audio 🎧
Last week, I wrote about bundling and unbundling, using the music industry as an example. Over the last 50 years, music has gone through several cycles:
Music was originally bundled and sold as albums.

Then the industry began to unbundle with MP3s and iTunes. Before iTunes, singles made up 1.9% of music transactions. A decade later, they made up 75%.

Now, music is being bundled again—subscription streaming services effectively offer "music-as-a-service".

Of the latest era, Spotify has been the big winner. This week, I want to look at Spotify and the future of audio more broadly.
Spotify, which launched in 2006, has 130M paid subscribers and close to 300M monthly listeners. It's the leader in the music streaming space with ~36% market share to Apple Music's 18%. In 2019, it had $7.5B in revenue.
The problem for Spotify is that it has to pay out most of that revenue to record labels and music publishers. Spotify only gets to keep about 33% of its revenue.
Here's how your $9.99 / month Spotify subscription breaks down: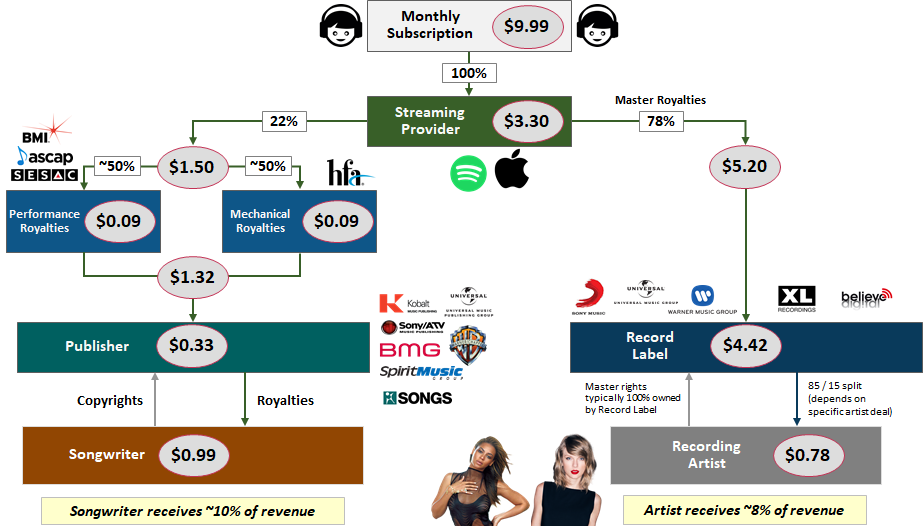 Hopefully you have two main takeaways from that diagram:
Spotify doesn't get to keep much of its revenue, and

The music industry is really, really complicated.
(A third takeaway: songwriters and artists don't get much either. More on that later.)
Because of music industry dynamics, Spotify needs to either move beyond music into new forms of audio, or move to exert more leverage over record labels. It's doing both.
Here are three predictions for the future of Spotify and the future of audio:
1️⃣ Spotify will become a major record label and will give power back to the artists.
2️⃣ Spotify will move deeper into podcasting and then into original content.
3️⃣ Audio will ultimately be verticalized and there will be a winner in each vertical.
The Fourth Major Label: Gaining Leverage in Music
In some ways, the music industry isn't too different from venture capital:
A young artist thinks she can be a pop star. She meets with a record label.

The label is impressed and invests in her: it gives her an advance ($) to record an album. In return, the label owns the music she creates (her masters).

It turns out she was right—she becomes a giant pop star, and the label makes a return on that initial investment in her.
(Recall the feud between Taylor Swift and Scooter Braun to understand how ugly masters ownership disputes can be.)
To date, Spotify hasn't had leverage. The Big 3 record labels (Sony, Universal, and Warner) own 80% of all the music in the world. If Spotify upsets any of them, it could immediately lose access to that music.
But luckily for Spotify, its leverage is growing: streaming now accounts for the majority of music industry revenue.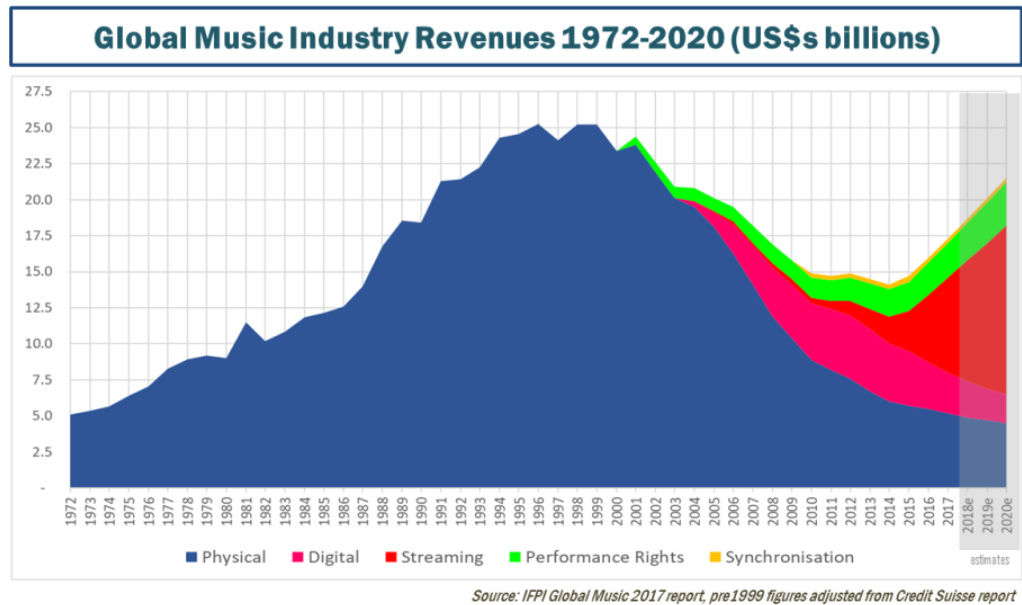 Soon, the power center of music will shift. The Big 3 labels will become reliant on Spotify.
At that point, the smart move for Spotify will be to become its own record label.
Spotify can invest in new music talent (with better data informing its investments) and promote its own roster of artists. Young artists will want to work with Spotify because Spotify has a direct connection to their fans. And because they'll rely on Spotify for revenue, the labels won't be able to retaliate.
Spotify can also offer artists paid placements—promoting their work on the app—which will be a near-100% margin revenue stream.
Artists will want this new world order. The earlier diagram showed that artists keep only 8% of revenue. Music shouldn't have ever been this way, but it definitely shouldn't be this way in a world with the Internet—a world in which artists can directly reach fans without a middleman.
The record labels are the middlemen, and eventually Spotify will have the clout to remove them. Spotify will no longer have to pay out 66% of revenue; through sheer influence, it will transform its own economics.
---
Just taking a quick breather to remind you to subscribe to this newsletter if you haven't already!
---
Beyond Music: Podcasting ➡️ Original Content
Because it has to give away most of its revenue, Spotify has lower gross margins than other subscription content companies.
Netflix gross margins, for example, are ~40% to Spotify's ~25%. (Netflix's margins have also improved over time as the company has shifted toward original content vs. licensed content.) Calm, meanwhile, produces low-cost content that it owns outright—its estimated gross margins are ~80%.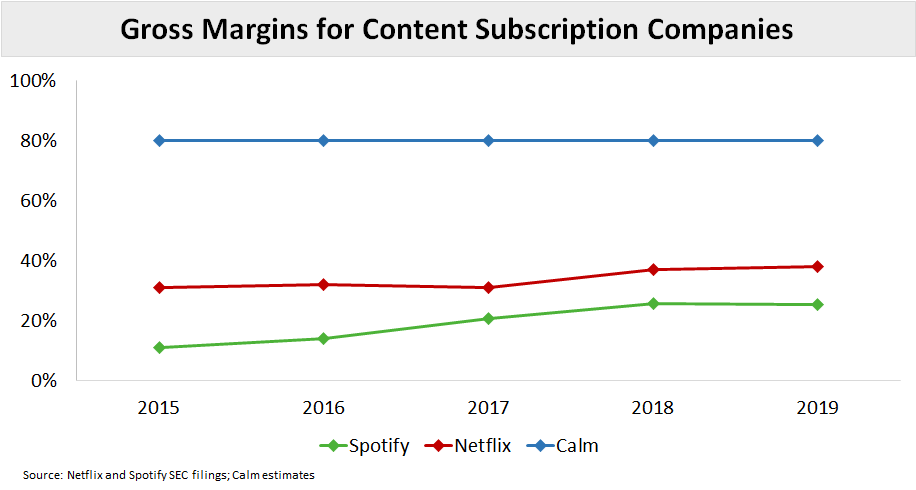 To improve its margins, Spotify needs to move beyond music. Luckily, Spotify CEO Daniel Ek has always had a big vision for his company. Last year, he wrote:
Consumers spend roughly the same amount of time on video as they do on audio. Video is about a trillion dollar market. And the music and radio industry is worth around a hundred billion dollars. I always come back to the same question: Are our eyes really worth 10 times more than our ears?
Ek's vision is to build the world's platform for everything audio. That vision begins with podcasting. Over the last two years, Spotify acquired Anchor, Gimlet Media, Parcast, and The Ringer for a combined ~$600M.
Spotify earns ad revenue on its podcasting content—and ad revenue has higher margins than Spotify earns on music streaming. If non-music listening can grow to 25% of listening time with even a 40% gross margin, that will improve overall gross margins by five percentage points. If Spotify can build a robust ad engine for podcasting with better attribution, it can charge higher CPMs and earn even more.
Spotify's biggest opportunity lies in following the Netflix playbook and investing in original content. It's already begun, striking exclusive content deals with everyone from the Obamas to Kim Kardashian West to podcast king Joe Rogan. Original content draws listeners to Spotify. And if this content moves behind a paywall, Spotify will be able to acquire new subscribers.
Verticalized Audio
Daniel Ek wants to be the world's hub for everything audio. While Spotify will likely be the world's largest audio player, I expect audio to become more verticalized as the medium matures.
In the future, people will turn to different apps for different audio content. They'll turn to Calm to relieve stress and anxiety. They'll turn to Aaptiv at the gym. They'll turn to Hallow for prayer.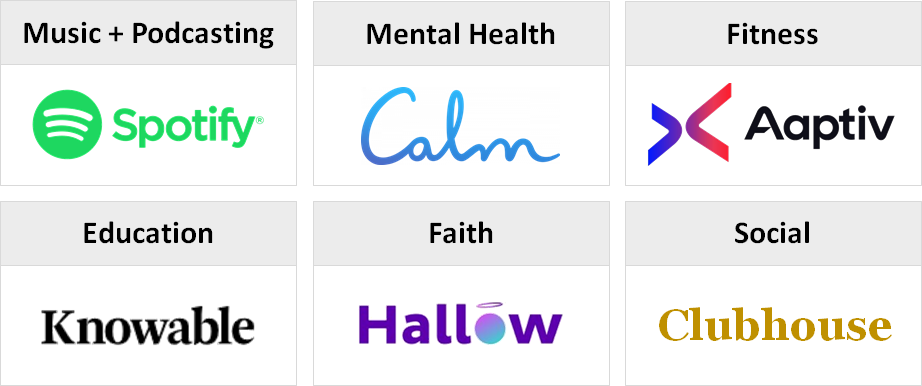 Spotify won't own audio any more than Netflix will own video. Even with Netflix's success—closing in on 200M global subscribers—it still operates within a segment of the broader video market: long-form, professionally-produced content. YouTube, TikTok, and Twitch are winning their own slices of the video market.
Similarly, I see Spotify winning music and podcasting—long-form content focused on entertainment and education.
One final thought—
While Spotify has a clear internal strategy to gain leverage within music and to expand beyond music, more of its growth may come from an external factor: the new devices enabling audio's boom.
Last year, Apple sold 60 million pairs of AirPods. One in four U.S. adults owns a smart speaker. Built on these devices, audio will mature as a medium over the next decade, closing the gap to video. Spotify will capture a good portion of that growth, but will be among many winners.
Sources & Additional Reading — here are the pieces that inspired and informed this content; check them out for further reading on this subject:
---
Chart of the Week
Earlier this year, I broke down the streaming wars. Peacock, NBC's late entrant into the race, hadn't publicly launched, but a journalist wrote a review:
Peacock is the perfect streaming service to stuff in your pantry. Like canned tuna, NBC's new service will taste great if everything else runs out.
Yikes 😬 Today, Peacock is finally out. It differs from Netflix, HBO Max, and other competitors in two main ways:
It's betting on its free, ad-supported tier, rather than its subscription tier.

It includes NBC's live programming—news and sports—which traditional streamers don't offer.
This article offers a great deep dive into its launch that includes these interesting charts: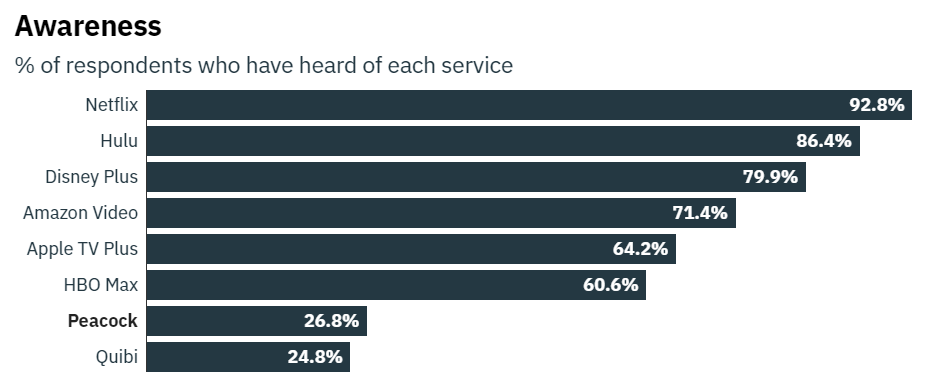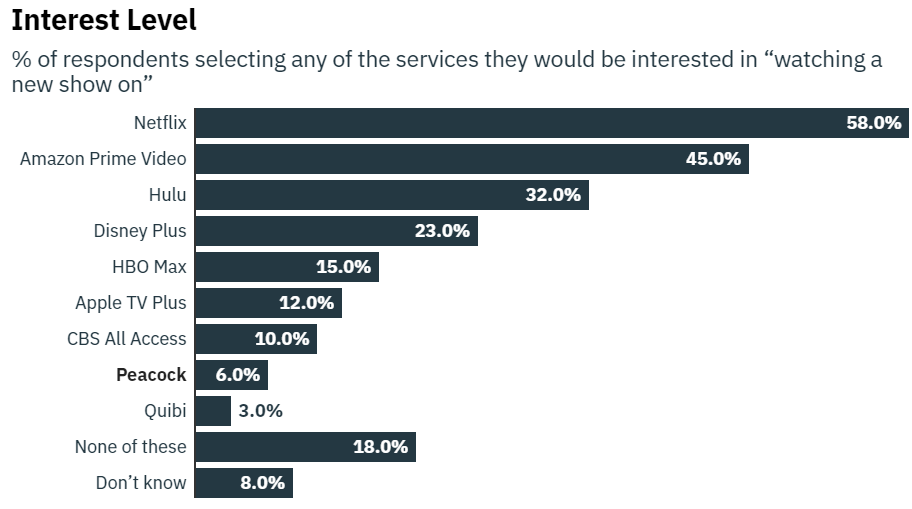 ---
📱 Tech
The Hierarchy of Marketplaces | Sarah Tavel | Benchmark
Benchmark's Sarah Tavel wrote an excellent three-part analysis of marketplace businesses. Some takeaways:
Pursue happiness, not scale: Tavel writes that just as MAUs is a vanity metric for consumer social, GMV is a vanity metric for marketplaces. The best marketplaces pursue a metric more closely tied to happiness. Net revenue retention, for example, signals if enough buyers and sellers are happy enough to stick around.
Find loops: Marketplaces are all about "tipping loops"—flywheels that create momentum. For example, these flywheels drove Uber's and Airbnb's growth: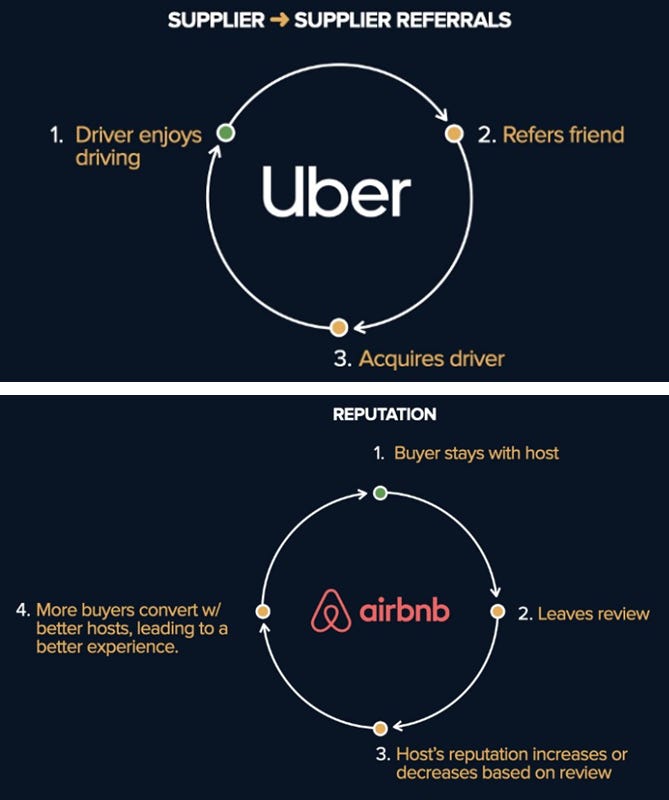 Start out where you can win: DoorDash, for example, initially targeted delivery in the suburbs (an overlooked segment of the market) while Postmates went after the highly-competitive and crowded San Francisco market.
Don't get complacent: Market leaders are constantly being leapfrogged by new entrants. Airbnb overtook HomeAway. DoorDash, Uber Eats, and Postmates ate into Grubhub's market share. And GOAT beat out Ebay for the sneaker market.
---
🎥 Media
How Netflix Learned to Stop Worrying and Love YouTube | Lucas Shaw | Bloomberg
YouTube is the only video service in the world that people spend more time on than Netflix. For that reason, Netflix CEO Reed Hastings has called YouTube his company's biggest competitor. As a result, Netflix behaved as a walled-garden: it didn't upload its content to YouTube, which the company saw as arming the enemy.
Now, Netflix is changing its tune: some content, such as stand-up comedy, is starting to appear on YouTube. Why the change? Netflix is now more than a subscription tech company—it's an entertainment giant that needs to create enduring cultural hits.
For all its success, Netflix hasn't created a franchise on par with Disney's Marvel, Universal's Jurassic Park, or Warner Bros.' DC Comics. This is partly because of all-at-once releases and partly because Netflix hasn't invested in building cultural momentum across other platforms. Opening to YouTube is a way to begin building enduring IP.
YouTube TV's Price Hike Is Cable All Over Again | Tara Lachapelle | Bloomberg
On the topic of streaming: YouTube TV just raised its monthly subscription from $50 to $65. That $15 increase is already more than one month of Netflix. Slowly, streaming packages are started to resemble the dreaded cable bundle. And when you add up all the streamers to subscribe to, you're looking a price tag potentially above cable's.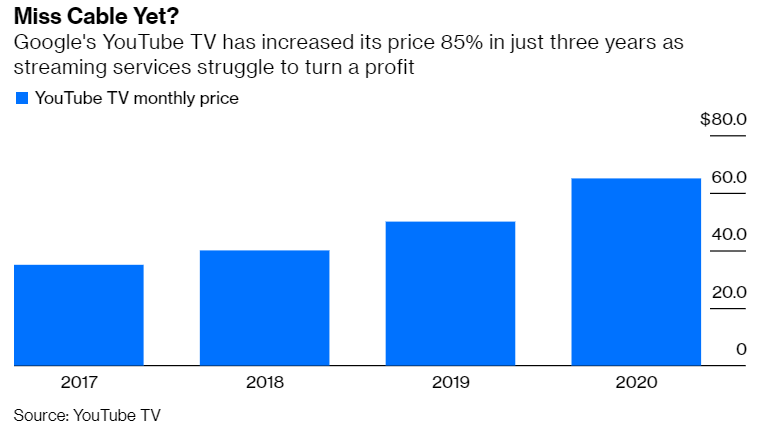 As Bloomberg writes, these price hikes are emblematic of a broader problem: "a need to raise prices that are already too high from a consumer's standpoint, yet not high enough for streaming companies to have any hope of turning a profit."
---
🛍️ Commerce
Uber Acquires Postmates & Pizza Arbitrage | Patrick and Ranjan Roy
After missing out on Grubhub, Uber is buying Postmates for $2.65B. That's a ~4x revenue multiple—on par with what Just Eat Takeaway is acquiring Grubhub for. This is about market share for Uber: with the acquisition, it will be a solid #2 player.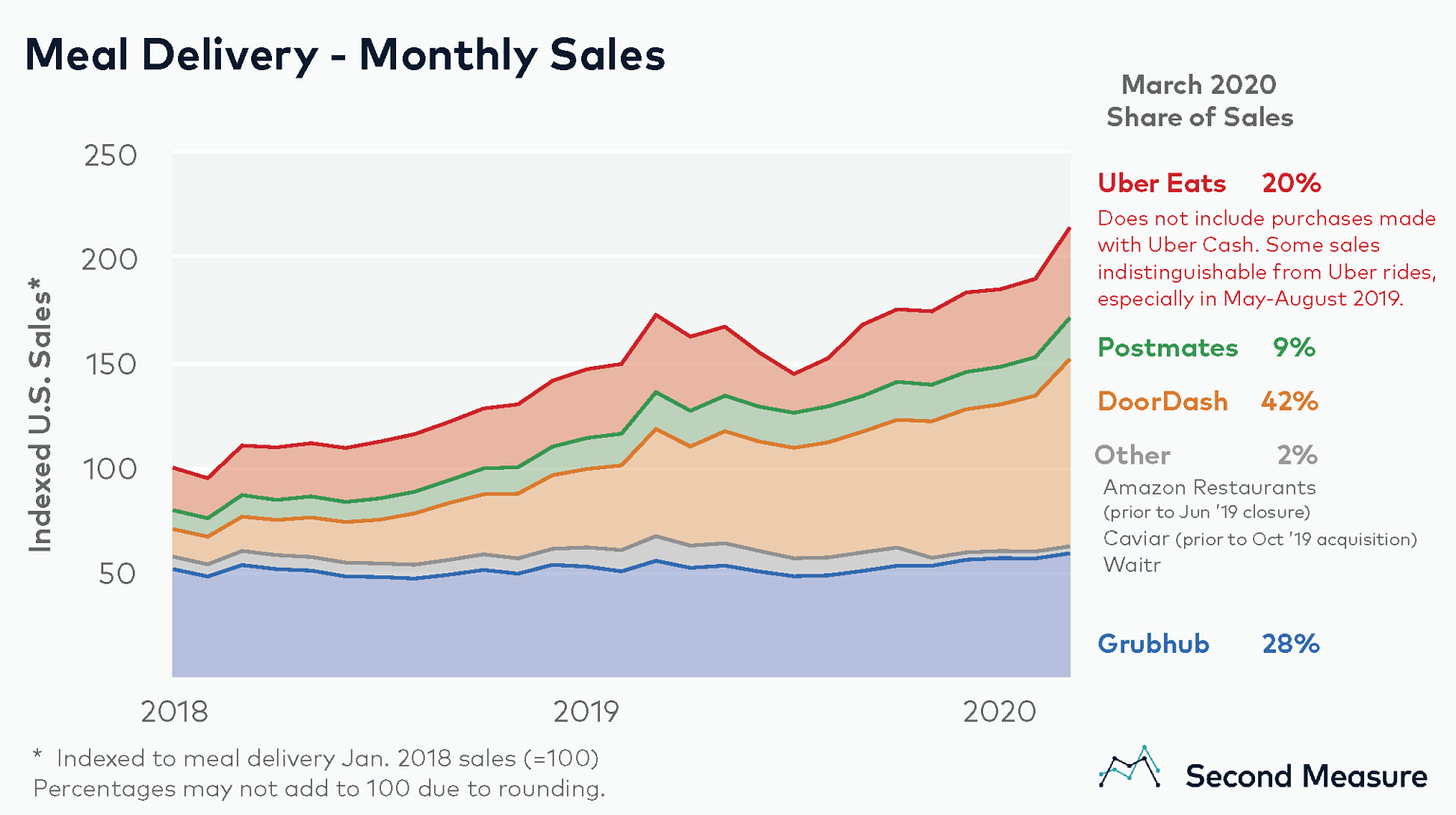 Doordash is still the leader. As mentioned in the "Tech" section above, DoorDash began by targeting an overlooked market segment: the suburbs. Compared to cities, the suburbs have larger order values (more families vs. individuals ordering) and less traffic for couriers (lower delivery costs)—these superior economics powered DoorDash to the lead.
🍕 In other important Doordash-related news, here's a fun story of pizza arbitrage:
The owner of a pizza shop refused to join food delivery apps because he was worried about quality control. But one day, he began to receive customer complaints: the pizzas they'd ordered on DoorDash were arriving cold. There was only one problem: he didn't list his shop on DoorDash.
It turns out that DoorDash had added an "Order Delivery" button under his Google listing. And DoorDash was listing his pizzas for $16, when he sold them for $24—apparently in an effort to generate more demand for delivery services. Naturally, the owner spotted an arbitrage opportunity: he could order his own pizzas via DoorDash, pay DoorDash $16 apiece, and get paid $24 apiece.
Soon, a few times a night, he would order 10 pizzas, pay the DoorDash worker $160, and get paid $240, pocketing a tidy $80 in profit.
---
Quick Hits
💄 Men's make-up is surging. Earlier this year, I wrote about how Gen Zs are redefining gender. In places like Korea, 75% of men undertake an at-home beauty routine. Now, CVS is introducing men's beauty products to its U.S. stores. (Link)
🛒 Related to beauty—livestream commerce is taking off in the U.S. and starting with beauty brands. Some brands have used Instagram Live to sell product and found that livestreaming is driving 14% higher order values and over 2x the purchase rate. (Link)
👻 Snap is also getting into livestream commerce: it's dropping its first "shoppable show", which will sell streetwear. The show will, naturally, target teens: 90% of Americans between 13-24 are on Snapchat—more than are on Facebook, Instagram, and Messenger combined. (Link)
📺 Last week, I wrote about why Quibi is failing. Quibi's 90-day free trial just expired, and it reportedly lost 92% of early subscribers. Ouch. (Link)
🎮 A black market has emerged in China for virtual goods for the game Animal Crossing. Nintendo banned the practice but there are more than 4,000 Animal Crossing stores on Taobao, Alibaba's marketplace. This is part of a broader trend: in-app game purchases have grown into an $18.5B industry in China. (Link)
🎞️ An obscure movie called 365 Days was the most popular movie on Netflix for June. Why? The hashtag #365Days exploded on TikTok, tied to a trend in which users film their reactions to the film's graphic sex scenes. Videos using the hashtag have been viewed 1.5B times. (Link)
🌽 Chipotle is rolling out an online produce marketplace, based on Shopify's e-commerce platform. Farmers who supply Chipotle can launch online stores to directly sell meat, dairy, and grains to customers. It's a pretty cool extension of Shopify's services to reach a new group of small business owners. (Link)
💡 Here's a list of cool patents from Big Tech. Google, for example, wants to automatically book your Uber, integrating your calendar and Google Maps to make sure your ride is requested early enough so that you always arrive on time. (Link)
---
Thanks for reading! To receive this newsletter in your inbox weekly, subscribe here 👇