Discover more from Digital Native
Weekly writing about how technology shapes humanity, and vice versa
Over 54,000 subscribers
The Rebundling of Work
The Startups Aggregating Productivity Software
This is a weekly newsletter about tech, media, and culture. To receive this newsletter in your inbox each week, you can subscribe here:
---
The Rebundling of Work
There's a famous quote from Jim Barksdale, the former CEO of Netscape:
There are two ways to make money in business: You can unbundle, or you can bundle.
To understand his point, take the music industry:
Music was originally bundled and sold as albums.

Then the industry began to unbundle with MP3s and iTunes. Before iTunes, singles made up 1.9% of music transactions. A decade later, they made up 75%.

Now, music is being bundled again by Spotify and Apple Music, which effectively provide "music-as-a-service".

The workplace is going through its own cycles of bundling and unbundling. In The Unbundling of Microsoft, I wrote about how a new generation of startups is disrupting traditional work apps from Microsoft and Google: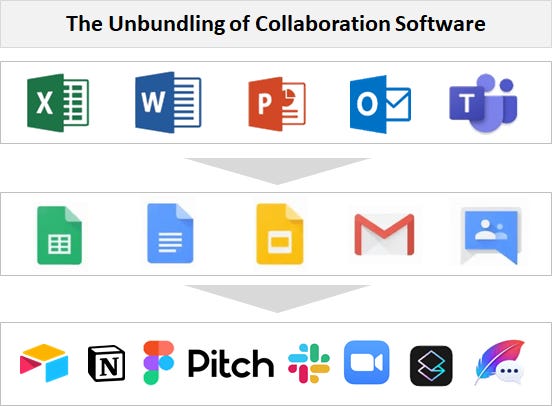 These upstarts are winning by offering design-first, "consumerized" software products; by offering seamless cloud collaboration and API integration; and by going to market bottom-up. There's a subset of workers—"prosumers"—who will pay a premium for these tools because they're better products.
But the problem this has created is a proliferation of work apps. An Okta report found that the average customer in 2018 had 80 installed work apps, an increase from ~50 apps in 2015. Of Okta's Office 365 customers, 76% have one or more apps that are duplicative of a Microsoft app.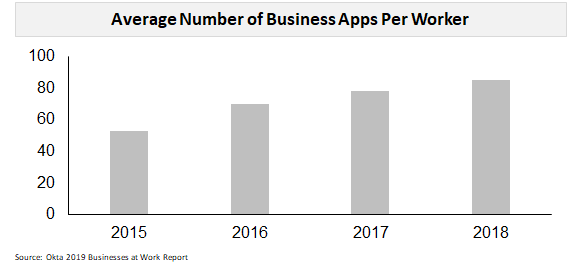 Covid-19 is accelerating this trend: weekly downloads of business apps increased from 40M in February to 80M through March, April, and May.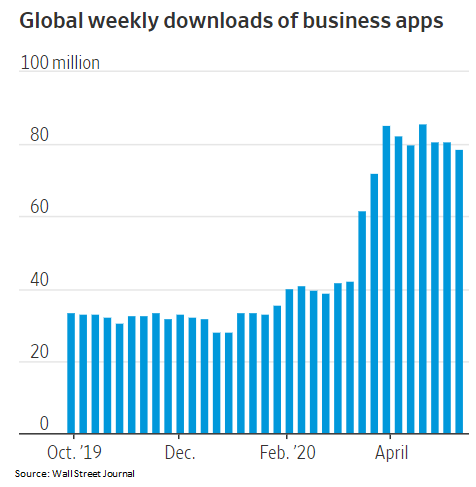 This trend will only continue: less than 10% of the estimated $4 trillion in annual global IT spending has so far migrated to the cloud, and a remote work boom will lead to more apps to communicate and collaborate among distributed teams.  
Microsoft is capitalizing on this trend by doing what it does best: offering a clean, cohesive bundle. Microsoft's pitch is, "Hey, we know Teams might not be quite as good as Slack, but it's good enough." It's already used this strategy to overtake Slack: Statista reports 20M DAUs for Teams to 12M for Slack, as of last November. In Microsoft's latest earnings call, the company reported that Teams now has 75M DAUs, following a Covid bump.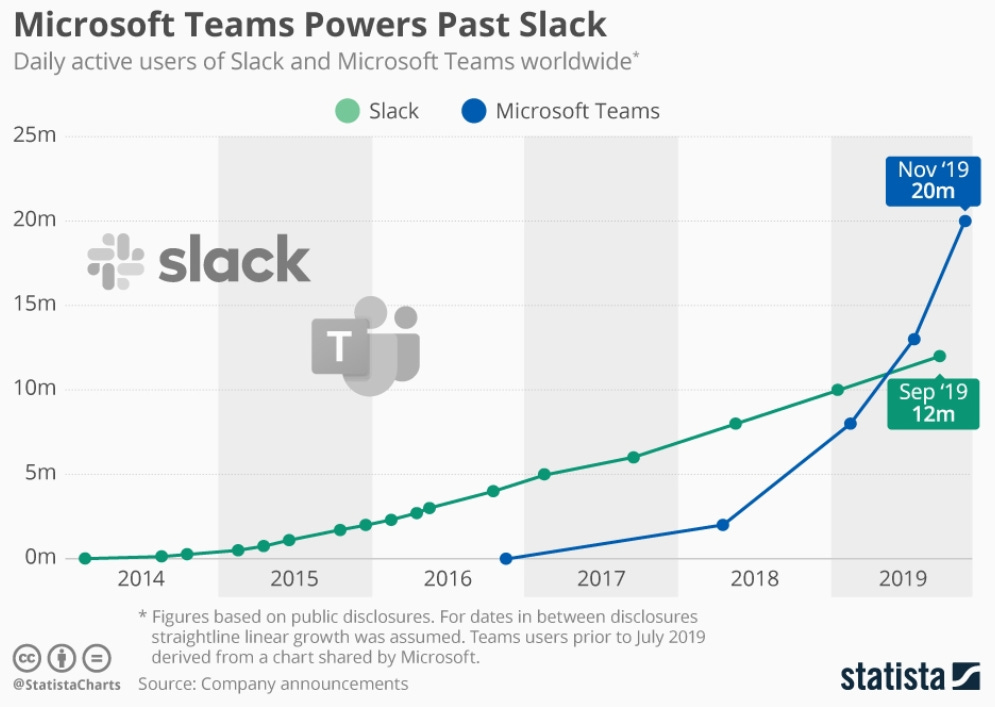 Next, Microsoft is going after Airtable with its copycat Lists.
The unbundling of work, leading to an explosion of disparate apps, creates the need for products to find a way to rebundle.
New startups are emerging to solve this problem by enabling easy search across apps, facilitating knowledge sharing, and centralizing notifications. Here are six startups that are rebundling work:

These companies will make it easier for the Slacks, Notions, and Airtables of the world to compete with Google and Microsoft by enabling the seamless use of separate, best-in-class work tools: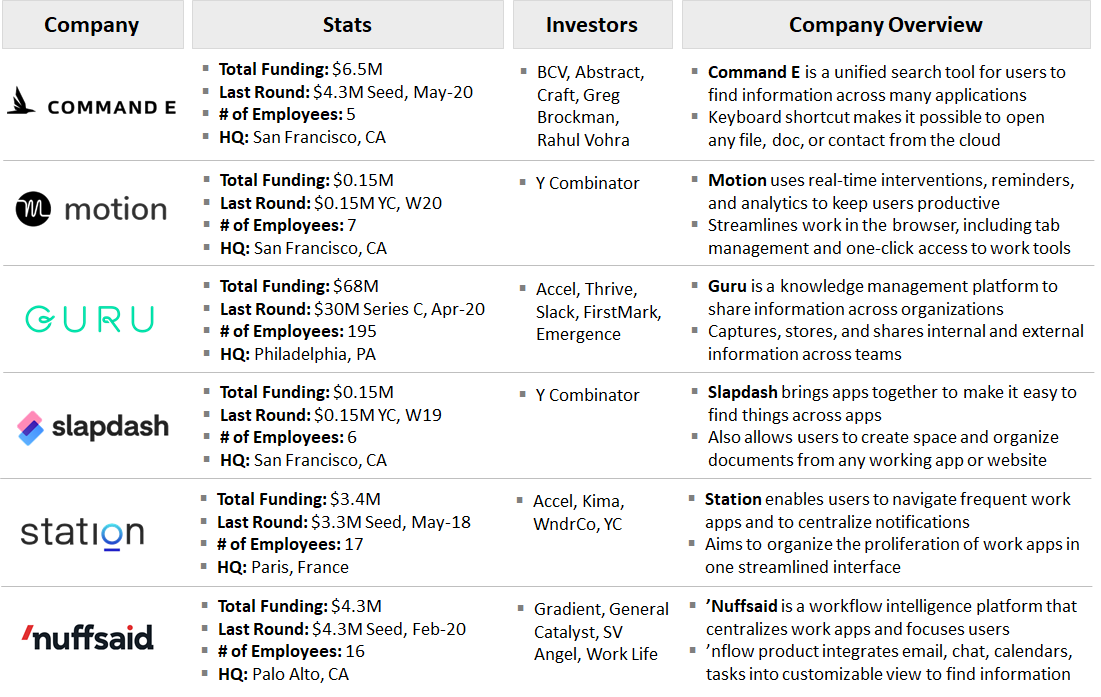 As a worker, it's incredibly difficult to manage 80+ work apps on your computer—even with APIs. Eventually, the advantages of new products fade away and Microsoft's bundle starts to seem "good enough."
But these rebundling tools prevent creep toward the bundle. It can be overwhelming to switch between Zoom, Slack, Figma, and Asana; it's less overwhelming with Command E or Station. This screenshot shows how Motion organizes work across apps: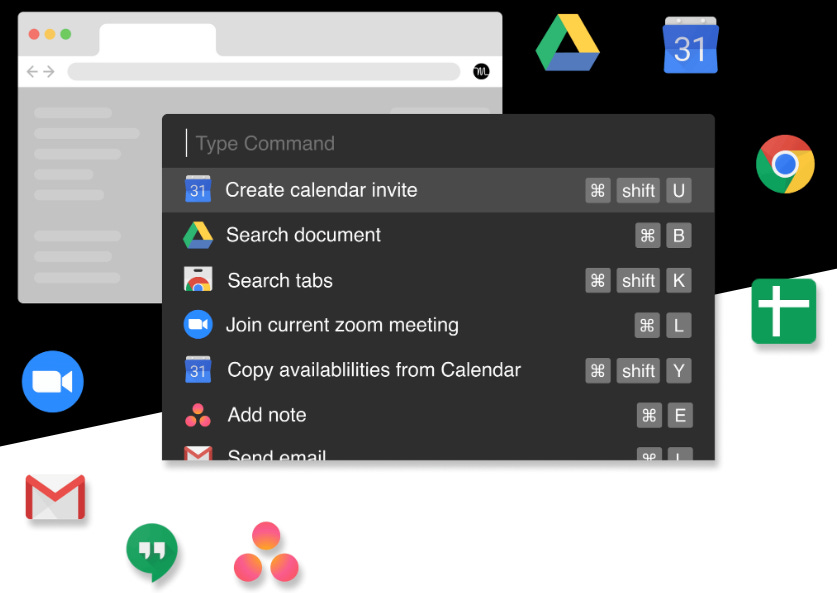 As work becomes more complex, collaborative, and distributed, these rebundling products will be among the winners. They diffuse the problems stemming from unbundled work apps and they mitigate Microsoft's biggest selling point.
Sources & Additional Reading — here are the pieces that inspired and informed this content; check them out for further reading on this subject:
---
Chart of the Week
Benedict Evans put out a presentation about tech trends in a post-Covid world. Here are some of the most interesting charts: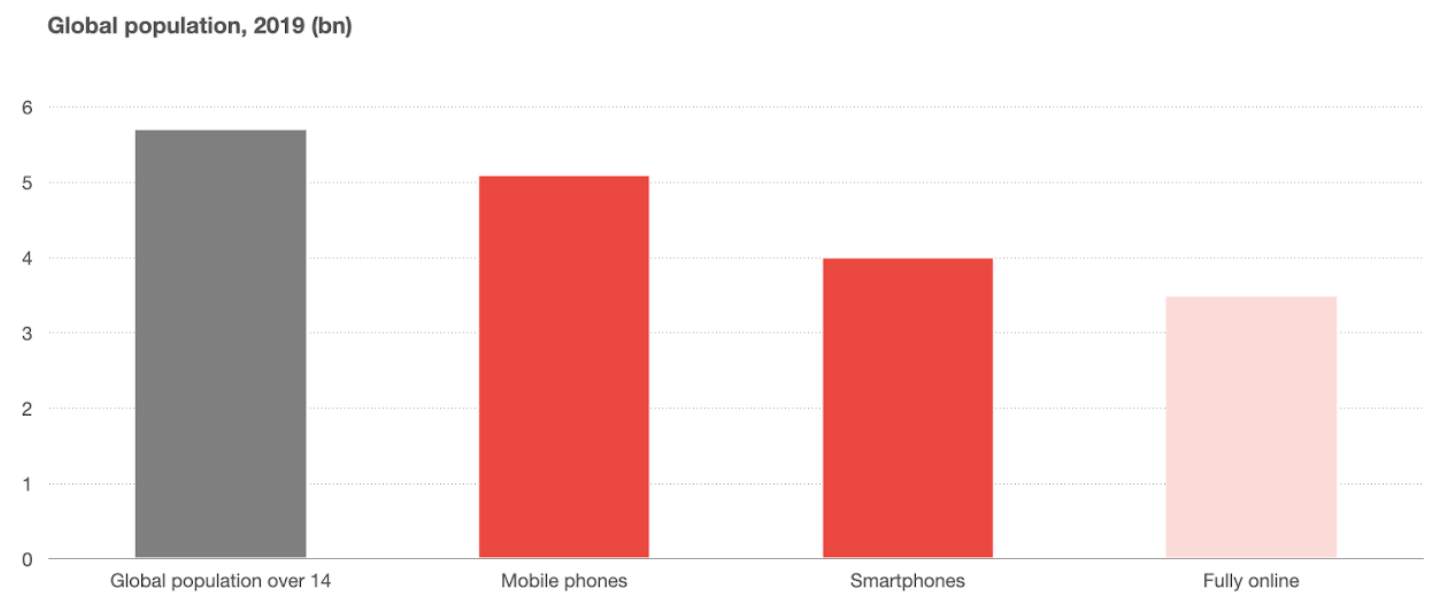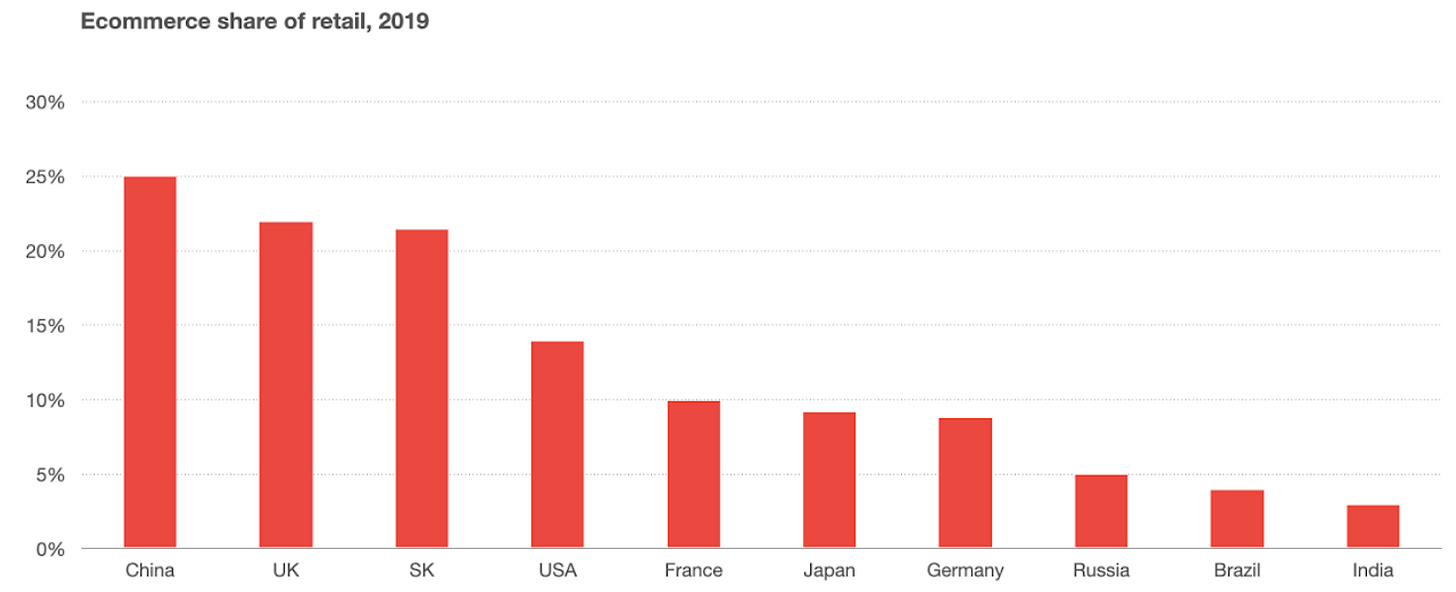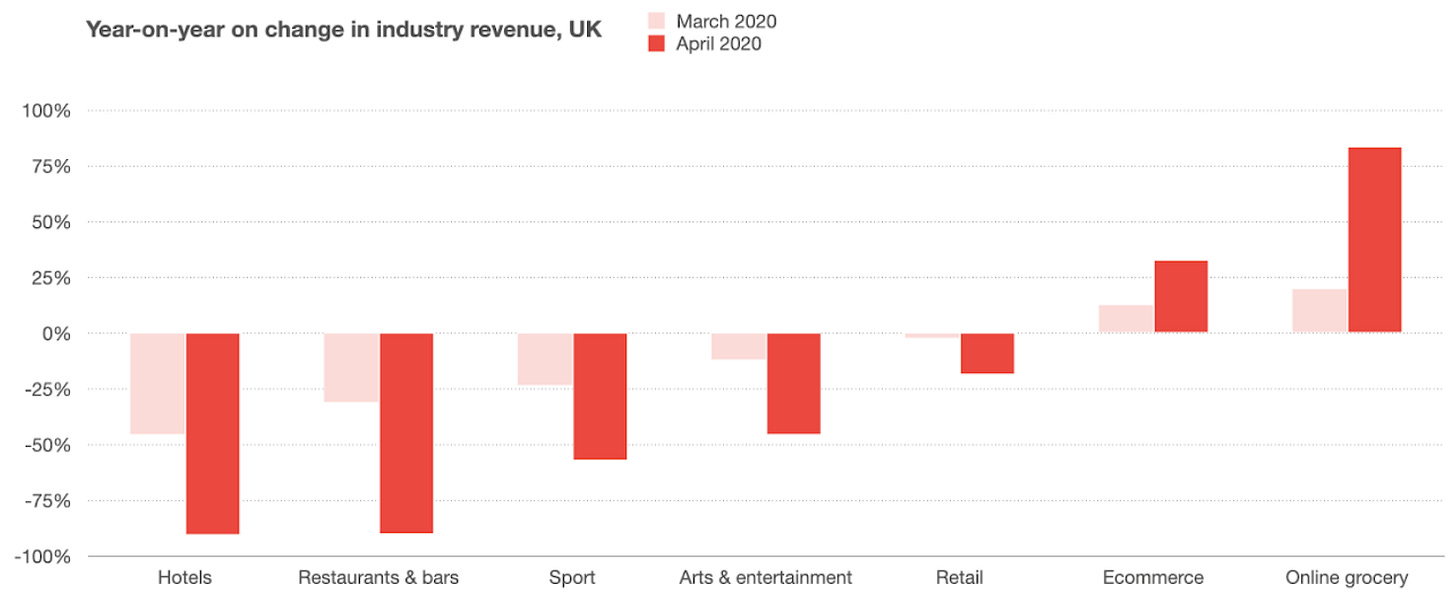 ---
📱 Tech
Why Software is More Profitable Than Content | Adam Keesling | Napkin Math
Adam Keesling draws a comparison between software companies and content companies. Both a piece of software and a piece of content require a significant upfront fixed cost investment. But both also enjoy zero marginal costs of distribution: once created, it costs $0 for an additional customer to use the software or consume the content.
So why do software companies have higher margins? The answer, Keesling argues, is that content products decay while software products don't. Software products are stable and reliable; they're a utility. Content products, meanwhile, ebb and flow with consumer preferences.
This made me think: what about companies that are both software companies and content companies?
Netflix comes to mind as an obvious example: it costs nothing for an additional subscriber to join the software platform and it costs nothing for that subscriber to stream a new hit show. A newer example is Substack, the newsletter platform where I'm writing this. It costs Substack nothing for new writers to sign up (the software side) and once those writers start to put out content, Substack again enjoys zero marginal costs as the platform attracts more readers (the content side).
Karat Is a Credit Card for Social Media Influencers | Arielle Pardes | Wired
The influencer market will be worth $15B in 2022, up from $8B in 2019 (~25% annualized growth). An estimated 1M full-time creators earn at least $80K through social media—this is the rise of the "solopreneur" or the "Passion Economy", with these creators a new form of small business. But these creators can't access traditional financial services like other small businesses.
Enter Karat, which aims to be the financial services hub for these creators. Karat's first product is the Karat Black Card, which gives influencers credit lines starting at $50,000—and the credit lines are determined by the influencer's social media metrics. The credit card also has customizable perks: gamers get cash back on streaming services, beauty influencers get perks for product purchases, and so on. This is a creative idea serving a real market need, but I expect underwriting influencers (whose incomes are volatile and unpredictable) will be an enormous challenge.
---
Taking a quick breather to remind you to subscribe if you haven't already!
---
🎥 Media
Is Anyone Watching Quibi? | Benjamin Wallace | Vulture
Since launching in April, Quibi has foundered—last month, it ranked #1,477 in the App Store. On Monday, 90-day free trials ended and Quibi executives braced for a slew of cancellations. The Quibi team made two principal (related) mistakes:
1) They didn't build a mobile-first product capable of virality; from the article:
Almost immediately, it became clear just how badly Quibi had failed to understand its digital-native audience…Quibi didn't allow screenshotting, which makes it harder, or at least less fun, to talk about its shows on social media, the de facto watercooler in an officeless era. If you want to share an image from a Quibi show, you have to use a second phone to take it. 
2) The team didn't have "founder-market fit". Jeffrey Katzenberg and Meg Whitman were never suited to create a Millennial- and Gen Z-focused app:
People have wondered why Katzenberg and Whitman, in their late and early 60s, respectively, and not very active on social media, would believe they have uniquely penetrating insight into the unacknowledged desires of young people. When I ask Whitman what TV shows she watches, she responds, "I'm not sure I'd classify myself as an entertainment enthusiast." But any particular shows she likes? "Grant," she offered. "On the History Channel. It's about President Grant."

Katzenberg is on his phone all the time, but he is also among the moguls of his generation who have their emails printed out (and vertically folded, for some reason) by an assistant.
Yikes 😬
In other streaming news, Disney released Hamilton on Disney+ over the weekend. Disney had paid $75M for distribution rights, and it was a risk to forgo a lucrative theater run. It appears to have paid off: as this Axios chart shows, Disney+ interest spiked over the weekend.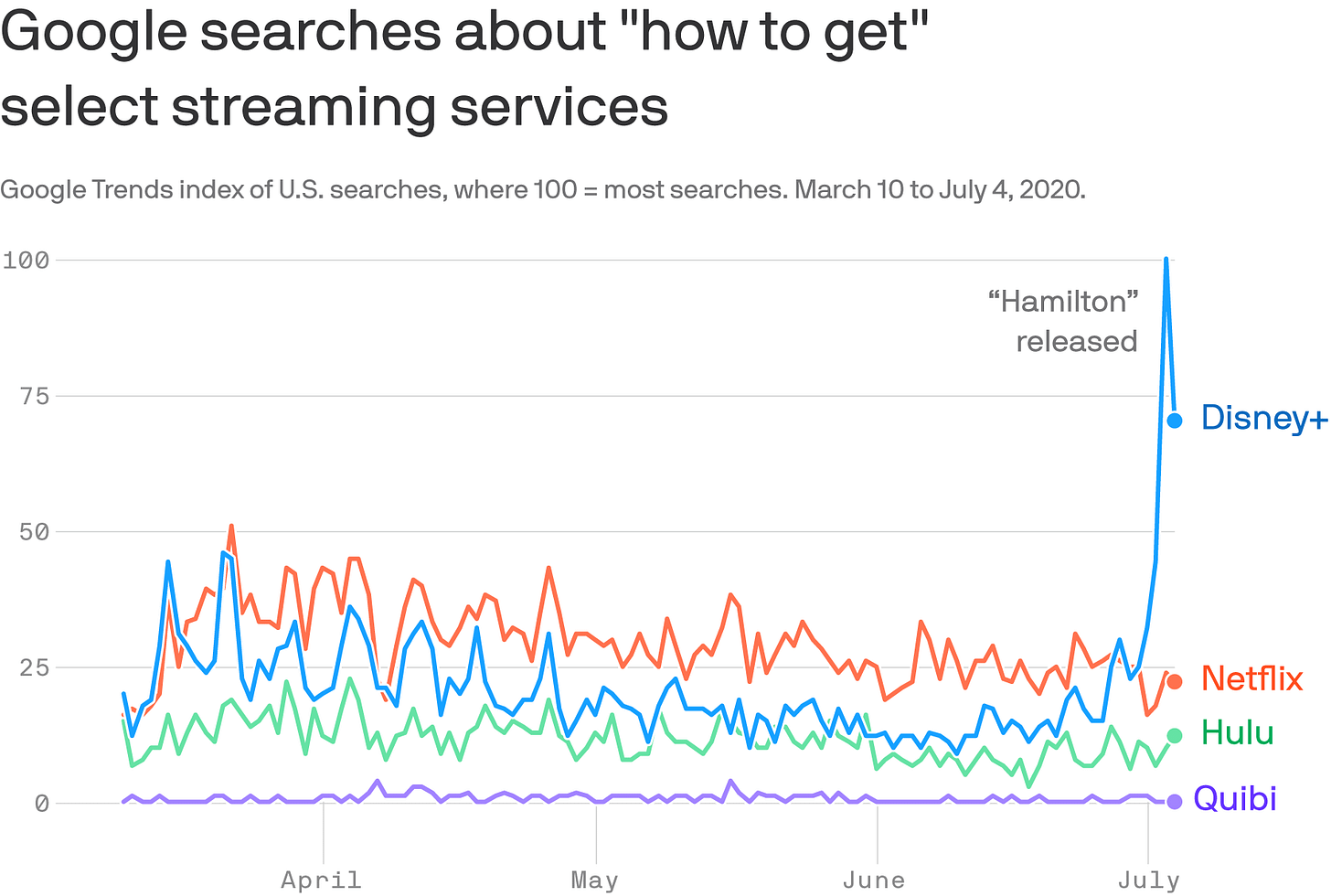 Disney+ was downloaded 752,451 times from Friday through Sunday. At $6.99 / month, that's a 3-year LTV of ~$200M for those new subscribers. Of course, many new subscribers may churn after watching Hamilton, but there's also value captured in retaining current subscribers.
---
🛍️ Commerce
Online Shopping During Covid | Adobe Report
During the pandemic, online shopping surpassed average holiday spend—up $52B over normal levels.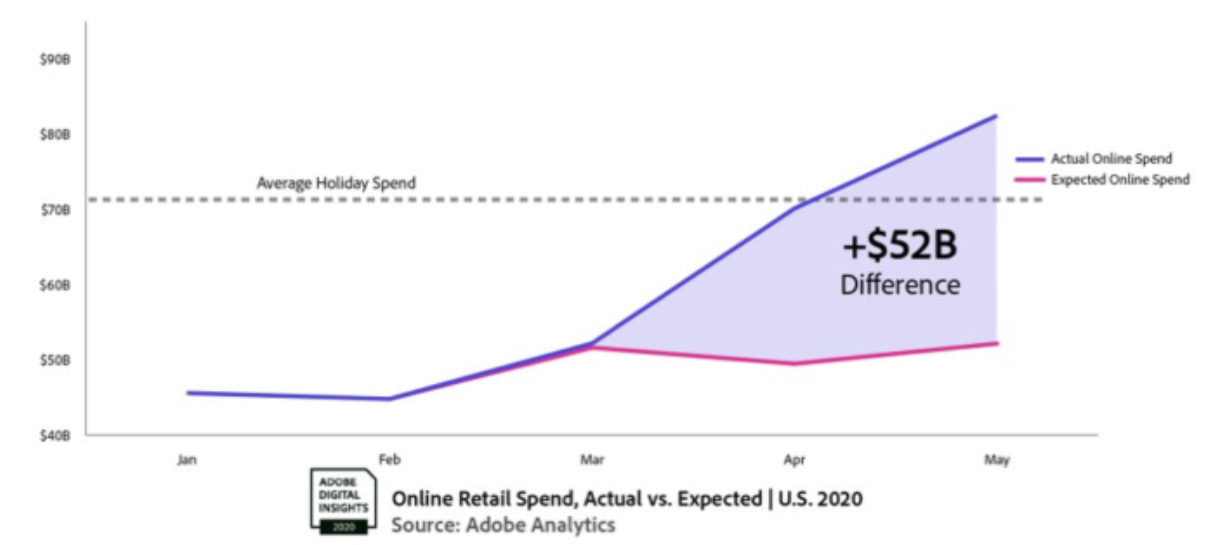 And as physical stores look to reopen during the pandemic, plexiglass is becoming a hot commodity: mentions of "plexiglass" in corporate press releases and earnings calls are up nearly 2,000%, according to this chart from Axios Markets: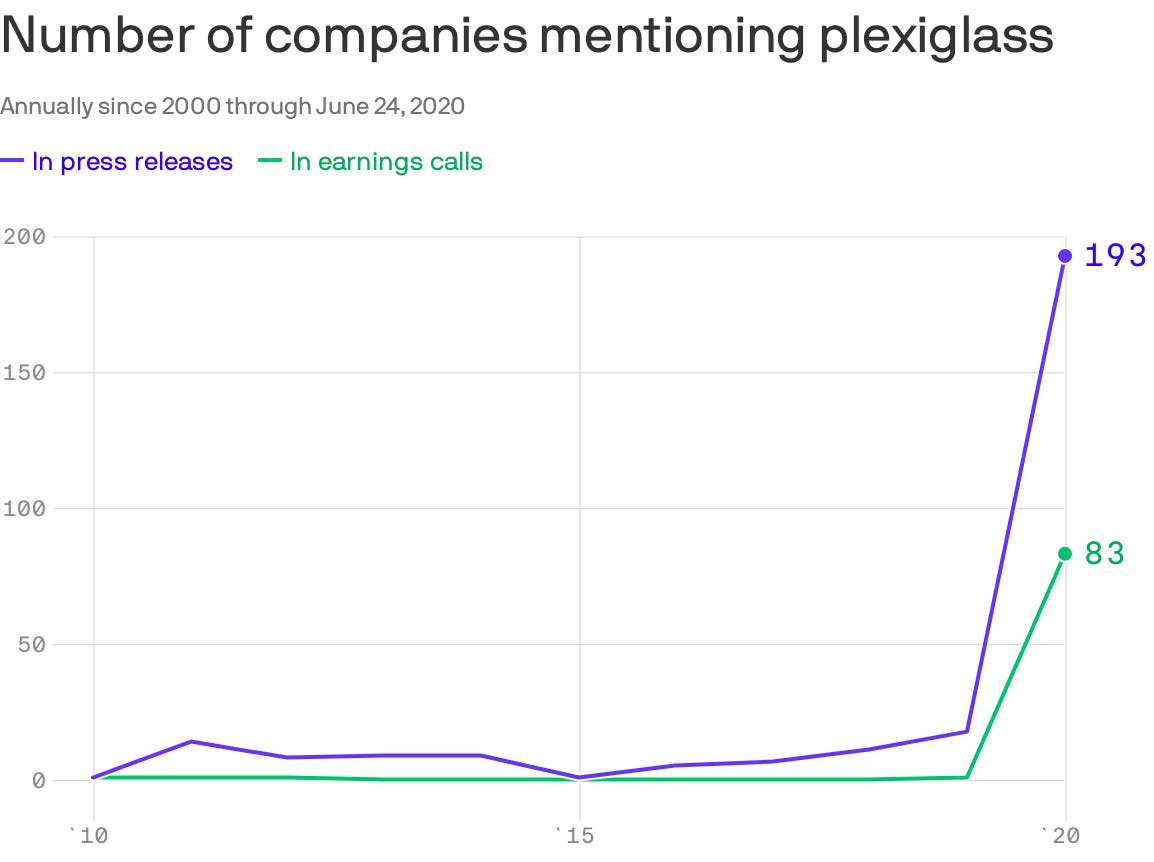 ---
Quick Hits
Some venture funding and acquisition quick hits this week:
🎮 Discord, one of the most underrated startups, raised $100M at a $3.5B valuation. The chat social network started with gaming, but now over 30% of users use it for something other than gaming. Discord has 300M users (4x from 2018) and 100M active users (+50% year-over-year) making it about a third the size of Twitter or Snapchat. (Link)
☕ Caffeine, which I've written about before, raised $113M at a $600M valuation. Twitch built a livestreaming platform by focusing initially on gaming; Caffeine is building a livestreaming platform by focusing initially on everything except gaming. Caffeine has 2 million users and has gotten traction with live "rap battles." (Link)
⚽ Guild Esports is a new esports company backed by David Beckham. The company runs esports team and player "academies" to scout, train, and coach players. The esports market is expected to grow 42% in the next three years to $1.6B, with fans reaching 646M by 2023. (Link)
🧘‍♀️ In its first-ever acquisition, Lululemon is buying Mirror for $500M. This is Covid-driven (Mirror, like Peloton, has been booming during quarantine) but Lululemon clearly thinks the at-home fitness trend will stick. (Link)
🍔 After losing out on GrubHub, Uber is acquiring Postmates for $2.65B. The combined company will still lag behind DoorDash in market share. (Link)
📈 I realized that last week's email got truncated—I wanted to reshare this graphic from Charlie Bilello and Packy McCormick. The biggest companies in the world are increasingly consumer or consumer-like companies that we interact with every day.

---
Thanks for reading! To receive this newsletter in your inbox weekly, subscribe here 👇