Discover more from Digital Native
Weekly writing about how technology shapes humanity, and vice versa
Over 54,000 subscribers
The Small Business Renaissance
How Local Retail Is Making a Comeback
This is a weekly newsletter about tech, media, and culture. To receive this newsletter in your inbox each week, you can subscribe here:
---
The Small Business Renaissance
Small businesses are the backbone of the global economy:
China has 6.8 million mom-and-pops, primarily in low-tier cities and rural areas.

India has 15 million kirana shops powering its economy.

The United States has 21 million small businesses employing 135 million people.

And in Latin America, 99% of all businesses are SMBs.
The global retail market is $24 trillion, most of it still in local, small business retail. There's a massive opportunity for tech companies to empower merchants with digital tools, helping them compete in a commerce world increasingly ruled by Internet giants.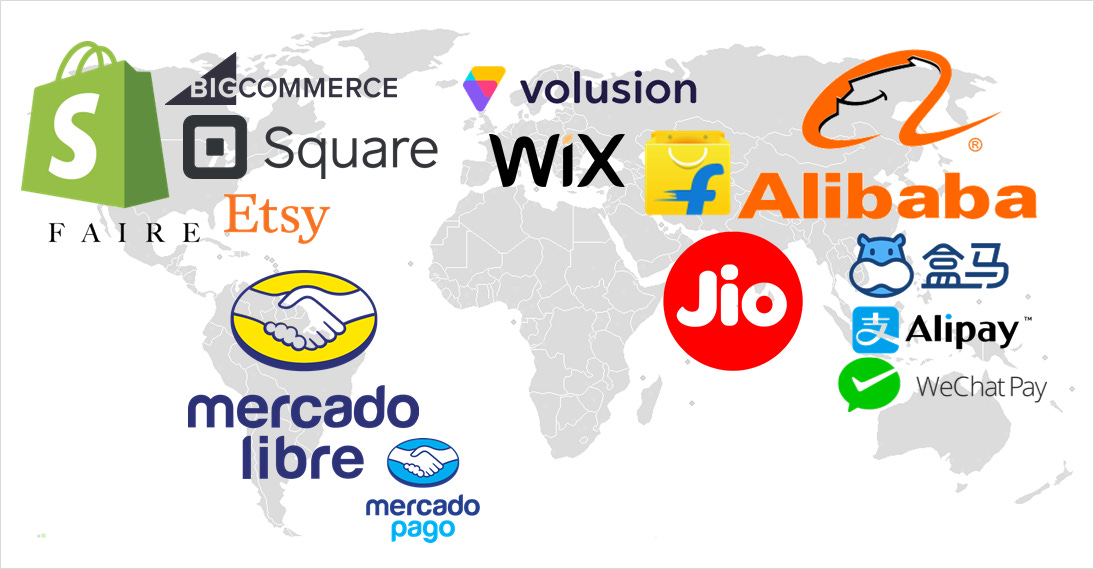 Ironically, many of the companies equipping SMBs with digital tools are those Internet giants: Alibaba, Flipkart, MercadoLibre—companies that pose an existential threat to small business retail in the first place.
This phenomenon is largely regional, with different winners emerging in different parts of the world. I'll look at four regions: China, India, Latin America, and the United States.
China: Alibaba's Turf
After dominating e-commerce in China, Alibaba turned its focus to China's mom-and-pop shops. Alibaba was the first Internet giant to build tools for offline, local merchants.
Many of China's mom-and-pop shop owners make arbitrary assortment decisions, log their accounts in analog notebooks, and drive hours once a month to stock up inventory. Alibaba has built a deep arsenal of tools to empower these small merchants.

Alibaba LST is a two-sided marketplace that connects brands and manufacturers to mom-and-pop shop owners. Shop owners use LST to make data-driven inventory decisions, to sell goods online as well as offline, and even to become Tmall-branded stores on Alibaba's platform. Alibaba has 2,000 foot soldiers who work on commission to convince shop owners to sign up for LST. So far, more than a million mom-and-pops have joined the platform.
Beyond LST, Alibaba offers merchants a full suite of services: supply chain, logistics, cloud computing. Payments and other fintech products have been especially crucial in bringing merchants online and especially lucrative for Alibaba. Alibaba's Alipay, now spun out as Ant Financial, is valued at ~$200 billion and prepping the largest IPO in history.
India: A Three-Way Battle for 1.4B Shoppers
India is quickly becoming the commerce world's most important market. India has 1.4 billion people; in 2024, India will pass China to become the world's most populous country. And unlike China, India is still a relatively untapped country for technology. Less than half of Indians—560 million—are online. That leaves over half a billion people still offline, making India the world's biggest market for new Internet users.
Three companies are battling to win India's retail market: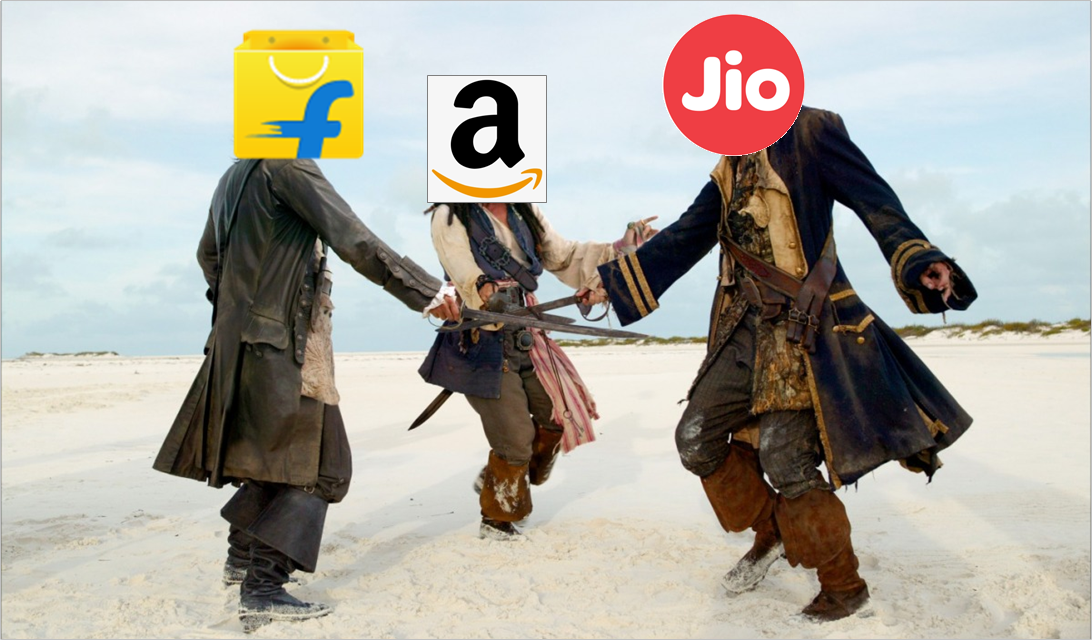 Amazon has been making a huge push in India. In January, Jeff Bezos announced that Amazon is pledging another $1 billion to digitize small businesses across India, which he said will create 1 million new jobs. Bezos also reported that 550,000 small businesses in India are using the Amazon.in marketplace and that Amazon's Karigar and Saheli programs have brought over a million artisans and women entrepreneurs online.
In his last visit to India, Bezos even visited a kirana (a small neighborhood store) that had joined Amazon's platform: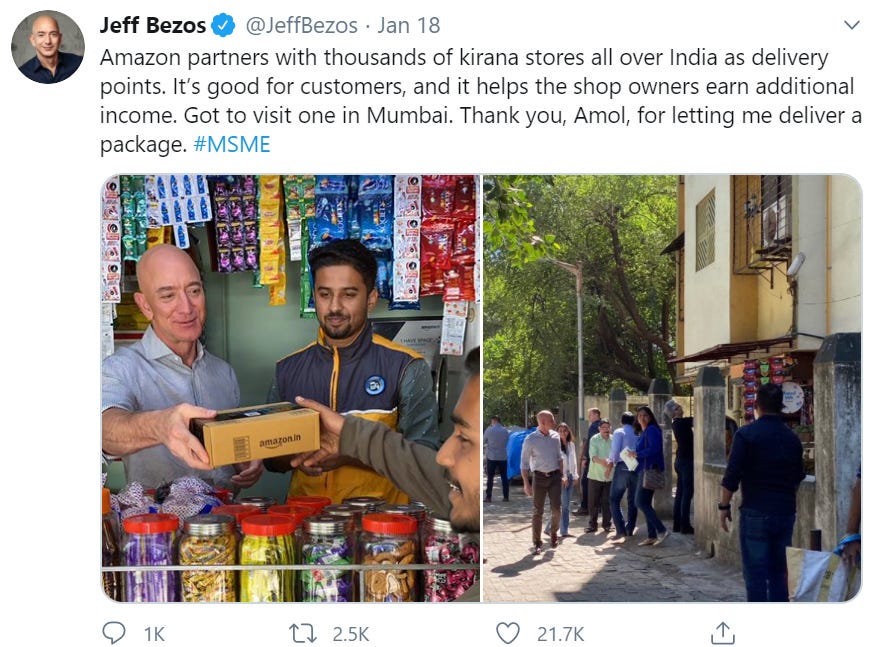 Flipkart is backed by Walmart—still the world's largest retailer and the world's largest company by revenue. In December, Flipkart invested in ShadowFax, a Bangalore-based startup that works with kirana stores in 300 cities to store inventory and share a delivery network. Flipkart also launched Flipkart Wholesale to help kirana stores source and fulfill products.
But both Amazon and Flipkart seem to be in a losing battle with Reliance, Mukesh Ambani's homegrown empire. In India, Reliance is like Amazon + AT&T + Walmart + ExxonMobil + Zoom + a bunch of other enormous companies.
As one Mumbai-based writer puts it:
A well-heeled Indian consumer can pass a day spending heavily with Reliance. Eat breakfast while catching up on the news on CNBC TV18, CNN News18, and Forbes India, via Jio apps on a JioPhone on the Jio mobile network. Connect with an aunt on Zoom-like JioMeet and buy movie tickets on Reliance-backed BookMyShow through a JioFiber broadband connection. Head to the shops, pop into Hamleys to buy a toy gift or into Trends for some fast fashion. Drop by Reliance Smart for groceries. Fill up the car at the Reliance petrol pump. Back home, place an online order for cupboard basics on JioMart and settle in for an evening of cricket, cheering on the Reliance-owned Mumbai Indians.
Jio is Reliance's data-driven tech and telecom subsidiary. With 388 million subscribers, Jio has more subscribers than the U.S. has people. Reliance Retail is Reliance's retail arm and India's largest retail chain, with 10,000 outlets in 6,500 Indian cities. JioMart is the formidable joint venture between Jio and Reliance Retail—a fusion of technology and retail.
JioMart is building an online-to-offline commerce platform called New Commerce that connects kirana stores to the broader Reliance network. The kirana stores are used as fulfillment centers for JioMart customers; in return, kirana shop owners earn a commission for product storage and delivery. JioMart is also installing Jio mobile point-of-sale devices and connecting shops to Jio's 4G network, which it spent $36 billion building. By 2023, Reliance aims to digitize five million kirana stores.
India is Reliance's market to lose. It's hard to compete with a homegrown behemoth laser-focused on winning a single market. It's even harder when that company is run by the country's richest man and enjoys close ties to Narendra Modi's administration. Recent reports indicate that Amazon may stop competing and instead take a stake in Reliance.
Latin America: MercadoLibre Follows Alibaba's Playbook
Latin America lags behind most of the world in digital adoption. Only 5% of retail sales happen online, compared to ~50% in Asia and 15% in the United States (pre-pandemic). Tech hasn't meaningfully penetrated either commerce or payments.
As one journalist writes:
[Latin America remains] a plethora of small businesses, from family-run corner shops and ice-cream parlors to hardware stores, that by and large are as scruffy as they were [in the 1980s], eke out a meager existence, and remain stubbornly cash-only.
The region's e-commerce giant, MercadoLibre (which means "free market" in Spanish), is trying to change that. MercadoLibre is following Alibaba's China playbook, in both its business model and fintech products.
MercadoLibre is often compared to Amazon, with which it competes in Latin America and especially in Mexico, but its business model is closer to Alibaba's. Amazon makes most of its revenue from "net product sales"—the products it sells directly—and only ~19% from third-party transactions. MercadoLibre and Alibaba, meanwhile, earn most of their revenue from the latter—by matching buyers and sellers. This means that millions of merchants across Latin America rely heavily on MercadoLibre for their entire businesses.
MercadoLibre is tapping this network to offer SMBs additional products, especially in fintech. MercadoPago is modeled after Alibaba's Alipay and offers online payments and credit to SMBs. Access to credit through MercadoPago is transformative for merchants, allowing them to tap into new sources of capital and to invest in their businesses.
United States: Amazon vs. Shopify (+Faire)
In North America, Shopify has emerged as the biggest threat to Amazon's commerce dominance. Shopify is on a tear this year, reporting +71% annual growth in new merchants launching online stores.
In its Q2 earnings last month, Shopify reported +119% year-over-year GMV growth. It's now surpassed eBay in GMV: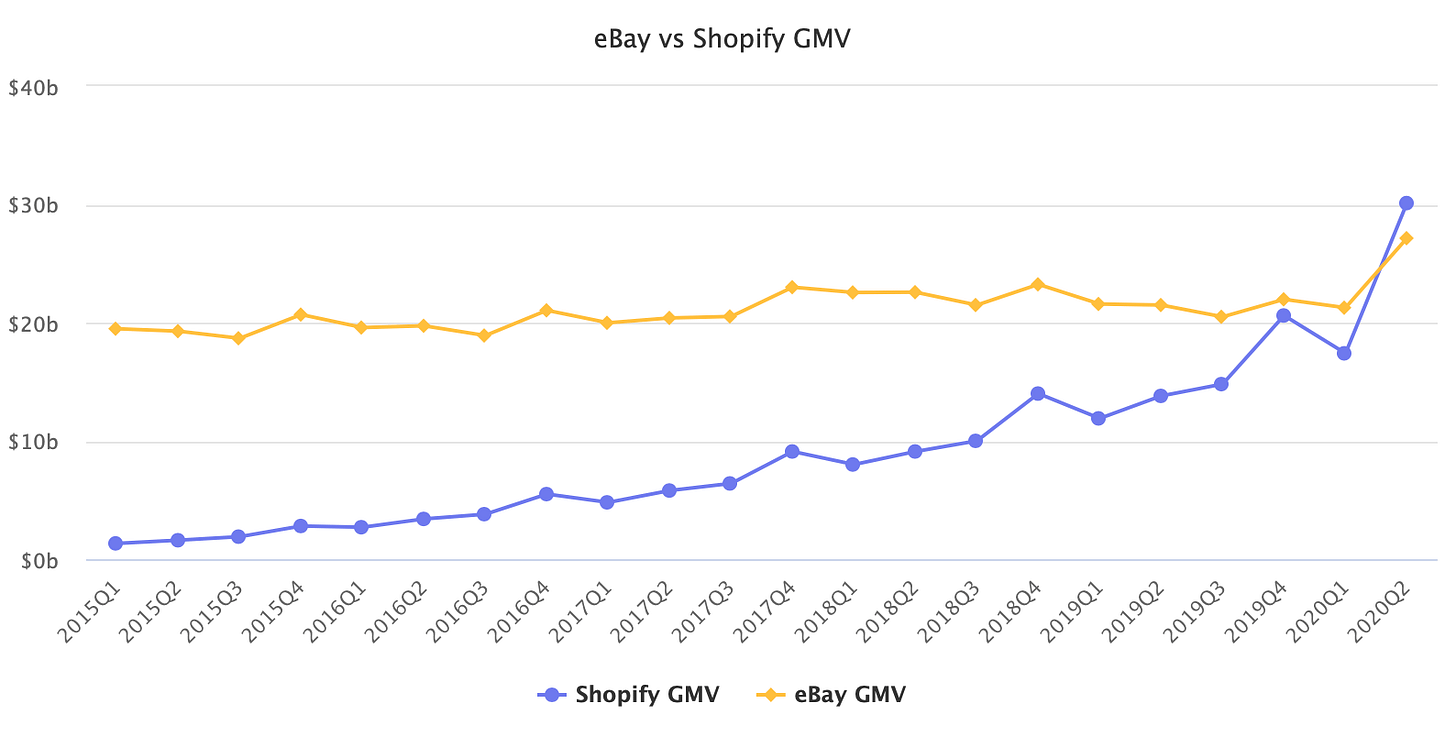 Though Amazon is building tools for physical retailers in India, in the States it mostly competes with those retailers through Amazon Go, its cashier-less convenience stores. (To be fair, Alibaba's Hema is a similar offering—but Alibaba has launched Hema in addition to outfitting existing mom-and-pops). Shopify, for its part, has focused on online commerce. Etsy, another SMB-focused marketplace, sells online and B2C.
This leaves an opening to serve offline retailers. A startup that's filling that gap is Faire. Faire is a B2B commerce marketplace, connecting small retailers and small brands.
Faire is driven by a powerful viral loop: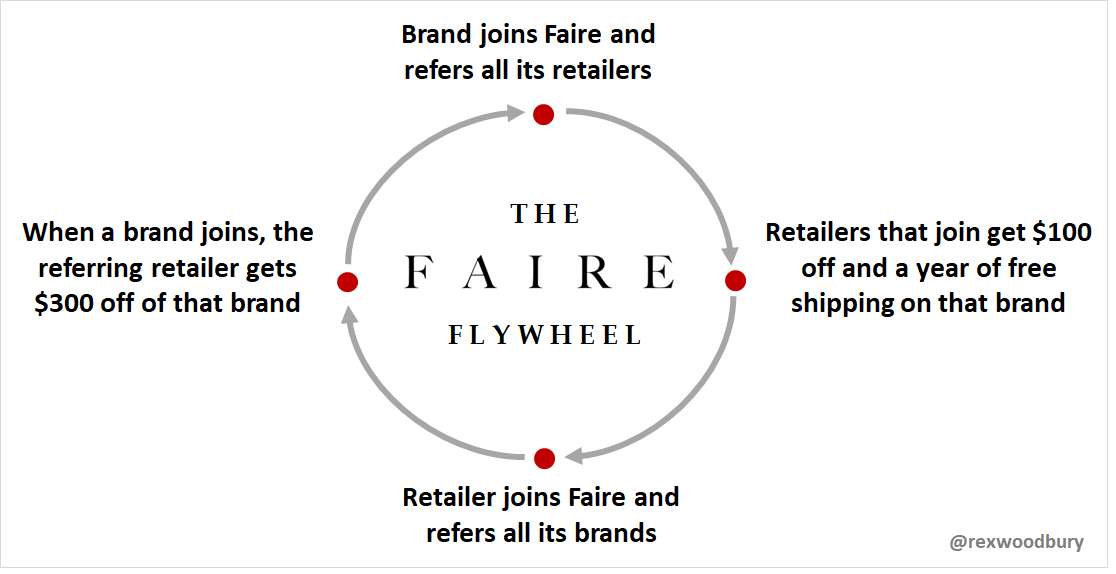 Faire's business is, in many ways, similar to how large e-commerce companies like Alibaba, JioMart, and MercadoLibre are equipping physical stores in their own regions.
During the pandemic, Faire launched its first-ever virtual trade show, Faire Summer Market, hosting 100,000 retailers. Faire is helping retailers and brands avoid the analog, painful, and expensive process of going to in-person trade shows.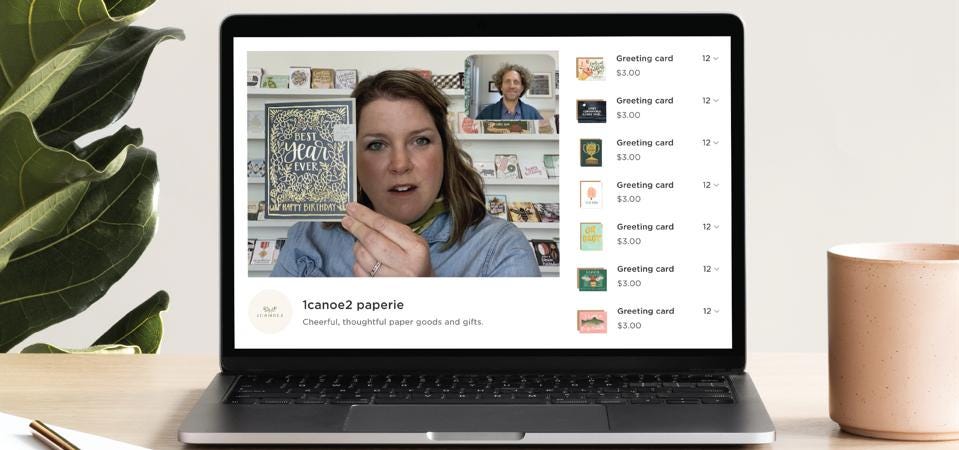 Like other commerce platforms, both Shopify and Faire have significant fintech components. Shopify gets the majority of its revenue from "Merchant Solutions", which is mostly payment processing for merchants. Faire offers merchants net-60 payment terms, allowing them to order more inventory and grow their businesses.
Final Thoughts
Around the world, these aren't Davids taking on a Goliath. Instead, these are Goliaths taking on other Goliaths—bizarrely, all fighting for the chance to most help the Davids 🤔🤨 It's an odd dynamic, but the commerce giants realize that small business retail isn't going anywhere.
If anything, the common foe is Amazon. With the exception of China, where Amazon no longer competes, each region has a local player up against Bezos & Co.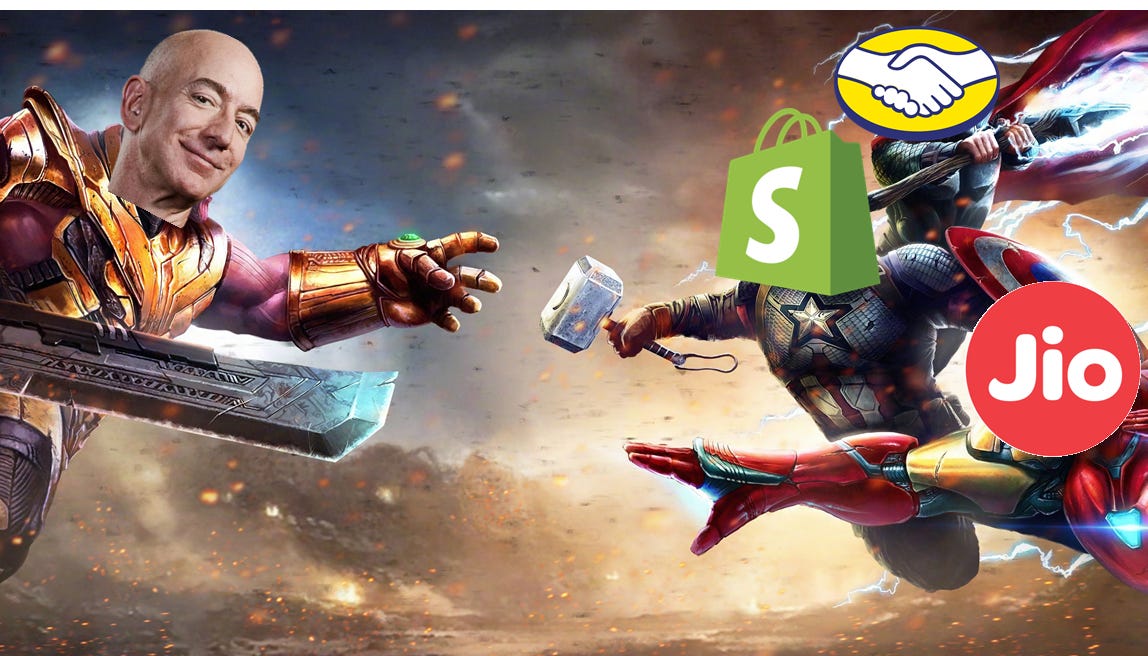 By and large, the local players are winning. They have the home-court advantage: they attract the best local talent (people want to work for the home-grown competitor) and they better understand local cultures and government workings.
This also isn't a holistic list. There's a long tail of companies both enabling and benefiting from the small business retail renaissance. Stripe, for example, in payment processing. Aye Finance, an Indian startup, in small business lending. Gusto in SMB administrative services. Last week, I wrote about an unorthodox example: Snap and Niantic using augmented reality to drive traffic to local businesses (Niantic CEO John Hankes has called Niantic "the anti-Amazon").
Just in this summer's Y Combinator batch, I counted nine companies building tools to empower SMBs: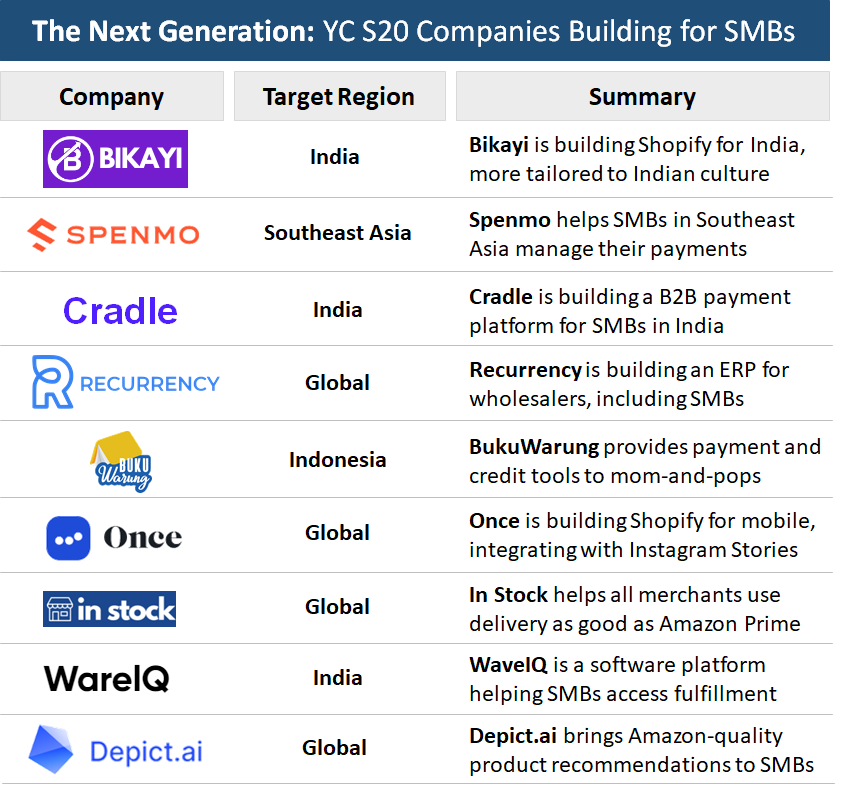 A common critique for companies focused on offline small business retail is: as more commerce moves online, aren't you competing to win a shrinking market? That may be true, but physical retail is still a $15-20 trillion market. Winning a slice of that pie is a lucrative opportunity.
Small business retail is far from dead; it's just been late to embrace technology as a way to bolster its operations. That will change over the next decade, as tech companies compete to digitize millions of merchants and trillions of dollars in retail spend.
Sources & Additional Reading—here are the pieces that inspired and informed this content; check them out for further reading on this subject:
---
Chart of the Week
Given this week's topic is commerce, I found this interesting:
eMarketer released a report on U.S. e-commerce in 2020. E-commerce penetration varies widely across sectors. The three most-penetrated categories are, unsurprisingly, the first three categories that Amazon entered.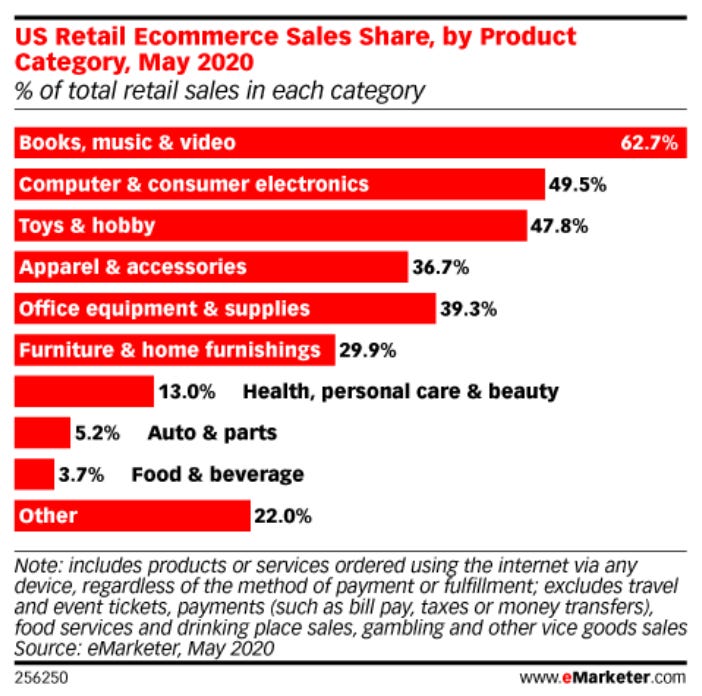 ---
Quick Hits
Here's what to read and what to know from the week:
🏈 The average NFL franchise is worth $3 billion. The Dallas Cowboys are the most valuable sports franchise in the world at $6.4 billion. Sports franchises are becoming so expensive that they're having trouble finding buyers.
📈 If you're looking to get smart on SPACs (like I am) here are some good overviews: John Luttig, Harvard Law, TechCrunch, John Street Capital
🎵 Earlier this year, I wrote Spotify and the Future of Audio. Coho Capital put out a letter on why Spotify is a good investment. Spotify listeners are 2x as engaged as Apple Music users. The average Spotify user spends 25 hours a month on the service—compared to 19 hours a month for the average Facebook user or 14 hours a month for the average Instagram user. Coho summarizes: "Over time, we expect Spotify to capture the economics of the music industry value chain commensurate with its importance to the ecosystem."
🌐 In other Spotify news, Spotify is adding a feature for virtual concerts. This is becoming big business: the K-pop group BTS grossed $20 million for a single virtual show. BTS charged $26-35 for tickets and 756,000 people attended from 107 countries. Spotify should double down here, capturing a massive shift in consumer behavior. I'd love to see Spotify add a premium subscription tier or in-app purchases for virtual concerts.
🎧 Here's a profile on Dawn Ostroff, a longtime TV exec, who's building Spotify's formidable podcasting business. She's the one who closed deals with Joe Rogan, Kim Kardashian, and Michelle Obama.
🚚 Delivery drivers are hanging smartphones in trees close to Amazon warehouses and Whole Foods stores, so that algorithms select them for an order.
💸 Relevant to this week's topic—and to Ant Financial's upcoming IPO—this FT piece examines how Alipay makes money. Alipay essentially aggregates a bunch of different consumer fintech products. For example, 63% of revenue comes from matching users with third-party loan, wealth management, and insurance offerings.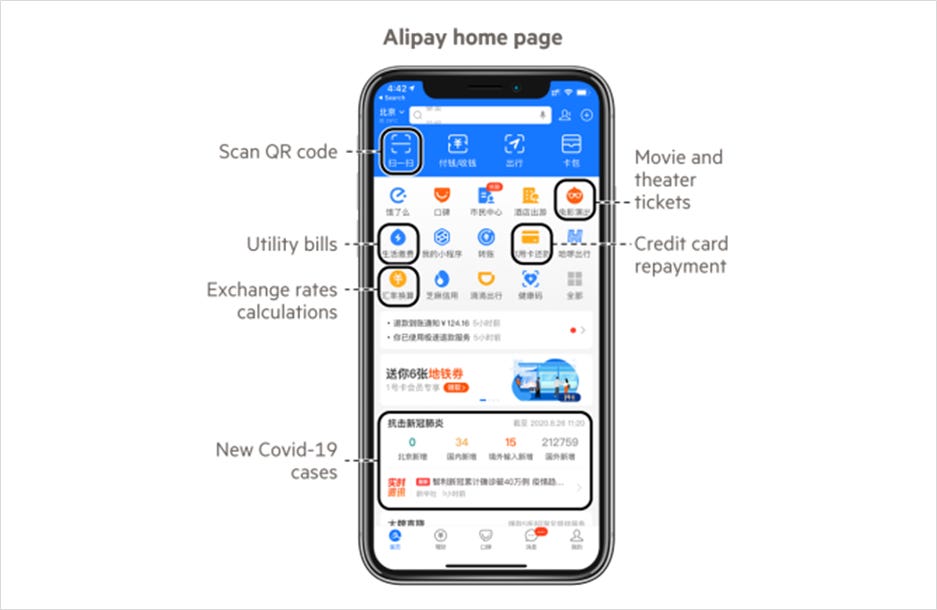 ⚾ Bob Iger gets a lot of credit for acquiring Pixar, Marvel, Star Wars, and Fox, but not enough credit for another key acquisition: BAMTech. BAMTech was incubated in the MLB to power their streaming, and now powers Disney+. Here's a good deep-dive into BAMTech.
🎫 This piece argues that the event industry is today where the music industry was in 2000. In other words: at its peak and ready for a rough two decades: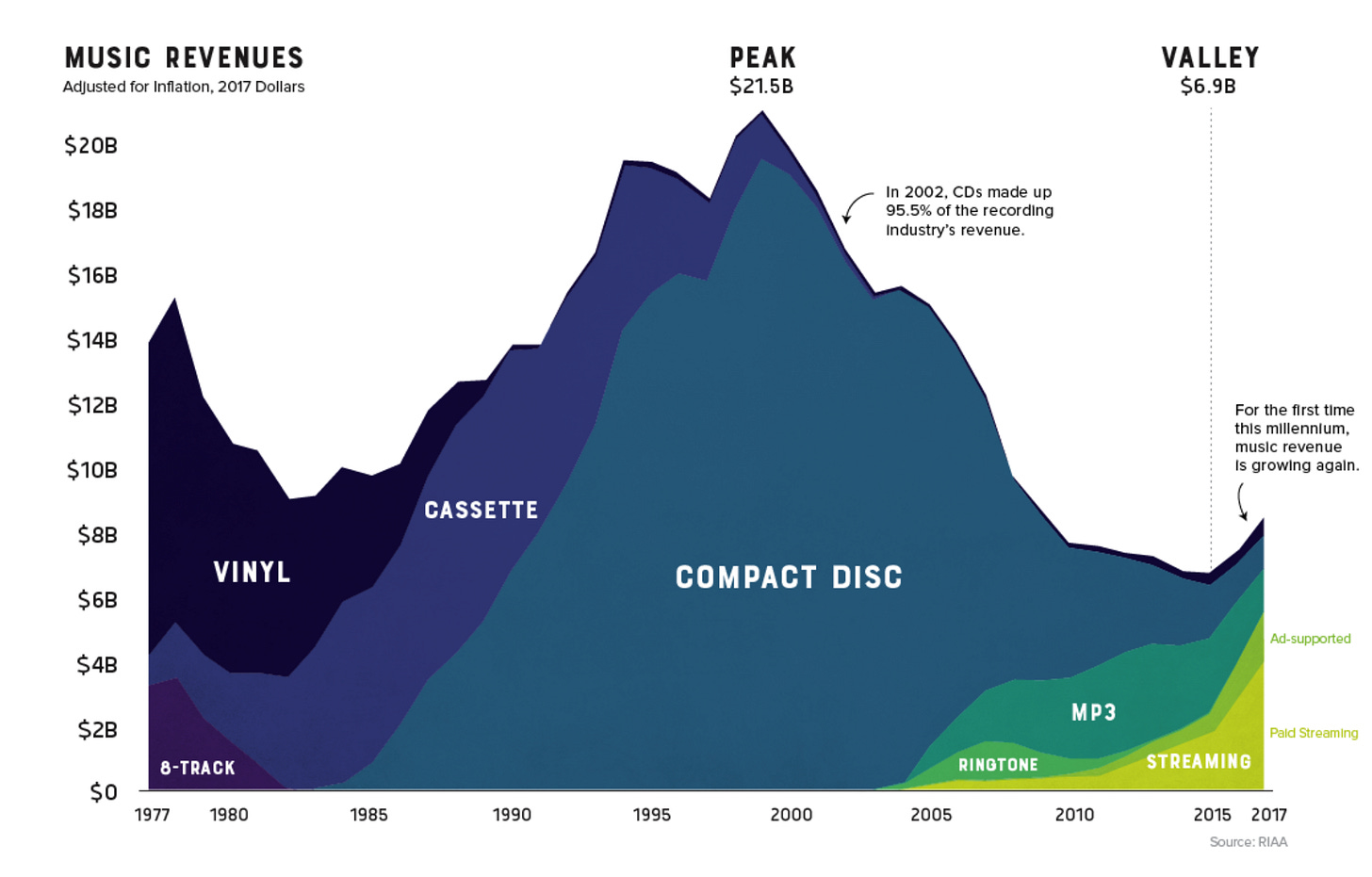 The author points to remote events and less business travel. There are new companies building for this world. In addition to more established startups like Hopin and Run the World, the YC summer batch had Zuddl, which recreates conference booths and lobbies for chatting.
---
Thanks for reading! Subscribe here to receive this newsletter in your inbox weekly: