Discover more from Digital Native
Weekly writing about how technology shapes humanity, and vice versa
Over 54,000 subscribers
The Rebels Taking On The Empire
Three Companies That Are Beating Amazon
This is a weekly newsletter about tech, media, and culture. To receive this newsletter in your inbox each week, you can subscribe here:
---
The Rebels Taking on The Empire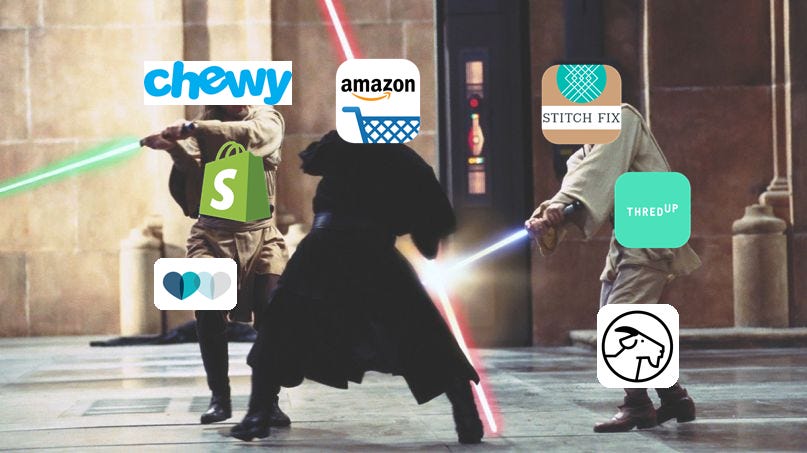 Last week, I shared this chart about how the pandemic is accelerating U.S. e-commerce penetration: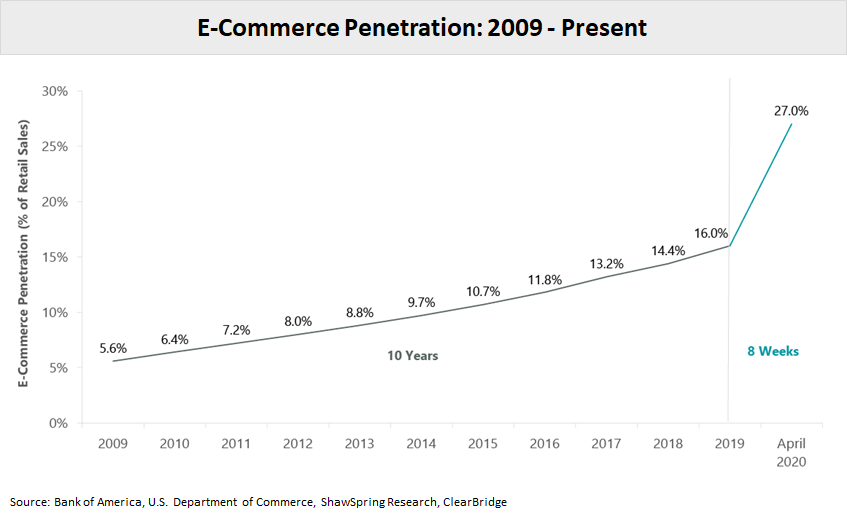 It took a decade for e-commerce penetration to increase 10 percentage points, from 6% to 16% of retail sales. It took eight weeks to gain the next 10 points.
The big winner of this acceleration is Amazon. During the pandemic, Amazon's market cap has swelled from ~$700 billion in March to $1.5 trillion today. This is because Amazon captures about 80% of all e-commerce growth. The company has been steadily eating market share for over a decade—next year, $1 out of every $2 spent on e-commerce will transact on Amazon.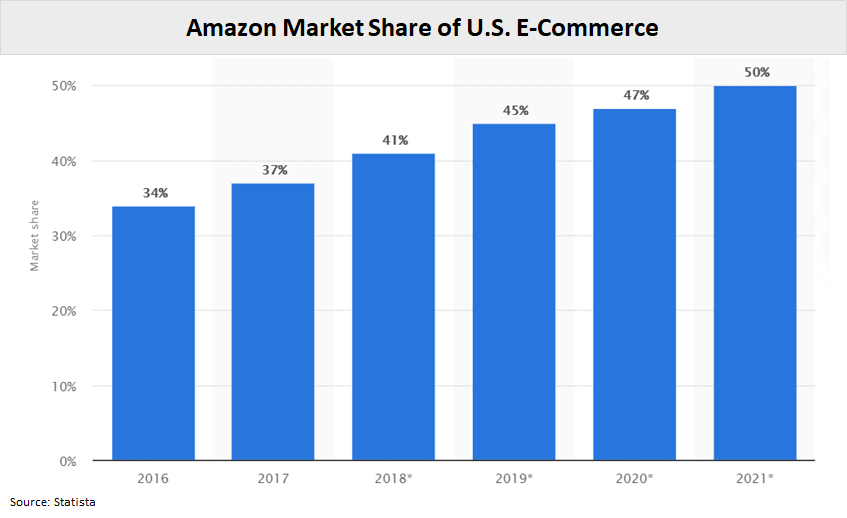 But Amazon has chinks in its armor:
Amazon used to be customer-obsessed, but searches increasingly return sponsored ads and third-party listings rather than the best-reviewed products

Amazon's user interface is dated, built for desktop in a mobile-first world

Most of all, Amazon is the faceless, soulless corporate behemoth, which strips emotion and human touch out of the shopping experience
These vulnerabilities create openings for e-commerce companies to compete with Amazon. The most successful of these companies have beaten Amazon within their respective sector, or at least carved out a lucrative market niche.
I'm going to look at three of these companies—Chewy, Farfetch, and Stitch Fix.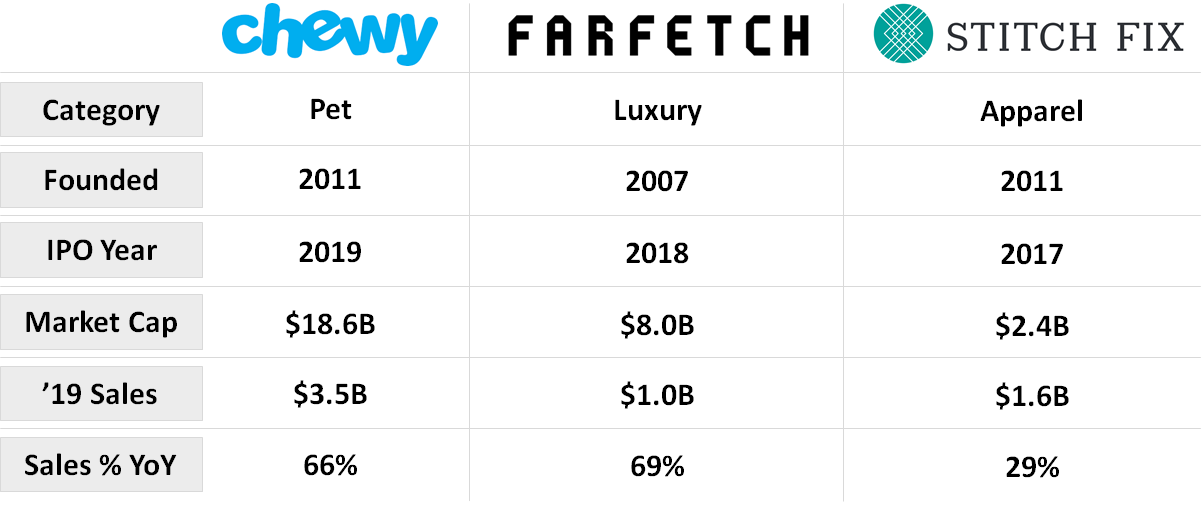 For each, I'll first look at the high-level strategy behind the company's success, then examine some of its numbers.
Chewy 🐾
Before getting into what makes Chewy so successful, it's important to note that pet is a great category. Americans spend $100B a year on their pets—spend that is recession-resistant and that actually increased through the Great Recession. More U.S. households have pets than kids (85M vs. 35M) and 80% of pet owners say they treat their pets like their own children.
As Americans have kids later in life, this "fur baby" phenomenon has become especially potent. It's the reason that there's an article titled "Six Reasons to Massage Your Dog", complete with this image: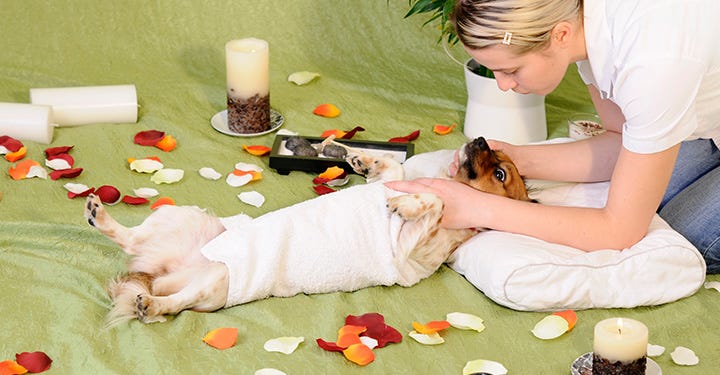 Now that we've gotten that off our chest, we can talk about Chewy.
We've established that Chewy chose to compete in a great market—but Chewy also chose to compete in a market that seemed perfectly-suited for Amazon. Amazon dominates sectors that sell standardized products—books, toys, electronics—and the pet sector seems no different (collars, leashes, food, crates). But Chewy's co-founder, Ryan Cohen, recognized that pet is a sector driven by emotion—Chewy needed to sell to pet parents, not pet owners.
Cohen built a 1,500-person customer service team in Florida. Chewy's customer service reps aim to answer every call, 24 hours a day, within four seconds or two rings. There's a giant scoreboard above the phone area that shows performance against that goal—during one journalist's visit, the screen showed 97%.
If a customer calls to cancel an order because their pet died, Chewy sends that customer a sympathy card and flowers. Chewy also sends customers birthday cards, anniversary cards, and even free paintings of their pets. Just try to imagine Amazon doing that.
Cohen points to this emotional connection with customers as Chewy's advantage:
"At the end of the day we were really connecting with customers, and people are emotional beings," Cohen said. Chewy's hand-written holiday cards, pet portraits, and flowers for deceased pets showed customers "that we're human, we get it, unlike Amazon."
An emphasis on customer service has enabled Chewy to achieve the holy grail of e-commerce: growing cohorts. In other words, customers spend more with Chewy over time. Take a look at this chart from Chewy's S-1 filing:

In its filing, Chewy writes: "In fiscal year 2018, the fiscal year 2015 cohort generated net sales (excluding refunds) of $287.4 million, representing 165% of the net sales generated in fiscal year 2015." The 2015 cohort—customers who first signed up for Chewy in 2015—had nearly doubled their annual spend three years later. Even if Chewy never acquired another single customer, it would still see healthy growth from its existing customer base.
Beyond excellent customer service, Chewy has achieved this by improving its product mix and its Autoship program. Two years ago, Chewy had 35,000 SKUs; today, it has 55,000. Autoship, Chewy's subscription program, generates two-thirds of revenue. Autoship customers have a higher average-order-value than non-Autoship customers, and the subscription protects against churn.
As this chart shows, the average customer spends $500 in year 2, but $800 by year 8: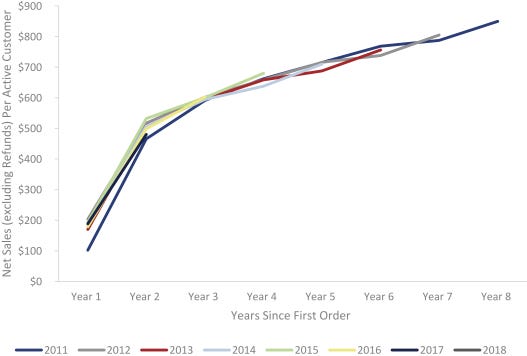 Growing cohorts drive higher customer life-time value, which leads to attractive LTV / CAC:

Chewy's gross margins are still relatively thin at ~20%, but they're steadily improving. Integrating more private-label products (currently <10% of product assortment) should lift gross margins over time.
When PetSmart bought Chewy in 2017, it was the largest-ever e-commerce acquisition. PetSmart spun off Chewy last year, and Chewy today has a nearly $20B market cap. It owns over 50% of online pet spend in the U.S., well ahead of Amazon.
Jeff Bezos is famous for putting the customer first. But within pet, Chewy beat Amazon at its own game.
---
Just taking a quick breather to remind you to subscribe if you haven't already!
---
Farfetch 👜
Luxury fashion is a $300B global market and is mostly offline: only 12% of luxury retail happens online, compared to ~35% of global retail more broadly. This is for two main reasons: (1) luxury shopping is often discovery-driven, which is more difficult online, and (2) transaction values are high, increasing the importance of buying in-person.
Ultimately, luxury shopping is about status. When you think Amazon, you don't think status—you think toilet paper, toothpaste, and the occasional book. Amazon is the online general store, and the general store has never been the place to buy aspirational and expensive items. This left an opening for a dedicated player in luxury e-commerce.
Enter Farfetch. Launched in 2006, Farfetch has grown into a platform for 700 luxury boutiques and brands—think Valentino, Saint Laurent, and Burberry. The average order value on Farfetch is $582, and the average customer's lifetime value is a staggering $4,000. After 6 months, Farfetch has already paid back its customer acquisition costs, with an LTV / CAC approaching 2x. After two years, LTV / CAC is approaching 3x.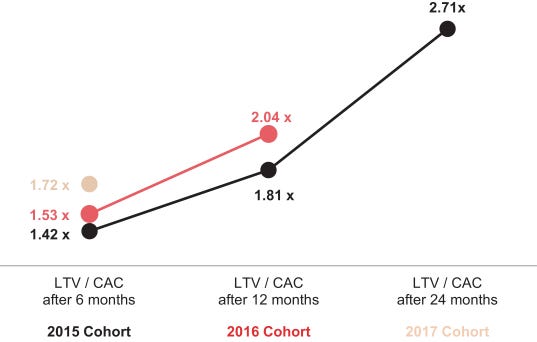 Like Chewy, Farfetch has strong repeat customer activity—the growing thickness of the colored bands below shows increasing spend per cohort over time: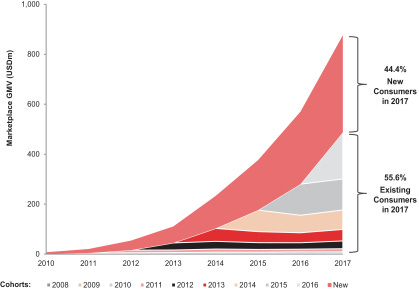 With 2019 GMV of $2B, Farfetch is only 0.6% penetrated in the global luxury market. The stock took a bit of a beating since IPO, until a rally over the past few months, but recent earnings showed improving margins and a path to profitability. Farfetch is, in many ways, the anti-Amazon: whereas Amazon became the platform where brand doesn't matter, Farfetch became the platform where brand is everything.
Stitch Fix 👚
In 1999, Amazon secured a patent for one-click shopping. A customer could place an order in seconds. Twelve years later, Katrina Lake launched Stitch Fix with a radically different vision. Katrina asked her customers to provide over 85 data points in filling out their profiles. Where Amazon prioritized convenience, Stitch Fix prioritized personalization.
Stitch Fix thrived by combining data scientists and human stylists to provide incredibly personal recommendations to its customers. The company showed impressive organic growth: from 2014 through 2017, marketing costs averaged 5% of revenue, well below the industry-average of ~15-20%. Yet during that time, customers grew from 0.3M to 2.2M. Repeat purchase rates hover around 90%.
Stitch Fix shares less data than Chewy and Farfetch (its S-1 and subsequent filings are among the thinnest in recent memory) but Goodwater Capital analyzed how its retention compares to peers: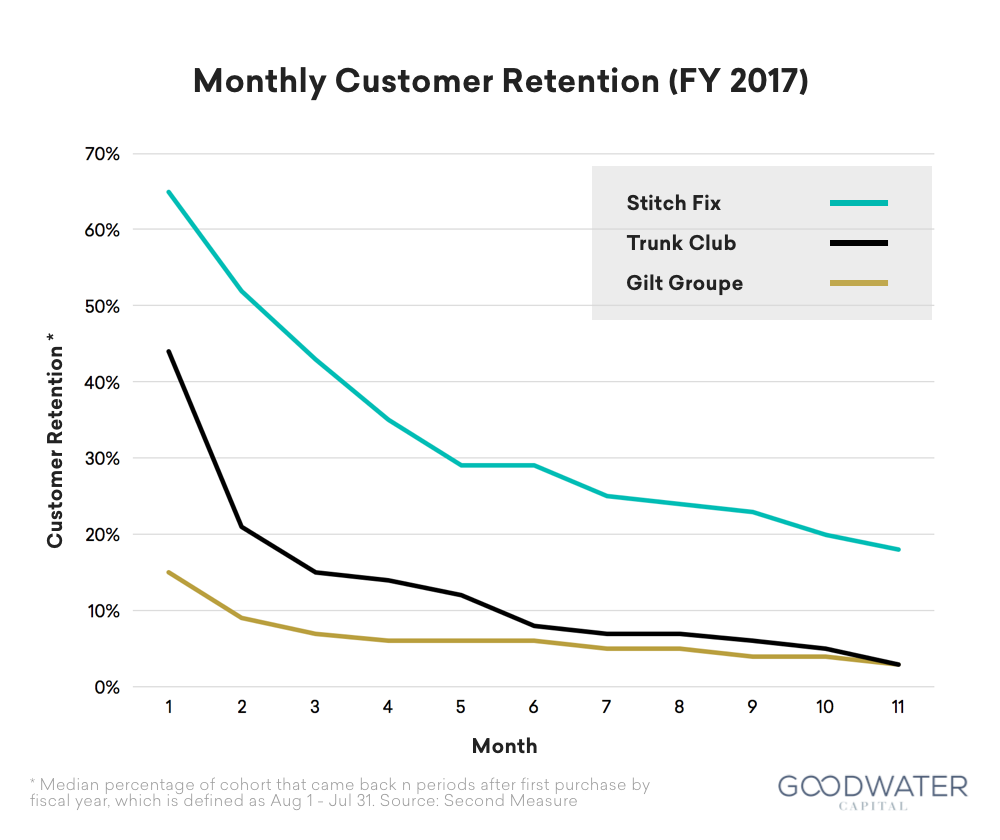 Stitch Fix achieved better retention by offering a human-centric, personalized service. While Stitch Fix is still growing 20-25% annually and has a solid $3B market cap, I have some concerns around TAM penetration: Stitch Fix has increased marketing costs to the 30-40% range but has seen slower growth, indicating some challenges in paid acquisition.
As Amazon has grown into a $1.5T company, its shopping experience has become less and less human-centric. Stitch Fix's personalization—leveraging both data and human touch—has allowed it to carve out a solid niche.
Final Thoughts
Amazon's share of e-commerce will continue to climb. But being "The Everything Store" has its downsides. Going after every sector means being vulnerable to vertical players. And operating at Amazon's scale—$339B in GMV last year—with thin margins means sacrificing the human element of commerce. Chewy, Farfetch, and Stitch Fix have thrived by tapping into the emotional side of shopping.
In the private markets, startups are following similar playbooks. Three worth watching are Dia&Co, Zola, and Dolls Kill.

Nearly 70% of women in the U.S. are plus size, but only 18% of retail clothing is plus size. Dia&Co is directly serving plus-size women with a try-at-home model. Zola, meanwhile, is tapping into the $75B U.S. wedding industry—and has an attractive cash conversion cycle because registry gifts are typically ordered months before a wedding. Dolls Kill has created a loyal following as the digital Hot Topic for a new generation.
Amazon will continue to find itself vulnerable to new forms of shopping. (The Chinese market is a harbinger, as Xiaohongshu eats into Taobao and Pinduoduo has skyrocketed to be the #2 player.) Companies will exploit the chinks in Amazon's armor. In a $24 trillion global retail market that's steadily moving online, there's room for more than one winner.
Sources & Additional Reading—here are the pieces that inspired and informed this content; check them out for further reading on this subject:
---
Chart of the Week
Nothing captures popular culture quite like trending Google searches. This video tracks the top trending search in each state from 2010 through 2020. Watching it is like reliving a decade of culture: from Facebook's IPO to Snooki, Steve Jobs to Harambe, Baby Shark to Baby Yoda.
---
📱 Tech
Are You Ready for the Metaverse?| Hal Koss | BuiltIn
This piece is a good follow-up to last week's deep-dive into gaming, attempting to answer the question 'what is the metaverse?'
Roblox, which has metaverse ambitions of its own, identifies eight characteristics: the metaverse is (1) immersive; (2) persistent; (3) vast and diverse; (4) enables each user to have a core identity across experiences; (5) has a social network component; (6) enables seamless access from any device; (7) has an economy; and (8) is governed by rules and order.
Many of these characteristics already exist in some form. Fortnite's Party Royale is more social network than game (#5). Cloud gaming makes it easy to game through mobile, desktop, or console (#6). Second Life has an in-game economy with an estimated $500M GDP (#7).
The metaverse will resemble today's internet: there will be destinations within the metaverse (e.g., Minecraft) just as there are websites we visit today. These destinations will be stitched together by indexes like Twitch and Discord.
There's an interesting tie-in here to the 'prosumer' trend in productivity software. Low-code / no-code products—like Airtable, where I work—democratize software creation. In gaming, similarly, software tools will lower the barrier to entry for creation, enabling users to create their own metaverses.
Bytedance Is Scrambling to Hang On to TikTok | The Economist
With 2B global downloads, TikTok is China's most successful tech export. Its parent, Bytedance, is the world's most valuable private company: in the spring, it was valued at $140B in the secondary market. Bytedance's revenue is reportedly on track for $30B this year, up from $15-20B last year; net profit could more than double to $7B.
All of that is at stake, with experts now saying that a U.S. TikTok ban is not only possible, but probable. Bytedance is exploring two options:
Taking all its non-Chinese businesses, including TikTok, and spinning them off into Bytedance Global, headquartered in London. Bytedance China would keep a 35% to 49% stake in Bytedance Global.

Selling a majority stake to existing investors (though it's unclear whether this would placate the U.S. government).
What ByteDance fears most is a forced sale of global TikTok to American investors or an American tech company, handing its biggest rival another tech giant.
---
🎥 Media
Inside Travis Scott's Fortnite Concert | Tatiana Cirisano | Billboard
In the video above showing trending Google searches, I actually thought the video lagged when it hit 2018: Fortnite searches blanketed all 50 states for three months straight. Today, Fortnite has 350M registered users worldwide.
In April, Travis Scott's Fortnite concert reached 28M unique players around the world. That doesn't count 73M more viewers on YouTube or millions more on Twitch. The concert, called "Astronomical", lasted 10 minutes but took a year to come together.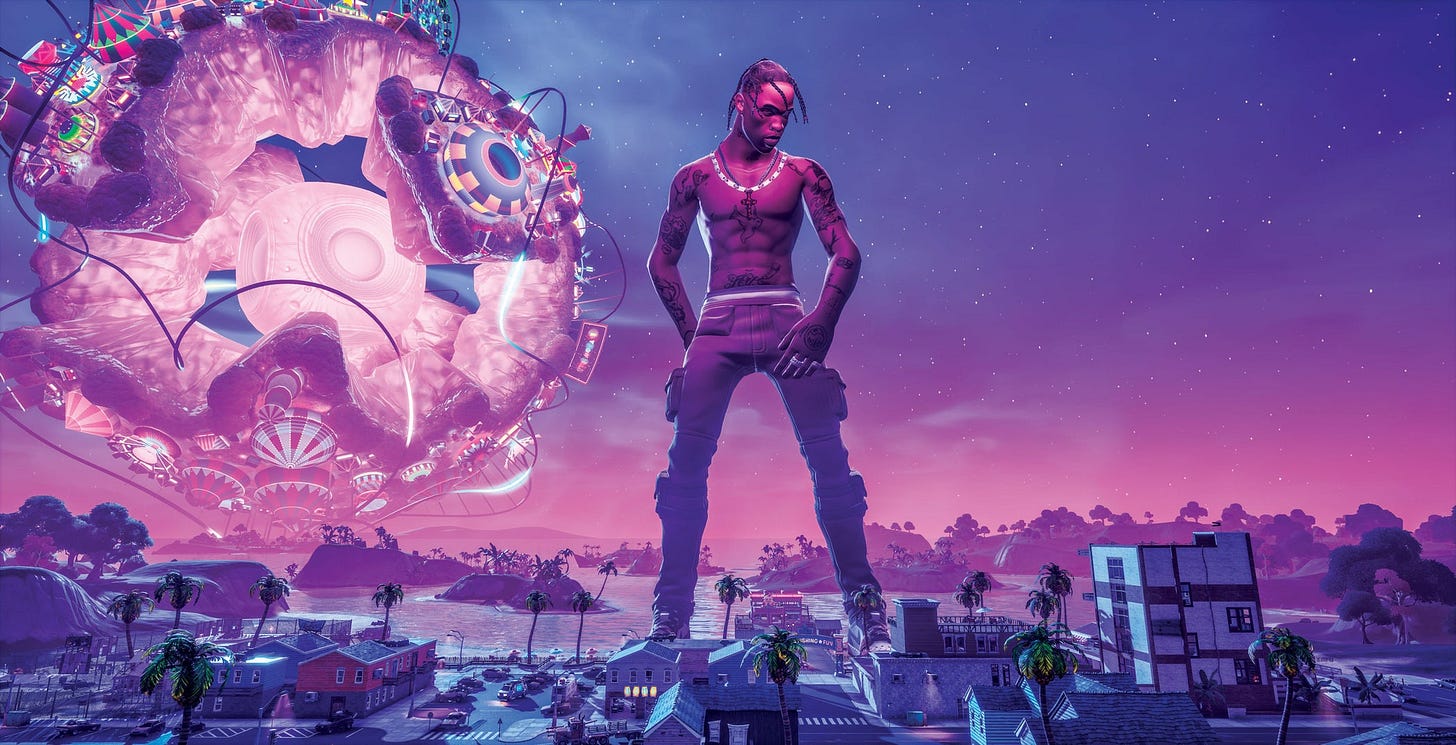 Fortnite concerts don't make money through ticket sales, but through virtual merchandise. This is a page out of China's playbook: Tencent Music Entertainment makes 70% of its revenue from virtual tipping and virtual gifts bought by fans.
Travis Scott sold two "skins" for digital avatars and grossed an estimated $12.5M—at a 20% revenue share, Scott would have personally made $2.5M. Going forward, it will be interesting to see whether these platforms stick with in-app purchases, or if concertgoers will need to "unlock" access with a nominal fee (e.g., a $10 ticket).
NBC's Peacock Is Ready to Fly But Roku and Amazon May Clip Its Wings | Gerry Smith | Bloomberg
More than a month after launching, HBO Max remains unavailable on Roku and Amazon Fire TV. This month, NBC's Peacock also launched without an agreement with either distributor. Yikes.
The streaming wars originated as a battle between content creators like Netflix, Disney, and HBO. But the bigger battle is waging between those services and their distribution channels. Roku and Amazon Fire TV together control 70% of the streaming TV device market. (Side note: Roku may be the most underrated tech company out there.)
Before streaming, distributors (cable and satellite companies) would pay content creators for the right to carry their channels. Now, the power dynamic has flipped. Roku and Amazon don't pay to host streaming apps on their platforms, but instead demand a cut of subscription revenue and advertising revenue. WarnerMedia and NBC don't want to share, so they're at an impasse.
---
🛍️ Commerce
How Oatly Came to Dominate the Oat Milk Market | Kevin Lee
Kevin Lee had a tweetstorm on how Oatly—a little-known, 20-year-old Swedish company—became the hottest thing in the booming oat milk market, with a fresh $2B valuation to show for it.
A few years back, Oatly fired its entire marketing department and started from scratch. Oatly reinvented itself with new branding and some creative messaging, including slogans like "Wow No Cow" and "It's Like Milk, But Made for Humans."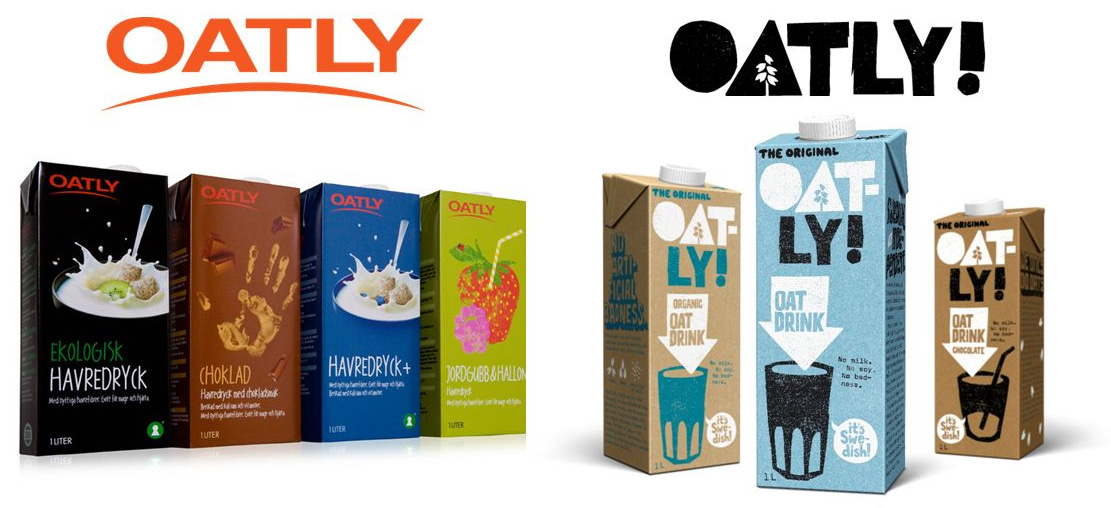 When it was sued by the powerful milk lobby, instead of cowering, it published the 174-page lawsuit online and ran ads behind it. In doing so, it became the courageous underdog and generated enormous earned media value.
To tackle the U.S. market, Oatly smartly targeted local coffee shops, giving baristas Oatly cartons for free. The strategy is paying off: Oatly's 2019 sales of $200M were 2x its 2018 sales.
Reimagining B2B Commerce with Faire | Anu Hariharan and Nic Dardenne | YC
In the U.S., the B2B commerce market is $16 trillion. But while B2C commerce shifts online, the B2B market has fallen behind: only 4% of transactions happen online. The rest go through inefficient channels like phone calls, faxes, or trade shows.
Faire is a B2B marketplace that connects local, independent retailers (think the mom-and-pop shop on the corner) with brands (Etsy-like makers of artisanal products). Faire delivers value to both sides of the marketplace:
Faire enables retailers to discover thousands of brands, purchase products online, get free returns on new orders, and finance their working capital. On the other side of the marketplace, Faire enables brands to find new customers, manage their existing customer base, and reduce their risk of non-payment.
Similar to Shopify, Faire is arming SMBs in the war against Amazon. Local retailers and small brands are able to find one another and transact—with Faire removing layers of complexity for each side.
Faire grows with a powerful viral loop: brands refer their retailers, those retailers bring on more brands, and the cycle repeats. This flywheel—which spins faster as more participants join the marketplace—has powered Faire's platform to 10,000 brands and 80,000 retailers.
---
Quick Hits
🎰 Las Vegas Sands is the world's largest casino company and did $14B in revenue last year. Last week, the company reported a staggering 97% drop in second quarter revenue. Link
🍇 Over the past 90 years, the average American supermarket has swelled from 12,000 square feet to nearly 42,000—big enough to swallow the Lincoln Memorial, two basketball courts, and a couple of Starbucks and still be hungry for more. The Atlantic has a long piece on the complicated logistics undergirding the $700B U.S. grocery market. Link
🎤 TikTok launched a $200M creator fund, aimed at helping its creators earn a living on its platform. This is a move similar to what YouTube has done in the past. Vine, meanwhile, famously resisted supporting its creators, which led to its demise. Link
💹 This is the year of the SPAC. So far this year, 48 SPACs have raised $17B, representing 40% of all dollars raised in the 2020 IPO market. Last week, Bill Ackman's $4B SPAC became the largest to ever go public. The "Big Three" companies to go public through SPACs this year—DraftKings, Nikola, and Virgin Galactic—have a $30B combined market cap. Link
🎞️ Hollywood's lost summer is beginning to look like a lost year. Paramount delayed A Quiet Place II and Top Gun: Maverick to next year, Disney indefinitely postponed Mulan, and Warner Bros. again pushed back Christopher Nolan's Tenet. Link
🏀 LeBron James launched SpringHill, his new media conglomerate (named for the Akron apartment complex where James and his mom moved when he was in sixth grade). SpringHill is a house of brands, "part Disney storytelling power, part Nike coolness, and part Patagonia social impact." Early projects include an HBO talk show, a Space Jam reboot, and a partnership with JPMorgan Chase in which athletes teach financial literacy. Link
📹 In March and April, OnlyFans saw a 75% increase in new users, with 200,000 new people subscribing every day. OnlyFans now has 30M users and 450K creators. One question is if OnlyFans will ever break out of its niche in pornography and become a broader platform for creators (musicians, writers, influencers) to paywall their content. Link
🚗 With people off the roads, billboard advertising is down 40% and will likely take years to recover. Link
---
Thanks for reading! To receive this newsletter in your inbox weekly, subscribe here 👇