Discover more from Digital Native
Weekly writing about how technology shapes humanity, and vice versa
Over 54,000 subscribers
Virtual Reality and Augmented Reality
The Long and Winding Road to VR / AR
This is a newsletter about how tech is changing how we live and work
To receive this newsletter in your inbox weekly, subscribe here 👇
---
The Long and Winding Road to VR / AR
Earlier this month, I wrote about offline-to-online interactions—how people are finding new ways to interact in the digital world rather than the physical world. The same week, Snap held its annual partner summit—virtually. Snap's summit showed how online events are being reimagined. Check out this image—this stage is completely virtual, with a virtual beach as the backdrop.
Snap's summit provides a segue to this week's topic—virtual reality and augmented reality. VR and AR are the ultimate blend of offline and online, digitally replacing and enhancing our physical world.
For decades, science fiction has imagined a VR / AR future: the OASIS in Ready Player One, the holodeck in Star Trek, the matrix in…The Matrix. But outside of film and TV, the technologies have struggled to gain traction. During this pandemic, nearly every digital tool has thrived; this should have been the moment for VR and AR, but they remain niche.
Though they've failed to deliver on their hype so far, I'm bullish on VR and AR. I believe that, together, they'll be the next computing platform after mobile. Here's a brief look at AR and VR today, and three reasons why they'll (eventually) be big.
Augmented Reality
AR has crossed into mainstream culture more than VR. And it's fitting that this piece began with Snap: Snap has arguably done more than any other company to push AR into the mainstream.
In the mid 2010s, Snap began to integrate AR into its camera. Snapchat users could overlay virtual objects onto the physical world and wear "face lenses". Soon, people were dropping AR versions of Jeff Koons' balloon animal sculptures into parks and wearing dog features on their faces. Taco Bell even paid $750,000 for people to turn themselves into tacos for a day 🤨🌮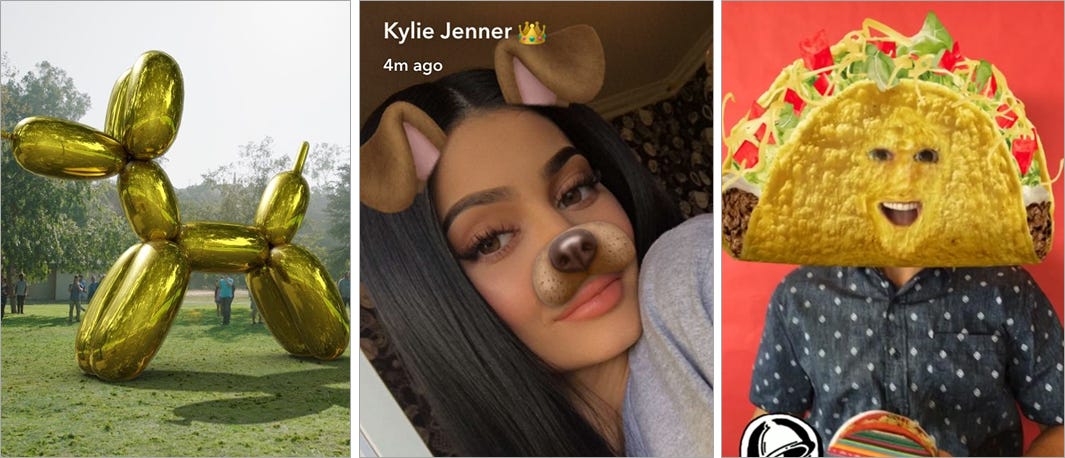 Two months after Taco Bell's AR campaign, in July 2016, Pokémon Go turned the world into a virtual treasure hunt for Pokémon characters.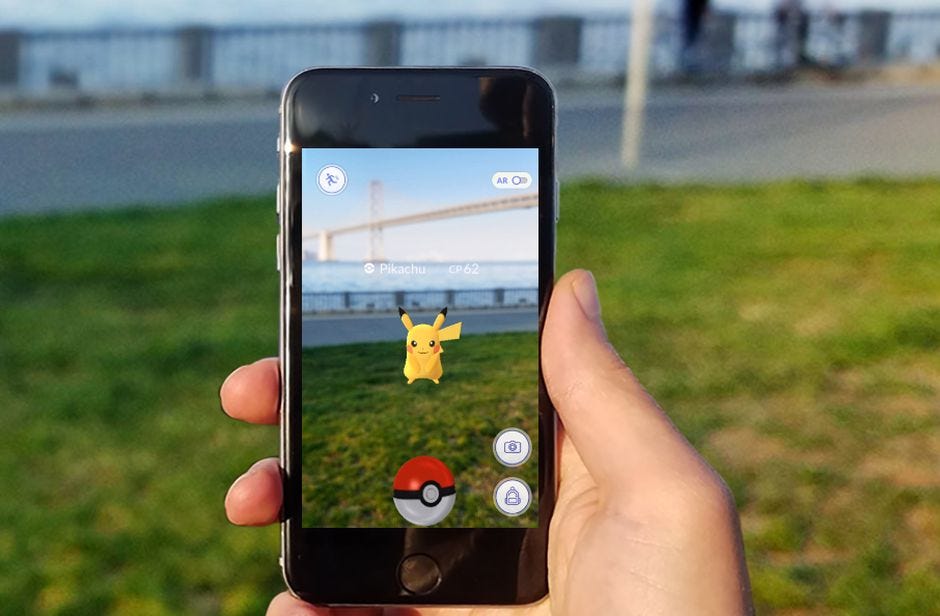 At the time, Pokémon Go became the highest-grossing mobile game in history; its lifetime gross revenue today is over $3B. The game also led to some bizarre headlines, signs, lawsuits, and crowds: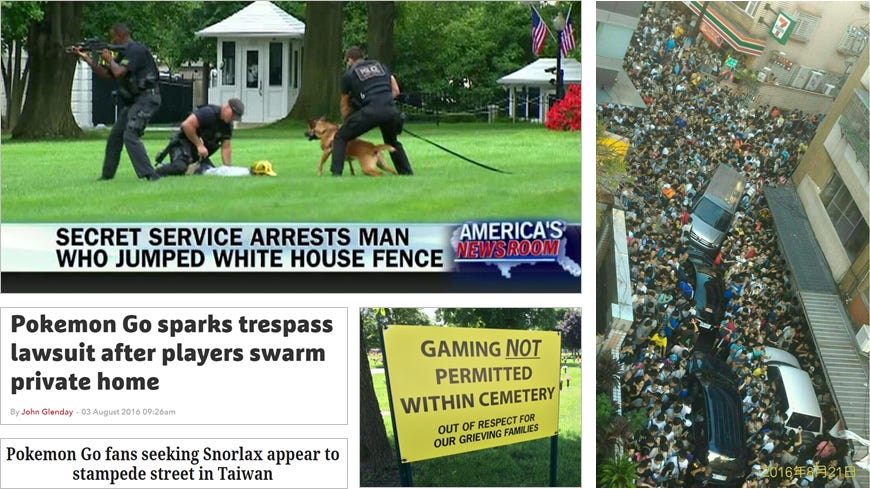 "Pokémon Go fans seeking Snorlax appear to stampede street in Taiwan" is probably in the running for "Headline of the 21st Century" 🏆
Niantic, the San Francisco-based AR gaming company behind Pokémon Go, rode the game's success to become the fastest-growing company in America: its 2018 revenue was $790M, giving it a 2015-2018 compound annual growth rate of 1,117%.
Virtual Reality
In 2014, Facebook paid $2.3B for Oculus, a maker of VR headsets. In an internal memo, Mark Zuckerberg laid out his ambition:
"Our vision is that VR / AR will be the next major computing platform after mobile in about 10 years. It can be even more ubiquitous than mobile - especially once we reach AR - since you can have it always on… Once you have a good VR / AR system, you no longer need to buy phones or TVs or many other physical objects - they can just become apps in a digital store."
Oculus has been a modest success: its now Facebook's biggest revenue driver outside of ads. But Oculus hasn't shown any signs that it can live up to Zuckerberg's vision. And despite Facebook's investment, VR hasn't had the same cultural resonance as the AR products from Snap and Niantic.
Benedict Evans writes that VR devices are turning out to be a smaller market than originally thought:
It turned out that games consoles were a 150-200m unit installed base, not the 1.5bn of PCs, let alone the 4bn of smartphones. That's a big business, but it's a branch off the side of the tech industry, not its central, driving ecosystem.

Smartphones are broad and universal, whereas consoles are deep and narrow, and deep and narrow is a smaller market. VR is even deeper and even narrower. It's another branch off the side of tech, not the next platform after smartphones.
Maybe, the argument goes, Zuckerberg had it wrong: VR devices will replace the Xbox, but they won't replace the iPhone.
The pandemic is a uniquely bad moment for VR. Digital tools like Zoom, Twitch, and Houseparty have thrived over the past few months, while VR remains an afterthought. And worse, physical VR experiences like Sandbox VR (pictured below)—a promising part of the ecosystem and heralded as a "digital theme park"—have cratered during the pandemic, with many going out of business.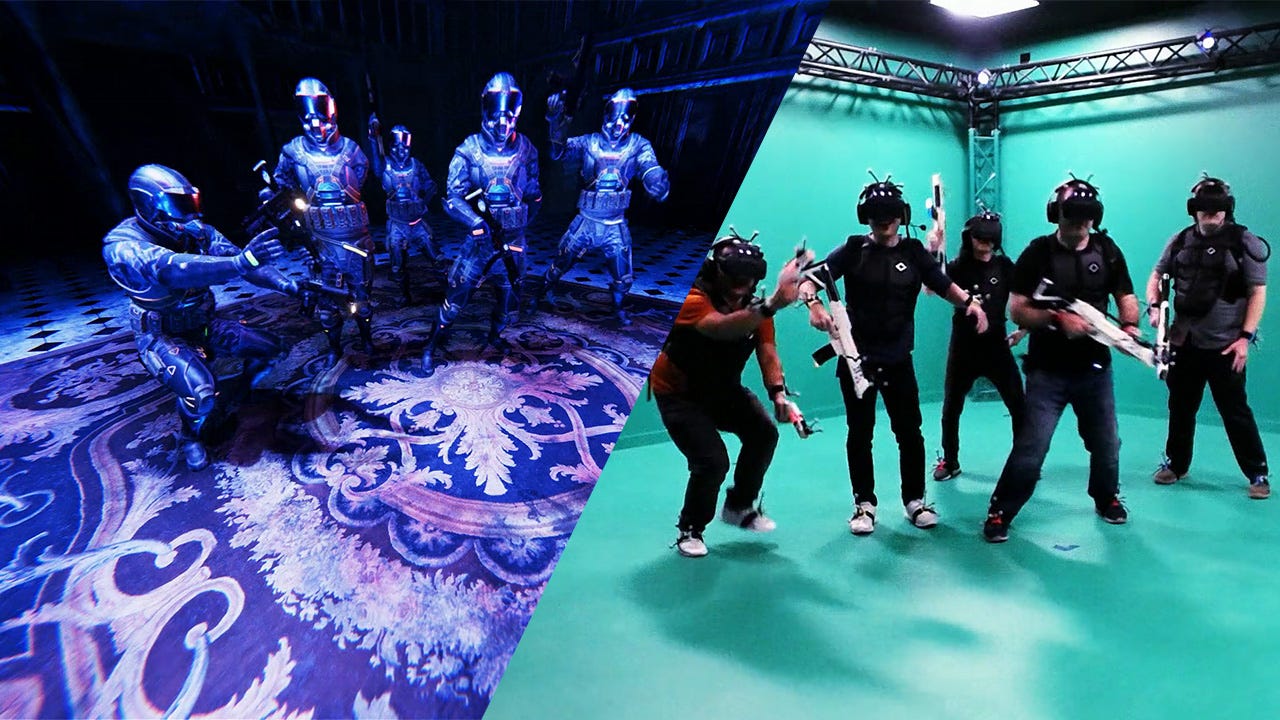 The Future of VR / AR
VR and AR are both struggling. AR hasn't meaningfully matured beyond Snapchat filters and games like Pokémon Go. VR hardware sales are a fraction of what the industry had projected. Both remain niche and neither has lived up to their hype.
But I'm confident that VR / AR will be the next major platform, and I'm confident that the device that breaks through will have an installed base close to the ~4 billion of smartphones.
In order for this to happen, three things need to occur. These can be summarized as technology, platform, and content.
1) Technology
First, the underlying tech behind VR and AR needs to improve. Despite making leaps over the past decade, it remains lacking. The NYTimes writes:
The bad news is that V.R. is still not what sci-fi movies taught us to hope for — a fully immersive experience that transports us to another dimension and gives us all kinds of virtual superpowers. Even the leading systems still lack some basic features and, outside of gaming, there isn't much you can do on a V.R. headset that you can't do more easily on another device.
Eventually, Moore's Law will improve the tech. Zuckerberg's vision of a ubiquitous, always-on computing platform will come true. It may be in 5 years, or it may be in 20, but I'm confident that it's a question of when and not if.
I also expect the breakthrough device to merge VR and AR. VR and AR won't compete, but will supplement one another. Apple is reported to be working on glasses with both VR and AR capabilities. The product may be years away, but it's easy to envision a powerful device that enables the wearer to both overlay objects onto the physical world as well as replace it completely.
2) Platform
For any breakthrough to happen, VR / AR must become a platform rather than a product. There's some evidence this is happening. Last year, VR software sales—the content developed by third-party developers and sold through headset hardware—hit an inflection point: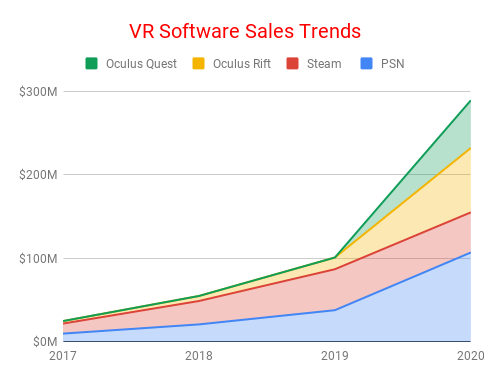 Over 100 VR titles have now broken $1M in revenue, and top-grossing titles can reach up to $60M in sales. Slowly, mirroring shifts in gaming, VR is maturing as a developer platform. Yesterday, showing its ambitions to move beyond hardware, Facebook purchased Ready at Dawn, a VR developer. The vision is to develop "memorable, immersive, and innovative VR content" for Oculus.
Most compelling for the future of VR as a platform is that younger generations have been trained to build and create content. Today's game platforms are primarily user-generated. In Minecraft, kids build their own worlds—even building virtual versions of their schools during the Covid shutdown. Epic Games, the creator of Fortnite, launched Epic Games Publishing this spring to finance game developers. And over 80% of kids 8-18 have played Roblox. Last year, Roblox paid out $100M to its developers—who are mostly teens—and platform engagement continues to surge.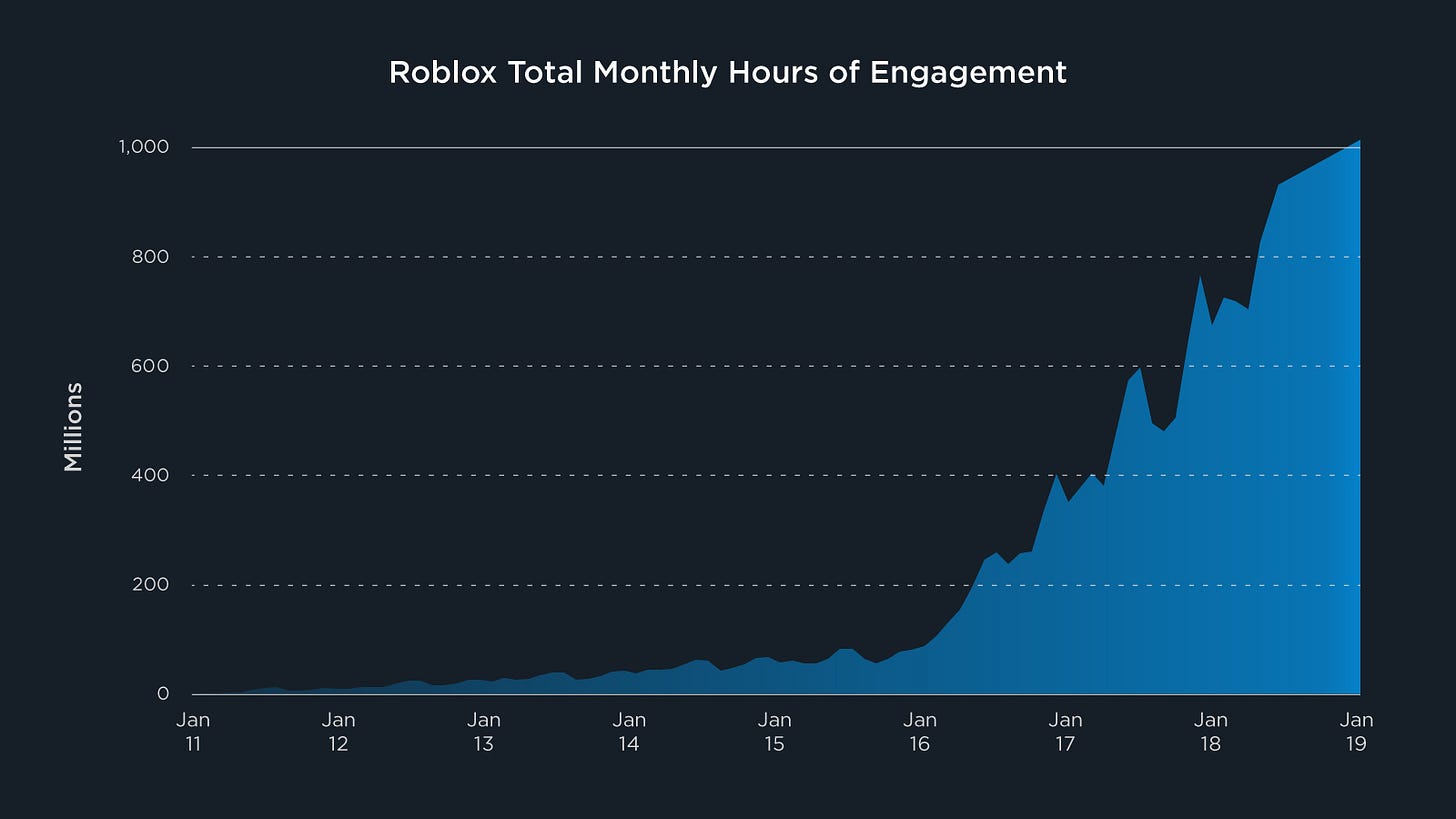 New generations have been raised to create online worlds; their content will power the future of VR and AR.
3) Content
The biggest reason that I'm bullish on VR and AR is that, ultimately, they are technologies enabling storytelling—something that's core to every person and every culture on the planet. Take these examples of recent VR content:
"Notes on Blindness" explores a man's sensory and psychological experience of losing his vision

"Traveling While Black" is an immersive experience of racism in America, covering decades of black American experiences before and during Civil Rights

"We Live Here" follows a homeless woman living in a tent city in Los Angeles from her perspective
VR / AR enable people to experience the world and each other in new ways. This has broad applications beyond entertainment. Imagine diversity and inclusion training where you can experience being in another person's shoes. Imagine your child learning about the solar system by traveling through outer space. Imagine your doctor explaining your upcoming surgery by showing you what's going on inside your body.
Improving underlying technology and becoming a platform are critical stepping stones to a breakthrough. But they both serve to enable the final piece: content that enables users to have new experience new places, new people, and new sensations.
At their core, VR and AR will vividly capture and communicate human lives. This, more than anything else, will drive their success.
Sources & Additional Reading — here are the pieces that inspired and informed this content; check them out for further reading on this subject:
A note: I did a Google search on key sentences from this post to make sure I've captured similar content out there that I may have missed. I know that these are big topics—if I missed your writing on the topic, or if you've seen work on this topic, please let me know and I'll share it here!
---
Chart of the Week
In 1994, Jeff Bezos started Amazon as an online bookstore. Today, Amazon is a $1.3 trillion empire spanning e-commerce, cloud computing, and logistics. The Economist writes:
Today roughly $11,000-worth of goods change hands on Amazon's e-commerce platform every second. The company delivered 3.5bn packages last year, one for every two human beings on Earth. Amazon Web Services (AWS), its cloud-computing division, enables more than 100m people to make Zoom calls during the day and a similar number to watch Netflix at night.
The Economist's feature story on Bezos and Amazon is worth reading. Here's their chart of the Amazon empire over time: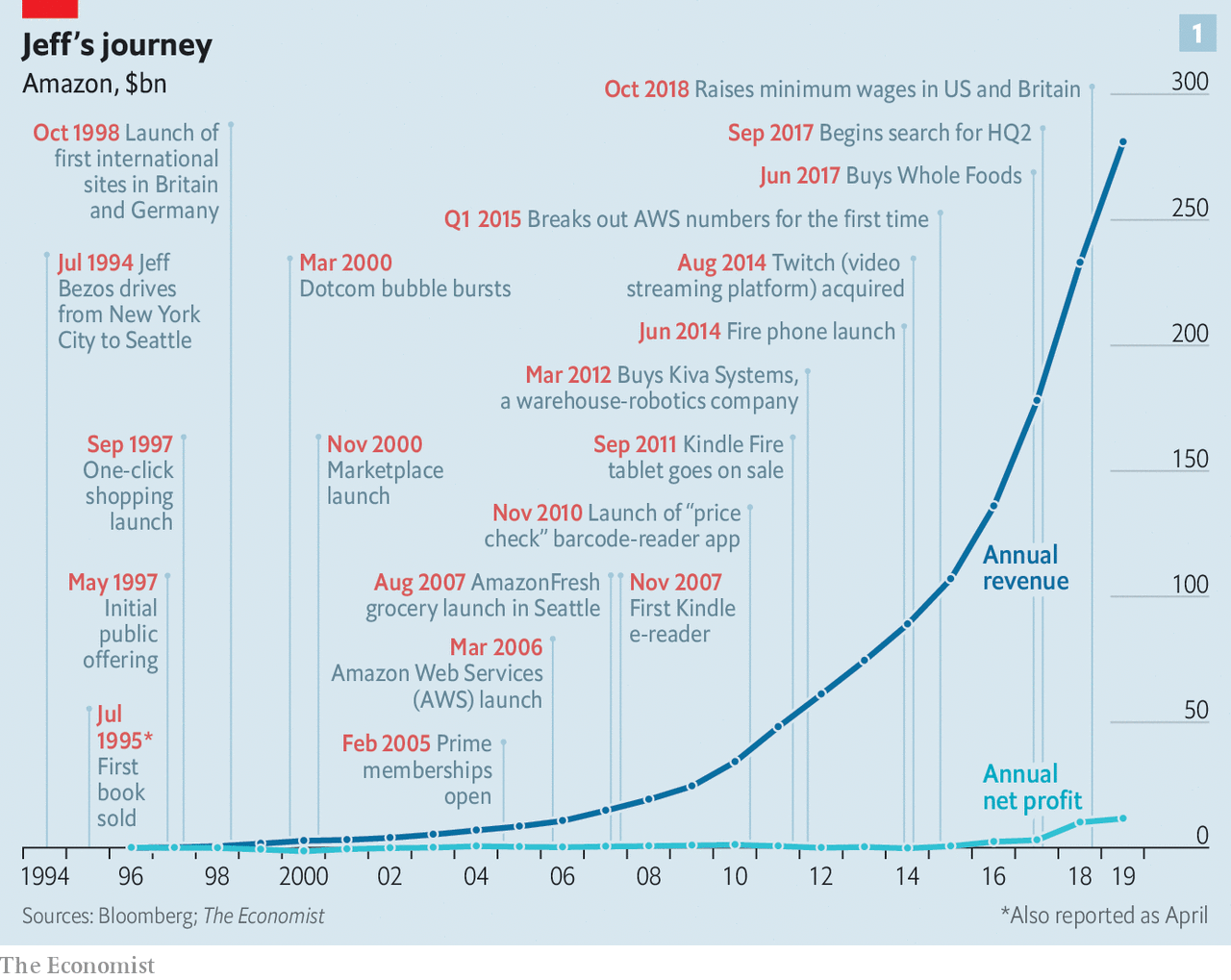 ---
Tech
HealthOS — Apple Is Building the Operating System for Health (Nathan Baschez, Divinations)
Nathan Baschez wrote a piece about how Apple is building the operating system for health. Back in January 2019, Tim Cook said something interesting while on CNBC:
If you zoom out into the future, and you look back, and ask the question, 'What was Apple's greatest contribution to mankind?' It will be about health.
Baschez believes that Apple is "building a system to aggregate data from modern connected devices (like watches, scales, fitness equipment, mattresses, etc.) and integrate it with traditional health records (lab results, conditions, medications, procedures) in order to unlock a new, comprehensive view of your body's health." He includes this graphic, centered around Apple's Health app: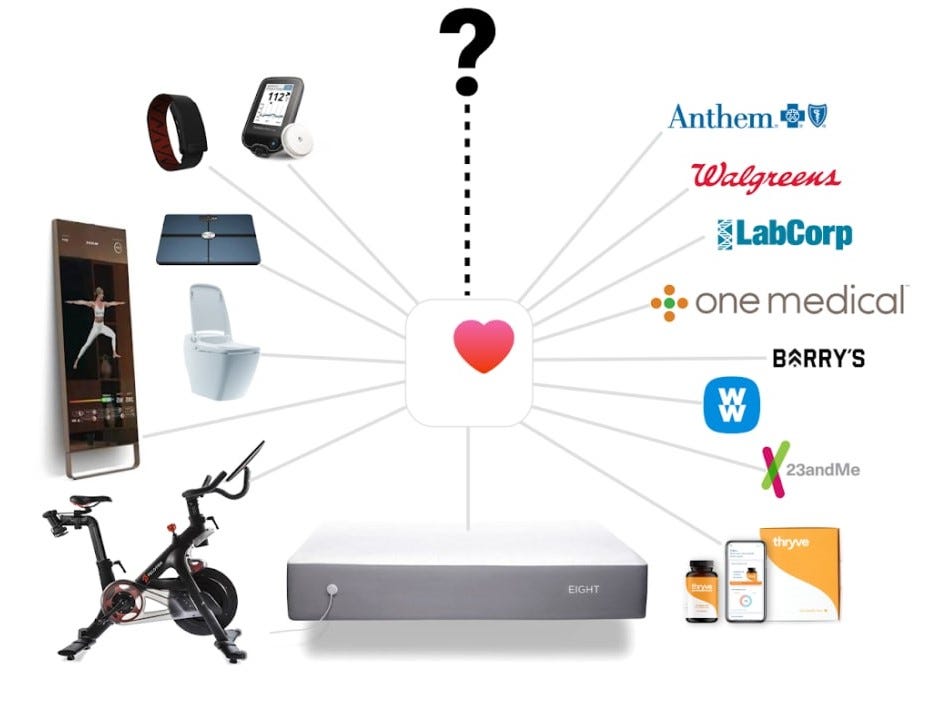 Most interesting is how this runs against Apple's core strategy. Historically, Apple has tried to get customers to buy more hardware devices. But for health, Apple is building the software to power other companies' hardware.
---
Media
Covid-19's Impact on the Gaming Industry (Unity)
For those who aren't gamers, Unity may be best-known as the game engine that rendered Disney's "live-action" Lion King. But within the gaming world, Unity is massive: half of the world's games are developed on the platform. The $6B startup is out with a report on how the pandemic has impacted gaming; some highlights:
46% more people are playing desktop games

17% more people are playing mobile games

Weekend and weekday differences in gaming behavior have narrowed by 63%

In-app purchases—a popular way to monetize games—are up 24%

Mobile ad impressions are up 57% and mobile ad revenue is up 59%

Average CPI for mobile games dropped 33%, so new users are more affordable than ever to acquire
During Covid, people are turning to gaming not only for entertainment, but for socialization. Increasingly, people enter game worlds just to "hang out". Some subset of new users will stick around after the pandemic, meaning this moment will be a step-change for gaming's growth.
---
Commerce
Facebook Shops and Instagram Shops (Li Jin)
Li Jin writes in her newsletter (which is well worth subscribing to here) about how Facebook Shops and Instagram Shops are blending content, community, and commerce.
Amazon owns search-driven commerce: customers type into the search bar an item that they're looking for. But Facebook and Instagram are going after discovery-driven commerce. This form of shopping is more social, interactive, and community-based—more analogous to wandering the mall with friends. Li writes:
As we graduate beyond the intent-driven model of e-commerce—marked by table-like grids of products, filters, and search bars, there are opportunities to create new experiences that promote the sense of serendipity and fun of shopping in the real world.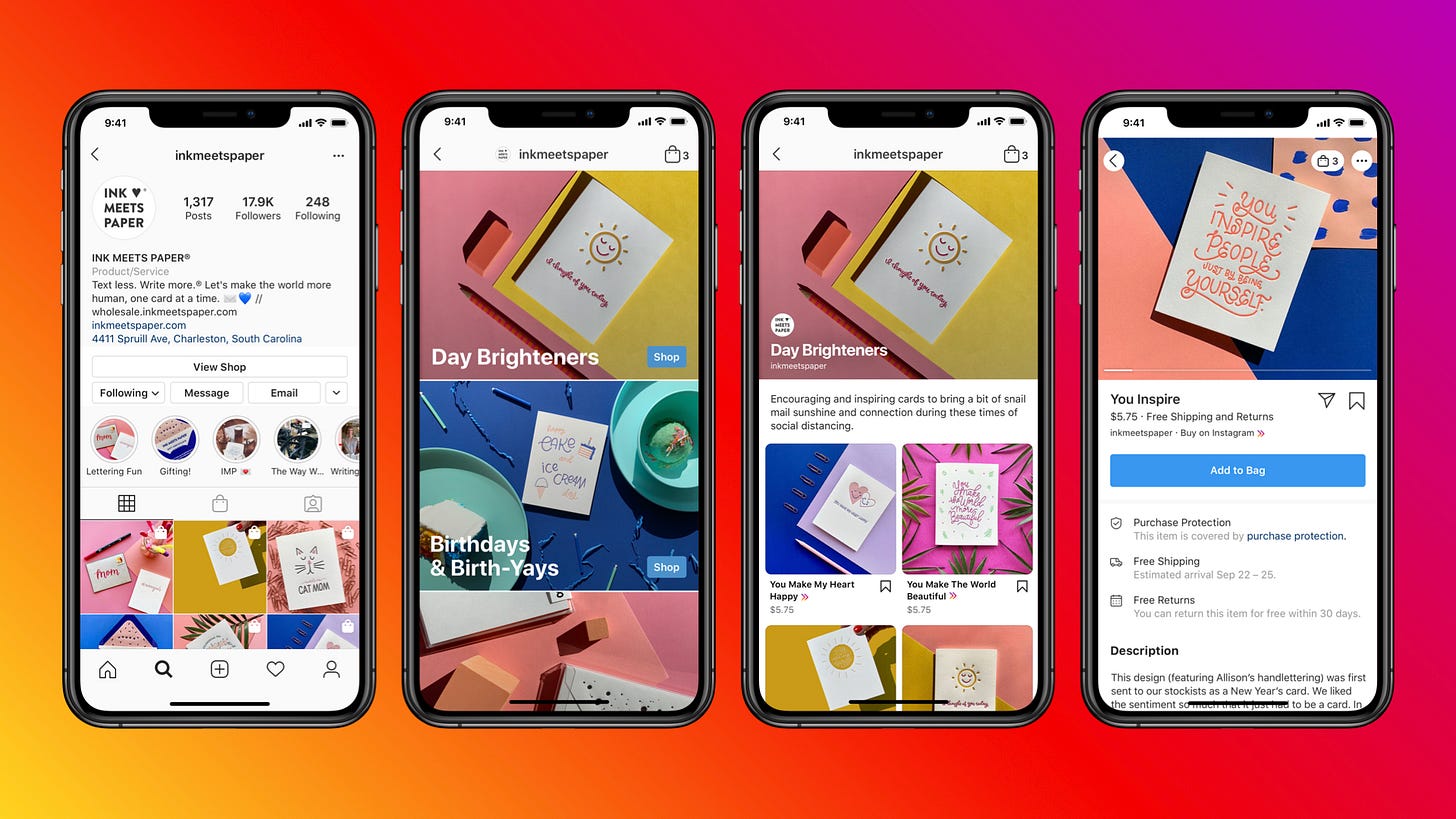 Li is also the leading writer on the Passion Economy, and she draws a parallel here. Blending social + commerce allows merchants to sell their goods in new ways. China's Pinduoduo is the country's second-largest online marketplace, with 482M monthly active users and a $101B market cap. Nearly 15% of Pinduoduo's GMV comes from agricultural products that farmers sell over livestreaming.
With 140M small businesses on its platform, Facebook is well-positioned to merge content, community, and commerce. Li's former partner, Connie Chan, observes:
---
Quick Hits
🚗 Tesla is now the world's most valuable automaker, surpassing Toyota. For reference, Tesla sold 8% as many cars last year as Toyota: 192,250 to Toyota's 2,383,349. Check out the below graphic from Visual Capitalist.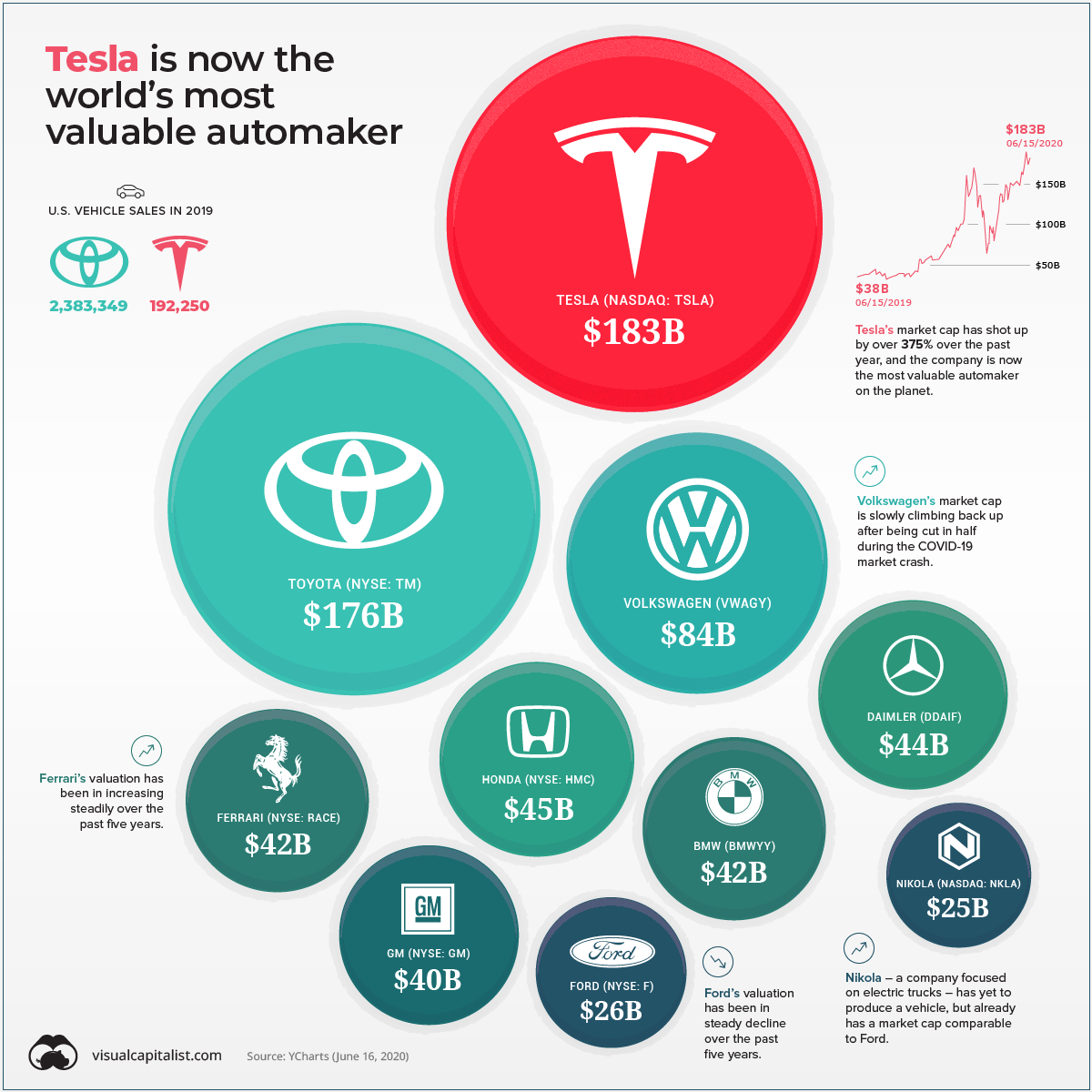 📱 TikTok opened up about how its algorithm-driven feed works. The app factors in which videos you watch, like, and comment on, as well as how long you engage with them, using those data points to fine-tune its personalized feed. One data point that's not factored in: follower size. This makes it possible for anyone to go viral, vs. TikTok just showing content from its largest profiles.
🎮 If you're not a parent or kid, you may have never heard of Roblox. But 80% of kids between 8 and 18 have played Roblox and the game boasts 120M players a month spending 1.5 billion hours on the platform. Roblox is building out its own version of the "metaverse": already, it has its own in-game economy, including its virtual currency, Robux. The team thinks they can "win" the metaverse by focusing on young, digitally-native users.
🎵 Speaking of gaming: other elements of pop culture continue to converge in gaming. Garth Brooks—the country singer who has now sold more albums than Elvis and is #2 all-time behind The Beatles—will release his new album on Zynga. Back in March, Brooks participated alongside Lady Gaga and Billie Eilish in Roblox's virtual concert, which drew 4M concurrent viewers.
💡 Marc Andreessen gave an interesting interview about the habits that make him successful. Andreessen is famous for how much he reads, and he shared this habit that I might try to emulate:
The thing I've tried to do the last few years is really 'barbell' the inputs [of what I read]. I basically read things that are either up to this minute or things that are timeless.
📹 Things seem to be tense between Jeffrey Katzenberg and Meg Whitman at Quibi, exacerbated by the startup's disappointing performance. One interesting thing from this article: Katzenberg initially wanted to name the company "Omakase"—presumably because the service selects high-quality content like a chef selects high-quality sushi 🍣
💸 WhatsApp is (finally) getting into payments. Last week, it rolled out a test in Brazil, which is its second-largest market after India. The goal is to become WeChat for the world outside of China: in China, 1 billion WeChat Pay transactions happen every day.
👻 Snap is doing surprisingly well in short-form video—yet another data point against Quibi blaming Covid for its lackluster performance. Will Smith's new talk show, "Will From Home", drew 35 million viewers.
Thanks for subscribing, and see you next week!
---
To receive this newsletter in your inbox weekly, subscribe here 👇